PART 4: FUNKY FRESH AT FRANÇOIS PINON

After a healthy helping of Chenin, we set off to Chinon to visit Matthieu and Bernard Baudry. The whole family was happy to see us, and even with our late arrival and the rainy weather, we managed to have an extremely pleasant and informative visit.

Because it had been raining on and off all day, our vineyard time was limited. We started by visiting Les Granges, the lieu-dit which produces the Baudry's entry level cuvée.





Located on the right bank of Chinon, the Baudry's own 8 h of land here. The vines are 25 years old, the soils are sand and gravel and yields average 45/hl. The entire estate has been certified organic since 2006, but Bernard has always worked the soil and used native yeasts.

On these vineyards, Matthieu and Bernard feel the need to use homemade compost, as the soils are very poor: not nourishing them would significantly lower yields. While this is of course a process many of our growers thrive for in order to obtain higher concentration in their grapes, in the case of Les Granges, the Baudry's feel that lower yields lead to harsh, undesirable tannins. They also perform a superficial work of the soil to rid it of competing grass.

"Working the soil is very important to bring out minerality, even in lesser terroirs. Cabernet Franc can be planted anywhere. Good wine tastes like terroir."




That, my friends, is a man who looks like he knows what he's talking about.

Many of the hillsides surrounding the area are forested. These used to be widely planted in vineyards, but have not been replanted since the end of World War 2. In a statement similar to Xavier Courrant's last year, Matthieu explained that many of these sites had been destroyed during combat, and that when it was time to replant, many favored the more fertile, easier to work plains, as well as faster growing crops such as corn and cereals.

After checking out Les Granges, we drove over to the enigmatic Croix Boisée site. On our way over, Matthieu pointed out the aforementioned homemade compost.




That's a hefty heap of compost! A few minutes later we were at the Croix Boisée, which is located on the top of a pretty hill.




Okay, so there is a lot going on at this site, which represents about 2 h of land.




Chinon is very similar to Burgundy in that the richness of the soils vary on the top, middle and the bottom of the hill. On the top of the vineyard, Matthieu showed us a bank where you could easily see the chalky limestone that dominates the top half.




The top of the hill is the richest in limestone, which is less favorable for Cabernet Franc and really good for Chenin, so they planted some. This is what produces the Croix Boisée Blanc. Walking down the rows, it is easy to spot how the limestone becomes less and less prominent.




The middle becomes heavier in clay, while the bottom of the hill is a mix of clay and sand, which "brings ripeness".

After visiting the vines, we drove back to the estate and visited the vinification cellars. As of 2005, the vast majority of the Baudry wines are fermented in large concrete tanks. Granges and Domaine are fermented and aged in concrete, Guillot and Grézeaux are fermented in concrete and aged in barrel a year and Croix Boissé is fermented and aged in barrel. Matthieu explained that concrete gives them the ability to let the wine spend extended time in an vessel that avoids the need for constant rackings, sulfuring and manipulation.

"When you don't add yeasts or filter, you need to bottle as late as possible."

We then walked over to the aging cellar, another beautiful cave carved in tuffeau limestone.




Much to my surprise, we ended up tasting all of the 2012's. Though the Croix Boisée was still very young and green, I couldn't believe how well the wines were showing at such an early stage. Matthieu shared my sentiments, and explained that they are usually in a much tougher place at this point of the year. The 2012 rosé had finished fermenting, but was still gassy. This one will be available soon and will not disappoint.

We ended the visit in the Baudry's tasting room. The big attraction was the famed "Terroir Display".




A true labor of love, Matthieu and Bernard dug into their subsoils and reconstituted them into glass containers so that their customers could see exactly what was going on down there. Not too shabby...

We then re-tasted the 2011's and 2010's, (they're great) drank a 99 Croix Boisée, 03 Franc de Pied and had a typically Loire lunch.

Next up, our final installment of Loire-Fest at Clos Rougeard! In an BREATHTAKINGLY UNPRECEDENTED MOVE, this will be our FIRST EVER OFFICIAL guest-blog post! Super secret special guest, tune in to find out!!!
Contact us:
info@louisdressner.com
phone:212.334.8191
fax:212.334.9216


Blog Feed
instagram


Latest Producer Videos: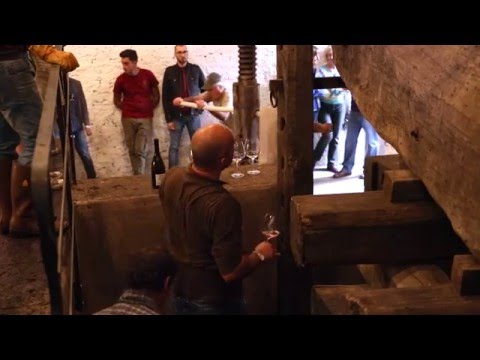 Traditional Palmento Vinification at I Vigneri!
Fabricca di San Martino's 2015 Harvest.
Louis-Antoine Luyt's 2014 Pipeño Harvest.