Reporting from Parma!

Leaving JFK was a nightmare. We experienced record breaking traffic that made Kevin, Josefa and I extremely late for our flights. It seemed like all hope was lost; neither Kevin or I had checked in (we were on different flights) and by the time we got to the airport our planes were leaving within the half hour.

Josefa, our National Beverage Strategist (N.B.F), had her boarding pass so they let her go through security, but things weren't looking so good for me. I had missed the check in cutoff by 40 minutes, and was going to have to find another way to get to Milan.

Meanwhile, Alex Finberg -our Key Account Specialist, Brand Manager and Market Maker for the Pacific Region (K.A.S.B.M.M.M.P.R) over at Farm Wines- was waiting for us at Gate 43. We were keeping him in the loop because for a minute there it seemed like he was going to be off to Milan by himself. In a fortunate twist of fate, he informed me that the catering crew for our flight was extremely late, and that this had also delayed the cleaning of the plane and boarding wasn't anywhere near happening. American Airlines representatives didn't believe me, telling me that there was no sign of the flight being delayed, although a quick call to gate 43 proved otherwise. I was in!

Because Josefa's job is to conquer the Untied States like a game of Beverage Risk, she travels a ton and gets a series of free flight upgrades each year. These are cumulative but you lose them at the end of the year, and since this will be her last international trip of 2011 (a 9 hour trip at that…) she decided to not only use her upgrade to Premier Business Class, but to offer me one! Alex, who has yet to prove himself to the company, was relegated to coach.

The most exciting part of Premier Business Class is that the wines selected for our flight are from non other than award winning sommelier Ken Chase.




Ken is originally from Toronto, but he does such a good job that American Airlines was able to forgive his nationality and hire him anyway.

Ken's worldly selections spanned from Oregon to New Zealand, but the real excitement came from "Chase's Choice", a special selection made just for that flight! I naturally inquired about it and was thrilled to find out it was a Pinotage from South Africa!




It paired incredibly well with my crudités.




Last night we went to a GREAT wine bar in Parma called Tabarro. Diego Sorba, the owner and a friend of Kevin's, has done an incredible job of putting together a diverse and exciting list of wines not only from Italy but France as well. It is very rare in wine countries like Italy to find a bar/merchant who works with wines other than the ones of his country; we Americans have it good in that respect.

Diego speaks incredibly articulate English, and was a gracious and hilarious host. We finished the night in Tabarro's cellar with Diego playing "stump Kevin Mckenna" and bringing us a bottle of (requested) Glou-Glou red from a producer we'd never heard of made with an indigenous grape we didn't know existed. It was delicious.




Today we kick off our Italian trip with the (apparently) very fun Vini dei Vignaioli in Fornovo. I'm looking forward to seeing some of my favorite people there: Arianna Occhipinti, Francesca Padovani, Mauro Vergano, Steffano Belloti and even a few Frenchies like Francis Boulard!

While it is always great to check up on our current growers, the real point of this trip is develop Relationships with new Consulting Oenologists and Brands (preferably with a strong Marketing Budget) to represent and develop in the U.S market!

Stay tuned for part 2!
Contact us:
info@louisdressner.com
phone:212.334.8191
fax:212.334.9216


Blog Feed
instagram


Latest Producer Videos: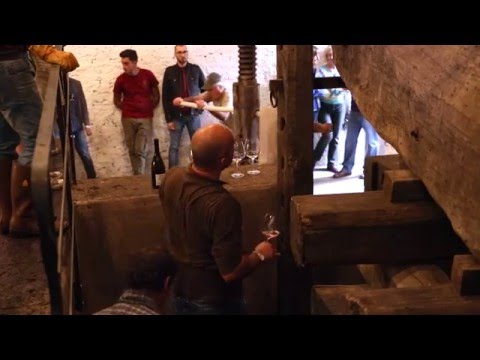 Traditional Palmento Vinification at I Vigneri!
Fabricca di San Martino's 2015 Harvest.
Louis-Antoine Luyt's 2014 Pipeño Harvest.