I know, I know. While this post was written yesterday, it could only be posted today due to lack of time and internet access. The rhythm of the trip has picked up, and while I promise to write a post recapping each day, I can't guarantee I'll be able to update as regularly as I have been (though I'll try my best).

After tasting at Monte dall' Ora, we hopped in the car and an hour and a half later we were eating dinner on top of an 800 meter mountain in Elisabetta Foradori's house.

This is my first time in the Dolomites, and it's one of the most beautiful places I've ever seen in my life. As the photos prove, everything is a landscape, and it's no surprise Elisabetta's wines come from such an inspiring area.




After breakfast we headed back down to Trentino to visit Elisabetta's main site where she works the 15 hectares she owns. In an experience that paralleled our Angiolino Maule visit, the traditional method of vine tending in Trentino is Pergola but Elisabetta has progressively replanted all 15 hectares in Guyot from a selection massale of her best Pergola vines (a few rows remain untouched and go into the Granato).




Elisabetta confirmed Francesco's point about Pergola's high yields: her Guyot vines yield about 40hl/h while her neighbors' average 150.

We also bore witness to neighboring vines already pruned and green harvested in early November! Essentially the vignaiolis are tricking the vines into thinking its' a different season (winter) so they shut down and hibernate early. In the Spring they kick start them back up with fertilizers which ultimately leads to, you guessed it, much higher yields. Elisabetta considers this a shame and a tragedy.




In the cellar, we got to taste some 2011 samples of whites and reds that had been fermented in tank and in amphora.




The amphoras that Elisabetta use are not the traditional Greek or Georgian kind and do not have any bees wax on the inside.




Only one Spanish producer makes a limited amount of these each year, and they are hard to come by.




Elisabetta has accumulated a serious collection, and they bring an unparalleled freshness to what could easily be much heavier wines.

After an extensive cellar tour, we went to check out the 3 hectares of vines Elisabetta rents.




This is where she grows her Manzoni Bianco and the Nosiola that goes into the Fontanasanta. Fontanasanta is a lieu-dit which means holy fountain. Low and behold, there is it!




This is a very unique terroir for the grapes: limestone with a pink hue due to a very strong presence of iron.




Our next stop was in Emilia-Romagna to visit Camillo Donati.




We checked out his new cellar which overlooks his vines. After tasting some 2011 tank samples Camillo kindly explained his vinification process.

Everything begins in an old concrete tank from 1968 that originally belonged to Camillo's mentor Ovidio (the "Ovidio" cuvée, made with Corvina grapes, is named after him).




The tank has only ever been washed with hot water, and has accumulated over 40 years of tartaric deposits, which is one of the secrets of Camillo's process (the Baudry's do the same thing with their concrete tanks).




In this tank he makes a pied de cuve for each varietal. The juice remains in this tank for a maximum of 3 days for the whites and 7 days for the reds.

The rest of the grapes are then harvested, destemmed, pressed and placed in stainless steel vats on the skins. After fermentation he racks off the gross lees but keeps the fine lees, which are essential for the wines to referment in bottle. If the residual sugar is where he wants it to be (12-18 g per l), he leaves the wines as is, but since he lets them reach their maximum alcoholic fermentation, the wines are often dry so he blends it with his Malvasia Dolce.

This is the traditional way to make Emilia-Romagna Frizzante, but almost all producers in the area now use charmat method, which for Camillo completely defies the purpose of making this style of wine in the first place:

"Those who have settled for Methode Charmat are missing out on the beauty of life and have settled for monotony."

We then checked out the vines, which have all been planted by Camillo in -you guessed it- Guyot on heavy clay soils.




So far all of the vineyards we've visited have been beautiful, and Camillo's were no exception.




We ended the visit by tasting the 2010's, which took longer than usual to referment and have just been released (they should just be getting to the States). We tasted the only way one should when drinking Donati: alongside local panchetta and aged Parmesan (a 24 month, a five year and a 10 year). The 2010's are spot on, particularly the Malvasia Rosa (with 5% Barbera) and the very lively and fresh Lambrusco.

Stay tuned for part six with visits to Montesecondo and Cerreto Libri (profile coming soon)!
Contact us:
info@louisdressner.com
phone:212.334.8191
fax:212.334.9216


Blog Feed
instagram


Latest Producer Videos: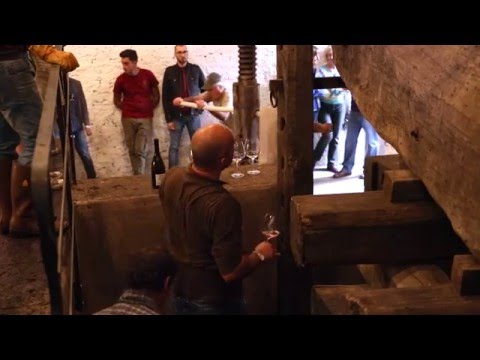 Traditional Palmento Vinification at I Vigneri!
Fabricca di San Martino's 2015 Harvest.
Louis-Antoine Luyt's 2014 Pipeño Harvest.