On Sunday we managed to escape Giglio just in time to visit Gian Marco Antonuzi and Clémentine Bouveron at one of our newest estates, Le Coste.

Many of you probably aren't familiar with these wines; they only recently made an appearance in the States on a very small scale (limited to New York City). But if you do know them, you're thinking: "Yeah the cheap liter bottles with two guys chugging wine!"




The visit began at La Ripetta, a great restaurant in the town of Gradoli that actually overlooks the young couple's vineyard. Gian Marco's 80 year old aunt is the head of the kitchen and made us our meal. On the menu: eggs and white truffles (that Clémentine went into the kitchen to make herself), anchovies, a delicious spaghetti dish and for the main course, a mumbo-jumbo of veal lung, liver and all types of parts of the animal that tend to gross people out. Every dish was a local specialty, because:

"Food has as much terroir as wine!"

Lunch naturally lasted over 3 hours, so I had plenty of time getting to know Clémentine and Gian Marco.

Clémentine is from Lyon. She went to school for viticulture and oenology in Alsace, where she met Gian Marco in 2001. From the beginning, she felt uncomfortable with what she was being taught in school, leading her to two conclusions: that she would never work with chemicals and modern oenology, and that to do so she would need to manage and own her estate independently. In 2005, Gian Marco asked her if she'd be interested in helping him plant some young vines on his newly acquired land. Clémentine had never done this kind of work, and was interested. She came to help out and the two, who were just friendly acquaintances at the time, fell in love. She never moved back to France.

Gian Marco is from Rome, but his grandfather is from Gradoli (back then all the grapes were sold to the cooperative). He worked as a lawyer for 8 months before quickly realizing it wasn't his line of work. He quit to move to France and pursue a career in food and wine journalism. This was more or less working out, but he wasn't getting the satisfaction he needed:


"I've always been the type who prefers making something more than writing about it."

The man has an impressive track record: he started apprenticing in Alsace, then at Léon Barral. After that, he worked in the Beaujolais with Jean-Paul Thévenet, then Dard & Ribo, and finally Phillipe Pacalet. You can taste his French sensibilities; Gian Marco is all for wines that need time to age and develop, but with the exception of a 3 month skin macerated white, he makes "vin de soif".

This means "wine for when you're thirsty.", and is also increasingly being called Glou-Glou by young Directors of Social Media and Viral Marketing (D.S.M.V.M) in the wine importing industry. You're SUPPOSED to knock a couple bottles back with some good company, not banish them to the cellar.

This isn't to say these wines are simple! Even the potentially very heavy 09's we had at lunch managed to stay fresh and lighter bodied, pairing well with the food. The good work in the vines, the terroir; it's all there, and it's telling you:

"Drink me now. Then drink more of me!"

He started Le Coste in 2005. Every day is a learning experience, and every year the couple apply what they've learned to their present work:

"We live our terroir every day so it's easy. The work is never finished. There is always something to learn, to discover. This is why I fell in love with my work."

Because of the geographic nature of the region, intensive agriculture and the use of machinery has always been impossible. It was therefore, and I love this sentence: "Too expensive to make economic wine." There soils have never been exposed to chemical entrants: this means the region was never touched by copper for the first half of the 20th century or with the advent of herbicide, pesticide, chemical fertilizers, conservatives, etc…

When he purchased the estate, it was completely abandoned. It is spread out over 22 parcels at 600m in altitude. Ten of those are young vines planted by the couple: the first in '05, then in '09 and '10. The other 12 are old vines between 40 and 60 years old, and most of these are rented. The estate totals 10 hectares, and its' "heart" is the lieu-dit Le Coste, a clos overlooking Lake Bolsena. It's comprised of 8 parcels, all with different heigh, exposition and soil.




Half of the estate was planted by hand in massale, and the other half is franc de pied. Everything is trained in Albarello.




In an argument you almost never hear, Gian Marco plans to tear out all of his old vines bit by bit. He told us us that their only real use will be providing him with selection massales when he replants.

My initial reaction was shock! Tear out 60 year old vines? What about the vineyard's heritage, its history? How can you want to eradicate a franc de pied's 6 decade journey, its roots digging deeper and deeper into the soil, unlocking the secrets of its terroir?

Gian Marco wasn't having any it:

"Everyone always talks about the importance of old vines. Old vines are great, but one thing people never do is stop and ask themselves "How were these old vines planted?" I'm all for old vines being old and well planted. But the 99% of 'old vines' in Europe were planted post phylloxera: this was a time when guys were nervous about everything. The vines planted were those that resisted best to hardship; the quality of the grapes produced was a secondary concern. It was also a time where vignaolis were trying all types of crazy shit to keep the bugs away, stuff we now know was completely useless at best and often times harmful to the soil and vines. In many cases this led to the vines sprouting wild and unproductive roots.

When I replant my young vines, with my selection massales, on my land and with my hands, I will know that conditions were optimal. I will know their history and their origin, so no matter how old they are I know they are the best vines!"

It's definitely a compelling argument.

The farm and vineyards are worked biodynamically, with zero animal compost. They never work the soil, preferring to let wild grass grow freely and working in polyculture to promote a natural, balanced ecosystem.

"We leave the vines alone unless they tell us they need something."

Le Coste is as unique a terroir as you are going to find anywhere, due to its infinitely complex soil composition and micro-climactic variations.

The soil can be summarized as volcanic, but this would be underselling it: Gian Marco explained that when the volcanic eruptions that shaped his soils occurred, they spread an innumerable amount of different stones far and wide into the landscape. The one you find the most of is Basaltic, but even then, he was able to show us three separate and completely different types of it: one was very dense and heavy while another was much lighter, with visible air holes ("These were baked like a loaf of bread."). Some were solid and other would break apart when smashed. There is also a heavy presence of Lapillo, which are volcanic cinders. You also find limestone and a tiny bit of clay on the surface. And because the result of these volcanic eruptions placed everything randomly, effectively every single parcel has different soil composition. Check out these pics of three different hillsides:




As far as micro-climates go, you'd think you were in Burgundy.




As mentioned earlier, the 8 parcels in the Le Coste vineyard all have different soils, expositions and height. The vineyard follows the edge of the lake, taking the shape of South-East to South-West arc; so when the sun rises the parcels furthest to the East bask in sunshine while the rest of the vineyard waits for its time in the sun. This also means that it's never the same temperature at any time, in any parcel:

"The terroir IS the lake! You can be in this parcel, which is exposed South East and closer to the lake, and be freezing cold at 2pm. But if you walk over to to one that's full south, it's T-shirt weather."

Gian Marco continued the tour by showing us where he keeps his vegetal compost. Digging his hands deep inside the pile, he pulled out two big handfuls, stuck it in my face and said:

"Smell this."




I was a little freaked out since my mind associates compost with cow shit, something I don't want stuck in my face… I politely took a big whiff and to my relief the poopy odor I dreaded turned out to be the smell of grass and dirt. It smelled like nature. After having smelt the compost's pleasant odor, I was less grossed out when we he exclaimed:

"It's still fermenting! It's warm! Feel it!".

He wasn't kidding: the compost had the heat and texture of freshly baked brownies.

Let me help you stop thinking of dung brownies with this gratuitous dog picture I couldn't use anywhere else.




It was getting dark so we started wrapping up our vineyard time.




Before leaving, Gian Marco showed us the little enclaves dug into the hillside of one of his parcels, which used to hold animals. He keeps his biodynamic preparations in the old pigsty because the temperature is perfect. And in the old stable he makes beer with INDIGENOUS white grape yeasts.




It wasn't finished fermenting, but it was delicious.

We then got to check out the cellar, which is in the middle of the village.




The cellar is 400 years old, and for Gian Marco it's a dream come true. He only uses it for vinification, and the first room contains the stainless steel tanks and open chestnut vats for longer fermentations.




Further along, you reach a narrow hallway full with little grottos on the side (he plans to use these to cellar bottles in the future).




This leads you to the oak barrel room.




We tasted a gazillion things, ranging from an 09 orange wine to still fermenting 2011's, but the highlight for me was tasting a red aged in cherry tree oak. It smelled like eau de vie (in a good way), and tastes like nothing I've ever had before.

About the vast number of cuvées, Gian Marco makes a good point:

"It goes right back to the terroir. I really try not to blend my different parcels, and I also like vinifying and bottling single parcel cuvées. You've seen them: it would be a shame otherwise."

Expect to taste a lot of these in the near future because Kevin ordered a bunch.

After a 6 hour visit, we thanked Gian Marco and Clémentine. Their 1 year old Camille was sad to see us go.




We drove to Rome, ate dinner, fell asleep and took our planes home the following morning.

THE END.

Tune in tomorrow for the epilogue!
Contact us:
info@louisdressner.com
phone:212.334.8191
fax:212.334.9216


Blog Feed
instagram


Latest Producer Videos: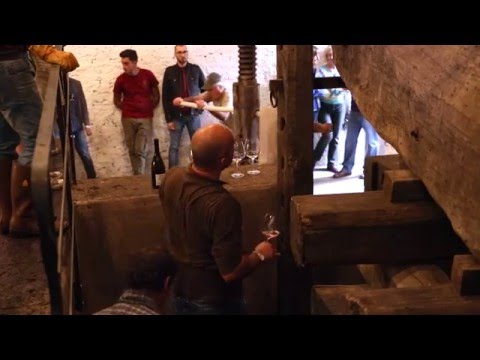 Traditional Palmento Vinification at I Vigneri!
Fabricca di San Martino's 2015 Harvest.
Louis-Antoine Luyt's 2014 Pipeño Harvest.