After spending four days in the Touraine, it was off to Bourgueil to visit Xavier Courrant at Domaine de L'Oubliée. If you haven't already, check out his interview.

Before touring the vines, Xavier explained the short history of his estate. Domaine de L'Oubliée consists of 6 hectares, spread through multiple parcels on three different sites (each with distinct soil types) in the commune of Saint Patrice. He also owns a 0.74h parcel of Chenin Blanc. Xavier's only criteria when starting was to work with his beloved Cabernet Franc, and after some shopping around in Chinon and Bourgueil, he found what he was looking for.

The vines were formerly a part of Christophe Chasle's 18 hectare estate. Because his means were and still are limited, Xavier -who does 100% of the vine work himself- decided to start small; 6 hectares initially seemed like too much to handle, but he quickly realized that the opportunity was too good to pass up. As mentioned earlier, that all 6 hectares were in the same commune while simultaneously offering three unique soil types (sandy gravel, calcareous clay, flinty clay) was the clincher. The chenin parcel was also a perk.

Another huge advantage for Xavier is that he has very few neighbors, so most of his vines are completely isolated. Most parcels coexist with woods, wild grass, flowers, plants and animals, and Xavier plans on taking full advantage of his land's biodiversity to create self sustained eco-systems. The vines are in their third year of conversion to organic viticulture (with a long term goal of working biodynamically), and Xavier will be certified as of the 2012 vintage.

We started our visit to the vines with a tour of the parcels that go into Notre Histoire. The soils consist of calcareous clay and the entire site borders the village cemetery. Only one row is shared with a neighbor, who is apparently "very nice". Walking from parcel to parcel in the snow, Xavier began explaining how vines used to dominate the agricultural landscape of Bourgueil before World War 2. In the aftermath, a lot of vines were destroyed and instead or replanting, people favored plain agriculture (cereal, corn, sunflowers, etc...); anything that could provide a productive crop farmers could turn over and see quick returns on. Pointing to the woods surrounding us, he described how these used to be densely planted (about 50/50 Cabernet Franc and Chenin Blanc) but now trees have been growing wild since the early 50's.

Moving along, we walked by an empty parcel; right before Xavier took over this plot, Chasles had torn out some very old vines. Xavier's plan is to grow plants and vegetables (as well as wild grass) for three years to help the soil "detox", then replant selection massales. He's still on the fence on whether to planted Grolleau or Chenin Blanc.

Speaking of Chenin, the next part of the tour was a short car ride away; after getting off one of the village's main roads, we were whisked in the woods where the parcel is located. The 0.74 hectares are completely surrounded by trees and shrubs, and with the exception of a few vignerons who have replanted Chenin in the last year or two, it's the only white grapes being grown in the area. Xavier uses a fence to protect the vines from wild animals hungry for ripe grapes.

Because Xavier and his wife Stephanie are awesome, they actually hired their buddy who owns a woodfire pizza truck to prepare us fresh flat-breads to spread our rillettes and cheese on. A homemade soup was very much appreciated as well. The 2010's were tasting great, as were the 2011's. The real suprise was an '09 petillant naturel from Cabernet Franc. It tasted like rose champagne! I'm very happy about everybody making a petillant naturel these days; they are so easy to drink and almost always cheaper than other bubbles.

After another meal consisting 90% of pork products, cheese and bread, it was time to visit the Luneau's! Our car's built in GPS got us super lost (if you rent an Audi while in France and use its GPS, you will hate every moment of your car ride because of its absurd design and complete lack of functionality), which ended up being ok because we took a really scenic route full of inspiring winter sights. Ken was sitting in the backseat with me, and we got to talking about it being his first time to France. He felt funny because he'd been working mostly with French wine his entire career, and it was really great for him to put a place and a context to the wines he's been enjoying for so long.

Our visit at Luneau-Papin was quite epic. Our first stop was at the incredible Butte de La Roche plot. The vines are all on coteaux with South-West exposition and the view from the top of the hill is magnificent. You can see all of Muscadet from up there, and Pierre-Marie had fun by pointing out where other vignerons live:

"Just past that river is Marc Ollivier's. And Jo Landron lives by that water tower!"

The one incredible particularity of the Butte de La Roche is its soil. The site is actually a geological landmark because it is the only place in the world where deep, deep serpentine subsoil has erupted to to the surface after a series of underground earthquakes. Huge chunks of serpentine can be found throughout the vineyard site and the soil is very tough to work because of how rocky it is. This type of serpentine is a subsoil that no root could normally reach, and gives the Terre de Pierre cuvée a richness and minerality unique to the site.

The cellar visit was a lot of fun; we tasted the soon to be released 2010's (you're in for a treat) and 2011's from a range of different cuvées, and Pierre pulled out the huge batons used to stir the lees. We were then offered to taste a range of back vintages with dinner. The oldest vintages were 95's and the father-son team proved what everyone needs to realize immediately: good Muscadet ages really well. Anyone will tell you otherwise, but when you're working with lees (in the Luneau's case two or three years at a time for certain cuvées), it gives the wine a richer texture that lets it evolve in bottle.

After another great dinner, it was time to say goodbye. Hands were shook, glasses were cheered, embraces were exchanged: everything was set and we were ready to go. Or so we thought...

We had just gotten in the Maya Mobile, aka Brown Betty, when the car in front us drove head first into the large ditch on the side of the road (to save them from the embarrassment, the driver will remain anonymous)! The front tires weren't touching ground and the car was at a 45% angle. We tried lifting it out manually while the driver backed up, but the car was too heavy for us. Pierre then decided to get the forklift and, you guessed it, attempt to FORKLIFT the car to level ground. This initial strategy proved impossible because of the angle of the car, and things only got worst when the very forklift that was supposed to salvage the vehicle from the fiery depths of the ditch got its wheels stuck in the ice! So now we had two stranded vehicles in the cold Muscadet night! David Mcduff insisted we call a tow-truck, but Pierre-Marie refused:

"This happens all the time! I'll go get the truck."

5 minutes later he was back with the truck. Pierre attached a strap to the axle of the trapped car, and we all got ready to push our hearts out in a classic push-pull-pump the accelerator in reverse scenario. This was it, our last ditch effort (get it? Ditch!). I was convinced this was going to be a terrible failure, that the truck was going to rip the back axle straight off. But after counting to 1, 2, 3... everyone played their part and we were able to get the car out! David Sink, in one of the most hilarious hilarious moments in the trip, yelled "We did it! By the power of Excelsior! Excelsior!" For those of you who don't get it:




We did drink a bunch of it that night...

We were able to drive the car to the hotel but the heater was completely destroyed so it had to be returned the next day. That's what insurance is for, kiddos!

Next update: Muscadet-a-thon at Marc Ollivier's, a visit at Closel and "overdosing" at the Salons des Vins de Loire!
Contact us:
info@louisdressner.com
phone:212.334.8191
fax:212.334.9216


Blog Feed
instagram


Latest Producer Videos: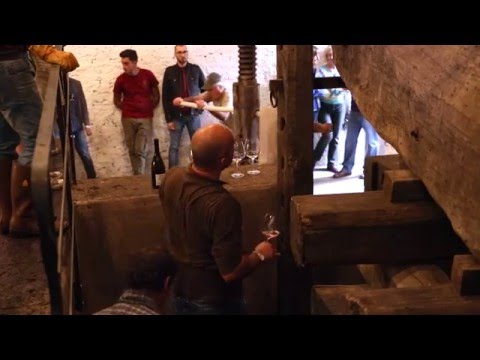 Traditional Palmento Vinification at I Vigneri!
Fabricca di San Martino's 2015 Harvest.
Louis-Antoine Luyt's 2014 Pipeño Harvest.