Before I start this post, I must address a very serious issue. It was brought to my attention that there's been a a huge spike in demand for the Clos Roche Blanche Pineau D'Aunis Rosé since my blog post about our recent visit, and how there would be more than last year. Our distributors' phones have been ringing off the hook with people trying to get palettes on pre-sale. But the unfortunate truth: their isn't that much to go around. As much as I'd like to tell you all that it was some genius marketing ploy (after all, I am LDM's Director of Viral Marketing (D.V.M)) and this was the best viral ad campaign since Bros Icing Bros, the truth is I was only objectively making a general statement as to the quantity, and not the availability, of the wine. Yes, there is more rose in 2011 than in 2010, and more means more for everybody: more for the US, more for France, more for Belgium, more for Germany and more for Japan. In other words, you might get a case more than last year.

Anyway...

Muscadet-a-thon is a Louis/Dressner institution. Going 15 years strong, this annual visit to Marc Ollivier's abode has brought joy to those participating since its inception. The concept is simple: visit the vines, taste the current vintage, then eat a ton of oysters and home-made Pâté while doing a flight of Pépière Muscadet dating back to Marc's first vintage (1983). If you guys don't know the back story, Joe and Denyse met Marc in 1989, and the first vintage they brought in was 91; it was their first Loire wine. Joe adored Marc and adored Muscadet (seriously, our cellar in France is 50% old Pépière and Luneau-Papin), a wine that he felt was often overlooked for how well it can age. Marc had an old collection of wine dating back to his grandfather, so the idea of trying back vintages to prove Muscadet ages gracefully was a no-brainer. Muscadet-a-thon was born.

Our visit started in the vines. We began in the Clisson parcels, where Marc talked about his viticultural practices. It's taken a long time, but the entire 33 hectares are finally eligible for organic certification; the soils are worked superficially and everything is hand-harvested. Muscadet is one of the only regions in France (along with the Beaujolais) where the vines are trained in Guyot, but with only one palissage line per row. Typically, there are two, which permits the plant's vegetation to grow more, resulting in spaced out bunches. Doing this leads to greater aeration of the grapes, which in turn leads to greater concentration. Marc is one of few vignerons who intentionally chooses to use two palissage lines for these very reasons. Every time he acquires a new parcel, he tears out each rows' posts to reinstall new ones; it's a lot of effort, but he feels it's an essential factor in the quality of the vine work.

Marc also intentionally limits the number of flowering buds each year to three or four per vine. This technique results in much lower yields, which means fewer grapes but more concentration and optimal maturity. Marc walked one row over to his neighbor's to count out how many buds were left on his: 1,2,3,4,5,6,7,8!

"I get about 40hl/l from these vines. My neighbor here, whose vines are the same age and on an identical terroir, produces about 70."

After Clisson, it was time to check out the Chateau-Thébaud vines. These were acquired in late 2010, when Marc joined forces with his (relatively) new partner, Rémi Branger. Rémi is 26 years old, and has been working for Marc since 2006; prior to that he'd worked with his dad. In Rémi's own words:

"My father was a passionate vigneron. He loved the work in the vines, but had no desire to deal with the commercial element of bottling and selling independently. Therefore everything was sourced out to négociants. When he retired in 2010, I was already working for Marc and really admired what he was doing (making single parcel cuvées, highlighting specific terroirs...), so when he asked me if I wanted to be partners, I didn't hesitate."

The two are currently renting the vines from Rémi's father, with the possibility to buy at some point. Most of the vines were planted in the 70' by Mr. Branger Senior, and the oldest are about 60 years old. A new cuvée, the Chateau-Thébaud, was produced in 2010 and is about to be released.

Our last stop was in the plot of Gras Moutons. Marc and Rémi agree that these are their "grand cru" vines: they're exposed full South on a coteaux (that ends by the Maine river) and the site is marked by a particular micro-climate where a North to South wind constantly sweeps through the vines. This leads to greater concentration, which manifests itself through longer periods of maturation, both in the vineyard and cellar. As Rémi explained:

"The wind is great for aerating the vines, and you always get great complexity with these grapes. But they take a long time to reach their full potential. Even with my father, we would always harvest the grapes from here last. And though we didn't make parcel specific cuvées, we would still vinify each day of the harvest separately -which essentially meant vinifying by individual or identical parcels- before blending it all together. The Gras Mouton juice always needed more time."

Marc interjected that "more time" can sometimes be up to two or three years of aging in the cellar and then even longer in bottling!

After the vines, it was time to taste the 2011's. For those who didn't read it yet, check out Eben Lillie's Pépière harvest reports and pictures. To briefly reiterate, Muscadet, like most of France, had a very strange vintage weather wise: an extremely dry winter and spring led vignerons to believe they would be harvesting the most precocious vintage of the last century, but a wet and cold summer slowed vegetation/ maturation down. On average most people started harvesting a week earlier than usual, though many were initially planning to start up to three weeks early!

For most, nature more or less balanced itself out, and teams of harvesters picked their hearts away in warm, sunny weather. Muscadet was not so lucky... A lot of rain and cold right before harvest led to a tremendous amount of gray rot this year. Marc estimates that, depending on the parcel, 75%% to 25% of the grapes were unusable; about 30% of their total production was lost. The parcels that were struck the hardest were the Briords vines; it sucks to say it, but there will be VERY LITTLE Briords in 2011.

Marc used 2011 as a perfect example why hand harvesting is so important:

"I literally had my team splitting hairs with the bunches. If some of the clusters were partly rotten but the rest was usable, be it a half or one fifth, they meticulously salvaged the quality grapes. I cringe at imagining what a machine harvested Muscadet will taste like in 2011; if they had as much rot as me -and I know a lot did!- it all went into the production..."

The good news is that the grapes that DID make to the cellar were of excellent quality, and have produced a balanced and elegant vintage. As Marc pointed out, the wine's brine quality, notably absent in 2010, is back in full force. Alcohol is low, acidity is balanced and minerality is king. The first bottling of the base Pépière' will be bottled and available very soon.

It was then the moment we'd all been waiting for: oysters, pâté and old Muscadet! Much to my delight, there was NO pork at this meal. In fact there was even an abundance of vegetables (John Ritchie did a vegetarian victory dance)! But who cares about local, organic fresh produce? Let's talk about the meat! The oysters were from Brittany and delicious. There were three pâtés to choose from, all hunted, butchered and made by Marc himself: pheasant, rabbit and woodcock! They were all delicious, but the woodcock once again reigned supreme. The secret? About 25% foie gras blended in. Genius!

Funny anecdote about the Woodcock pâté. Last year, Jason from Marlow and Sons was on the trip. When John Connelly, who was on the trip this year, asked him about it, about all the sights he'd seen, the wines he'd tasted, the people he'd met, all Jason could talk about was the woodcock pâté.

"He didn't mention anything else about the trip, not even the flight of back vintages that day. He was obsessed with that pâté months after coming back."

It was also John's favorite, and after a year of anticipation I'm glad it lived up to his expectations. We also had a wild boar Shepard's pie which was off the chain. It continued the new awesome trend of me eating wild board hunted by vignerons: the night before Pierre-Marie Luneau served us a terrine made from a boar he'd hunted and who could forget the Chingali stew prepared by Dora Forsoni last November! Obélix would be proud...

Note to anglophone vignerons who read this blog: I'm a fan of this trend and hope to keep it going.

Let's talk about the back vintages. We tasted pretty much straight through 1985, and not one bottle was tired. Some, for example 95, were so fresh, vibrant and full of acidity that they tasted like a current release, while others, like 97, darkened in color and gained a richer texture. In some cases the minerality still ran the show, while others started expressing the fruit we all knew was buried somewhere in there. I insisted we open an 86 (my birth year), and Marc pretty much said: "Meh. It wasn't a great vintage..."

But he found one and did it anyway. We all agreed that it wasn't the most interesting wine of the flight, but it was still in great shape. I think the best part of the 1986 vintage was that it featured an amazing "Serve Fresh" label which inspired a lot of bad 80's hip-hop jokes:




If I was more tech savvy I would have made an animated gif. out of that. Closel, Salons des Vins de Loire and the conclusion of the trip on the next update.
Contact us:
info@louisdressner.com
phone:212.334.8191
fax:212.334.9216


Blog Feed
instagram


Latest Producer Videos: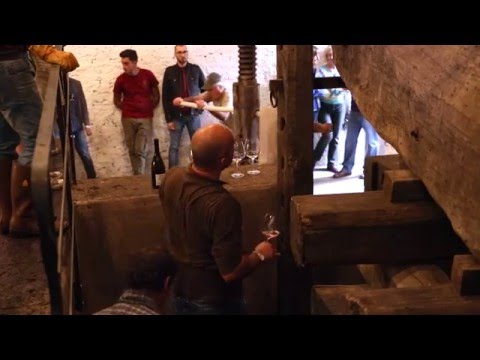 Traditional Palmento Vinification at I Vigneri!
Fabricca di San Martino's 2015 Harvest.
Louis-Antoine Luyt's 2014 Pipeño Harvest.