PART 1: COSTE PIANE

PART 2: COSTADILÁ

PART 3: VINI VERI, VILLA FAVORITA AND VINITALY

PART 4: NUSSERHOF

PART 5: RADOAR

PART 6: I VIGNERI

PART 7: FATTORIE ROMEO DEL CASTELLO

After our visit to Fattorie Romeo del Castello, we hit the road and drove down to Siracusa to hang out with Arianna Occhipinti. We started off with an aperitif at TAMI, her boyfriend Francesco's shop.




I had always assumed that TAMI was just a wine shop, but it turns out they sell all types of food, beer, books, knick knacks (including a bananaguard), toys and gadgets. Jeff Vierra scored this sweet hat there.




A TAMI wine bar, located directly across the street, is currently in the works, and they hope to have it operational by the beginning of the summer.

After hanging out and drinking Coste Piane, we grabbed some bottles and head over to a new restaurant just a few blocks away, located in this teeny-tiny alley.




It was a good chance to practice my "SOMM" skills with Arianna.




This work of photoshopped "art" in the men's bathroom embodies what I assume all Americans immediately think of when you say "Italy" (other than Jersey Shore).




Notice the espresso.

After dinner, it quickly became a Radoar grappa, Tami Grillo and shitty Italian beer party on Jeff Vierra's rooftop terrace. A good time was had, and with the exception of Ian Becker and Robert Brownsen who went to a fist-pumping techno club, everyone went to bed to be ready for the first annual OCCHIPINTATHON.

In the morning, we drove to Vittoria and immediately started our visit of the SP-68 vines, located right by her house and bordering the autostrada of the same name.




The SP-68 vines are 8-15 years old. The Frappato vines are 50 years old and the Nero D'Avola is 45. Arianna prefers the Guyot training system, especially for Frappato, because the first buds tend to not produce grapes when trained in Albarello. As you can see in the pictures, grass grows free between each row, and Ari plants fava beans in each other row for the SP-68 vineyards. The idea is to create biodiversity and stimulate the soil in one row while the other gets "a year off". She also uses paper tape, as opposed to plastic, to tie vines; this way she avoids plastic falling off and polluting the soil. We wrapped up our tour of the vines, then drove the 1,5 km to Arianna's new property and future home.

Last December, Arianna's lifelong dream came true when she purchased La Bomborieri, a 23 hectare farm with no neighbors. The entire site has been certified organic for 15 years and consists of 11 hectares of cereals, orange trees and cow stables (she doesn't have any yet, but plans to). There are also 7 hectares of 18 year old vines (Frappato and Nero D'Avola) on a mix of chalk, clay and red sands. The vines are equipped with an irrigation system Arianna has no intention of using and that she will eventually remove when she has the free time. I asked her if she might want to make a new, separate cuvée with these vines since the soil composition differs from the red sands the rest of her vines grow in, and she said "maybe". For now, these grapes will go into the SP-68. The house that came with the farm needs major renovation, but will eventually become her permanent residence. Francesco, who owns TAMI but is also an architect, will design and build a new cellar on the premises.

Surprising Varietal Factoid: Frappato actually has thicker skins than Nero D'Avola, which I never would have guessed.

After visiting the cellar, it was lunch time. Once seated, we began to talk about Vittoria as a wine region, and its recent rise to popularity almost entirely due to the quality, high profile work of Arianna and her uncle Giusto of COS. Arianna explained that Vittoria is a very agricultural place, but it's also very economy driven. Because it is a poor part of Sicily (which itself is one of the poorest parts of Italy), farmers are always looking to grow whatever crop will make them the most money. For most, grapes are worth next to nothing; it got so bad in 2009 that some of Arianna's friends where going to dispose of their entire harvest without making a penny. Instead, she decided to partner up with them and vinify those grapes, eventually leading to the TAMI wine project. The only reason Arianna is one of the only vigniaoli with old Frappato vines is because most farmers have torn theirs out over the years.

After lunch we tasted the current releases that will be be making it to the US soon. The 2011 SP-68 White is less potent and more elegant than the 10, most notably due to it being 100% albanello this year (last year's had Zibbibo). The SP-68 red is the bomb. The Frappato 10 had very structured, dark berry fruit and tannins, with pronounced acidity. It will age incredibly well.

As a special treat, Arianna pulled out magnums of the Frappato 04, her first vintage. Alex Miranda pointed out that the nose had notes similar to a Barbaresco. It had aged very elegantly, and was still full of life. It was then time to taste the 05 Nero D'Avola: it had structured fruit on the nose and palate, as well as nice tannic structure.

We then hung out and digested in the sun for a few hours before saying goodbye. Next stop: the exciting conclusion of Italy 2012 featuring our visit to Renato and Sebastiano de Bartoli!
Contact us:
info@louisdressner.com
phone:212.334.8191
fax:212.334.9216


Blog Feed
instagram


Latest Producer Videos: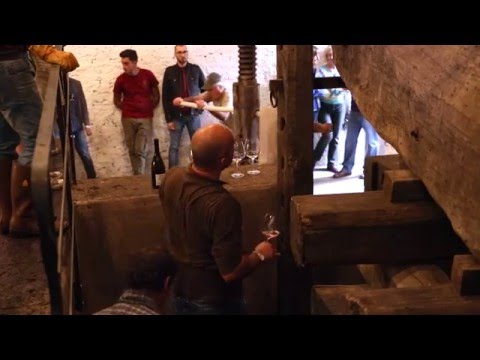 Traditional Palmento Vinification at I Vigneri!
Fabricca di San Martino's 2015 Harvest.
Louis-Antoine Luyt's 2014 Pipeño Harvest.