PREVIOUS SUMMER LOG: MAS DES CHIMÈRES IN OCTON

Up until today's avalanche of information, Zélige-Caravent has been one of those mystery estates for most of our customers. But today, that all changes! Before jumping into the visit recap, please read the new Zélige-Caravent profile and in-depth interview with Luc and Marie Michel to get a firm grasp on who these people are. Moving along...

It's always great when you spend time with someone you barely know and end up getting along like old acquaintances. This was certainly the case during our two day visit with Luc and Marie Michel in Corconne. In the last year and half, we've crossed paths several times at Renaissance des Appellations and Vini di Vignaoli, and obviously spent enough time with them to work out bringing the wines to the United States, but this was our first time visiting the estate and I'm happy to say it was a great visit.




We arrived just around lunch time, and kicked things off by eating at this great, hidden gem of a restaurant called Sous le Chêne. After following an unassuming, unmarked path on the side of the road, you end up in an outdoor space with just a few tables, a makeshift kitchen and swimming pool. Everything is sourced locally/organically and they have good wines, but the most interesting thing about this place is their use of wild, seasonal plants and flowers in most of their dishes. Check out this link to see the summer offerings. Flowers taste good!

After lunch, it was time to check out what Luc has dubbed "the world's tiniest cellar". Before stepping in, I spotted an imminent shipment for PDX wine out in Portland!




The cellar is indeed tiny and in the middle of the village. Out front, there's a blue tree.




Inside, most of the concrete tanks were adorned with Marie's chalk art.




She explained that drawing on the tanks keeps her busy since: "doing a soutirage is long and boring". Before reaching said tanks, some of the grapes are put in this large container to macerate.




As you can see from this picture (that I didn't take), each bucket needs to be manually loaded up there (via ladder). The grapes are either whole cluster or not, and this depends on the state of each varietal, each vintage. Macerations typically last 4 weeks, and only light remontages are performed during this period. A wooden press is then used.

All in all, the Michel's work 12 hectares spread over 24 parcels. The biggest is only 1 hectare! Interestingly, the reason vines are so widely planted here is a bit of an accident. Up until the 50's, all vines were planted on extremely fertile ground, because the poor soils were reserved for olive trees. Then there was the great frost of 1956, which killed ALL the trees. This came as a huge surprise to the locals, since olive trees are notoriously resistant and live a very long time. And because replanting olives exclusively was too much of a long term plan, vines were replanted in the poor soils instead. And lo and behold, people started realizing these were good terroirs for wine!

Speaking of terroir, the soils here are locally called Gravette, which consist of deeply layered rocks in red sand.




Walking over to the vines, Luc pointed out a plot that he'd originally wanted to buy. Instead, the owner decided to rip them out and replant.




"I can't believe they ripped it out before harvesting."

It definitely seemed like a waste; Luc is guessing that Syrah will be replanted in rows here, an unfortunate trend he talks about in detail in his interview. A big reason Luc feels that goblets need to stay is that "Each goblet creates its own microclimate by covering and protecting the grapes".

Because there are so many parcels, I forgot which is which, but here are some pretty pictures.




They don't really do rognage, except for some very light touch ups on some goblets where you couldn't walk through otherwise. Vines tend to go quite high in their land.




Walking through La Sene, a parcel of Carignan and Cinsault, Luc mentioned the changes he'd noticed here over the years:

"This site proves that converted vineyards can benefit from biodynamics. Carignan is really sensitive to odium. When I bought them, the vines were sick: grapes were just falling to the ground. I have three separate Carignan parcels, purchased from 3 separate owners who were all having illness problems with them. Now, all 3 are in great shape."

The next day, we continued our tour of the vines.




On the way there, this guy gave me the stink-eye.




Later on, I found this rock with a leaf that had fossilized in it.




That night, we had a picnic dinner facing a parcel Luc and Marie relunctantly had to rip out.




Here, you can spot the old school method of local planting: one row of olive trees, 3 rows of vines.

"I think the olives trees contribute to the vines and vice versa. They weren't producing anything, and for years we kept saying we needed to rip them out. But when we did, it broke our hearts. We'll definitely be replanting in the future."

We ate simply but well, drank some good stuff and got devoured by mosquitoes. It was a fun night.

Next up, the FINAL CHAPTER of the Summer Logs (finally!!!), our visit to Laurent Barth in Bennwhir!
Contact us:
info@louisdressner.com
phone:212.334.8191
fax:212.334.9216


Blog Feed
instagram


Latest Producer Videos: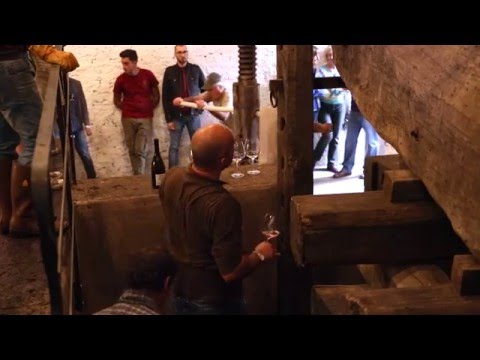 Traditional Palmento Vinification at I Vigneri!
Fabricca di San Martino's 2015 Harvest.
Louis-Antoine Luyt's 2014 Pipeño Harvest.