Back in January we did a tour of the South, and one of the stops was Atlanta, Georgia. After a long day of touring and eating Chick-Fil-A with Arianna Occhipinti, Luca Roagna and Sebastiano De Bartoli, our last stop was Le Caveau. This is really the first retailer in Atlanta to focus exclusively on small production, independently bottled wines of terroir, the vast majority of which are the result of native yeasts, hand harvesting, low yields, and organic or biodynamic farming. For jaded New Yorkers and San Franciscans this might seem like no big deal, but we have to remember that it's a big country out there and even five years ago a place like this might not have been able to open in a city like Atlanta. I like Eric and I like Le Caveau, so I did a little email interview with him to find out what the shop is all about.

Tell us a little bit about yourself, how you got into wine and your inspiration for opening the wine shop.

My name is Eric Brown, owner of Le Caveau Fine Wines in Atlanta, Georgia. I started collecting wine about 13 years ago shortly after a brief stint working at a new restaurant in Atlanta and that quickly grew into an obsession with wine. My wife and I started traveling to different wine regions all over the world and meeting with small, grower-producers in each region to try to get a feel for what made their terroir so special. Shortly after returning from France in the summer of 2010, my wife Carrie and I decided to open a retail shop in a old warehouse that had been renovated and subdivided in Chamblee (an up and coming area in North Atlanta) near our neighborhood. I had been working in technology as a computer engineer for a large international company, and was inspired when a friend left a similar career behind to go out west to pursue his dream of making wine… and my wife said I really needed to do something healthy with my obsession.




Tell us about Le Caveau. How long has it been open, what kind of wines do you sell, what kind of events do you do etc...

Le Caveau has been open since the end of May, 2011. Our specialty is Old World, terroir driven wines with a focus on Natural/Organic/Biodynamic producers from all over the world. Tasting and education are very important to us so we host tastings in the shop most Saturday afternoons, where we discuss all aspects of the wines we're showing with respect to terroir, winemaking, and historical perspective. We also host wine dinners in the shop where we bring in different Chefs from all over the city to pair food with our wines and we host dinners at restaurants around town as well.




How do you feel about the state of real/natural/terroir/whatever you want to call it in Atlanta and Georgia?

I think the farm to table/slow food movement in the restaurants here in Atlanta set the stage for Natural/Biodynamic/Organic wines in this market. Our customers really want to know where the wines they are drinking come from, so when we talk about non-interventionist winemaking, they appreciate how much care is taken with these wines. While the idea of natural wines might still be foreign to a lot of consumers in Atlanta, I feel like people have been really open to exploring them with us and after tasting the purity of the wines, really understand why these wines are ultimate expression of terroir.




What are you particularly into drinking these days?

For reds I have been drinking Sagrantino di Montefalco from Umbria, Lagrein and Teroldego from Trentino-Alto Adige/Südtirol, Poulsard and Trousseau along with the whites from the Jura. I am also infatuated with Cour-Cheverny and Savennières at the moment.




Le Caveau Fine Wines
5256 Peachtree Road Suite 102
Atlanta, GA 30341
770-837-0710
Hours: Tues - Sat. 11am -8pm
http://www.lecaveauwine.com/
http://www.facebook.com/LeCaveauWine
http://twitter.com/LeCaveauWine

Contact us:
info@louisdressner.com
phone:212.334.8191
fax:212.334.9216


Blog Feed
instagram


Latest Producer Videos: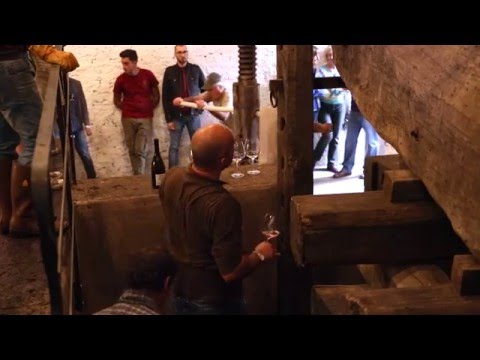 Traditional Palmento Vinification at I Vigneri!
Fabricca di San Martino's 2015 Harvest.
Louis-Antoine Luyt's 2014 Pipeño Harvest.