PREVIOUS ENTRY: FRANCK PASCAL IN BASLIEUX-SOUS-CHÂTILLON

Olivier and Sandra Collin have a beautiful yard.





After some chatty retrouvailles, Olivier asked us if we were pressed on time. We weren't, so he proposed taking us to the somewhat far-away parcel Les Maillons, a site none of us had ever visited. It sounded like a great idea, so we got into our cars and took the half an hour drive to get there.

In true journalistic fashion, I spent the whole drive asking questions and furiously jotting down answers, an un-obvious feat on bumpy country roads where familiar drivers tend to put the pedal to the metal.




While the most talented of you might be able to decipher that, I'll retype it just in case.

As we'd soon find out, hail was at the tip of everyone's tongue this year. Including Olivier's:

"It's scary, and the problem is that insurance only covers grapes, not wine!"

This was right after the Vouvray hailstorm (but before the recent 5 000 hectare disaster in the Southwest), and perhaps the most terrifying thing that can happen to a vigneron. No chance to fight back, just total losses. Our own François Pinon lost 5 hectares, which he talks about in this French news piece that aired shortly after the storm.



The prospect of a small crop in 2013 is especially daunting for vignerons in Northern France, a majority of whom suffered from hail, frost, mildew or all three, resulting in microscopic yields in 2012. Fortunately, Olivier didn't suffer from heavy losses, and even found some positive in the situation.

"The one positive thing about 2012: low yields. The grapes were damaged, but the ones left had incredible concentration. Their optimal ripeness produced great wines."

We also discussed Olivier's long term experimentation with biodynamics. After five years, he is not convinced:

"I try to do what I understand. The one thing where I can biologically see the results of my labor is working the soils. The fermentations in the ground mineralize the rock, which assimilate into the plant."

It's for this very reason he refuses to work with herbicides.

"But you need to work on the soils at the right time. If you're consistently plowing, you will bring too much harmful nitrogen, which will dilute the wines."

After all that driving and chatting, we finally made it to Les Maillons!




Les Maillons is a lieu-dit totaling 6 h, all in Pinot Noir. Olivier owns 2,5 of these, which produces the cuvée of the same name.




Everything is planted in massale. The soils here are heavy clay (much darker than in Congy) with limestone chalk subsoils.




The vines are 41 years old and exposed east. This produces great acidities from the sun. As I mentioned earlier, it's about a 30 minute drive from Congy, but more impressively it takes Olivier 2 hours EACH WAY to get there on the tractor!

There are very few independent growers in Olivier's region, and almost everybody sells to the négoce. Since people only sell grapes and care about weight, no one works the soils except him.

"You get paid by the amounts of grapes you sell, not your viticultural merit."




We then drove back to Congy to taste! As of the 2008 vintage, Olivier has started bottling the wines with parcel names. Les Pierrières is all Chardonnay from 3 separate parcels, all vinified separately. With only 1.7 g dosage, it's 90% 2009, 10% 2008.

"When you bottle reserve wines from the same parcel with each other, you get very interesting complexities."

Les Maillons is all Pinot Noir from 2009, and one of the most unique Champagnes I've ever tasted. I don't even know how to describe it, but it was a truly inspiring bottle.

Olivier always sulfurs 50mg right after press, then lets the rest of the vinification occur without any intervention.

"I'd rather do that than put 20 mg and feel obliged to play catch up."

Les Roises is all Chardonnay, also 90% 2009 and 10% 2008. It also has the very low dosage of 1.7 g,

"The 1.7 g of sugar seems like nothing, but it completely balances the wine, lets it fully express itself."

It's true! All the 10's we tried felt a lot stricter and less alive without their dosage.

Up next, our last visit in Champagne with Olivier Horiot! Rosé des Riceys time baby!
Contact us:
info@louisdressner.com
phone:212.334.8191
fax:212.334.9216


Blog Feed
instagram


Latest Producer Videos: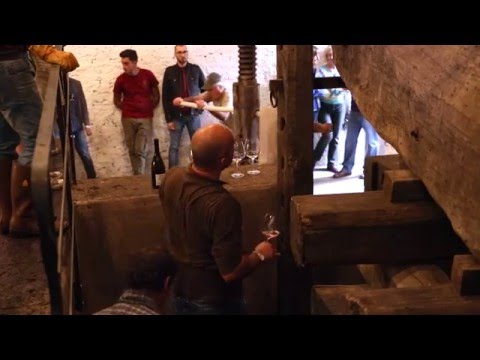 Traditional Palmento Vinification at I Vigneri!
Fabricca di San Martino's 2015 Harvest.
Louis-Antoine Luyt's 2014 Pipeño Harvest.