Three weeks ago, a small group of us set off to Italy for a two week trip. After spending a day in Venice (where, according to Maya's step-calculator thingy, we walked 7.5 miles!!!), we drove to Oslavia to hang with Stanko and Saša Radikon.

The family's main parcel is located right under the Stanko and Suzanna's house.




Standing next to the Merlot vines, Saša explained that finding large vineyards in this area is very hard, and that a parcel of this size (3 h) is uncommon. Along with the Merlot, Ribolla Gialla and Pinot Grigio are planted on the lower slopes of this hill, which is 190m in altitude and exposed full South.




Everything had to be replanted in 1997 after a devastating mudslide in 1994. Besides horse manure, the only thing added to the vines are copper and sulfur treatments, which Saša is trying to reduce by incorporating propolis, a bee based product effective against mildew.

The training is similar to Albarello. Three cuts, two buds per cane, 4 to 6 clusters per vine.




Prior to the 97 replanting, everything was trained in double guyot. Only a few rows at the bottom of the hill survived.




As you can see in the photo below, they had recently plowed every other row, effectively letting the other have "the year off".




The soils consist of heavy clay with a strong presence of shale.




The subsoils here absorb the region's large amount of annual rainfall, and this natural water reserve is instrumental in conserving minerality and acidity in the grapes.

Oslavia is host to a handful of famous winemakers, and from the Radikons' vineyards, you can spot -among others- some of Gravner's vines.




After visiting the vines, we walked back to the house to taste in the cellar. Before we could make it, Stanko distracted us with this big fish.




It had been caught that morning, and would serve as our main course for lunch.

Cooling off from the hot sun, we ventured into the cellar.




The winemaking at Radikon has been covered extensively in the past, but it never hurts to reiterate. There is no temperature control for fermentations, with punchdowns in the first 48 hours to get fermentations going. Along with their old school, hand-held "punchdown stick", their is a one-of-a-kind mechanic one designed by Stanko himself!




The grapes are de-stemmed. The juice then ferments and macerates on its skins -which amount to 20 to 30% of a full tank- for 2.5 to 4 months. After a racking of the skins and gross lees, the wine is aged in large barriques for up to 36 months. The first big attempts with skin contact took place in 1995, with Stanko producing half of the Ribolla Gialla this way.

"Ribolla has very thick skins. My father realized that the skin contact with Merlot made the wine better, so why not try it with Ribolla? It brought more structure and complexity."

Prior to this decision, the wines were fermented in stainless steel and aged in barrique. In the early years, maceration times were much shorter.

"This was a big inspiration for the S line. It has permitted me to understand what my father was doing in the early days."

For those unfamiliar with the S line, S stands for Saša; the wines see 2 to 3 weeks on the skins, are aged in barrel only one year and are immediately released.

Fun cellar factoid: the cellar's walls are the subsoils of the vines we'd just visited, and because of all the water they constantly hold, they sweat out this cold, wet mineral slime.




We tasted a bunch of 09's. They were really good.

To celebrate our successful tasting, Stanko popped open a bottle of 2010 Ribolla Gialla PET' NAT!




That's right, both François Pinon and the Radikons have produced petillant naturel: get with the times people! This experiment started because Suzanna Radikon, who loves bubbles, complained there was never enough in the house. 2010 was a bit of a disaster; there was way too much sugar left, and over half of them exploded during the re-fermentation. But what's left of it is delicious!

Lunch was as good an opportunity as any to taste the recently bottled 07's Radikons and the 10' S wines, as well as some back vintages.




One of those was a 99 Ribolla Gialla, labeled as a DOC Collio. In 2000, Stanko asked that the DOC modify its rules for color so it could allow skin contact wines in the Collio DOC. They declined, so he intentionally declassified everything in 2001.

Another unexpected treat was to taste a pre-skin contact, 1993 Pinot Grigio!




It was bright and mineral, but not exactly memorable. Whatever sulfur was used at the time had completely blown off.

After finishing up lunch with Suzanna's "Best Apple Strudel Ever Made" (Denyse Louis quote), Stanko had to run to an orange wine festival taking place in Croatia. After saying our goodbyes, Sasa drove us to a newly acquired parcel just across the Slovenian border.




This vineyard was planted in 2004 in selection massale, with Ribolla on top, Pignollo in the middle and Tokaj on bottom.

"We always get good wind here from the proximity to the sea."

We ended our visit by climbing up this funky watch tower, getting a bird's eye view of the local surroundings.




That night, we ate at La Subida, which many consider one of the best restaurants in Italy. The all local/organic food and wine program follows seasonal menus, so we got to eat a lot of dishes based on spring herbs and wild asparagus, accompanied by an all-star cast of Friulian and Slovenian wines.

Next up, our visit to Croatia with Clai Bijele Zemlje! These wines have been shrouded in mystery forever, but a full profile and visit recap will finally shed some light (and appropriate shine) on Giorgio Clai's incredible estate!
Contact us:
info@louisdressner.com
phone:212.334.8191
fax:212.334.9216


Blog Feed
instagram


Latest Producer Videos: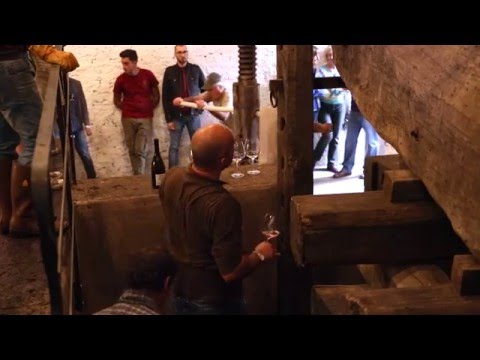 Traditional Palmento Vinification at I Vigneri!
Fabricca di San Martino's 2015 Harvest.
Louis-Antoine Luyt's 2014 Pipeño Harvest.