At this point, most people associate the Cuvée Buster - a wine named after Joe and Denyse's late dog and official Louis/Dressner mascot - with Thomas-Labaille's best barrels of Sancerre from the ultra-steep Monts Damnés vineyard. But the origins of the Cuvée Buster date back to 1998, and perhaps a history lesson is in order.

During a summer visit to Sancerre, Jean-Paul Labaille tasted Joe, Denyse and Kevin on a single barrel of 1997 (a legendary year throughout the Loire Valley). Up until that time, there were no burgundian barrels at the estate; everything was made in stainless steel, enamel-lined tanks or large, very old foudres. Jean-Paul wanted to bottle it as its own cuvée, and everyone agreed. However, when the time came to name the wine, names like "Cuvée Prestige" or "Vin Par Excellence", accompanied by the obligatory imagery of gold crowns, or bottlings named after the winemakers children, grandparent, mentor, horse, etc..., seemed not only lacking, but also completely meaningless in the ocean of wines claiming the exact same thing. Keeping true to Louis/Dressner's contrarian spirit, Joe - who had long been disdainful of the wine industry's pomp and tendency to take itself way too seriously - Denyse and Kevin decided to find the most flippant, irreverent name possible for this truly exceptional bottling. The Cuvée Buster was born.

The rules of the Cuvée Buster are as follows:
1. The wine must begin with a daring, innovative or introspective fluke of the winemaker with regards to his/her terroir or the special character of a particular vintage.
2. There are not more than 50 cases.
3. The wine must be enjoyable to drink on release.

As a way to keep this inside-joke going, Jean-Paul Labaille has continued adding the Buster neck label to his Monts Damnés each vintage, but the original idea was to display a one-off, unique bottle of wine. The Cuvée Buster record is as follows:

1. Thomas-Labaillle Sancerre Monts Damnés 1997 (continued every year since then, and using that same barrel)

2. Clos Roche Blanche Touraine Sauvignon 1998 (this would go on to be the Nº5 version, which started being made in too large a quantity to continue the CB designation)

3. Filliatreau Saumur-Champigny Clos Candi 1997 (normally blended with the other vineyards)

4. Domaine de la Pépière Old Vines 1997 (from the old vines in the Pépière parcel now used in Clisson wine. It had been vinified separately because some bunches had been affected by an ultra rare phenomenon: noble rot on Melon de Bourgogne. Marc Ollivier, who had earlier sworn never to adorn one of his bottlings with the picture of the "ugliest dog in the universe", ate his words to celebrate this most unorthodox of Muscadets, and it was released it in 2001)

5. Franck Peillot Altesse de Montagnieu 1999 (a single barrel vinification that merited a special bottling)

6. Mas des Chimères Grenache Vin de Pays 2000 (a particular vinification we tasted in the cellar and asked Guilhem to bottle for us)

7. Laurent Barth Pinot d''Alsace 2006 (Pinot Noir pressed as blanc because the vintage did not merit vinification as a red wine)

8. Somewhere in all this, there was another special bottling - Château d'Oupia Minervois "Hommage à Poupette" 2004: an all-Grenache wine we tasted in André's cellar. The family dog, Poupette, a miniature poodle that was none-too-fond of Buster, had recently died and we therefore thought it proper to give props.

Today, we continue this tradition by announcing the 9th Cuvée Buster, the first in 8 years and even more exciting, the first from Italy! Introducing the 2000 La Stoppa Cuvée Buster!

The story of this Buster goes like this: when La Stoppa proprietor Gian-Carlo Ageno was faced with the post-devastation of phylloxera in the 1920's, he used this opportunity to replant many of Europe's noble grapes in his vineyards. Alongside the indigenous Bonarda and Barbera varieties, he began planting, amongst many others, Chardonnay, Sauvignon Blanc, Pinot Noir, Tokay, Pinot Gris and Cabernet Sauvignon. The goal was, perhaps naively, to produce world class wines with world class grapes.

Fast forward 60 years later, with a young Giulio Armani hired as head vignaiolo of La Stoppa. For over fifteen years, he tried his best to produce wines up to par with Burgundy, Bordeaux and Alsace. But after years of trial and (mostly) error, Giulio realized that many of these early ripening varieties were simply too fragile to grow in the very warm climates of Emilia-Romagna. In such, the decision to rip a large percentage of these vines was made with new owner Elena Pantaleoni.

By 1996, Elena and Giulio had both agreed to replant the estate in the more suited and indigenous Bonarda and Barbera. Still, Giulio needed to conduct one more experiment for peace of mind. This involved sourcing out three grape varieties that were ideally suited for La Stoppa's terroir, to see if it was in fact possible to make a world class wine from another region's grapes. After much diligent research, he decided to plant a small amount of Grenache, Syrah and Mourvèdre to see what would happen. The result is the 2000 Cuvée Buster.

"But wait!" screams a probably non-existent La Stoppa nerd who knows everything about the estate, "Didn't they end up going through with the plan and replanting everything in Bonarda and Barbera, along with a little bit of Malvasia di Candia?"

They did, and that's what makes this wine so special: it's the very reason Giulio went through with the decision in the first place! Yes, this 2000 "GSM" blend is great; in fact, Giulio was shocked at how much he liked the wine's balance, purity of fruit and elegance. But what surprised him the most was that the wine tasted like a place: it tasted like La Stoppa. And by confirming his suspicions that great wine comes from terroir and not grapes, the estate began its final conversion in the direction we all know and love.

When we first tasted it last fall, Giulio poured it to us more as an afterthought than anything else; the wine was un-labelled, and had been sitting in the cellar for over a decade. Kevin's Buster-Radar (trademark pending) instantly started beeping, and after a few back and forths with Elena and a bit of tug-of-war with Giulio (who considers this "his" wine), we were able to secure some.

This story, like so many others, is what consistently inspires us to do what we do. Our growers are a truly curious bunch, and their undying dedication to making the best wine possible - in this case putting over a decade's hard work into question - validates everything we believe in as importers.

VIVA LE BUSTER!
Contact us:
info@louisdressner.com
phone:212.334.8191
fax:212.334.9216


Blog Feed
instagram


Latest Producer Videos: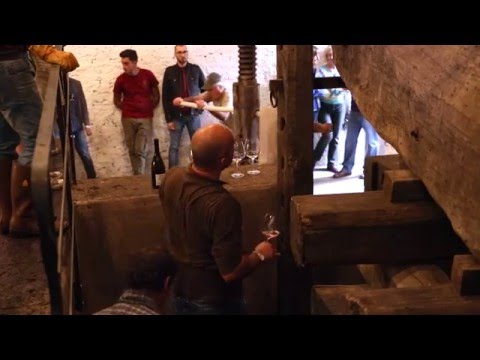 Traditional Palmento Vinification at I Vigneri!
Fabricca di San Martino's 2015 Harvest.
Louis-Antoine Luyt's 2014 Pipeño Harvest.