Cahors. We'll be the first to admit the region doesn't exactly scream "exciting natural wine". For most, Cahors equals rustic, tannic and structured offerings meant to cellar and age for decades. So when we got an email from a friend of Matthieu Baudry asking us if we'd be interested in his wines, we were expecting either hipster carbonic glou-glou or super structured, dark as night teeth stainers.

What we got instead was something delightfully in between. Lo and behold, something's been bubbling in the village of St-Vincent-Rive-d`Olt, more specifically in the hamlet of Cornou!

This is Julien Ilbert, the proprietor of Combel-la-Serre:




We'd never met Julien, and other than immediately co-signing his excellent taste in T-shirts, didn't really know what to expect when showing up at his doorstep. That's because the Combel la Serre story has been steadily evolving over the last 17 years.

Vines have been in the Ilbert family for a very long time, but always as part of a larger poly-cultural whole. Before Julien took over in 1998, his father Jean-Pierre owned 40 hectares of cereals, 25 hectares of vines and 22 cows for meat and dairy. The grapes all went to the local cave coopérative. And right up to his retirement, Jean-Pierre worked the entirety of his land by himself, never hiring an employee. Think about that the next time you're complaining about your shitty day at work...

Before I give you any more Combel-la-Serre history, here's a picture of their dog UV to break up all this text:




Awwwwwwwwww.

In 1998, Julien split from the cave coopérative in hopes of starting his own estate. But a chance meeting with Matthieu Cosse at a rugby match (check Julien's shirt, he's an avid fan and player) quickly led to a commercial partnership. For seven years, Julien sold the majority of his grapes to Matthieu, making a small amount of uncommercialized wine on the side.

In 2005, the two split amicably and Julien reset his sights on independent production. A decade later, he finally feels that all the hard work in the vines and cellar has really begun to pay off and is ready to share the (literal) fruits of his labor outside of France!

We began our vineyard tour with the parcel that produces:




Such a sweet label. For those who are French readers/and or hip to natural wine slang, you will have seen both the word CARBO and the term "vin de soif" on this label and will therefore say: "Hey, I thought you said these wines weren't carbonic!" Well, I LIED. But not really, because this is the only carbonic wine Julien makes, and its represents a tiny part of his production.




The wine is called La Vigne Derière chez Carbo, and besides the obvious reference to vinification, is actually right behind the house of a certain Monsieur Carbonier! Well played, Julien. Well played.

The 1.3h of vines are planted in red clay and are 25 to 30 years old. The northern exposition makes this parcel the coolest Julien works. It's also the only Combel parcel where you can find a ton of galets roulées all over the vineyard:




"These characteristics give the wine an unprecedented freshness and playful fruit, which is why I've chosen to make a carbonic wine here."

Next, we visited young vines planted in Vermentino.




Vermentino is not typical for the region, but Julien planted 1 hectare because he loves the grape and wanted to break out from the Sauvignon and Viognier mold typically produced in this part of the South-West. He also thinks the vines will react well to the soils, as they are heavy in limestone:




Next, we visited a lieu-dit called Peyre Levade, which means "standing stone" in Occitan.




These are the most limestone heavy soils Julien works.

We ended our vineyard run the the Lac-aux-Cochons, aka "Pig Lake".




Not much of a curveball, but this parcel produces:




Also a sweet label. Here is the famous Pig Lake!




Ok, I know it's not that exciting. At least I tried!

Pig Lake is 2 hectares of Julien's oldest vines, most of them clocking around 90. The limestone subsoils here really fuel the grapes with minerality, and he considers it to be his best parcel.

After all that vineyard hopping, it was time to check out the cellar. And who else was there to greet us but barrel man!




Barrel man was built in 1948 by the village barrel maker.

The cellar is mostly large concrete tanks and oak barrels, though Julien occasionally uses stainless steel and fiberglass for certain vinifications.




If you want to read up on the wines, go check out the Château Combel-la-Serre profile here.

It was lunch time, and Julien and his lovely wife Sophie cooked us an incredible meal of local delicacies, which of course involved foie gras and a ton of black truffles. At the table, Julien started opening a lot of great bottles, confirming that he's just as passionate about drinking wine as making it. At first, he even refused to have his wines at the table!

"At my house, we drink the wines of others at the table. I'm around my wines everyday, and there is so much amazing stuff out there. It would be a shame drinking the same thing every day!"

Still, he realized we were familiarizing ourselves with his cuvées and made an exception by letting us re-taste them alongside the food.

But next time, we're cracking open some Ganevat! And Baudry! And Egly-Ouriet!
Contact us:
info@louisdressner.com
phone:212.334.8191
fax:212.334.9216


Blog Feed
instagram


Latest Producer Videos: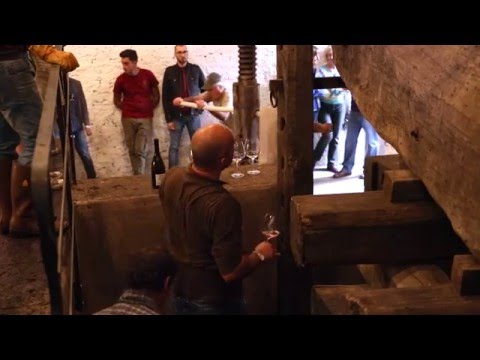 Traditional Palmento Vinification at I Vigneri!
Fabricca di San Martino's 2015 Harvest.
Louis-Antoine Luyt's 2014 Pipeño Harvest.