READ PART 1, PART 2 AND PART 3.

On our fourth day in Chile, we started our day in a sector called Tomenelo to check out Elena Pantaleoni's Chilean side project.




It was fiercely guarded by the terrifying watch dog Chip.




All in all, 27 hectares of vines are planted mostly in Carmenere and Cabernet Sauvignon. Way back in 2007 and 2008, Louis-Antoine actually made a Clos Ouvert wine from this vineyard.




The 2007 we tried later that night was tasty!

While on the road, LA explained that at this point in time, he is working purely on a négociant model, purchasing fruit at an unheard of 3 times the market rate. However, he is more directly involved than most négociants with many of the parcels' viticulture, participating in pruning, green harvesting and picking. For plowing and day to day work, he trusts his suppliers.

"Everything is so spread out. I can't be everywhere at once."

Before setting out to discover more vines, we decided to visit LA's friend Lucien.




Lucien, a jolly guy in his 70's, is originally from Savoie. Around 30 years ago, he got sick of France, so he built a wood boat and sailed it to Chile. Since he's clearly good at building things, he founded a wood shop that makes some truly unique, beautiful pieces.




Everything is hand-made. Thin slices of wood are carved, pressed together, then polished and touched up.




He also still makes boats.




It was a quick visit, and Lucien was very disappointed we hadn't brought a bottle to drink.

"That's the modern world. Always on your way somewhere else. Always late."

For the record, it was 10 in the morning. And yes, we were late. Late to check out the stunning vineyards that produce:




After some dirt road action, LA stopped in the woods and told us we'd have to do the rest of the trip by foot.




It had been raining, so the ground was quite slippery.




"Even under better circumstances, it is impossible to get here with a car. During harvest we use an ox cart to bring the grapes back up."

During our walk, LA pointed out an exposed patch of rocks that revealed Pilen's subsoils:




We'd seen a lot of red clay already, but Pilen is particularly marked by iron.




After a solid 15 minute walk, we arrived to the first of 3 parcels of 200 year old Paìs.




The soils here are red granite, red clay and schist. At 580 meters of elevation, Pilen is truly a mountain vineyard.

Here are pictures from the equally beautiful second parcel.




These two parcels belong to a young man named Leonel Diaz.




He lives with his parents in one of the only two houses in the immediate vicinity (the town is a 20 minute walk away).




Leonel owns a lagar that he uses occasionally to make Pipeño.




And this tinaja (amphora), though it doesn't seem to be getting much use these days...




From Leonel's we took a short walk to the only other house in the vicinity.




There, we were greeted by the lovely Margarita Leon.




Margarita was very busy! First off, she was making food for her dogs.




This little guy was patiently waiting for his meal while sitting on a big bag.




Then she had to check on her tinaja to give her Pipeño a nice stirring.




And what about ALL THOSE CHICKENS????




But most importantly, Margarita was working on her main hustle, making hand-made plates and bowls from Pilen's abundant red clay.




Little did I know that I'd been eating out of her handiwork every night at Louis' house!




Just below Margarita's house are her and her husband's vines.




Some of the Paìs, for reasons LA could not understand, had not been harvested.




"They probably just had too much left."

Check out this 200 year old beauty.




Anyhow, that's it for now!

Contact us:
info@louisdressner.com
phone:212.334.8191
fax:212.334.9216


Blog Feed
instagram


Latest Producer Videos: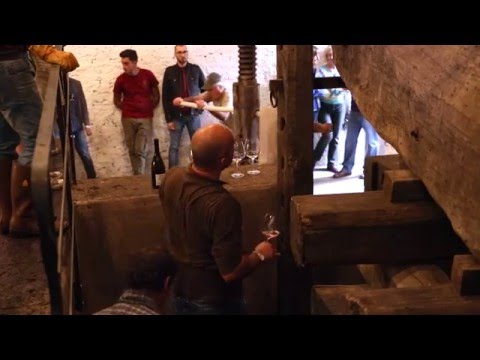 Traditional Palmento Vinification at I Vigneri!
Fabricca di San Martino's 2015 Harvest.
Louis-Antoine Luyt's 2014 Pipeño Harvest.