General Musing From will be a new series of posts recapping the funny, anecdotal moments from our travels around Europe.

I love Italy! After having missed our annual May trip to visit Louis-Antoine Luyt in Chile, I was eager for our 10 day romp through Emilia-Romagna, Campania, Puglia and Lombardy.

Nothing starts a trip with a bang more than a glass door in your apartment spontaneously shattering while packing!




I thought one of my frames had fallen and shattered, but it turns out that the door to my inactive fireplace/liquor cabinet suddenly EXPLODED INTO A MILLION PIECES! Some googling led me to the conclusion that this apparently happens with poorly made glass. Anyway, it was one of the weirdest, surreal things I've ever experienced and I'll keep you posted on if my house is haunted.

The flight was pretty smooth, and permitted me to watch X-Men: Apocalypse (meh), Mike and Ted Need Wedding Dates (had some moments despite starring Zach Effron) and the original Independence Day (classic).




Upon arrival, we drove straight from Milano to Parma to attend Vini di Vignaioli, aka our favorite Wine Fair. While stopping for lunch on the autostrada, I spotted something rather perplexing:




Yes, that's right: Simpsons themed, doughnut flavored tic-tacs:



Naturally, Josefa bought me some:




Spoiler alert: they are disgusting. So disgusting.

Vini di Vignaioli at Fornovo was great, and over two days we were able to catch up with a plethora of producers, including Luciano Saetti, Monte dall' Ora, Cerreto Libri, Camillo Donati, Fonterenza, Elisabetta Foradori, Montesecondo, Costadilà, Casa Coste Piane, Cascina Degli Ulivi, Massa Vecchia, Altura and Arianna Occhipinti.




As always, the Emilian nights saw us posted up at Tabarro, one my favorite wine bars in the world. On the second night, Diego got a police complaint around 1:30 am and forced us all to hide in the basement to make believe he was closed.

It was certainly a weird scene, and included: drinking Fabio Gea's Grignolino and Mushroom Panda while talking to him about Chinese politics, a wild goose chase for Overnoy, a 2012 Émile Héredia Le Verre des Poètes, passed out dudes, an unanswered request for Dard & Ribo and/or Beaujolais, Alice Feiring, bored Danish women and a vertical of old Mascarello Barolos around 3:am.

On Sunday we had dinner at one of our favorite local Emilian spots, Trattoria Milla. This place was my introduction to Torta Fritta/Gnocco Fritto, flaky fried pastries you stuff with prosciutto, culatello, salami, parmesan, etc...




I had an existential crisis when I read a sign saying they'd run out for the night, only to be confirmed by the owner when we sat down. Didn't they know this was the one time a year we come here??????? And then, after all that dread of missing out on my customized Emilian hot-pockets, the owner nonchalantly offered us 20 to go along with our antipasti. This was after explicitly telling us they were out! Though very confusing and putting my mental sanity in question, everything was right with the world!

Also, ribs and Mascarello Freisa.




Being in Emilia also gave us time to pay a visit to the maestro of Emilian bubbles, Vittorio Graziano!




We haven't had these in stock for a while, but we promise it will be in soon! So good.

From Parma, we hopped on a train to Naples. But not before eating a Cruffin.




Just kidding. That sounds stupid.

The weather in Naples was beautiful:




Much to my surprise, hover-boards are extremely popular in Naples right now, as I spotted over 20 in less than 24 hours. I guess they haven't started exploding there yet; someone should call them with their Galaxy Note 7's to let them know.

Being in Naples meant pizza for lunch and dinner, including a stop at the famous Sorbillo!




Yes, that was the crowd waiting to get in. Mobbed and super long wait, but totally worth it. If you find yourself with a 2-plus hour wait, feel free to walk around and sample some of Naples' delicacies:




Between these and the doughnut tic-tacs, this post might contain the foulest consumable products known to man.

From Naples we went to visit Cantina Giardino! I love how all the art on their labels comes from artist friends and can be spotted decorating their walls.




The forthcoming 2015's are great, keep your eyes peeled for the magnums of Rosso and the return of the Rosato!




I was also able to score this amazing t-shirt featuring the Bianco Magnum's serpent:




That night, our hotel in Irpinia smelled like being trapped in an elevator with an 80 year old woman wearing too much Channel N5. While trying to take a nap, I kept constantly being distracted by a man loudly counting from 1 to 10 over and over again; turns out there is a gym below the hotel and a class was going on. Josefa, a native Chicagoan, stayed up all night to watch the Cubs win the World Series. By crying and screaming so much, she woke up Denyse around 6:am, who wasn't sure if her reaction was due to a win or a loss.

We also swung by Agnanum, which was so noteworthy the visit will get its own recap.




From Campania, we headed over to Puglia to visit Perrini, Natalino del Prete and Cristiano Guttarolo. At some point during our visit to Cristiano, we pissed off his damijan.




While in Puglia, we got to spend a few nights in the gorgeous baroque town of Lecce.




Dinner was at the incredible Le Zie!




I highly recommend the slice of horse as your main course:




From Lecce, we spent a night in Barri, then had one last visit in Lombardy to visit the incredible Franciacorta estate Il Pendio!




Il Pendio will get its own profile and re-cap shortly.

Ok, that's it!

THE END.


Contact us:
info@louisdressner.com
phone:212.334.8191
fax:212.334.9216


Blog Feed
instagram


Latest Producer Videos: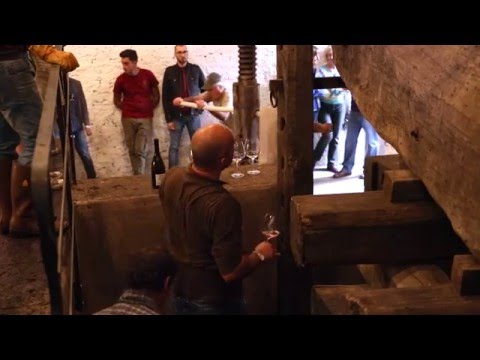 Traditional Palmento Vinification at I Vigneri!
Fabricca di San Martino's 2015 Harvest.
Louis-Antoine Luyt's 2014 Pipeño Harvest.