Elisabetta Foradori's son Theo Zierock has shared with us his incredible labor of love documenting Foradori's 2016 harvest in Virtual Reality! This is so cool!

Via Theo:

This spring, after a calm winter, a wave of immediate heat favored an early vegetative explosion. The hot start was quickly interrupted by a wet and cold end of May, which continued into a chilly summer until August. Heat and lack of rain marked the second half of the season and continued almost uninterrupted until the end of the harvest. Single showers helped the vines in the last days before picking, but overall, although very productive, this vintage is marked by an unbalanced climate. We will discover in the next phases of human transformation how this bipolarity transfers to the wines.

To share this year's harvest we thought of creating a participative experience of the winery during the moment of the year, where all the challenges and efforts come to a peak.

1. The video above is a condensed overview of the whole production process from the grape harvest to fermentation in our clay Tinajas.

2. The harvest in the Teroldego vineyards.



Both scenes are filmed in parcels that end up in bottles of Foradori. The first part shows our harvest-team picking grapes from our wide pergola. This original method of Teroldego farming in the area of the Piana Rotaliana allowed our ancestors to be as autonomous as possible with little farmable land. Between these wide rows, originally the peasants would plant vegetables or corn for polenta, keep animals and cut hay.


3. Our collaborator Andrea drives the tractor with the harvest from the vineyard to the courtyard for the next step.



4. After weighting the harvested grapes on our old scale (built-in to the courtyard), Lorenzo moves the load from the scale to the processing area. Here the grapes are destemmed and pumped to the cellar without being pressed.




5. The harvest team at lunch. This year our team was particularly young and international: hailing from seven different countries, most of our pickers were under 30.



6. The Foradori brothers, Emilio and Theo, take care of the grape stomping or pigeage in the cellar. During the fermentation this is done twice a day for every tinaja.


Contact us:
info@louisdressner.com
phone:212.334.8191
fax:212.334.9216


Blog Feed
instagram


Latest Producer Videos: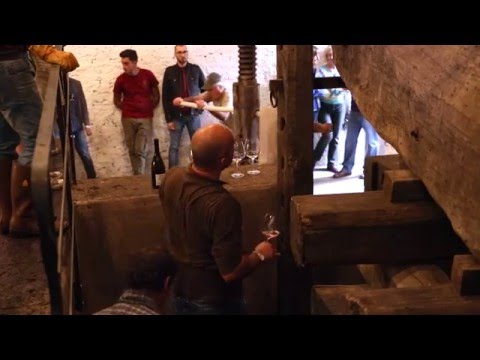 Traditional Palmento Vinification at I Vigneri!
Fabricca di San Martino's 2015 Harvest.
Louis-Antoine Luyt's 2014 Pipeño Harvest.