To many, Causse Marines is an enigma. Why do they have clown noses on their labels? Why have do you literally know NONE of the grapes they work with? Why do they hate badgers?




Well, let's start off by answering the badger question. Badger translates to blaireau in French, which is slang for, well, an asshole. France also has this rather ridiculous, and very obligatory law that forces every bottle of alcohol to sport a barred out pregnant woman in an effort to instruct them to not drink during those nine months.




With no accompanying text and often less than half an inch in size (proving the pregnant stomach very hard to spot), there is a long running joke amongst vignerons that the logo basically looks like the government telling us that women are not allowed to drink. Highlighting this absurdity, Maisons Brûlées recently spoofed this with their Dernier Née cuvée, making the barred out pregnant woman the actual label.




Virginie Maignien and Patrice Lescarret, proprietors of Causse Marines, don't like assholes or the stupid barred pregnant lady logo, so they created their own logo: a barred blaireau, aka badger, aka asshole.




Sorry assholes: this wine's not for you...

Anyhow, if you want the details on the history of the estate, I recommend reading Causse Marines' profile and Virginie's in-depth interview. In this recap we'll be focusing on the vines. And dog pics.




On a hot July day, we set off to visit the entirety of Causse Marine's holdings.




Today, the vines are all within walking distance of the house. But when Patrice bought the farm in 1993, he had 10h spread all over the place.

"For years, I was playing monopoly, buying pieces of land I didn't want to later exchange with ones I did."

The first parcel we visited is a mix of Mauzac planted in 1928 and Muscadelle planted in 1932.




A large part of this plot is being torn out to replant Mauzac in massale.

Further down, we spotted some Mauzac from the 50's as well as old Prunelard.




Right around here, Patrice recently replanted some Verdanel, yet another indigenous grape no one has ever heard of.

"Before re-planting, Plageoles was the only one to have any!"

Causse Marine's soils are all clay and limestone, though different parts vary in their amount of limestone and rock, which at times can get very chunky.




We visited a lot of vineyards along the way, some of which weren't photographed. Amongst them, old vine Duras that produces Rasdu or Du rat des Paquerettes, Petit Manseng planted in 98, Chenin Blanc planted from Mark Angeli and Huet's massale trimmings (specifically from the Le Bourg parcel), an isolated clos of low yielding Muscadelle that are great for noble rot and, last but not least:




At 0.8 h of Ondenc, you are now laying eyes on the biggest Ondenc parcel IN THE WORLD. If you've never heard of Ondenc, and who can blame you, check out all the synonyms for the grape: Austenq, Béquin, Bergeracois, Blanc de Gaillac, Blanc Select, Blanc Selection Carrière, Blanquette, Blanquette Sucrée, Chaloche, Chalosse, Cu de Brecherou, Doudant Blanc, Doundent, Dourec, Dourech, Fronsadais, Gaillac, Irvine's White, Mauzac, Œil de Tour, Ondain, Ondainc, Ondent, Ondin, Oundenc, Oundenq, Oustenc, Oustenq, Oustenque, Piquepout de Moissac, Plant de Gaillac, Prendiou, Prentiou, Primai, Primaic, Primard, Printiou, Riverain, Sable Blanc, Semis Blanc, Sencit Blanc, Sensit Blanc, and Sercial.

Thanks Wikipedia!

Ok, time for some cellar talk!




From listening to Patrice and Virginie in the cellar, their never-ending goal seems to be the quest for freshness. Both acknowledge that they live in a hot place, and that picking earlier for whites and extracting less for reds have, after years of trial and error, yielded increasingly satisfying results. The cellar remains as experimental as ever, as we tasted skin macerated Mauzac, single varietal vinifications of Duras, Ondenc an absolutely delicious Syrah based Causse Toujours.




After all that tasting, it was time to relax on the hammoc with Tito the dog and Virginie and Patrice's adorable son Abel.




Everything was going great, but a slight disagreement with Abel about the French dubbing of Kung Fu Panda 2 quickly turned ugly:




While I was rushed to the hospital, Kevin and Denyse got to try some old dessert wines from the Causse:




Kevin also got to spend some quality time with Tito.


Contact us:
info@louisdressner.com
phone:212.334.8191
fax:212.334.9216


Blog Feed
instagram


Latest Producer Videos: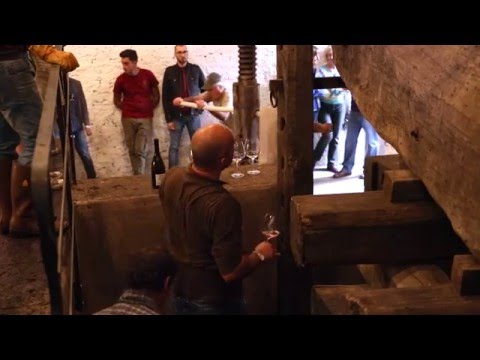 Traditional Palmento Vinification at I Vigneri!
Fabricca di San Martino's 2015 Harvest.
Louis-Antoine Luyt's 2014 Pipeño Harvest.