"You need nerves of steel to not give up when the weather is so unfavorable; this is the burden of the vigneron, who we sometimes forget are completely "climate-dependant"... In hindsight, however, this enticed renewed modesty and humility to the fascinating work we do every year."
-Matthieu Baudry

READ AGNÈS AND RENÉ MOSSE'S 2013 HARVEST REPORT.

READ DOMAINE BERNARD BAUDRY'S HARVEST REPORT.



You'd think that by this point, we'd have run out of things to say about Domaine de la Pépière. WRONG!

We started the visit by driving to the lieu-dit Gras Moutons, a terroir Marc started vinifying in 2007.




Soil wise, Gras Moutons distinguishes itself by being very clay heavy and rocky.




The microclimate is also unique, characterized by its constant winds.

"This helps aerate the vines, and keeps them clean of illness."

Sadly, the constant winds also mean that shitty chemicals being used by neighbors occasionally float over to the Pépière vines. Here's a leaf suffering from herbicide burn:




Lame.

The Gras Moutons vines are spread over two parcels for a total of 1.7 hectares. They are 15, 40 and 65 years old. Rémi's father grandfather owned 9h of these at one point.

Here's a picture of a weird bug I'd never seen before.




After hopping back into the Marc Mobile, we drove over to Pépière's newest Cru, Château-Thébaud.




The soils here are rich granite and sand.




1.5 h are spread over two parcels. The first is planted in extremely vigorous young vines, so much so that in some vintages Marc and Rémi feel obligated to green harvest in order to LOWER yields. Melon de Bourgogne vines tend to produce very high yields even without chemical fertilizers, and to assure optimal concentrations, the Pépière crew intentionally keeps things at a very low 35 to 40 hl/h.

The lower yielding, older vines are over 60 years old.




Marc and Rémi love working here because the exposition is more South, and the "hotter soils" means more advanced, homogeneous flowering and maturing.

Our final and longest vineyard visit was a long stroll through the Pépière vineyard, the 10 hectare clos that produce the base Pépière and Clos des Briords cuvées.




The soils here are composed of super-light, sandy granite.




Upon further inspection, Marc pointed out the slender, silver micha-schist chunks that can be spotted all over the vineyard.




While they don't add anything to the soil's complexity, Marc theorizes that their constant reflection of the sun affects grape maturities. Upon even the slightest bit of friction, these flake into paper thin morsels.

In the late 90's, Marc decided to plant some reds here. At the time, he used what was available to him and planted, amongst others, Côt from clonal selections. Years later, he was able to acquire some massales from Clos Roche Blanche's 100+ year old vines. The difference in vigor and quality has amused Marc for a long time, so he decided to give us a side by side comparison.




The massale is the one on the right: a third less vigorous, but two thirds more concentrated. If it hasn't already been made clear, Marc is a fan of quality over quantity.

We also saw the oldest vines on the estate, which are over 100 years old.




Marc says these are productive as ever.


Eric and Christine Nicholas live on a side road in the tiny village of Lhomme. When we arrived, Eric was busy spraying a biodynamic treatment on some Pineau d'Aunis, so Christine decided to give us a tour of some other vineyards before heading over to see him.


Click here to read the rest of this post...



EXTRA, EXTRA: READ ALL ABOUT IT!

MONTESECONDO IN 2013!

2013 AT CLOS ROCHE BLANCHE!
Contact us:
info@louisdressner.com
phone:212.334.8191
fax:212.334.9216


Blog Feed
instagram


Latest Producer Videos: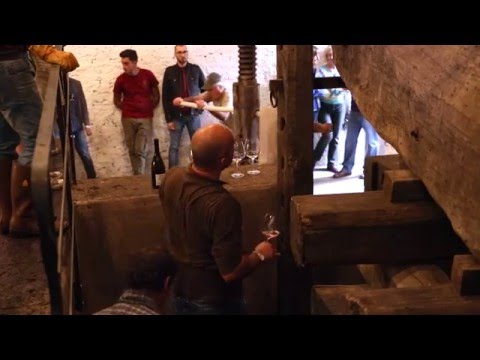 Traditional Palmento Vinification at I Vigneri!
Fabricca di San Martino's 2015 Harvest.
Louis-Antoine Luyt's 2014 Pipeño Harvest.