We are happy to announce our newest Calabrian estate, L'Acino! Go read all about them on their BRAND SPANKING NEW PROFILE!

We first tasted L'Acino on a late night at Tabarro, the bar in Parma I'm always ranting and raving about. After requesting a "Beaujolais style" red, the owner Diego laughed and quickly brought out a bottle of Calabrian wine called Chora Rosso, made from a grape we'd never heard of. Everyone LOVED IT, and was very excited since it turned out the guys were participating in Vini di Vignaioli and that meant tasting the entire lineup the following day. The other three wines (for a total of 2 whites and 2 reds) were so good that Kevin instantly decided to modify our trip to visit the estate.

Two days later, we were smack-dab in the middle of San Marco Argentano waiting for head vignaiolo Antonello Canonico to show us some vineyards.




Though I much prefer driving stick-shift, the old town's extremely narrow, curvy and seemingly uphill only roads made me grateful that we had an automatic for once. While we were waiting, Eben and I made sure to buy some RumJungle jeans for all our cool American friends.




Antonello scooped us up and we drove over the 5 hectare site that produces both Chora Bianco and Chora Rosso cuvées.




The vines here are very young, and were planted by the L'Acino team 6 years ago. As you can see, the soils had been heavily plowed; the guys are doing this every year following harvest, and adding legumes, straw and many other good, biodynamic things to promote mineral richness and depth to the soils, which have never had anything planted in them.

Antonello explained that their are 5 distinct soil compositions within the vineyard, which are essentially varying amounts of sands. In the sandiest parts of this double-sided hill, the guys have planted in franc de pied. The sands go for 1.5 meters until they hit a solid, very hard to penetrate sheet of rock.




That's Antonello in the picture above. His partner Dino pointed out that this layer of rock will always keep yields very low. Furthermore:

"Because we are working organically from the start, the vines are taking a long time to find themselves in the soil."

As far as the grapes planted, the vineyard features the indigenous Magliocco (red) and Mantonico (white), as well as some Grenache Noir and Grenache Blanc. Everything is planted in massale.

By the time we were ready to see another piece of land, the sun was almost gone.




Even though it quickly became too dark to take any good landscape pictures, the second site that Antonello, Dino and Emilio brought us to was a recently acquired plot of land that they will start planting in 2014. The iron infused sand and clay had a red intensity I've only seen at Mas des Chimères.




They are extremely excited about planting here, because this is a completely different terroir than their other vineyards.

We then drove to the cellar to taste the 2013's as well as some bottled stuff. The first thing I spotted was this TOTALLY BODACIOUS poster.




This is their cellar.




Stainless steel tanks take up the majority of the space, but there are some old French oak barrels hiding in the back.




Here are what the labels for the whites look like.




I don't really want to try describing how these taste since that's not really my forte, but they are really fucking good and the Mantonico whites are like nothing I've ever tried before.

Dinner was upon on, and the guys pulled out all the stops: the antipasti was about two meals worth of food on its own, the pasta was banging and the baby lamb slaughtered the night before did not die in vain. More importantly, it was a chance to get to know Antonello, Dino and Emilio, who are super nice guys. Chatting them up, it was obvious how enthusiastic and dedicated they are to the L'Acino project, and I can only imagine great things in the future for them.

The following morning, we set out for the 30 minute drive into the mountains to visit Mantonico vineyard, which produces the Mantonicoz bottling and totals just about 1 hectare.




These vineyards are right on the border of the Pollino National Park, which you can see in the photo above.




Antonello explained that these are very hard to work. The soils feature a little bit of clay, but are mostly comprised of very compact sand. These cool looking rocks can also be spotted throughout the vineyard.




The vineyard is 650 meters above sea level, and exposed North. This gives the area a uniquely cool microclimate that is very rare in the area.

"This microclimate really sets it apart."

The vines are 15 years old. Here's what second growth Mantonico looks like.




The 20 year old Magliocco vines are just a short walk away.




This represents about 1.5 hectares.

"When we took over, it was worked more than conventionally."

This is what second growth Magliocco looks like.




For this coming round of Italian visits, I am very happy that Eben Lillie of Chambers Street Wines was around to take so many great pictures. Thanks Eben!

For our annual fall tour of Italy, we got things started by visiting Carlo Venturini and Alessandra Zantedeschi of Monte dall' Ora!

They have a pretty sweet backyard.




Yes, that's their mail box. They also have an awesome dog named Vladimir who loves playing with this old soccer ball.




Before setting off to see a newly acquired vineyard, these stacks on stacks on stacks of drying Amarone grapes caught everyone's attention.




These are left in open without temperature control. Carlo does have a big fan constantly blowing on them though, so maybe that counts as temperature control. You tell me.

Carlo was really excited to show us his newly acquired land just above the mountain commune of San Giorgio, which is located on the Northern-most edge of Valpolicella.




The vineyard is completely enclosed by woods, with no neighbors. It is mostly planted in Guyot. The soils consist of limestone rich in iron. Throw in a complimentary full South exposition, and you have all the factors for great terroir.




The vines are 7 years old and planted in Corvina, Corvinone, and Teroldego. Unbeknownst to the group, Teroldego is permitted in Valpolicella vineyards, up to 15%. The vines were being worked chemically and Carlo is converting them to biodynamics. In total this represents 2 hectares.

He is not sure where the grapes from this land will end up for the time being, as this will require experimentation. The eventual goal, once the vines are older, is to make a site specific bottling from this terroir.

Part of the acquisition included a tiny parcel of whites planted in Pergola.




Cortese, Garganega, Chardonnay and a mystery grape are planted here.

"I'll try making a little white this year. I've only tried this once before, and it was the worst thing ever!"

As we were contemplating the beautiful view, a strange sound started galloping towards us. Everyone got freaked out, but we were quickly relieved to know that it was just a horse running freely through the mountain.




I then unsuccessfully tried to convince the group that this was all staged and that we at Louis/Dressner intentionally set up beautiful acts of nature to impress our customers.

Because it was on our way down, Carlo had us stop by San Giorgo, which was built in Roman-Pagan times. Here's the village's beautiful Church.




And here's a beautiful mountain sunset.




The sun was setting fast, but we still had a bit of time to rush over to the Camporenzo vineyard, which produces the Valpolicella cuvée of the same name.




Camporenzo totals 3 hectares and faces east. Everything is grown in Pergola, which is normal for the region. It's also right next to Brad Pitt and Angolina Jolie's villa, a converted old monastery. No word yet if they plan to produce a Valpolicella after the huge success of their first wine, Miraval Rosé.

The soils here are sand with a loose clay subsoil.




By the time we were done with Camporenzo it was pitch black outside, so the natural transition was to head to the cellar.




We started by tasting the base for the 2013 Sasetti (local dialect for "little rock"), but with the late harvest it was so young (we were there in mid-November) that it was hard to taste much more than fresh grape juice.

The Superiore, which macerates in the wood vats you can see above, needs to be foot-trodden once a day. Since we all happened to be there, Carlo figured he'd give us a demonstration.



"Right now the grapes are very soft. With the Amarone, the grapes are much harder and it's much less fun.".

Speaking of the Amarone, drying time is variable. Carlo waits at least until the 1st of January of the next year, and will be February for this year's harvest. It usually takes 10 to 15 days to start the fermentation. In the first few days, Carlo does very little foot treading. After that, he does 3 treadings a day (about 5 hours apart) for 10 days. In the vats, you have approximately 70% skins and 30% juice, which was the opposite of what he was stomping on with the Superiore in the video. The wine then ages 3 years in barrel and one year in bottle before release.

Dinner WAS INSANE, and featured never-ending polenta with anchovies, Valpolicella ravioli (the pasta was made with wine), pork stuffed with pork and Italian Cronuts. It was also a good time to hear Carlo talk of his early experiences in the area. When he first took over what would become Monte dall' Ora, he made a point to chat up all the old timers and ask them how they used to work. The thing that resonated most with him was that:

"When everything was still done by hand, there were way less treatments simply because it meant so much more work (spraying row by row with a heavy backpack). That's also why people started building bigger barrels. 1000 hl at a time is the way to do it!".


Get the skinny!

DOMAINE RENARDAT-FÂCHE 2013 HARVEST REPORT

DOMAINE FERNAND GIRARD 2013 HARVEST REPORT


First thing's first: go read the BRAND SPANKING NEW interview with Jean Maupertuis on his profile. If you're unfamiliar with Auvergne's viticultural history, you will definitely learn a thing or two.

ON TO THE RECAP:

Two years ago, Jean Maupertuis purchased some vines in the commune of Riom. These are 45 minutes away from his village of Saint-Georges-sur-Allier, so we met him at at edge of an autoroute toll-booth (which admittedly was a bit confusing) to visit these first. Our first stop was a 1,5 hectare plot of Gamay d'Auvergne (a local strain that distinguishes itself by its later maturities and more rustic, peppery flavors) planted right after WW2.




The vineyard directly faces the town of Clermont-Ferrand, which you can see in the background of the above picture. These vines are planted on what was once one of Auvergne's most celebrated coteaux: designated as the Madargues cru, this was reportedly one of Louis XVI's favorite wines and was extremely popular in 17th century Paris. Today, only 12 h still remain in the cru (now a sub-appellation of the Auvergne AOC) and this is the only parcel left on this coteau.

The plot is wedged between expensive suburban houses.




"I don't know how long vineyards like this can last in the long run. This land is worth 5000 euros as a vineyard, and 1 million euros as a building site for housing."

The soils consist of white sands.




Grapes from this parcel go into the La Plage cuvée, which translates to "the beach". Get it?

The next plot of land we visited was a short drive away, all Gamay planted in even sandier soils.




It's this parcel that inspired the name La Plage, as the sands are the exact same you'd find on, well, a beach.

"Even the herbs that grow here look like the beach!"




The last parcel we visited from Riom is home to the Pinot Noir that produces Neyrou.




I immediately noticed a training system for the vines that I'd never seen before, which Jean defined as "En Lyre" training:




Essentially, "En Lyre" is a double palissage with nothing in the middle, permitting both sides to get optimal aeration and sun.




It quickly went out of fashion because this training system is impossible to work mechanically, and has therefore all but disappeared. According to Jean, it takes about 7 years to properly shape one. The vines here are 25 years old.

Another reason it became unpopular is due to the fact that you're getting grapes on both sides of each row, which automatically translates to low yields since one root is essentially sharing the work of two vines. Jean says that his Gamay and Pinot Noir planted in En Lyre produce teeny-tiny grapes, but that they are unbelievably full of concentration.

The vines here are exposed full South, and planted on clay heavy soils.




Jean has yet to work these soils, but plans to do so in the coming year. When he acquired these in 2011, they were abandoned and completely surrounded with extremely high thorns.

"It took a crew of 5 an entire month to clean everything up!"

The next morning, we set off to vineyards just a few minutes from Jean's home.




This 1.2 h parcel of Gamay was almost on some Clos Roche Blanche levels of flower-power!




All of these are wild flowers. The vines themselves were planted in the 60's and the soils are limestone.




The final parcel Denyse and I checked out produces the Pierres Noires cuvée. Zaggy was loving all the open space to run around in.




The soils here are all volcanic ash and debris.




Clermond-Ferrand can once again be spotted in the background.




The vines here are 60-70 years old and average 25 to 30 hl/h yields.




After a beautiful morning, we stepped into yet another contender for "smallest cellar in the universe".




Yup. That's all of it.

One thing that was sweet was this home-made spit bucket with a gutted bowl going placed on top of a vase.




Clever, clever!

Jean had already bottled all of his 2012's, which we gleefully re-tasted before setting off. They were quite nice.
Contact us:
info@louisdressner.com
phone:212.334.8191
fax:212.334.9216


Blog Feed
instagram


Latest Producer Videos: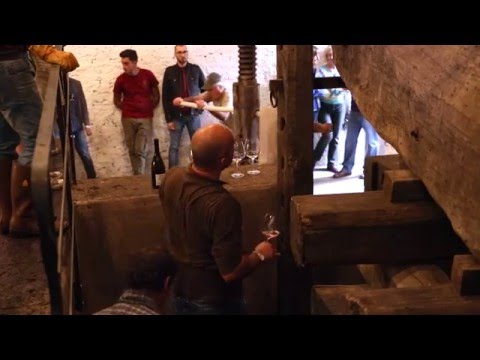 Traditional Palmento Vinification at I Vigneri!
Fabricca di San Martino's 2015 Harvest.
Louis-Antoine Luyt's 2014 Pipeño Harvest.