Visiting Julien Pineau this summer felt a bit like being in a parallel universe: everything looks the same, but it's not. The Clos Roche Blanche vineyard is the most written about on this website, including a 9 part recap on my experience harvesting the estate's last vintage in 2014. Julien, who was training under Didier at the time, features prominently in those posts, and I encourage you to re-read them or discover them for the first time before continuing on with this recap. Also, also read Julien's profile!

Meeting up with Julien would be one of few uplifting moments of our two weeks in the Loire, at least wine wise. 2016 has been a disastrous vintage for the vast majority of Northern France, yet somehow his sector is one of the only ones not ravaged by frost, hail and/or mildew. This sector also includes Noella Morantin, Maisons Brûlées and Laurent Lebled, so keep that in mind in the Spring of 2017 when you need your Loire fix!

Taking our habitual walk through the vines, the sky was menacing.




Regardless, the Clos is as beautiful and full of life as ever. Here are some pretty flower pictures.




What a relief to see some healthy bunches!




Especially compared to some of the horrors witnessed in the Muscadet a few days later:




That, my friends, is a bunch devastated by mildew at Pépière. Yikes...

Continuing our walk, Julien explained how he and Laurent Saillard, the other co-owner of Clos Roche Blanche, have ripped out some very old, unproductive Sauvignon and Côt vines that Noella Morantin used to rent.




Some of the plots had been replanted with cereals.




Julien plans to re-plant about a hectare of of the indigenous and obscure Menu Pineau, but also apple and pear trees.

"My girlfriend is currently following a formation for biodynamic polyculture. Our goal is to have more than just vines in the Clos: different fruit trees and vegetable patches, but also livestock to diversify this already incredible eco-system even more."

As far as the division of the 12 hectares that actually constitute the lieu dit Clos Roche Blanche (the estate once ballooned to as big as 25 hectares), Julien and Laurent have split the land in an intuitive fashion: Julien works the 6 hectares he trained under while working with Didier (Sauvignon, Gamay, Côt, Pineau D'Aunis, Cabernet Sauvignon) and Laurent works the 6 hectares he worked as the long time employee of Noella Morantin.




As we continued our walk through the vineyards, Julien pointed out the 100% straw cabin Didier had recently restored.




"He purchased a ribbon and we did a fake opening ceremony. We drank a bottle of bubbles in there to celebrate."

From the cabin, we went to check out the old Côt and Pineau D'Aunis.




It really started raining at this point, so we had to take refuge in the cellar to taste.




The first thing we spotted was some Sauvignon heading to our coasts (now available in NYC!!!!)




We began by tasting all the wines bottled in Spring, all of which are now stateside.




In Julien's first vintage, two Sauvignons were produced à la Clos Roche Blanche N#2 and N#5. The Spring bottling is called Roche Blanche. For reds, the spring bottling resulted in a Cabernet Franc called L'Écume des Nuits and a Pineau d'Aunis called Les Sucettes a l'Aunis. The latter is a pun riffing on Serge Gainsbourg's Les Sucettes, a song whose subject matter you may catch from the (ahem) extremely subtle images in that Youtube video. A Pet Nat from Cabernet Sauvignon called Bocca di Rosa rounds out the lineup.

Julien has purchased all of CRB's barrels and tanks, which we diligently tasted through for wines still being aged.




These included the younger Côt, old vine Côt and foudre raised Sauvignon. Everything is tasting great.

It was lunch time, and since Catherine knew I was coming, she made sure to stock up on a little bit of cheese.




It made me happier than a gnome with his arms up or a cat in a basket.




As many of you know we received the news from Saša this weekend that his dear father and our very dear friend / collaborator Stanko passed away over the weekend. Joe and I first met Stanko and Suzana in the spring of 2003. It was at Villa Favorita, an "off" show of Vinitaly at that time organized by the group Viniveri of which Radikon was a founding member and whose idea of viticulture and winemaking pre-dated and helped shaped the guiding principles of the group. I remember he seemed formidable and at the same time genial. I think Joe was even a little intimidated (a rare occurrence).

It wasn't until a year later when the Viniveri show moved to Villa Boschi that we seriously talked with him. We tasted a few times over the course of the two days of the show. Naturally we loved the wines…it was 2001 vintage. We had a full schedule, but wanted to see the winery and Stanko wanted us to come see the vineyards and cellar. We said we could only come at 7AM, a scary thought for Joe and I, before our flight from the nearby Trieste airport. Stanko said no problem; he'd be awake. It was a gorgeous day, we got lost, of course (pre-GPS days!), but he waited for us patiently on the side of the road so we would not miss the turn. We stumbled through the vineyards and a rushed, but revelatory, tasting in the cellar and I think when we parted, we all understood then and there that we would be working together for years.

The news this weekend saddened us and a lot of our winemakers who over the years of our collaboration and through Saša came to know one another and Stanko very well. They came to know and understand the very special way that Stanko looked at wine, a vision that was a wonderful sense of emotion and reasoning, sense memory and science, heart and brain.

We are very proud to represent Stanko and the heart and brain in his wines. He stands for a generation of winemakers that made conscientious and brave choices to revitalize tradition, respectful farming practices, and counter-fashionable wine styles in an era of "modernization" and fast-paced standardization, igniting a movement that continues to resonate, provocate and enlighten a new generation of wine appreciators.

Auguri, Stanko!

And to the wonderful Radikon family -- Suzana, Saša and Luisa, Savina and Andrea and Ivana and the 3 boys of the newest generation -- our hearts and thoughts are with you all.

Kevin
e Denyse, Jules, Josefa, Maya, David and Sheila




READ PART 1, PART 2,PART 3, PART 4, PART 5, PART 6 and PART 7.

No, this did not suddenly become a California post. Los Angeles is a tiny sector of the Bìo Bìo that used to be densely planted in vines. Today, LA estimates only 30 to 50 hectares remain.

After yet another long drive from Chillàn, we got lost and drove up and down this road a million times.




"Shit, this never happens to me!"

In this very rare case, LA's mental GPS had failed him and we had to ask for directions at Provisiones Don Leo.




I'm not sure if the pan was any good, and wished I had a little more time to gamble on Leo's machines.




Finally, after a little more searching, we were at the Los Angeles parcel!




The vines here were abandoned in 1955, with the owners opting to replant wheat and other cereals. One problem though: the vines kept growing back. For decades, the owner was convinced they were annoying shrubs.




"I started working with this vineyard through the owner's uncle (note: the owner of the Quenehuao vineyard). When I came to visit, we quickly noticed that the shrubby vines growing from the soil were aligned, confirming this was once a dedicated vineyard. I'd estimate the vines to be anywhere between 200 and 300 years old; the owner kept lopping the woods, but the roots are simply too deep to tear out! They kept coming back!"




The soils here are pure sand, making for a fruity, glou-glou wine.

Before our last vine visit, we grabbed lunch at this place.




Along with our chicken stew, we got to enjoy a shitty 40 Oz of beer.




From lunch, we headed to the Portozuelo sector to visit some newly discovered Cinsault vines.




The Cinsault was essentially a prelude to our visit to see more beautiful Paìs! But first we had to walk for a while on this private pass.




After about 15 minutes, we spotted an employee roasting some chestnuts by the concrete vinification vats.




A little more walking led to another beautiful pic.




After almost 20 minutes on foot, we'd arrived!




The next day, we visited a producer that we don't import, so I won't talk about it. I did take the best picture of the trip there though:




Driving back to Santiago, the sky was on fire.




We started the night at LA's friend Flacco, an architect, university professor and accomplished DJ in a past life.




He had a NY section in his vinyl collection, and we waxed poetic (pun intended) about LCD Soundsystem and Metro Area.

From there, we went to another friend's house whose name I can't remember, but who had a really fancy turntable and some good tunes as well.




Old pieces of art from Louis-Antoine's beginnings were on proud display:




It was a really fun night.




THE END.

CONCLUSION: What Louis-Antoine Luyt has accomplished over the last decade is nothing short of incredible, and I hope I was able to transmit this in this series of blog posts. He's brought life to forgotten vines in forgotten lands. He's championed Paìs, the grape that started it all. He's given us the opportunity to drink wine made from 300 year old vines for the first time. He's encouraged farmers to value their land in a climate that does the exact opposite. It's an honor to be represent him and share his vision with you all.




READ PART 1, PART 2,PART 3, PART 4, PART 5 and PART 6.

In what was perhaps the longest day of driving in my life, after our visit to Santa Juana (about 3 hours from Chillán) we drove 5 hours South to visit the Coteaux de Trumao project.




Spend a little time examining that label, then compare it to the pictures below. It will all make sense.

Coteaux de Trumao was founded by two French brothers, Christophe and Olivier Porte, in the early 2000's.




The brothers live at the top of the gorgeous coteau that inspired the estate.




Olivier and his wife live in the house to the left of the talapa.




Christophe and his wife live to the right of it, just out of sight.

The talapa itself is absolutely gorgeous:




Check out this amazing coal rotisserie action.




Gotta spin those ducks!

Over dinner, we got to hear the Porte's Chilean origin story. Their parents had left France to raise cattle in Chile, and both brothers joined them after college in their early 20's. They both worked in the family business for about 10 years, with Christophe eventually branching out into his own project of running a gold mining operation. Pardon the shitty pun, but it was anything but a goldmine; after nearly a decade he found himself nearly dead broke.

Olivier was still working in cattle but wanted a change of pace, so the brothers decided to become partners in a new venture. They founded a wood plant in 1990, which continues to exist to this day. Parallel to their professional lives, a love of Chilean wine was developing, particularly for the Paìs of the 80's. And despite their increasing disillusionment with spoofy 90's winemaking (particularly new oak), the Porte bros eventually felt the urge to start a vinous project of their own. This was right around the time they'd settled on building their new homes on the property where the vines now grow.




"We had already decided to build the houses and talapa on this gorgeous, isolated hill off the Río Bueno. One day, while walking around, Oliver and I spotted a single, old vine that had not been torn out. This was a sign to us: clearly vines had been planted here in the past."

They hired a consultant who proceeded to plant Merlot, Cabernet Sauvignon and Pinot Noir.

"Again, we had no idea what we were doing. But it became very clear early on that the Pinot was reacting the best to the land, as well as making the best wine."

Though the vines have always been worked organically, the first few vintages (never released commercially) were vinified conventionally and proved uninteresting. In 2007, the Porte brother's good friend Lucien (remember him from PART 4?) put them in touch with Louis-Antoine Luyt, who made the long drive down to visit.

"I was immediately drawn to the beauty of the land and the potential of the terroir. It was clear that Pinot Noir worked really well here: it's right off a river, giving the vines the coolness they need. Furthermore, the soils of compacted, volcanic ash react positively to the variety."

Here are pics of said soil:




LA agreed to help to partner up with Porte brothers. The first step involved replanting the entirety of the estate to Pinot Noir in 2005. After three years of letting the youngest vines grow, he vinified for the first time in 2008. Today, the wine is being man by a young Frenchman named Quentin Javoy, who is to the left of Louis-Antoine in the picture below:




In the dusk of the early morning, we set out to visit the vines.




But first, we had to meet the big guy whose names dotes the bottle: Cruchon!




That's right, this wine is named after a dog. So I like more now.

We started at the very top of the hill.




Planted in 2009, these are the youngest vines of the estate.




Because phylloxera never affected Chile, all the plantings are in franc de pied.

"We simply planted the canes and waited."

The 2009 vines are particularly suffering: at 7 years old and barely producing. Still, it was LA and the Porte's choice not to irrigate these young plants, something you almost never see in Chile. The positive side is that it forces them to create deep root systems, which will pay off in the long run.

For now the soils are not being worked, because they don't want grass re-growing and creating competition for the vines.




"Next year we want to start using discs to cut the grass."




You can't spot it because of the mist, but the Bueno river borders the property.

Planted in 2000, the oldest vines are at the very bottom of the hill. Many have been propagated with marcottage.




Quentin, the young Loire native who now is in charge of the Cruchon project, explained that the viticulture is organic, with only contact products touching the vineyards. Odium is the biggest problem due to the proximity to the river and big temperature dips from day to night. Other than that, Quentin makes many herbal preparations from plants surrounding the vineyards.




Stay tuned for the exciting conclusion of the Chile Chronicles!
Contact us:
info@louisdressner.com
phone:212.334.8191
fax:212.334.9216


Blog Feed
instagram


Latest Producer Videos: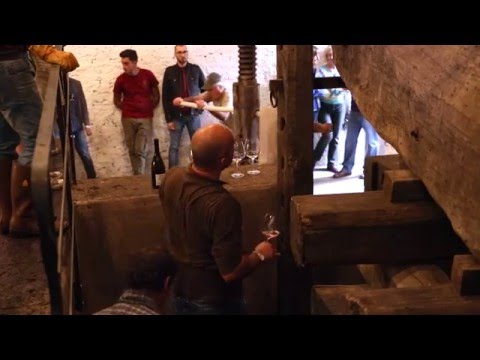 Traditional Palmento Vinification at I Vigneri!
Fabricca di San Martino's 2015 Harvest.
Louis-Antoine Luyt's 2014 Pipeño Harvest.