Elisabetta Foradori's son Theo Zierock has shared with us his incredible labor of love documenting Foradori's 2016 harvest in Virtual Reality! This is so cool!

Via Theo:

This spring, after a calm winter, a wave of immediate heat favored an early vegetative explosion. The hot start was quickly interrupted by a wet and cold end of May, which continued into a chilly summer until August. Heat and lack of rain marked the second half of the season and continued almost uninterrupted until the end of the harvest. Single showers helped the vines in the last days before picking, but overall, although very productive, this vintage is marked by an unbalanced climate. We will discover in the next phases of human transformation how this bipolarity transfers to the wines.

To share this year's harvest we thought of creating a participative experience of the winery during the moment of the year, where all the challenges and efforts come to a peak.

1. The video above is a condensed overview of the whole production process from the grape harvest to fermentation in our clay Tinajas.

2. The harvest in the Teroldego vineyards.



Both scenes are filmed in parcels that end up in bottles of Foradori. The first part shows our harvest-team picking grapes from our wide pergola. This original method of Teroldego farming in the area of the Piana Rotaliana allowed our ancestors to be as autonomous as possible with little farmable land. Between these wide rows, originally the peasants would plant vegetables or corn for polenta, keep animals and cut hay.


3. Our collaborator Andrea drives the tractor with the harvest from the vineyard to the courtyard for the next step.



4. After weighting the harvested grapes on our old scale (built-in to the courtyard), Lorenzo moves the load from the scale to the processing area. Here the grapes are destemmed and pumped to the cellar without being pressed.




5. The harvest team at lunch. This year our team was particularly young and international: hailing from seven different countries, most of our pickers were under 30.



6. The Foradori brothers, Emilio and Theo, take care of the grape stomping or pigeage in the cellar. During the fermentation this is done twice a day for every tinaja.




General Musing From will be a new series of posts recapping the funny, anecdotal moments from our travels around Europe.

I love Italy! After having missed our annual May trip to visit Louis-Antoine Luyt in Chile, I was eager for our 10 day romp through Emilia-Romagna, Campania, Puglia and Lombardy.

Nothing starts a trip with a bang more than a glass door in your apartment spontaneously shattering while packing!




I thought one of my frames had fallen and shattered, but it turns out that the door to my inactive fireplace/liquor cabinet suddenly EXPLODED INTO A MILLION PIECES! Some googling led me to the conclusion that this apparently happens with poorly made glass. Anyway, it was one of the weirdest, surreal things I've ever experienced and I'll keep you posted on if my house is haunted.

The flight was pretty smooth, and permitted me to watch X-Men: Apocalypse (meh), Mike and Ted Need Wedding Dates (had some moments despite starring Zach Effron) and the original Independence Day (classic).




Upon arrival, we drove straight from Milano to Parma to attend Vini di Vignaioli, aka our favorite Wine Fair. While stopping for lunch on the autostrada, I spotted something rather perplexing:




Yes, that's right: Simpsons themed, doughnut flavored tic-tacs:



Naturally, Josefa bought me some:




Spoiler alert: they are disgusting. So disgusting.

Vini di Vignaioli at Fornovo was great, and over two days we were able to catch up with a plethora of producers, including Luciano Saetti, Monte dall' Ora, Cerreto Libri, Camillo Donati, Fonterenza, Elisabetta Foradori, Montesecondo, Costadilà, Casa Coste Piane, Cascina Degli Ulivi, Massa Vecchia, Altura and Arianna Occhipinti.




As always, the Emilian nights saw us posted up at Tabarro, one my favorite wine bars in the world. On the second night, Diego got a police complaint around 1:30 am and forced us all to hide in the basement to make believe he was closed.

It was certainly a weird scene, and included: drinking Fabio Gea's Grignolino and Mushroom Panda while talking to him about Chinese politics, a wild goose chase for Overnoy, a 2012 Émile Héredia Le Verre des Poètes, passed out dudes, an unanswered request for Dard & Ribo and/or Beaujolais, Alice Feiring, bored Danish women and a vertical of old Mascarello Barolos around 3:am.

On Sunday we had dinner at one of our favorite local Emilian spots, Trattoria Milla. This place was my introduction to Torta Fritta/Gnocco Fritto, flaky fried pastries you stuff with prosciutto, culatello, salami, parmesan, etc...




I had an existential crisis when I read a sign saying they'd run out for the night, only to be confirmed by the owner when we sat down. Didn't they know this was the one time a year we come here??????? And then, after all that dread of missing out on my customized Emilian hot-pockets, the owner nonchalantly offered us 20 to go along with our antipasti. This was after explicitly telling us they were out! Though very confusing and putting my mental sanity in question, everything was right with the world!

Also, ribs and Mascarello Freisa.




Being in Emilia also gave us time to pay a visit to the maestro of Emilian bubbles, Vittorio Graziano!




We haven't had these in stock for a while, but we promise it will be in soon! So good.

From Parma, we hopped on a train to Naples. But not before eating a Cruffin.




Just kidding. That sounds stupid.

The weather in Naples was beautiful:




Much to my surprise, hover-boards are extremely popular in Naples right now, as I spotted over 20 in less than 24 hours. I guess they haven't started exploding there yet; someone should call them with their Galaxy Note 7's to let them know.

Being in Naples meant pizza for lunch and dinner, including a stop at the famous Sorbillo!




Yes, that was the crowd waiting to get in. Mobbed and super long wait, but totally worth it. If you find yourself with a 2-plus hour wait, feel free to walk around and sample some of Naples' delicacies:




Between these and the doughnut tic-tacs, this post might contain the foulest consumable products known to man.

From Naples we went to visit Cantina Giardino! I love how all the art on their labels comes from artist friends and can be spotted decorating their walls.




The forthcoming 2015's are great, keep your eyes peeled for the magnums of Rosso and the return of the Rosato!




I was also able to score this amazing t-shirt featuring the Bianco Magnum's serpent:




That night, our hotel in Irpinia smelled like being trapped in an elevator with an 80 year old woman wearing too much Channel N5. While trying to take a nap, I kept constantly being distracted by a man loudly counting from 1 to 10 over and over again; turns out there is a gym below the hotel and a class was going on. Josefa, a native Chicagoan, stayed up all night to watch the Cubs win the World Series. By crying and screaming so much, she woke up Denyse around 6:am, who wasn't sure if her reaction was due to a win or a loss.

We also swung by Agnanum, which was so noteworthy the visit will get its own recap.




From Campania, we headed over to Puglia to visit Perrini, Natalino del Prete and Cristiano Guttarolo. At some point during our visit to Cristiano, we pissed off his damijan.




While in Puglia, we got to spend a few nights in the gorgeous baroque town of Lecce.




Dinner was at the incredible Le Zie!




I highly recommend the slice of horse as your main course:




From Lecce, we spent a night in Barri, then had one last visit in Lombardy to visit the incredible Franciacorta estate Il Pendio!




Il Pendio will get its own profile and re-cap shortly.

Ok, that's it!

THE END.




Visiting Julien Pineau this summer felt a bit like being in a parallel universe: everything looks the same, but it's not. The Clos Roche Blanche vineyard is the most written about on this website, including a 9 part recap on my experience harvesting the estate's last vintage in 2014. Julien, who was training under Didier at the time, features prominently in those posts, and I encourage you to re-read them or discover them for the first time before continuing on with this recap. Also, also read Julien's profile!

Meeting up with Julien would be one of few uplifting moments of our two weeks in the Loire, at least wine wise. 2016 has been a disastrous vintage for the vast majority of Northern France, yet somehow his sector is one of the only ones not ravaged by frost, hail and/or mildew. This sector also includes Noella Morantin, Maisons Brûlées and Laurent Lebled, so keep that in mind in the Spring of 2017 when you need your Loire fix!

Taking our habitual walk through the vines, the sky was menacing.




Regardless, the Clos is as beautiful and full of life as ever. Here are some pretty flower pictures.




What a relief to see some healthy bunches!




Especially compared to some of the horrors witnessed in the Muscadet a few days later:




That, my friends, is a bunch devastated by mildew at Pépière. Yikes...

Continuing our walk, Julien explained how he and Laurent Saillard, the other co-owner of Clos Roche Blanche, have ripped out some very old, unproductive Sauvignon and Côt vines that Noella Morantin used to rent.




Some of the plots had been replanted with cereals.




Julien plans to re-plant about a hectare of of the indigenous and obscure Menu Pineau, but also apple and pear trees.

"My girlfriend is currently following a formation for biodynamic polyculture. Our goal is to have more than just vines in the Clos: different fruit trees and vegetable patches, but also livestock to diversify this already incredible eco-system even more."

As far as the division of the 12 hectares that actually constitute the lieu dit Clos Roche Blanche (the estate once ballooned to as big as 25 hectares), Julien and Laurent have split the land in an intuitive fashion: Julien works the 6 hectares he trained under while working with Didier (Sauvignon, Gamay, Côt, Pineau D'Aunis, Cabernet Sauvignon) and Laurent works the 6 hectares he worked as the long time employee of Noella Morantin.




As we continued our walk through the vineyards, Julien pointed out the 100% straw cabin Didier had recently restored.




"He purchased a ribbon and we did a fake opening ceremony. We drank a bottle of bubbles in there to celebrate."

From the cabin, we went to check out the old Côt and Pineau D'Aunis.




It really started raining at this point, so we had to take refuge in the cellar to taste.




The first thing we spotted was some Sauvignon heading to our coasts (now available in NYC!!!!)




We began by tasting all the wines bottled in Spring, all of which are now stateside.




In Julien's first vintage, two Sauvignons were produced à la Clos Roche Blanche N#2 and N#5. The Spring bottling is called Roche Blanche. For reds, the spring bottling resulted in a Cabernet Franc called L'Écume des Nuits and a Pineau d'Aunis called Les Sucettes a l'Aunis. The latter is a pun riffing on Serge Gainsbourg's Les Sucettes, a song whose subject matter you may catch from the (ahem) extremely subtle images in that Youtube video. A Pet Nat from Cabernet Sauvignon called Bocca di Rosa rounds out the lineup.

Julien has purchased all of CRB's barrels and tanks, which we diligently tasted through for wines still being aged.




These included the younger Côt, old vine Côt and foudre raised Sauvignon. Everything is tasting great.

It was lunch time, and since Catherine knew I was coming, she made sure to stock up on a little bit of cheese.




It made me happier than a gnome with his arms up or a cat in a basket.




As many of you know we received the news from Saša this weekend that his dear father and our very dear friend / collaborator Stanko passed away over the weekend. Joe and I first met Stanko and Suzana in the spring of 2003. It was at Villa Favorita, an "off" show of Vinitaly at that time organized by the group Viniveri of which Radikon was a founding member and whose idea of viticulture and winemaking pre-dated and helped shaped the guiding principles of the group. I remember he seemed formidable and at the same time genial. I think Joe was even a little intimidated (a rare occurrence).

It wasn't until a year later when the Viniveri show moved to Villa Boschi that we seriously talked with him. We tasted a few times over the course of the two days of the show. Naturally we loved the wines…it was 2001 vintage. We had a full schedule, but wanted to see the winery and Stanko wanted us to come see the vineyards and cellar. We said we could only come at 7AM, a scary thought for Joe and I, before our flight from the nearby Trieste airport. Stanko said no problem; he'd be awake. It was a gorgeous day, we got lost, of course (pre-GPS days!), but he waited for us patiently on the side of the road so we would not miss the turn. We stumbled through the vineyards and a rushed, but revelatory, tasting in the cellar and I think when we parted, we all understood then and there that we would be working together for years.

The news this weekend saddened us and a lot of our winemakers who over the years of our collaboration and through Saša came to know one another and Stanko very well. They came to know and understand the very special way that Stanko looked at wine, a vision that was a wonderful sense of emotion and reasoning, sense memory and science, heart and brain.

We are very proud to represent Stanko and the heart and brain in his wines. He stands for a generation of winemakers that made conscientious and brave choices to revitalize tradition, respectful farming practices, and counter-fashionable wine styles in an era of "modernization" and fast-paced standardization, igniting a movement that continues to resonate, provocate and enlighten a new generation of wine appreciators.

Auguri, Stanko!

And to the wonderful Radikon family -- Suzana, Saša and Luisa, Savina and Andrea and Ivana and the 3 boys of the newest generation -- our hearts and thoughts are with you all.

Kevin
e Denyse, Jules, Josefa, Maya, David and Sheila

Contact us:
info@louisdressner.com
phone:212.334.8191
fax:212.334.9216


Blog Feed
instagram


Latest Producer Videos: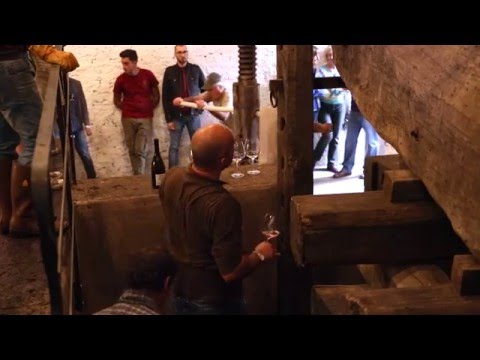 Traditional Palmento Vinification at I Vigneri!
Fabricca di San Martino's 2015 Harvest.
Louis-Antoine Luyt's 2014 Pipeño Harvest.