After spending four days in the Touraine, it was off to Bourgueil to visit Xavier Courrant at Domaine de L'Oubliée. If you haven't already, check out his interview.

Before touring the vines, Xavier explained the short history of his estate. Domaine de L'Oubliée consists of 6 hectares, spread through multiple parcels on three different sites (each with distinct soil types) in the commune of Saint Patrice. He also owns a 0.74h parcel of Chenin Blanc. Xavier's only criteria when starting was to work with his beloved Cabernet Franc, and after some shopping around in Chinon and Bourgueil, he found what he was looking for.

The vines were formerly a part of Christophe Chasle's 18 hectare estate. Because his means were and still are limited, Xavier -who does 100% of the vine work himself- decided to start small; 6 hectares initially seemed like too much to handle, but he quickly realized that the opportunity was too good to pass up. As mentioned earlier, that all 6 hectares were in the same commune while simultaneously offering three unique soil types (sandy gravel, calcareous clay, flinty clay) was the clincher. The chenin parcel was also a perk.

Another huge advantage for Xavier is that he has very few neighbors, so most of his vines are completely isolated. Most parcels coexist with woods, wild grass, flowers, plants and animals, and Xavier plans on taking full advantage of his land's biodiversity to create self sustained eco-systems. The vines are in their third year of conversion to organic viticulture (with a long term goal of working biodynamically), and Xavier will be certified as of the 2012 vintage.

We started our visit to the vines with a tour of the parcels that go into Notre Histoire. The soils consist of calcareous clay and the entire site borders the village cemetery. Only one row is shared with a neighbor, who is apparently "very nice". Walking from parcel to parcel in the snow, Xavier began explaining how vines used to dominate the agricultural landscape of Bourgueil before World War 2. In the aftermath, a lot of vines were destroyed and instead or replanting, people favored plain agriculture (cereal, corn, sunflowers, etc...); anything that could provide a productive crop farmers could turn over and see quick returns on. Pointing to the woods surrounding us, he described how these used to be densely planted (about 50/50 Cabernet Franc and Chenin Blanc) but now trees have been growing wild since the early 50's.

Moving along, we walked by an empty parcel; right before Xavier took over this plot, Chasles had torn out some very old vines. Xavier's plan is to grow plants and vegetables (as well as wild grass) for three years to help the soil "detox", then replant selection massales. He's still on the fence on whether to planted Grolleau or Chenin Blanc.

Speaking of Chenin, the next part of the tour was a short car ride away; after getting off one of the village's main roads, we were whisked in the woods where the parcel is located. The 0.74 hectares are completely surrounded by trees and shrubs, and with the exception of a few vignerons who have replanted Chenin in the last year or two, it's the only white grapes being grown in the area. Xavier uses a fence to protect the vines from wild animals hungry for ripe grapes.

Because Xavier and his wife Stephanie are awesome, they actually hired their buddy who owns a woodfire pizza truck to prepare us fresh flat-breads to spread our rillettes and cheese on. A homemade soup was very much appreciated as well. The 2010's were tasting great, as were the 2011's. The real suprise was an '09 petillant naturel from Cabernet Franc. It tasted like rose champagne! I'm very happy about everybody making a petillant naturel these days; they are so easy to drink and almost always cheaper than other bubbles.

After another meal consisting 90% of pork products, cheese and bread, it was time to visit the Luneau's! Our car's built in GPS got us super lost (if you rent an Audi while in France and use its GPS, you will hate every moment of your car ride because of its absurd design and complete lack of functionality), which ended up being ok because we took a really scenic route full of inspiring winter sights. Ken was sitting in the backseat with me, and we got to talking about it being his first time to France. He felt funny because he'd been working mostly with French wine his entire career, and it was really great for him to put a place and a context to the wines he's been enjoying for so long.

Our visit at Luneau-Papin was quite epic. Our first stop was at the incredible Butte de La Roche plot. The vines are all on coteaux with South-West exposition and the view from the top of the hill is magnificent. You can see all of Muscadet from up there, and Pierre-Marie had fun by pointing out where other vignerons live:

"Just past that river is Marc Ollivier's. And Jo Landron lives by that water tower!"

The one incredible particularity of the Butte de La Roche is its soil. The site is actually a geological landmark because it is the only place in the world where deep, deep serpentine subsoil has erupted to to the surface after a series of underground earthquakes. Huge chunks of serpentine can be found throughout the vineyard site and the soil is very tough to work because of how rocky it is. This type of serpentine is a subsoil that no root could normally reach, and gives the Terre de Pierre cuvée a richness and minerality unique to the site.

The cellar visit was a lot of fun; we tasted the soon to be released 2010's (you're in for a treat) and 2011's from a range of different cuvées, and Pierre pulled out the huge batons used to stir the lees. We were then offered to taste a range of back vintages with dinner. The oldest vintages were 95's and the father-son team proved what everyone needs to realize immediately: good Muscadet ages really well. Anyone will tell you otherwise, but when you're working with lees (in the Luneau's case two or three years at a time for certain cuvées), it gives the wine a richer texture that lets it evolve in bottle.

After another great dinner, it was time to say goodbye. Hands were shook, glasses were cheered, embraces were exchanged: everything was set and we were ready to go. Or so we thought...

We had just gotten in the Maya Mobile, aka Brown Betty, when the car in front us drove head first into the large ditch on the side of the road (to save them from the embarrassment, the driver will remain anonymous)! The front tires weren't touching ground and the car was at a 45% angle. We tried lifting it out manually while the driver backed up, but the car was too heavy for us. Pierre then decided to get the forklift and, you guessed it, attempt to FORKLIFT the car to level ground. This initial strategy proved impossible because of the angle of the car, and things only got worst when the very forklift that was supposed to salvage the vehicle from the fiery depths of the ditch got its wheels stuck in the ice! So now we had two stranded vehicles in the cold Muscadet night! David Mcduff insisted we call a tow-truck, but Pierre-Marie refused:

"This happens all the time! I'll go get the truck."

5 minutes later he was back with the truck. Pierre attached a strap to the axle of the trapped car, and we all got ready to push our hearts out in a classic push-pull-pump the accelerator in reverse scenario. This was it, our last ditch effort (get it? Ditch!). I was convinced this was going to be a terrible failure, that the truck was going to rip the back axle straight off. But after counting to 1, 2, 3... everyone played their part and we were able to get the car out! David Sink, in one of the most hilarious hilarious moments in the trip, yelled "We did it! By the power of Excelsior! Excelsior!" For those of you who don't get it:




We did drink a bunch of it that night...

We were able to drive the car to the hotel but the heater was completely destroyed so it had to be returned the next day. That's what insurance is for, kiddos!

Next update: Muscadet-a-thon at Marc Ollivier's, a visit at Closel and "overdosing" at the Salons des Vins de Loire!


Just got back to the United States after a wonderful 12 day trip. I'll be finishing up this series into the weekend and you can expect a dozen interviews on the site through February.

After five days of tasting events, we were ready to visit some of our vignerons. Our first stop was François Cazin.

We started the visit with a quick tour of the vines by the house and cellar. François explained that he is the fifth generation to farm his family's land, but the first to work only the vines; up until very recently, the farm had always been in polyculture (mostly livestock and vines), but François chose to focus only on wine while his brother decided to work with the lambs and chickens. Catherine Roussel has expressed many times that Cazin chickens are among some of the best in France, and after consuming one this summer I can confirm.

The first parcel we visited consisted of Pinot Noir planted in the 70's. The second was the OLDEST parcel of Romorantin in all of Cour-Cheverny, planted in 1928 by François' grandfather. François had a lot to say about this relatively unknown grape.

It is believed to originate from Burgundy as the ancestor of Pinot Noir, and has always been very low yielding. From a production standpoint, what I found the most interesting was the following statement:

"50% of making a good Romorantin depends on when you harvest it."

This is far from an exact science, and every year is different. Romorantin (or Romo, for those who absolutely feel the need to abbreviate the name of every grape varietal), is a tricky grape to work with: it's naturally very high in acidity and has very thin skins, so if it is harvested too early it shows no fruit or minerality (think of sucking on a lemon) and if it it harvested too late, the pulp of the berry becomes mushy ("It's like jam instead of grapes"), the skins tend to burst and it becomes very susceptible to gray rot. This means one must harvest during a very specific window to make anything worthwhile. Like Goldie Lock's porridge, it has to be be juuust right.

François also explained why you'll only find this grape grown in the 80 or so hectares of the Cour-Cheverny appellation. Like many other forgotten varieties, Romorantin was way more widespread in the Loire valley up until very recently. With the increasing popularity of Sancerre in the 70's, 80's and 90's, the demand for Loire Sauvignon Blanc skyrocketed. Sauvignon has always been planted in Cheverny (which at the time was still a AOVDQS), and most growers decided to tear out their low yielding Romorantin vines in order to replant the more productive and popular Sauvignon. But a small number of vignerons decided to keep their Romorantin vines, which is why it is still around today.

When it was time to create the Cheverny A.O.C in 1993, these same vignerons (including François and Hervé Villemade's fathers) fought hard so that Romorantin -which they felt could produce great wine on its own- not be a prerequisite in a Cheverny White blend (which currently consists of Sauvignon and Chardonnay). This led to multiple disputes, and the only solution the panel could find was to dedicate a unique A.O.C dedicated exclusively to Romorantin, which led to the creation of Cour-Cheverny in 1997.

We then did a flight of Cour- Cheverny and Cuvée Renaissance from 2010 to 1990 (skipping a few vintages) and let me tell you, Romorantin ages beautifully. Certain vintages remain crisp and fresh while others take on a Riesling-like petrol quality on the nose and a rich, honeyed mouth feel. Two things recurred in each bottle: striking acidity and seemingly never ending finishes. I know they taste great young, but you all need to start aging them now!

Lunch was pretty crazy, simply because Claudie started us off with a ten pound bowl of rillettes (I'm not kidding, pictures coming very soon) and a pork terrine bigger than my head. Even though we barely dented either dish, people were on a feeding frenzy; I warned them to slow down because more food was coming, but they did not heed my warning. As a follow up, we had delicious wild boar in a mushroom sauce. As scrumptulenscent as it was, it many people the itis.

After lunch, we went to check out the legendary
Clos-Roche Blanche
. While touring the vines, Didier pointed out the 117 year old Côt vines, as well as which vines
Noella Morantin
rents. Speaking of Noella, we did a quick visit to her cellars to taste the 2011's; it was her first year with no major problems and after three vintages, Noella is definitely getting a firm grasp of her land. On top of the six hectares she rents from
CRB
, she has just acquired 4 hectares of vines from
Bois Lucas
(where she previously worked, and which in itself used to be
Clos Roche Blanche
vines before Catherine and Didier sold them), so as of 2012 she is officially a vigneronne!
The vineyards were stunning as always, and the cellar visit proved to be very educational, as Didier elaborated on his work in the vines and soil (much of which he touches on in great detail in his
LDM interview
). We got to taste the 2011's which are great. The one big scoop is that there will be no Pineau D'Aunis red this year; while this is very sad, everyone knows that no red can mean only one thing…
More Pineau D'Aunis rose in 2011!
Our visit ended with Catherine pulling out a 1964 Romorantin (made illegal to use in the
Touraine
A.O.C once
Cheverny
became a
AOVDQS
in the 70's), which used to grow on
CRB
soils. It was a little tired, but still vibrant and alive. What a treat.
If that wasn't good enough, Catherine reappeared with an unlabeled bottle and started pouring a deep brown liquid into our glasses. Everyone eagerly asked what it was, and we were in for a surprise: a 1911 Pinot Gris grown by Catherine's grandfather! Didier exclaimed:
"It's not disgusting!"
, and most agreed. The color was a golden, dark caramel and I enjoyed it very much.
We then went to another big dinner where everyone over ate and over drank. Fortunately, we were all overeating dishes rich in the goat cheeses made right there on the farm and over-drinking back vintages of
Clos Roche Blanche
! Stay tuned for the the next installment, featuring our visits to
Domaine de L'Oubliée
and
Luneau Papin
! Guaranteed hilarious anecdotes!


It's been tough to find the time to write one of these, but I finally found a little downtime so here goes.

Monday was our final day of tasting at organized events, and we went to two: Salon des Vins Bio de la Loire and Les Pénitentes, a tasting organized by Thierry Puzelat, René Mosse, Hervé Villemade and Christian Chaussard. This is the first year this event took place, and it served as as "off" of the Dive Bouteille, which in itself is an off of the Salon des Vins de la Loire. So yes, we went to the off of an off. That's how underground we are...

It was good to catch up with the guys in a more intimate setting and to taste a whole bunch of 2011's. The skinny with the Loire for this new vintage is simple: if you liked 2010 (which you did, because it was a great Loire vintage), you'll be happy to know that 2011 will be quite similar in style. The Tue-Boeuf and Puzelat négoce wines are killer this year, as well as those of Briseau and Nana Vins et Companie. Villemade had some great stuff as well, and while we only tasted one Mosse 2011, it was quite promising. Everything should be getting bottled in March.

It was snowing pretty hard all day, and while it wasn't too bad in Angers, once we hit the road things started getting ugly. Ken Rosati, who left a good hour before anyone else, ended up driving from Angers to Chitenay on a completely un-plowed highway, which took him five hours (the drive usually takes two). Josefa, our Designated Driver while Abroad (D.D.A), got stuck behind two snow plowing trucks going 40 km an hour for a while and it took her about 4 hours. I was in a car with international wine personality Maya Pederson at the wheel, and let me tell you that it was quite as intense drive. The road was icy and the snow was coming down super hard, with the wind blowing right at us. Pretty much the whole drive looked like when the Millennium Falcon goes into warp speed.


Maya said she started having vertigo at one point.

Finally, we got to l'Auberge du Centre in Chitenay. It's a beautiful hotel that is usually closed this time of year, but Puzelat is friends with the owner and every year we take the place over. This year, it was unofficially dubbed the Louis/Dressner Party Palace. We were all exhausted, and after the first of three great dinners at L'Herbe Rouge, it was time to call it a night and get ready for Day 1 of our private tasting at L'Herbe Rouge.

Day 1 featured mostly Italians (as well as our two Spanish producers), and we got to taste with Chiara Vigo, Cascina degli Ulivi, Alessandra Bera, Cascina Tavijn, Francesco Maule, Francesca Padovani, Olivier Rivière, Fernando Garcia, Silvio Messana, Elisabetta Foradori, Mauro Vergano and Dominique Hauvette. Louis Antoine Luyt made a cameo appearance, and you can you can expect interviews from the Spanish guys, Chiara and Louis-Antoine on the site in the coming weeks. It was a great tasting, with everyone's wines tasting well across the board.

I had dinner at the kid's table (aka anyone under 40) and the conversation touched on many important issues, namely what the best Arnold Schwarzenegger quote ever was.



Some favorites included:

"Get to the chopper!"-Predator

"It's not a tumor!" Kindergarten Cop

"Who is your daddy, and what does he do?" Kindergarten Cop

"See you at the party, Richter!" -Total Recall

"Chill out!"-Batman and Robin (as Mr. Freeze)

"You're fired"- True Lies

After a loud and festive dinner, we returned to the Party Palace, where Jamie from Rootstock used his newly acquired disgorgement saber to pop open bottles out the window (video at some point). Fernando Garcia tried to join us but thought that Kevin had said Sydney instead of Chitenay, so he got super lost. Francesco Maule and his girlfriend Erica eventually showed up, and I ended up in bed around 4:30.

Day 2 was France day and featured Jean Paul Brun, Franck Peillot, Alain Coudert, Emmanuelle Desvignes, Julie Balagny, Marie-Pierre Iché, Guilhem and Palma Dardé, Michel Tête, Eric Texier, Laurent Barth, Tom Lubbe and Claude Maréchal. 2011 might have been a weird vintage weather wise, but it's really shaping up to be something great in the bottle.

Stay tuned for the next update, which will chronicle our visits to François Cazin, Noella Morantin and Clos Roche Blanche!






After a day off, it was right to work. We began our trip at Renaissance des Appellations, an event that brings an eclectic group of biodynamic vignerons from all over Europe under the same roof. The association was created by Nicholas Joly, but Mark Angeli of Domaine de la Sansonnière organizes the January tasting in Angers each year. They're actually about to take the show to the to U.S for the first time and will be in New York in February; you should check that out if you can. I wore a Steiner sweater to show my biodynamic pride.

Pumped from the last night's karaoke and heavy consumption of Desperados (a tequila infused beer that John from Marlow & Sons thought was blended with Sprite), we were ready to taste some wine! Highlights included the de Moor 2010's, a Gamay pétillant naturel from Les Maisons Brûlées and a Mauzac sous-voile (a la Vin Jaune of the Jura) from Causse Marines.

Dinner was at Les Canons, a wine-centric restaurant in the heart of Saumur. Average American Consumer (A.A.C) Joe Dougherty ended up ordering three bottles of Ganevat, because Joe Dougherty loves Ganevat. The Chicagans (is that how you call them?) wanted a foozball rematch, but for some reason the bar was closed at 10:30 on a Saturday night (we stayed till 2 on Friday). We settled for hanging out in the hotel and drinking two bottles of Vergano Chinato. Strangely enough, when Dan of Cordon Selections decided to go on his morning run at 7 am the next morning, the bar was open... Stange hours to say the least, and unfortunately no one was enthusiastic enough to drink Desperados and play table soccer before a full day of tasting.

Instead, we all agreed it was best to head over to the Chateau de Brézé for the 13th annual Dive Bouteille. The Dive takes place in the depths of the chateau, which makes for a spectacular backdrop for a tasting. But as anyone who has ever been knows, a chateau is not a great edifice for containing heat on frigid winter days, and the last three years had been insanely cold. I'm talking frostbite on your fingers and nose cold, and the idea of tasting red wine at 0ºC was waning on everyone. We warned our group to dress as heavily as possible: two pairs of socks, long johns, glove and hats as a bare minimum!

Much to our surprise (and delight), the organizers had done a great job with the heating this year, choosing to add a heater behind each vigneron. To top it all off, it was a mild winter day, so it was actually quite warm in there! This meant that layers had to be peeled off, and that we the wines could actually be tasted at a normal temperature. It ended up being a great tasting!

A ton of highlights, including Vincent Thomas' 2010 carbonic Pinot Noir, Yannick Pelletier's soon to be bottled 2010's, Luca Roagna showing up only four hours late, Pascal Potaire's Menu Pineau/Chenin pétillant naturel (keep your eyes peeled for that one), a Sauvignon from Olivier Lemasson rich in RS, an Alexandre Bain VdF Gamay and the Georges Descombes 2011's.

One producer I'd like to talk about in a little more detail is Louis-Antoine Luyt, who makes wine in Chile. Some of you may remember us bringing in his Clos Ouvert wines a couple of years ago. Unfortunately, the 2010 earthquake completely destroyed most of the wine already bottled, as well as his vines. In the aftermath, his partners decided to bail out on the Clos Ouvert project, but Louis-Antoine has decided to continue, for the time being with rented parcels from all over Chile wine country. He is also making and bottling wine under his name as a separate entity.

Everything is dry farmed (the vast majority of South American wine is irrigated) and it's cool stuff: a Pais (local grape originally brought over by Spanish conquistadors) from 350 year old vines really impressed me, as well as his Carignan and Cinsault from 80 year old vines (Louis-Antoine explained that these varieties were planted because the area has a nearly identical climate to Corbières) . I've yet to taste South American wines as elegant, feminine and full of depth and minerality (not to mention the lighter alcohol...) We're starting fresh with Louis-Antoine, and look forward to getting these in the U.S as soon as possible.

Stay tuned for more updates!
Contact us:
info@louisdressner.com
phone:212.334.8191
fax:212.334.9216


Blog Feed
instagram


Latest Producer Videos: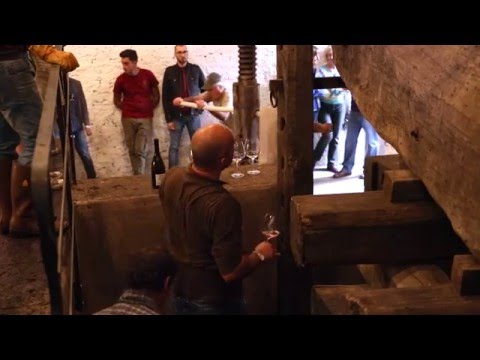 Traditional Palmento Vinification at I Vigneri!
Fabricca di San Martino's 2015 Harvest.
Louis-Antoine Luyt's 2014 Pipeño Harvest.