"I instantly fell in love with this 3.2 hectare parcel, all bunched together in the middle of the woods, next to the river… The property also included 2 h of prairies and 3 h of woods, and in the spirit of working biodynamically, I knew this was a perfect place to start a polyculture. The vines support the woods, the woods supply the livestock, the livestock supplies the soil: everything works together, everything is coherent."

One of our youngest, brightest vigneronne gives the low down on her unique estate, why she was drawn to the Beaujolais and all types of other stuff. Check it out on the Julie Balagny profile.

Part 3 of Italy 2012 up in the next few days!


PART 1: Coste Piane

After our great visit with Loris Follador at Coste Piane, we drove back to Conegliano. We had some time to kill, so naturally we decided to go to some local bar with a terrace about a block away. Note to all broke travelers: if you're really hungry but can't afford a nice meal, go to an Italian bar around 6pm. I ordered a beer and the waiter brought out chips. Robert Browson ordered a Spritz (which I mercifully made fun of him for) and they brought out a tray of prosciutto. Ian Becker ordered something else and they brought out 4 mini sandwiches. I was a bit perplexed as to why this bar would give us so much free food (didn't they know we had to eat dinner at 8?), but Robert explained that this practice is fairly common, that bars tend to give away all the old stuff they hadn't sold for lunch/dinner because it's better than throwing it away. We barely touched it.

We got back to the hotel and were immediately greeted by Ernesto Cattel, the brainchild of Costadilà.




He easily recognized us since we were the only obnoxious, loud Americans screaming down the streets in English.

For the most part, we here at Louis/Dressner haven't put up too much info on Costadilà (check out their meticulously detailed profile), so I'm glad that we can finally shed some light on what Ernesto has been doing since 2006 (the first wine was in 2007). The Costadilà project is the combined effort of Ernesto, Mauro Lorenzon (who owns the famous Osteria Mascareta in Venice), their oenologist Leonello (didn't catch his last name) and a few silent partners/investors; it's truly a labor of love, since all three currently have full time careers. The goal is to valorize and rejuvenate the rich agricultural traditions of Tarzo by reintroducing natural farming -however small the scale- to the region. The scope of the project goes well beyond wine, and emphasizes polyculture: the long term goal is to have vines, fruits, vegetables, cereals and livestock coexist on the same plots of land. They hope that by creating this example, they can create a model farm for the region, so other farmers who are trapped in monoculture can see the way out. Completing this cycle, the produce grown from Costadilà land is then used and sold in local businesses, such as Osteria la Muda where we had dinner.




Nestled in the little mountain village of Cison di Valmarino, Osteria la Muda is one of the oldest restaurants in Italy, dating back to the 1470! When the last owner decided to sell the space, Ernesto and 6 other partners didn't hesitate to remodel and keep this landmark alive. They are currently touching up the upstairs and planning to open an agriturismo. Also, the place is open till 1am almost every night.

The next morning, it was time to visit the first of many vineyard sites.




Our first stop was a completely isolated plot, only accessible by a single dirt road. Tucked away in the mountains, this little area has a rather interesting history: up until the early 70's vines had been grown here, but when the owner retired no one wanted them and the land became abandoned. It was then taken over by a German hippie commune. Then they left, and nothing really happened until Ernesto saw the terroir's potential and decided to replant vines two years ago. These vines are coming from 6 different clones, all in selection massale, and are a mix of the four traditional prosecco grapes (Glera, Prosecco, Bianchietta and Verdizo, but more on that later). The soil is composed of clay with a marn subsoil at 15-20 meters.




Ernesto is replanting the vines exactly where they were originally located in the 1970's.



Everything at Costadilà is farmed organically. Ernesto, who has never studied agriculture or oenology, explained how he came to this decision.




"Working organically and not manipulating nature is much more favorable in the long term. Chemical agriculture seems beneficial in the short term, because you get instant results. But those quicker, easier results have repercussions. For example, if you use a herbicide, on the short term you've solved your grass problem. But then the soils have less life and micro-diversity, so yields suffer. So you use a chemical fertilizer, and now your yield problem is solved. But then your soils are even weaker and the vines, now lacking a proper immune system, become prone to fungal illness and insects. So now you have to use pesticides and large quantities of sulfur to protect the vines. And even then, the vines become so overexploited and ill that they can only live for about 25 years before they need to be ripped out and replanted. It's a vicious cycle that traps the farmer in continuing to use chemicals if he wants to keep his business going."

The site is also host to this old house that Ernesto and the gang are in the process of converting to an agriturismo and attached osteria that would serve only Costadilà produce.




It's fully equipped with the coolest sun clock ever.




For those of you familiar with the Costadilà wines, you already know that each cuvée is named by the elevation of the site. We got to check out the "280" vineyard, and our final stop was the "450".




The "450" is a 3.5 hectare parcel that is completely isolated, featuring chalk soil. It's all glera grapes. If you've never heard of Glera, Bianchietta and Verdizo as grapes used for Prosecco, you're not alone. These grapes, along with the seminal Prosecco, used to be widespread in the area, often blended together to make the region's famous sparkling wine. But in an all too common scenario, farmers began to realize how much more prolific and high yielding the Prosecco grape was, so they began tearing out their remaining vines to replant the more productive varietal.

As far as the wines, they are fermented with native yeasts until completely dry, then bottled with must made from passito grapes they dry themselves in the attic of the farm for a secondary fermentation. No sulfur is used at any point in the vinification. The wines are crisp, fresh, expressive and each cuvée successfully expresses its terroir. Ernesto cites Loris of Coste Piane as a big inspiration for making a quality wine in a region that has succumbed to the pitfalls of industrialization.

"Loris is a sculptor! We just shape rocks!"

Tune in next time for the official recap of Vini Veri, Villa Favorita and, drumroll please, our wacky hijinks at the craziest place in the world, VINITALY!




Greetings everyone! It's already been 10 days since my return from Italy, and the trip is still fresh in my mind. Ian Becker, Shawn Mead and Lauren Feldman have given me access to their pictures of the trip, so I'm glad to say these recaps will be a little more colorful than those covering our recent trip to France. Let's begin!

Here at Louis/Dressner, we're dedicated to getting as much bang for our buck as we can from these trips, so the plan was to visit Loris Follador of Casa Coste Piane approximately five hours after landing in Venice. So after a 9 hour flight, we grabbed the rental cars and it was a two hour drive to the lovely town of Conegliano. After an hour nap, it was time to drive to the famous village of Valdobbiadene!




I was excited, because if there's one thing I drank the most in 2011 (and the first third of 2012), it's Coste Piane. It never fails me, and I drink it almost every opportunity I get. It's gotten so bad that I was recently pulled aside by our Self Consumption Director Eddie Wrinkerman (S.C.D), who told me that I needed to leave some for the customers.

The visit began with Loris heartily greeting us, then almost immediately sitting us down in his dining room to taste Prosecco and eat lunch.




Food was not part of the plan, and everyone had just eaten in the anticipation of the visit. Well, everyone except me, who had napped instead (cause I'm smart). So after a 2010 bottle for the aperitif, a true feast began, which started off with this pan seared salami on a bed of local Friar's Beard.




It was delicious. Another fun thing was the opportunity to try Loris' new Brichet cuvée.




Brichet is a single vineyard of 50+ year old vines just outside of the village. Loris rents them from an old guy who recently retired, and they've been worked organically for years. The soils are composed of sandy limestone with red earth. Brichet is just as easy to drink as the base cuvée, but a little more structured, with pronounced minerality.

Having the group sit down for a meal gave Loris the opportunity to give us some insight on the estate. Coste Piane was founded by his grandfather; in those days, all sparkling wine from the village was made completely dry, with a méthode traditionelle secondary fermentation in bottle. But at some point in Loris' lifetime, two major changes occured: people began to develop a taste for a much sweeter style of Prosecco, and cave cooperatives began dominating local production. Today, almost all Prosecco is chaptalized and carbonated in the chermat method.

By the time Loris took over the estate in the late 70's, things were taking a turn for the worst. Since most vigniaoli were selling their grapes to a coop, the more they had to sell the better, which led many to aim for the highest yields possible (Loris then explained that Prosecco vines are already incredibly high yielding, and that you really need to act responsibly if you want the juice to retain any complexity). And with the dominance of chemical agricultural practices that began post-war (which became the norm in the region in the late 70s early 80s), chemical fertilizers were incredibly popular to beef up yields. But Loris was unfazed: he's always worked the vineyards organically and made the wine naturally. When he started, only 3 producers in Valdobbiadene worked traditionally. Now there are about 20, which makes him happy.

After lunch it was time to check out the vines.




This is what the 60 year old vines look like:




We also checked out some incredibly beautiful 120 year old vines that are apparently still very productive:




While most have shifted to intensive monoculture, Loris continues to let grass, wild flowers and various root vegetables grow free. Free roaming chickens and ducks hang out in the vineyard.




Before swinging by the cellar to taste the 2011's, Loris had to play with his 3 month old puppy.




He was the softest dog I've ever petted in my life, and was adorably cute. The only scary thing was that he was teething and has these uber-sharp vampire dog teeth. He was chewing on everything he could (mostly Kevin's shoe and Ian's pant leg).

In the cellar, we got to taste the 2011's. As always, the wine is direct pressed, then racked to stainless steel and cold fermented until completely dry. The wine ferments in about 12 days then settles in tank for 4 months. A must (which is usually purchased) is then added to the wine and bottled immediately, where it referents in bottle. We tasted the 2011 before pre-must, and the wine was bright, intensely acidic and mineral, qualities that definitely carry over into the final product. Loris always bottles the wine right after Easter (so just a few days ago! Yay!), so that magic re-fermentation should be happening as we speak. We ended our visit by drinking two bottles of 2005 to see how the wine ages. It ages well.

Tune in for Part 2 of Perusing Prosecco, when we swing by Costadila!


"As far as indigenous yeasts, it was obvious. I'd seen it function all over the world and knew it wasn't a risk as long as the juice was pure. If the grapes are clean, if they are well selected at harvest, you get much more substance. Fermentations are longer and harder to execute, but that's the price to pay for complexity."

New interview up from Laurent "the Alsacian Sensation" Barth. Learn about his globe trotting winemaking adventures, taking the estate back from the cave cooperative and much more on his profile.
Contact us:
info@louisdressner.com
phone:212.334.8191
fax:212.334.9216


Blog Feed
instagram


Latest Producer Videos: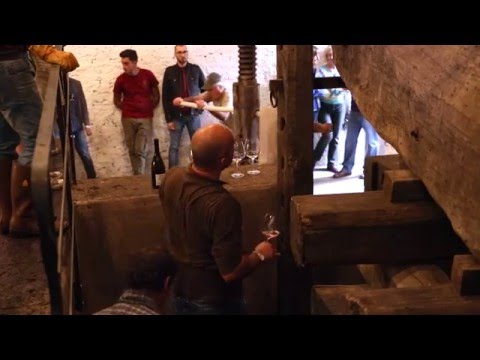 Traditional Palmento Vinification at I Vigneri!
Fabricca di San Martino's 2015 Harvest.
Louis-Antoine Luyt's 2014 Pipeño Harvest.