Before I start this recap, can we all agree that Antonio and Daniela di Gruttola's dogs look like they're up to no good in these pictures? I mean, seriously:




Look, they're even whispering evil things to each other!




They were actually super nice, but because they are hunting dogs, needed to be contained or they'd kill everything non human/dog in sight. Animal instincts, you know...

After getting a little lost, Daniela came to get us and we stepped into the lovely di Gruttola abode. The first thing Eben spotted was this original piece of art that later served as inspiration for the "Clown Oenologue" label.




I know 95% of people hate clowns, but even I have to admit that that is a seriously cool piece.

Antonio was teaching at his school (his full time job), and Daniela informed us he would get back at around 3. So we had a big ass lunch while we waited, which also permitted us to taste all of the currently bottled Giardino wines. Amongst them, new liter bottlings of both red and white were pretty awesome (and cheap!), but the favorite new guy was a Pet' Nat' Greco sourced from 80+ year old vines. Antonio and Daniela recently started renting this parcel from an 86 year old woman who has always made this wine with her "special technique", which as far as we could tell is méthode ancestrale, a style nary if ever produced in Italy.

Antonio eventually showed up, and because our daylight time was quickly dwindling, we all hurried into the di Gruttola's van to visit some vines.




This vineyard is 2,5 hectares. It's planted in Fiano and Coda di Volpe, the latter translating to "tail of the fox" because of the variety's very long, atypical bunches.

The vines themselves are extremely tall.





To give you a better idea just how big these are, here is 6'3 giant Eben Lillie standing next to one.




Antonio and Daniela bought this vineyard a few years ago. It totals 2,5 hectares of vines (the surrounding woods were also purchased to keep it a clos), was was planted in 1933, and the soils consist of a very compact, sculpt-able clay with limestone subsoil.




This clay is SO sculpt-able that Daniela now makes all of the estate's hand-made amphoras from it (more on that later). The di Grutolla's never work the soils of any of their vineyards.

As the sun was setting, we cracked open two more of those frizzantes to celebrate.




That's some dramatic imagery right there! Very majestic...

By the time we got back to the cellar, it was already pitch black.




The Cantina Giardino cellar is rather small, but still chock full of every wine aging vessel you could ever imagine.




In the cellar, we tasted a plethora of 2013 Fiano's and Greco's with varying amounts of skin contact, as well as a bunch of yet to be released Aglianicos. From what I could gather, it seems like the decisions are very instinctual and change each vintage, meaning that the juices ferment in different vessels each year, the skin contact varies from wine to wine, as do the blends.

The wines we didn't get to taste were in these sealed, home-made amphoras.




These are sealed in beeswax, and cracking them open to taste would expose the wine to a dangerous amount of oxydation. It's kind of like a pressure cooker: you just need to let the contents do their things until it's ready, and trust it'll be good.

Our final conversation revolved around the beautiful labels that people are always going apeshit about. Daniela explained that the first 3 (Le Fole, Drogone and Nude) were done by 3 different artist friends, who then put them in touch with others to do future labels. The name of each cuvée inspires the art or vice versa.

"There is no real rhyme or reason to it."


Luciano Saetti doesn't like sulfites. In fact, he owns a Sulfite-Free Mobile!




That translates to: "Wine Without Conservatives. Sulfur? No thanks."

Luciano bought his vineyards and house in 1988, after a successful first career as an egg distributor in the city of Modena. He made a good amount of money and originally planned on buying a nice apartment in the city, but the reality of spending the rest of his life there quickly lost its appeal.

We began our visit with a tour of the cellar, where the wines ferment and get bottled.




This is Luciano's completely home-made disgorgement station.




To give us a demonstration of the disgorging process (more on that later), Luciano grabbed some bottles and put them in this vat of ice cold water, which freezes the lees on the top.




As those bottle tops started to freeze, Luciano showed us the rest of the cellar.




At this point, he only works with stainless steel. Originally, everything was fermented and aged everything in cement tanks, but Luciano shifted to stainless after realizing that it was better for sulfur free winemaking, since it drastically reduces oxydation.

Since the vines are 10 km from the the cellar, Luciano brings the mini de-stemmer you can see below to work as quickly and efficiently as possible.




He also brings 3 of those little stainless vats to hold the grapes, which avoids them getting too hot on their way to the cellar.

"I came up with this simply because 3 vats is a day's work".

These smaller tanks are also used for fermentation, a full carbonic that lasts 4 to 5 days. Luciano usually leaves 13 or so grams of RS before racking. The wine then stays minimum 3 months in bottle before disgorgment, though it only takes about a month for the re-fermentation in bottle to occur.

Following our little chat on vinification, Luciano beckoned us over to the disgorgement station, where he showed us how he manually disgorges each bottle of his production ONE BY ONE.



In those two minutes, Luciano explains how he usually puts some wine in a separate vessel to top off the other bottles, that you have to avoid the frozen bits from when the wine sprays out, that the machine gives a blast of air which doesn't go in the bottle, and is just for dusting off any cork particles. He also points out that these bottles haven't frozen enough yet, and therefore won't disgorge correctly.

Because manually disgorging bottles one by one quickly becomes a tedious task, Luciano built this sweet homemade work chair from a horse saddle. I decided to check its comfort to make sure he wasn't putting too much strain on himself.




That chair is JULES APPROVED.

After our cellar time, we drove to Luciano's only vineyard, 3 ha planted in the local Salamino strain of Lambrusco.




The oldest vines here are 50+ and every other row; Luciano replanted the rest in 1997. The soils are limestone with a clay subsoil.

As you may have noticed, the vineyard is set up with an irrigation system, which Luciano uses 3 to 5 times a year, and only on the younger vines (usually with a very light 30L dose each time).
He doesn't use any fertilizers, composts or chemicals, just the remains of cut grass.

There is always the danger of frost in the Spring, but Salamino is a late variety, so this is rarely a problem.

The training system is called Spalliere, which is more typically used for fruit trees.




Here's some shriveled up second growth grapes to give you an idea what Salamino looks like.




Here's the church you can see on Luciano's labels.




Speaking of Luciano's labels, if you've ever seen or felt them, then you know they are made from a very cool fabric. Here again, the story is simple: his friend has factory that adds patched fabric to clothing for a few major brands. Luciano asked him if he could make a wine label, and he said it wouldn't be a problem. These are made to order based on Luciano's periodic disgorgements over the year.


6 months later, here is the final post from last summer! After that, expect recaps from Luciano Saetti, Cantina Giardino, Perrini Organic, Natalino Del Prete and Cristiano Guttarolo, as well as some interviews and other stuff.

Louis/Dressner: We've Got Internet Content™

We began by visiting the parcel of Chenin Blanc that produces the Kharaktêr cuvée.




The soils here are composed of limestone and flint.




Recently, Natalie had to rip out some old vines that were in bad shape and dangerous to work with the tractor.

"If I replant, we will definitely make it parallel to the slope like the rest of the vines."

With those old timers gone, the vines now average 45 years old.

Just a little further up, we drove up to an unassuming path that is actually the geographical divide between Jasnières and Coteaux du Loir. On the CdL side, three 3 parcels of Pineau d'Aunis grow on the same limestone and flint soils as Kharaktêr. The vines here are 35, total .75 ha and interestingly were much taller and developed than the Chenin we'd just seen.

I didn't take any pictures of these for some reason, so you'll just have to take my word for it.

From there, we jumped back into the LDM Mobile to visit the lieu-dit Le Briseau, the site the estate takes its name from.




This was the first piece of land Christian and Natalie purchased after moving from Vouvray. The land represents about 4 ha, with 1.36 ha planted in Chenin Blanc. Le Briseau roughly translates to "the shatterer", as the subsoil consists of a solid layer of flint that is near impossible to penetrate.

"Tractors and teals always break here."

The superficial soils consist of heavy clay mixed with very rocky chunks of flint.




The oldest vines are 60+ years old and produce an insanely low 8hl/h. In really good years this produces the Briseau Blanc, otherwise, as was the case in 2012, the wine is called Patapon Blanc.

Le Briseau is a clos, and this peaceful atmosphere was where our late friend Christian Chaussard liked working the most. In bittersweet fashion, it was here that he had his fatal tractor accident last year. His ashes are buried at the foot of this shelter, just a few feet from the vines.




It's comforting (and admittedly poetic) that Christian would be one with the very soils he loved so much.

Heading back from Le Briseau, we drove back to Natalie's home to taste some currently bottled stuff. I could tell you all about how good everything tasted, but I'd much rather show you PICTURES OF NATALIE'S ADORABLE DOG GROVER!!!




Our final vineyard visit was a quick walk to Le Briseau's other major lieu-dit, Les Mortiers.




The soils here are heavy clay.




Les Mortiers roughly translates to "wet cement", because if it rains, the clay soils become impenetrable after drying up. A lot of impenetrable soils around these parts...

In total, 4 hectares of Pineau d'Aunis are planted here.

We ended our tasting in Natalie's cellar, where we got to taste some stuff, including Kharaktêr 09, 11 and 12, as well as Les Mortiers 11.




Before leaving, Grover made sure to mark his territory on the LDM mobile so other vigneron dogs wouldn't get it twisted.



by Eddie Wrinkerman.

Eddie Wrinkerman here. I've just returned from a two week trip with the entire Louis/Dressner team, and over the course of many lovely visits, delicious meals and occasional late-nights, LDM's Head of Social Media and Viral Marketing (H.S.M.&.V.M) Jules Dressner and I hatched a plan so that you, the American public, can be kept in the loop of the exciting going-ons in the Louis/Dressner universe. Therefore, I've agreed to write these periodical updates on a semi-regular basis. As a true journalist dedicated to my craft, I promise to stay completely OBJECTIVE in my observations, without ANY BIAS WHATSOEVER in regards to my personal opinions. Unless I get paid handsomely by a foreign government.



Gwénaëlle Croix is now an Official Partner at Domaine de la Pépière!
Marc Ollivier has found a second partner to continue the legacy of the beloved
Domaine de la Pépière
in Gwénaëlle Croix, a young and enthusiastic second-career vigneronne. Marc envisions retiring in 5 years or so, and told us that the estate is in good hands. Along with fellow partner Rémi Branger, who joined Marc in 2011, the two newcomers are planning some exciting projects, most notably an active and diligent search for new Cru vineyards in the Gorges appellation. Not to mention a couple of cement eggs we found lurking in the cellar...
Thierry Puzelat's Long Time Négociant Project Puzelat-Bonhomme is now Domaine Pierre-Olivier Bonhomme!
Young gun Pierre-Olivier "Pierre-O" Bonhomme is now fully at the helm of the négociant project Thierry Puzelat founded in the late 90's. This decision has been in the works for quite some time, as Jean-Marie Puzelat's forthcoming retirement has incited Thierry to dedicate himself to his family's estate, Clos du Tue-Boeuf.
It will be strange calling fan favorites like
Le Telquel
,
Rouge est Mis
and
Tesnière Pineau d'Aunis
anything other than a "Puzelat" wine, but Pierre-O was responsible for vinifying the 2011, 2012 and 2013 vintages on his own, so there is no doubt that he knows what he is doing. The names of the wines will stay the same for the time being. Pierre-O also owns 7 hectares of vines of vines, which mainly produce the Touraine Blanc and Rouge cuvées.
Michel "Yoda" Augé has Retired, and Handed Over Les Maisons Brûlées to Young Couple Paul and Corinne Gillet!
Continuing our breaking coverage of passing on the torch, Michel Augé has sold his vineyards to young couple Paul and Corinne Gillet. Paul and Corinne are originally from Alsace, and come from restaurant backgrounds. The couple eventually landed in Algeria, were they continued focusing on restaurant work until an opportunity to take over some vineyards seemed like the right change of pace. Paul decided to return to France to study viticulture and oenology, and while his initial intentions were to bring his knowledge back to Algeria, he ended up staying in France and working all over the place.
For the last two years, the two have discreetly been working full-time at les Maisons Brûlées, and the shift is official as of the 2013 vintage, which was entirely vinified by Paul and Corinne. The vines will still be worked biodynamically and the
L'Art de L'Eau
,
L'Erèbe
and
Poussière de Lune
cuvées will continue to be produced. As far as definite changes, the two
Alterité
PET NAT's will now be called
Maisons Bullées
and two new, yet to be named reds will additionally be produced from the estate's 8.5 hectares of vines. Some aspects, however, are still up-in-the-air: the young vine
Silènes
might change names, the whites might see a tiny bit of sulfur at bottling (the reds will remain unsulfured) and Paul is still up in the air about sealing his wines with crown caps or changing to cork.
"I understand why Michel made this decision, but there is there is an ingrained nostalgia and pleasure in opening a bottle of wine with a cork that I may not be able to let go."
Kevin McKenna was quick to applaud Paul and Corinne, stating that the wines were showing well, that the estate is on a good path and that Louis/Dressner will fully support the transition.
Kevin Descombes Officially Takes Brother Damien Coquelet's Title of "Youngest Vigneron Imported by Louis/Dressner Selections"!
Kevin "Ké Ké" Descombes just wrapped up his first vintage at the tender age of 21. His 2013's are showing beautifully, and Louis/Dressner Selections looks forward to sharing these wines with the American public. Working off of 4 hectares of vines inherited from his father Georges, Ké Ké's first vintage resulted in three wines: an A.O.C Beaujolais, already bottled and called
Cuvée de Ké Ké
, along with a Morgon and Morgon V.V. that will be bottled in the coming months. Because the barrels he recently acquired are newer than the ones used by his father and brother, Kevin plans to age the V.V wine less than six months in order not to overly mark the wine.
Robert Parker Accuses Louis/Dressner Selections and Others of Swindling and Terrorism.
Recent accusations by wine advocate of 35+ years Robert Parker have claimed that companies such as Louis/Dressner, who champion wines made by down to earth people who are in tune with nature and their land, attached to the traditions of their region, care about the environment and who prefer to make wine with grape juice, native yeasts, lees, the occasional stem and slight addition of sulphur (if any) are "Kim Jong Un-ists" perpetrating the biggest consumer fraud in wine history, bigger ever than Rudy Kurniawan.
Louis/Dressner's enjoyment of un-chaptalised wines that may not reach the alcohol levels of a vintage like 2003, coupled with the fact that they like Ploussard from the Jura and other lesser known grapes and regions proved as further evidence that they are no good crooks who should be thrown behind bars.
When asked about the controversial
Anything But Chardonnay
movement, Jules Dressner told me that the entire Louis/Dressner team has always loved this grape.
"But only from the Jura."
Louis-Dressner to Hire Social-Media Guru Lance Federrer to Expand Brand Visibility With Millenials.
Lance is excited to join the LDM team and has been hard at work tweeting and instagramming the fact that he and others are drinking Louis/Dressner wines ALL THE TIME. Hashtags #glouglou, #unicorn and #sexinaglass have been "trending like crazy."
Luneau-Papin Le L d'Or now available at Play, the bar in NYC's Museum of Sex!
If you happen to be visiting the Museum of Sex in Manhattan's Flatiron district, make sure to swing by their bar Play for a refreshing glass of Muscadet!
That's it for now. Please check in on louisdressner.com for all future LDM coverage.
Contact us:
info@louisdressner.com
phone:212.334.8191
fax:212.334.9216


Blog Feed
instagram


Latest Producer Videos: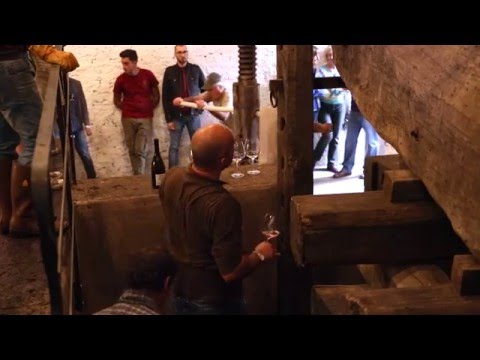 Traditional Palmento Vinification at I Vigneri!
Fabricca di San Martino's 2015 Harvest.
Louis-Antoine Luyt's 2014 Pipeño Harvest.