Back in January we did a tour of the South with Jean Paul Brun, Eric Texier, Arianna Occhipinti, Luca Roagna and Sebastiano De Bartoli. One of the biggest highlights was the tasting event at Green Goddess. Small groups started at Jean Paul's table, then navigated their way through the twists and turns of the tiny restaurant's crazy layout, visiting growers one by one. Throughout the tasting, the wait staff was offering up mini versions of chef Chris DeBarr's signature dishes, and when it was all over everyone got a full plate of suckling pig and collard greens (with a complimentary glass of Terres Dorées of course). I have to tip my hat to these guys because it was just a straight up party!




Chris is the owner, chef and wine buyer for the Green Goddess. One look at the menu and you know you're in for something special. The list is massive (keep scrolling it never ends): the restaurant barely seats 25 people and there are over two hundred wines! The focus is almost exclusively on small production, independent growers who work well. But the list is unique for more than its sheer size, with categories like "Killing me Softly" and "Wine Dungeon Treasures", as well as Chris' incredible notes for each wine, which actually manage to objectively teach you about the bottle you're drinking.




I like Chris and I like the Green Goddess, so I decided to interview him about the restaurant. The world needs more Chris DeBarrs. So many quotables...

Tell us a little bit about yourself.

I'm a self-taught chef, Southern boy, storytellin' poet, and funky New Orleans has been home for nearly 20 years. I love my city so much, to the point that, as with wine, it's is the psychic terroir of my life. Everything begins & ends with New Orleans with me, so even though I am an adventurous, globe-trotting, and thirsty-to-learn person, I come at life with strong Nola filters. Which means I like to bring da party with me, have a good time, share what's in my heart & learn from my friends how they live & dream. Essentially, I am sympathetic with all committed terroir-istes who strongly represent their beautiful home on Earth as a singular experience, a love affair with the holy ground of terroir.

The federal levee failures in the aftermath of Hurricane Katrina shook us all up. I lived through it my way, and was back cooking in New Orleans at The Delachaise before Halloween, 2005 (although I did take off that Halloween for a beautiful, wrenching, hard-won first little victory in a hard road back). My life since then has been epic, like some deranged soap opera, but I think my food is getting better and I love having my utterly awesome krewe at Green Goddess. They are young, hungry to excel, and we love bringing our swagger to the table!


Tell us a little bit about Green Goddess. The restaurant's history, its unique layout, the food you make,etc...

We have been here 3 years now. I signed the lease right around Mardi Gras, we opened a couple weeks after Jazzfest on May 19, 2009, heading into the teeth of a long, hot Nola summer and that year's fierce recession. At first, we didn't even have our liquor license until July...right before Tales of the Cocktail...and we never looked back!

The place is super dinky, all-electric kitchen that curls around a stairwell and elevator system for the apartments above. We are tiny, with barely 24 seats inside, but in good weather down here we use the enclosed sidewalk, which is a pedestrian-only alley where we live at 307 Exchange Place, New Orleans, zip: 70130. Basically, I have seen taco trucks with better kitchens than us, but we are bomb ass scientists who aim to destroy the perceptions of our severe kitchen limitations with relentless precision.

So far, it's working out pretty swell.

I have never been a fan of categorizing my food. I don't even like putting appetizers or main courses on my menu. It's all my cuisine, and we just want each plate to be both as focused and as bombastically delicious as can be. If pressed, or when feeling frisky, I will say I make psychedelic soul food with comfort in mind. We come from lots of global angles, but with a Crescent City flair.

We joke around a lot that we are pirates at Green Goddess. We are a real tight krewe, and we like to push ourselves to daring acts to make the food, the cocktails, and to support the wines we keep around. Philosophically speaking, being a pirate/chef means I like to fence the culinary contraband of pleasure & exotic ingredients to my guests. It amuses me that as one of the smallest restaurants, we nevertheless insist on mind-blowing, rare ingredients & pull it off.

For a tiny restaurant, you have a HUGE (and great) wine list. Can you explain your decision to feature so many wines from all over the world?

It's a love affair. I strongly believe that great food & great wine are, essentially, the meaning of life. But life has an amazing diversity, right? We are driven by the idea of site specific, artisanal, heritage ingredients & wines. We love defending unusual grapes that could be on the edge of extinction, or, as with the red grape Refosco, may only now be entering the global stage. I am so lucky to have enjoyed Giorgio Clai's "Crni" Refosco from Istria, Croatia from Louis/Dressner as my first Refosco! That is my "stranded on a desert isle" wine, and given my druthers and enough Clai Refosco, don't be in a hurry to find me....

We only buy wines we are passionate about, and luckily for all y'all, I am a man of gargantuan appetites!

From a business point of view, our commitment to this big list of natural winemakers shows an investment to the natural world, to celebrate our fellow band of small farms, small businesses, intimate connections to the world at large one handshake at a time. Our list is a bet that a greener future is the only way out to find sustainability and balance, but always the obvious fact remains: we buy great wines that go magically well with our food. Then with your palate as a guest, we dig trying to present that perfect wine for your tastes & experiences that pushes you forward in your love affair with wine!

For me, taking it next level is continued storytelling about wine in an ongoing video diary to discuss our food & our vast list of wines. I can see our wine encounters at initial tasting as a useful tool sometimes, but I really want to delve more into scripted territory based on the already notorious way I have written the wine list. For those who haven't heard my voice in the little asides, tales, & intrepid sleuthing on display in the 3 or 4 line prose haiku I write about every single wine on our epic list, check it out on the pdf from our website:

www.greengoddessnola.com

I have been one writing little son-of-a-gun, but we are working on some symbols and visual puns & memory aids that convey info hierographically. A few people remember my visual "sushi" cheese list from my Delachaise years, which had funny symbols so drunk people at a noisy bar could figure out what cheeses they wanted without reading, and then when I brought the platter out, I'd go over each cheese's salient qualities. I want to do something similar for our wine list, like incorporating my infamous sliding scale for white wines. I always say people usually will opt for "lean & crispy" whites, which is the low 1-4 side of the scale. I don't really believe that, as people enjoy richer whites which I call "Freddie Mercury's Fat-Bottomed Girls" and include varietals like Tocai Friulano, most Malvasia variations, Viognier, Gewürz, Grillo, Godello or Pinot Blanc, etc. I love the plush, dense aromatics of those big whites and the way they caress food, and so disarming people by getting a laugh from "Fat-Bottomed Girls" often results in piqued curiosity and a new wine, wherever you are leaning on the Freddie Mercury scale.

In the end, the vibe of New Orleans is one of opulence, carefully selected decadence, and a sense that nothing is forbidden. Our big ol' list sets Green Goddess apart as warriors for the truly serious pleasures of the table, and it elevates the perception of our our food from casual alfresco cafe to a dining destination by being able "to show & prove" that we can get all this wine & run our crazy little restaurant successfully.

You are a chef so obviously you love food, and you have a great wine list so you obviously love wine. This seems like a natural combination, but it always suprises me just how many chefs and restaurant owners don't care about wine at all. Can you explain why YOU care, and if you have any insight as to why some don't? Can a restaurant be great without great wine?

It depends on the joint. I'm a catholic drinker, meaning I can get behind great beers or hand-crafted cocktails on any night depending on the vibe, the company I'm keeping, or where & what we're eating. I don't usually drink much at lunch, unless it's a sprawling New Orleans party that starts early, and while I could think about great wines I might like with my favorite soul food, Vietnamese fare, great Chinese dishes, or old school poor boy, I'm not that dedicated to miss it when it's not there. Obviously, those meals are still GREAT.

One thing I think wine appreciation does for a chef is to bring a sense of balance to your cuisine. It's the interplay of contrasting tastes that give a dish complexity, and drinking wine with your own food will show you that dance of contrasts. A flabby, one note, or too aggressively seasoned dish will wear out its welcome with a great wine; the quiet conversation that wine & food always have going on between the plate and the glass raised to the lips will waver & falter if the food isn't pitched upon balanced flavors that let the Chef's ingredients shine. Great wine just doesn't lie, so when a chef hits a stride having great wine is the cook's best friend because when that dance of contrasts & balanced flavors gets going, everybody relaxes and the real pleasures of the table show up to let the good times roll.

Finally, as I said above in my paean to New Orleans and the links I feel with the terroir behind my beautiful city, there really isn't anything more sacred than caring for your special place on Earth, and to dig deep in the dirt to protect old vines has to be among the most meaningful enterprises we do as humans. Wine is a holy thing-- period! I think some people get so caught up in the game of profits, of restaurant real estate, of thinking about selling at the correct margins, that they lose that holy connection, or maybe they just haven't experienced truly great wine when it wasn't a commodity to be bought & sold.

I cannot imagine a great meal at Green Goddess without great wine but, unfortunately, that happens every night. I'm really only disappointed with water drinkers, but as long as you're enjoying the meal, I'm cool. I just hope that as people see what our list is now, which currently might seem like an audacious statement, they realize our pride & pleasure to be serious wine sleuths who adore unique, ballin', site specific wines made by real artists who are intimately tied to the Earth as good stewards for greatness. And someday soon, our list of natural treasures might become just a nice high standard for a basic, green, thoughtful wine list. After all, if I can get these wines, so can you. Unless you live in Pennsylvania or some other sad wine police state with stupid laws!

How do you feel about the state of real/natural/terroir/whatever the hell you want to call it wines in New Orleans?

It's probably behind the curve nationally, but because the city of New Orleans has such a strong sense of authenticity that we won't ever fall all over ourselves to be politically correct to market these wines as "organic" & "natural" as some righteous act. We like to drink a lot in New Orleans, so the wines have to compete somewhat in pricing, but the fact that so many of these winemakers do, in fact, make the best juice on the Planet will eventually bring New Orleanians to their knees. Repeated exposure to greatness always wins people over to the real thang.

What have you been drinking these days?

Actually I have been on a massive Beaujolais kick! As a chef, Beaujolais s such a friendly wine to share at the table with all kinds of food, and I find that my friends and guests @GG are truly shocked by the profound pleasures that great Beaujolais brings. For me, when we found some epic half bottles of 2001 Domaine du Granit Moulin-a-Vent, it ignited a burning flame for greatness from Beaujolais. We love young Damien Coquelet & revere the tasty diversity of wines from Jean-Paul Brun. I have some older Stephane Aviron, especially my favorite Morgon Côtes du Py & even stashed some Patrick Brunet Fleurie in NYC for an upcoming trip, from his old 1930 vines in the micro-terroir in Fleurie known as "Champagne." I love seeing the revival of beautiful Beaujolais; it warms the cockles of my proletariat heart. It's greater than you think, always affordable, and gives such pretty depth of flavor in any and all situations.

I also have been digging exotic bubbly, whether Nerello Mascalese from Mt. Etna in Sicily, bombastic Hungarian sparkling from Kiralyudvar (owned by Domaine Huet), Zweigelt Rosé from Austria, or Sparkling Moschofilero from Greece, exotic bubbly is so exciting & fun! I am actually waiting impatiently for the arrival of Jean-Paul Brun's terrific sparkling Beaujolais from you guys, so I can come full circle & enjoy both my obsessions in the same bottle! Yes...

The Green Goddess
307 Exchange Place
New Orleans, LA
70130
504-301-3347


Open for Lunch & Brunch every day, except Tuesday,from 11am – 3:30pm. No Lunch Service on Tuesday. Dinner is only on Wednesday, Thursday, Friday, Saturday, and Sunday: 6:00pm – 11pm. Last Dinner Seating at 11pm. We won't give you the stinkeye if you come at 11pm. Honest!
Contact us:
info@louisdressner.com
phone:212.334.8191
fax:212.334.9216


Blog Feed
instagram


Latest Producer Videos: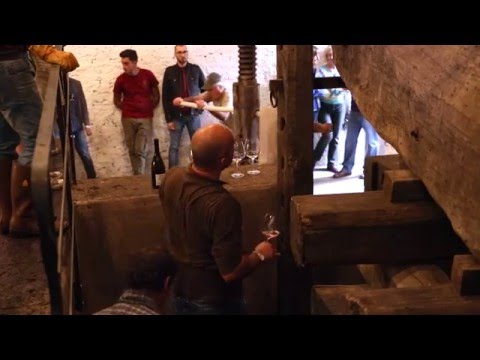 Traditional Palmento Vinification at I Vigneri!
Fabricca di San Martino's 2015 Harvest.
Louis-Antoine Luyt's 2014 Pipeño Harvest.