Sunday was our "optional" visit to Closel that everyone was forced to attend. The snow from the last few days had settled, and our walk took us from the chateau to the vines and through the village. Savennières is a truly charming place, and I really wish I had pictures from that day because it was one of those visits meant more to capture a sense of place rather than absorbing factoids to write for the blog. One cool thing I did retain was Evelyne talking to the group about their future experiments with (less) sulfur use. The inspiration came from her fellow vignerons in Savennières (Evelyne is the president of the A.O.C), a majority of which work organically or biodynamically in the vines and with native yeasts/low sulfur in the cellar. After tasting many of these low sulfur wines and seeing that they don't fall apart and can age well, Evelyne is reevaluating the doses she uses, and plans to run a number of experiments to figure out how to use the least amount possible in her wine. At lunch, Denyse pointed out that since Evelyne took over in 2000, their has been a formidable change in the work both in the vines and in the winery; she is the one who pushed for organic certification and biodynamic practices (though the work had always more or less organic in the past), and that sulfur levels have been drastically reduced in the last decade. It's great to know Evelyne is committed to an evolution in her cellar practices and I hope the experiments turn out well!

After the visit we hung out at this terrible place called "Le Pub" in Angers and had dinner at Autour d'un Cep, a fabulous restaurant ran by Jo Landron's son. When we got there, guess who was eating there? Jo Landron! Duh! François Cazin was also there. They sat our group of 16 in "the annex". "The annex" is the unused storefront next to the restaurant; they'd asked the owner if they could use it as a pop up with a prix-fixe for Renaissance/Dive and Salons des Vins de Loire. We were basically eating in bare room that was still getting remodeled: their were power tools everywhere, a boombox (this song played at one point) and the waiters had to bring the food from the kitchen through the back yard in the cold winter night. It was a lot of fun.

The next morning we were ready for the Salons des Vins de la Loire. Because many of the vignerons we work with prefer doing Renaissance, the Dive or Millésime Bio (which took place two weeks earlier in Montpellier), over the years the Salon has become less and less of a focal point for us. Still, it's a great time to catch up with a lot of our growers we can't see anywhere else.

Our first stop was at Thomas-Labaille. The 2010's are serious! Jean-Paul describes it as a great vintage you can drink young, but that will truly benefit from cellar time. The 2011 tank samples were rounder and richer, with less acidity and more fruit showing. Different vintage, different style. From then on, we broke into small groups so that we could cover more ground. I was assigned the kid's group (meaning late 20's/early 30's).

Our first stop was at François Pinon. The 2010's were showing great. One big piece of news: as of 2010 the cuvée you know and love as Tradition is now Trois Argiles. This translates to "the three clays" (the grapes come from three different parcels composed of, you guessed it...) and this has always been the name in France.

Our next stop was at Domaine Olga Raffault. Eric told us about their 2011, which echoed the story we'd heard over and over in France. He only had a few 2011 samples to taste, which all seemed well on their way. The 2010 current releases were fresh and vibrant, quite playful and fruity but still very "Chinon" aka peppery and tannic. A few months in bottle will do them good.

After that we spent some time with Bernard and Matthieu Baudry. It's starting to sound redundant, but the 2010's were incredible; they were universally recognized by the group as some of the best wines we'd tasted the whole trip. Besides Les Granges which is already available, these were all bottled the Friday before the show and will be hitting the U.S very soon. Rejoice! 2011 was also very promising: a little more on the fruit... The 2011 rosé is super good.

At this point it was lunch time, and after some pork and butter sandwiches, we decided to refuel with the ultimate palate cleanser: a coffee and beer. This strategy was taught to me by the very wise Jake Halper during last year's trip, and just like P.Diddy and Proactiv, Jake knew the secret way before any of us young ones. It totally works by the way. During our break, someone stumbled on a wine called OVERDOSE in the official pamphlet. The description said: "the secret of its vinification leads to an overdose in pleasure." Everyone got really into it: some wanted to go try it then make believe they were having a drug overdose on it (in poor taste I know), while others like myself were perplexed about the "secret of its vinification". We all agreed the we had to check it out. This proved to be the single worst idea on the trip.

We got to the stand and asked if we could try the "O" cuvée. Before even tasting it, I asked what the secret of its vinification was. I didn't ask if it would lead to an overdose of pleasure.

"Ah, yes! The secret is that we age the wine in new American oak barrels for two years! And just like in old times, we bury the barrel deep underground in the soil."

At this point, I asked if by "old times" she meant with amphora, since there is no history of burying oak barrels underground for aging EVER. She seemed a little confused by the question, but answered with an enthusiastic yes! When I told Evelyne de Jessey and Eric Nicolas about it, she asked what the purpose of doing this was. Nicolas exclaimed:

"More work. First you have to bury it. Then you have to unbury it!"

The wine was the color of shitty American beer, tasted like an oak barrel and was marked by the other vinification secrets she failed to mention, namely the commercial yeasts and INSANE quantities of sulfur. By the time we'd walked over to Bellivière to taste, we had gotten what we'd asked for, and were all overdosing. Ken and I started having hot flashes, John Connelly got the spins and Jamie thought he was going to faint. Everyone was feeling it hard, and it took between 15 and 30 minutes for each of us to feel better.

A big part of how we bounced back from our malaise was by tasting with Christine and Eric Nicolas of Bellivière. The 2011's are all bone dry this year, which is exceptionally rare for them (read Eric's harvest report here). While I love the RS on Bellivière and felt that these were a completely different style of wine, they are definitely really cool. Also, the Rouge Gorge was my favorite red wine of the trip.

Our last stop was Fredrick Filliatreau. Once again the 2010's were showing really well and the 2011 tank samples offered something to look forward to. The really exciting discovery this year was Fredrick's first ever attempt at making Pétillant Naturel. That's right, everyone's making a Pétillant Naturel these days, and I couldn't be happier. Long live Pet' Nat'! The yet to be named cuvée is Cabernet Franc from young Chateau Fouquet vines, and man oh man is it delicious. Fresh, fruity, light, easy... Everything you'd want for an aperitif. This will definitely be making it's way Stateside, so keep an eye out.

That was our trip. That night we had dinner at Une Île in Angers and Gérard made the best Beurre Blanc sauce ever. We went to Paris the next night and John Connelly bought cheeseburger chips, which taste EXACTLY like Mcdonalds cheeseburgers. We had another great dinner at Jeu de Quilles. It was a snowy, beautiful (albeit freezing) night, and we finished strong on this trashy bar strip right by the hotel full of weird, tourist trap, gimmick bars. The one we chose was a Rolling Stones themed bar. Josefa got really into this one track (forgot the name) and some dude actually came up to and seriously asked her who was singing the song. It was one of their lesser known tracks, but come on dude! We then had a mini showdown for who could do the best Mick Jagger dance.



Jeremy won.
Contact us:
info@louisdressner.com
phone:212.334.8191
fax:212.334.9216


Blog Feed
instagram


Latest Producer Videos: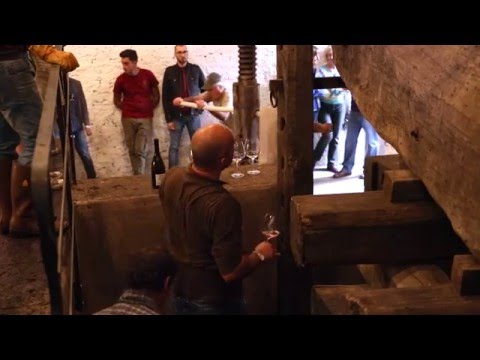 Traditional Palmento Vinification at I Vigneri!
Fabricca di San Martino's 2015 Harvest.
Louis-Antoine Luyt's 2014 Pipeño Harvest.