We are happy to announce our newest Calabrian estate, L'Acino! Go read all about them on their BRAND SPANKING NEW PROFILE!

We first tasted L'Acino on a late night at Tabarro, the bar in Parma I'm always ranting and raving about. After requesting a "Beaujolais style" red, the owner Diego laughed and quickly brought out a bottle of Calabrian wine called Chora Rosso, made from a grape we'd never heard of. Everyone LOVED IT, and was very excited since it turned out the guys were participating in Vini di Vignaioli and that meant tasting the entire lineup the following day. The other three wines (for a total of 2 whites and 2 reds) were so good that Kevin instantly decided to modify our trip to visit the estate.

Two days later, we were smack-dab in the middle of San Marco Argentano waiting for head vignaiolo Antonello Canonico to show us some vineyards.




Though I much prefer driving stick-shift, the old town's extremely narrow, curvy and seemingly uphill only roads made me grateful that we had an automatic for once. While we were waiting, Eben and I made sure to buy some RumJungle jeans for all our cool American friends.




Antonello scooped us up and we drove over the 5 hectare site that produces both Chora Bianco and Chora Rosso cuvées.




The vines here are very young, and were planted by the L'Acino team 6 years ago. As you can see, the soils had been heavily plowed; the guys are doing this every year following harvest, and adding legumes, straw and many other good, biodynamic things to promote mineral richness and depth to the soils, which have never had anything planted in them.

Antonello explained that their are 5 distinct soil compositions within the vineyard, which are essentially varying amounts of sands. In the sandiest parts of this double-sided hill, the guys have planted in franc de pied. The sands go for 1.5 meters until they hit a solid, very hard to penetrate sheet of rock.




That's Antonello in the picture above. His partner Dino pointed out that this layer of rock will always keep yields very low. Furthermore:

"Because we are working organically from the start, the vines are taking a long time to find themselves in the soil."

As far as the grapes planted, the vineyard features the indigenous Magliocco (red) and Mantonico (white), as well as some Grenache Noir and Grenache Blanc. Everything is planted in massale.

By the time we were ready to see another piece of land, the sun was almost gone.




Even though it quickly became too dark to take any good landscape pictures, the second site that Antonello, Dino and Emilio brought us to was a recently acquired plot of land that they will start planting in 2014. The iron infused sand and clay had a red intensity I've only seen at Mas des Chimères.




They are extremely excited about planting here, because this is a completely different terroir than their other vineyards.

We then drove to the cellar to taste the 2013's as well as some bottled stuff. The first thing I spotted was this TOTALLY BODACIOUS poster.




This is their cellar.




Stainless steel tanks take up the majority of the space, but there are some old French oak barrels hiding in the back.




Here are what the labels for the whites look like.




I don't really want to try describing how these taste since that's not really my forte, but they are really fucking good and the Mantonico whites are like nothing I've ever tried before.

Dinner was upon on, and the guys pulled out all the stops: the antipasti was about two meals worth of food on its own, the pasta was banging and the baby lamb slaughtered the night before did not die in vain. More importantly, it was a chance to get to know Antonello, Dino and Emilio, who are super nice guys. Chatting them up, it was obvious how enthusiastic and dedicated they are to the L'Acino project, and I can only imagine great things in the future for them.

The following morning, we set out for the 30 minute drive into the mountains to visit Mantonico vineyard, which produces the Mantonicoz bottling and totals just about 1 hectare.




These vineyards are right on the border of the Pollino National Park, which you can see in the photo above.




Antonello explained that these are very hard to work. The soils feature a little bit of clay, but are mostly comprised of very compact sand. These cool looking rocks can also be spotted throughout the vineyard.




The vineyard is 650 meters above sea level, and exposed North. This gives the area a uniquely cool microclimate that is very rare in the area.

"This microclimate really sets it apart."

The vines are 15 years old. Here's what second growth Mantonico looks like.




The 20 year old Magliocco vines are just a short walk away.




This represents about 1.5 hectares.

"When we took over, it was worked more than conventionally."

This is what second growth Magliocco looks like.


Contact us:
info@louisdressner.com
phone:212.334.8191
fax:212.334.9216


Blog Feed
instagram


Latest Producer Videos: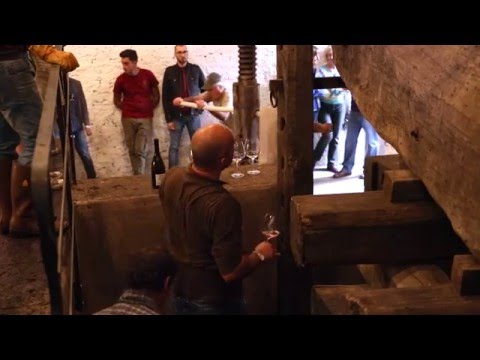 Traditional Palmento Vinification at I Vigneri!
Fabricca di San Martino's 2015 Harvest.
Louis-Antoine Luyt's 2014 Pipeño Harvest.