by Eddie Wrinkerman.

Eddie Wrinkerman here. I've just returned from a two week trip with the entire Louis/Dressner team, and over the course of many lovely visits, delicious meals and occasional late-nights, LDM's Head of Social Media and Viral Marketing (H.S.M.&.V.M) Jules Dressner and I hatched a plan so that you, the American public, can be kept in the loop of the exciting going-ons in the Louis/Dressner universe. Therefore, I've agreed to write these periodical updates on a semi-regular basis. As a true journalist dedicated to my craft, I promise to stay completely OBJECTIVE in my observations, without ANY BIAS WHATSOEVER in regards to my personal opinions. Unless I get paid handsomely by a foreign government.



Gwénaëlle Croix is now an Official Partner at Domaine de la Pépière!
Marc Ollivier has found a second partner to continue the legacy of the beloved
Domaine de la Pépière
in Gwénaëlle Croix, a young and enthusiastic second-career vigneronne. Marc envisions retiring in 5 years or so, and told us that the estate is in good hands. Along with fellow partner Rémi Branger, who joined Marc in 2011, the two newcomers are planning some exciting projects, most notably an active and diligent search for new Cru vineyards in the Gorges appellation. Not to mention a couple of cement eggs we found lurking in the cellar...
Thierry Puzelat's Long Time Négociant Project Puzelat-Bonhomme is now Domaine Pierre-Olivier Bonhomme!
Young gun Pierre-Olivier "Pierre-O" Bonhomme is now fully at the helm of the négociant project Thierry Puzelat founded in the late 90's. This decision has been in the works for quite some time, as Jean-Marie Puzelat's forthcoming retirement has incited Thierry to dedicate himself to his family's estate, Clos du Tue-Boeuf.
It will be strange calling fan favorites like
Le Telquel
,
Rouge est Mis
and
Tesnière Pineau d'Aunis
anything other than a "Puzelat" wine, but Pierre-O was responsible for vinifying the 2011, 2012 and 2013 vintages on his own, so there is no doubt that he knows what he is doing. The names of the wines will stay the same for the time being. Pierre-O also owns 7 hectares of vines of vines, which mainly produce the Touraine Blanc and Rouge cuvées.
Michel "Yoda" Augé has Retired, and Handed Over Les Maisons Brûlées to Young Couple Paul and Corinne Gillet!
Continuing our breaking coverage of passing on the torch, Michel Augé has sold his vineyards to young couple Paul and Corinne Gillet. Paul and Corinne are originally from Alsace, and come from restaurant backgrounds. The couple eventually landed in Algeria, were they continued focusing on restaurant work until an opportunity to take over some vineyards seemed like the right change of pace. Paul decided to return to France to study viticulture and oenology, and while his initial intentions were to bring his knowledge back to Algeria, he ended up staying in France and working all over the place.
For the last two years, the two have discreetly been working full-time at les Maisons Brûlées, and the shift is official as of the 2013 vintage, which was entirely vinified by Paul and Corinne. The vines will still be worked biodynamically and the
L'Art de L'Eau
,
L'Erèbe
and
Poussière de Lune
cuvées will continue to be produced. As far as definite changes, the two
Alterité
PET NAT's will now be called
Maisons Bullées
and two new, yet to be named reds will additionally be produced from the estate's 8.5 hectares of vines. Some aspects, however, are still up-in-the-air: the young vine
Silènes
might change names, the whites might see a tiny bit of sulfur at bottling (the reds will remain unsulfured) and Paul is still up in the air about sealing his wines with crown caps or changing to cork.
"I understand why Michel made this decision, but there is there is an ingrained nostalgia and pleasure in opening a bottle of wine with a cork that I may not be able to let go."
Kevin McKenna was quick to applaud Paul and Corinne, stating that the wines were showing well, that the estate is on a good path and that Louis/Dressner will fully support the transition.
Kevin Descombes Officially Takes Brother Damien Coquelet's Title of "Youngest Vigneron Imported by Louis/Dressner Selections"!
Kevin "Ké Ké" Descombes just wrapped up his first vintage at the tender age of 21. His 2013's are showing beautifully, and Louis/Dressner Selections looks forward to sharing these wines with the American public. Working off of 4 hectares of vines inherited from his father Georges, Ké Ké's first vintage resulted in three wines: an A.O.C Beaujolais, already bottled and called
Cuvée de Ké Ké
, along with a Morgon and Morgon V.V. that will be bottled in the coming months. Because the barrels he recently acquired are newer than the ones used by his father and brother, Kevin plans to age the V.V wine less than six months in order not to overly mark the wine.
Robert Parker Accuses Louis/Dressner Selections and Others of Swindling and Terrorism.
Recent accusations by wine advocate of 35+ years Robert Parker have claimed that companies such as Louis/Dressner, who champion wines made by down to earth people who are in tune with nature and their land, attached to the traditions of their region, care about the environment and who prefer to make wine with grape juice, native yeasts, lees, the occasional stem and slight addition of sulphur (if any) are "Kim Jong Un-ists" perpetrating the biggest consumer fraud in wine history, bigger ever than Rudy Kurniawan.
Louis/Dressner's enjoyment of un-chaptalised wines that may not reach the alcohol levels of a vintage like 2003, coupled with the fact that they like Ploussard from the Jura and other lesser known grapes and regions proved as further evidence that they are no good crooks who should be thrown behind bars.
When asked about the controversial
Anything But Chardonnay
movement, Jules Dressner told me that the entire Louis/Dressner team has always loved this grape.
"But only from the Jura."
Louis-Dressner to Hire Social-Media Guru Lance Federrer to Expand Brand Visibility With Millenials.
Lance is excited to join the LDM team and has been hard at work tweeting and instagramming the fact that he and others are drinking Louis/Dressner wines ALL THE TIME. Hashtags #glouglou, #unicorn and #sexinaglass have been "trending like crazy."
Luneau-Papin Le L d'Or now available at Play, the bar in NYC's Museum of Sex!
If you happen to be visiting the Museum of Sex in Manhattan's Flatiron district, make sure to swing by their bar Play for a refreshing glass of Muscadet!
That's it for now. Please check in on louisdressner.com for all future LDM coverage.


You'd think that by this point, we'd have run out of things to say about Domaine de la Pépière. WRONG!

We started the visit by driving to the lieu-dit Gras Moutons, a terroir Marc started vinifying in 2007.




Soil wise, Gras Moutons distinguishes itself by being very clay heavy and rocky.




The microclimate is also unique, characterized by its constant winds.

"This helps aerate the vines, and keeps them clean of illness."

Sadly, the constant winds also mean that shitty chemicals being used by neighbors occasionally float over to the Pépière vines. Here's a leaf suffering from herbicide burn:




Lame.

The Gras Moutons vines are spread over two parcels for a total of 1.7 hectares. They are 15, 40 and 65 years old. Rémi's father grandfather owned 9h of these at one point.

Here's a picture of a weird bug I'd never seen before.




After hopping back into the Marc Mobile, we drove over to Pépière's newest Cru, Château-Thébaud.




The soils here are rich granite and sand.




1.5 h are spread over two parcels. The first is planted in extremely vigorous young vines, so much so that in some vintages Marc and Rémi feel obligated to green harvest in order to LOWER yields. Melon de Bourgogne vines tend to produce very high yields even without chemical fertilizers, and to assure optimal concentrations, the Pépière crew intentionally keeps things at a very low 35 to 40 hl/h.

The lower yielding, older vines are over 60 years old.




Marc and Rémi love working here because the exposition is more South, and the "hotter soils" means more advanced, homogeneous flowering and maturing.

Our final and longest vineyard visit was a long stroll through the Pépière vineyard, the 10 hectare clos that produce the base Pépière and Clos des Briords cuvées.




The soils here are composed of super-light, sandy granite.




Upon further inspection, Marc pointed out the slender, silver micha-schist chunks that can be spotted all over the vineyard.




While they don't add anything to the soil's complexity, Marc theorizes that their constant reflection of the sun affects grape maturities. Upon even the slightest bit of friction, these flake into paper thin morsels.

In the late 90's, Marc decided to plant some reds here. At the time, he used what was available to him and planted, amongst others, Côt from clonal selections. Years later, he was able to acquire some massales from Clos Roche Blanche's 100+ year old vines. The difference in vigor and quality has amused Marc for a long time, so he decided to give us a side by side comparison.




The massale is the one on the right: a third less vigorous, but two thirds more concentrated. If it hasn't already been made clear, Marc is a fan of quality over quantity.

We also saw the oldest vines on the estate, which are over 100 years old.




Marc says these are productive as ever.


Our annual Loire Valley winter trip kicked off in the Muscadet this year. After a flight from JFK to Amsterdam, a quick connection got us into Nantes. We grabbed our luggage, hopped into our official LDM tour vehicles (sponsored by Jean Paul Brun's Drink Beaujolais! ad campaign) and drove to our first destination, the beautiful, peaceful town of Clisson.




This sleepy town of 6,000 is split by the Sèvre river. Every summer, 115 000 people invade it to celebrate...

HELL FEST!!!!!!!!!!!!!!!!!!!!!!!!!!!!!!!!!!!!!!!!!!!!!!!!!!!!!!!!!!!!!!!!!!!!!!!!!!!!!!!!!!!!!!!!!!!!!!!!!!!!!!!



Kiss, ZZ Top, Def Leppard and many others are headlining this year. The pizzeria we ate at had Twisted Sister poster autographed by the whole band, and I can't tell you how much of an honor it was eating in the same place as Dee Scheider.

Our first night in town, Marc and Geneviève Ollivier joined us at La Bonne Auberge, which was in many's top 3 meals of the trip. The restaurant is adorned with beautiful cat art.




The following morning, we drove to Pépière for the 16th annual Muscadet-a-thon, aka the culmination of all that is good in this world. Look at Marc's beautfiful house!




After being greeted by Marc and Rémi, we were introduced to the newest member of the Pépière team, Guenaelle!




Gwen just started in January, and is full of enthusiasm to be working at the estate. After our introduction, we do what we always do at Muscadet-a-thon, which is head to the cellar to taste upcoming vintages.




If you've been reading these visit recaps regularly, you know what I'm about to say. Everything was great, the wines are delicious, buy them blah blah blah... One point of conversation that was particularly interesting, however, was about the new Muscadet A.O.C's going into effect over the next few years. Clisson, Gorges and Le Pallet now exist as Crus since the 2011 vintage, and 4 more will take effect in the next two years. Marc truly believes will change the perception of Muscadet for French wine drinkers, who for the most part associate the region with cheap, standardized and mass produced supermarket wine.

We then set off to the vines, starting with the site that produces the Clisson cuvée.




This year, Marc decided to switch things up and give us a lesson on how to prune!




Without getting overly technical, the process involves selecting one of the many canes that will produce the grapes in the coming vintage, as well as prepping one for the next vintage. A pruned vine looks like this:




So to reiterate, that cane tied down to the left will produce 2013 fruit, and the little guy you can spot towards the middle of the foot will be for 2014. Marc does this so quickly and instinctively that you would never guess he was making educated decisions affecting the next two years of his production.

After Marc's demonstration, the brave Nicholas Montigelli from Avant Partir gave it a shot.




Josefa also had a go at it. Let's just say they both need a little more practice.

Next up, we checked out Clos des Briords. It was muddy!




Here Marc talked about his viticultural practices, which I wrote about in detail last year.

After the vines, it was time to EAT OYSTERS AND HOMEMADE PÂTÉ AND DRINK BACK VINTAGES OF PÉPIÈRE GOING BACK TO 1983!




The woodcock and fois gras pâté was my favorite, with the wild boar a close second. Big news: this was the first wild board pâté Marc made with a boar he hunted himself! Not only does this continue the being served wild board on trips trend, but it inspired me to coin the term "slayed and made". Don't be surprised when that catches on.

Also, Geneviève is the best because she always makes sure there is an abundance of vegetables to eat.




Seriously, those were the only vegetables we ate the whole trip. Unless rilettes are technically considered a vegetable in France, but I'm pretty sure even they acknowledge that it's meat slow-cooked in its own fat.

Next up, a recap of our visit to the Luneau-Papin clan! Muscadet, Muscadet!


It's that time of the year again! First reports from:

Francis Boulard et Fille!

Marc Ollivier!

Bruno Duchêne!

Or read all three in the 2012 Harvest Reports section.



"The Muscadet has always been under the influence of négociants. This was originally a good thing, but the dynamic changed when the focus shifted to bulk sales, which require a simple, uniform product. Under this influence, a standardization of Muscadet occurred. This phenomenon was perpetuated and spread by agricultural technicians, who used machine harvesting, preselected yeasts and whatever technology available to make "clean" or "flawless" wines. This soon became the norm, and everyone was doing the exact same thing. Muscadet stopped being interesting because it was made like a Vin de Pays; what I mean by that is the wine's relation to terroir was completely abandoned. Technology was what mattered to people, not terroir. Like any A.O.C in France, if the vines are maintained and their is a real point of interest, you can make varied, interesting wines."

The emblematic Marc Ollivier, who is is seen above hanging out with BFF Jean Paul Brun, gives us another great interview. Check in out on the Domaine de la Pépière profile.


Before I start this post, I must address a very serious issue. It was brought to my attention that there's been a a huge spike in demand for the Clos Roche Blanche Pineau D'Aunis Rosé since my blog post about our recent visit, and how there would be more than last year. Our distributors' phones have been ringing off the hook with people trying to get palettes on pre-sale. But the unfortunate truth: their isn't that much to go around. As much as I'd like to tell you all that it was some genius marketing ploy (after all, I am LDM's Director of Viral Marketing (D.V.M)) and this was the best viral ad campaign since Bros Icing Bros, the truth is I was only objectively making a general statement as to the quantity, and not the availability, of the wine. Yes, there is more rose in 2011 than in 2010, and more means more for everybody: more for the US, more for France, more for Belgium, more for Germany and more for Japan. In other words, you might get a case more than last year.

Anyway...

Muscadet-a-thon is a Louis/Dressner institution. Going 15 years strong, this annual visit to Marc Ollivier's abode has brought joy to those participating since its inception. The concept is simple: visit the vines, taste the current vintage, then eat a ton of oysters and home-made Pâté while doing a flight of Pépière Muscadet dating back to Marc's first vintage (1983). If you guys don't know the back story, Joe and Denyse met Marc in 1989, and the first vintage they brought in was 91; it was their first Loire wine. Joe adored Marc and adored Muscadet (seriously, our cellar in France is 50% old Pépière and Luneau-Papin), a wine that he felt was often overlooked for how well it can age. Marc had an old collection of wine dating back to his grandfather, so the idea of trying back vintages to prove Muscadet ages gracefully was a no-brainer. Muscadet-a-thon was born.

Our visit started in the vines. We began in the Clisson parcels, where Marc talked about his viticultural practices. It's taken a long time, but the entire 33 hectares are finally eligible for organic certification; the soils are worked superficially and everything is hand-harvested. Muscadet is one of the only regions in France (along with the Beaujolais) where the vines are trained in Guyot, but with only one palissage line per row. Typically, there are two, which permits the plant's vegetation to grow more, resulting in spaced out bunches. Doing this leads to greater aeration of the grapes, which in turn leads to greater concentration. Marc is one of few vignerons who intentionally chooses to use two palissage lines for these very reasons. Every time he acquires a new parcel, he tears out each rows' posts to reinstall new ones; it's a lot of effort, but he feels it's an essential factor in the quality of the vine work.

Marc also intentionally limits the number of flowering buds each year to three or four per vine. This technique results in much lower yields, which means fewer grapes but more concentration and optimal maturity. Marc walked one row over to his neighbor's to count out how many buds were left on his: 1,2,3,4,5,6,7,8!

"I get about 40hl/l from these vines. My neighbor here, whose vines are the same age and on an identical terroir, produces about 70."

After Clisson, it was time to check out the Chateau-Thébaud vines. These were acquired in late 2010, when Marc joined forces with his (relatively) new partner, Rémi Branger. Rémi is 26 years old, and has been working for Marc since 2006; prior to that he'd worked with his dad. In Rémi's own words:

"My father was a passionate vigneron. He loved the work in the vines, but had no desire to deal with the commercial element of bottling and selling independently. Therefore everything was sourced out to négociants. When he retired in 2010, I was already working for Marc and really admired what he was doing (making single parcel cuvées, highlighting specific terroirs...), so when he asked me if I wanted to be partners, I didn't hesitate."

The two are currently renting the vines from Rémi's father, with the possibility to buy at some point. Most of the vines were planted in the 70' by Mr. Branger Senior, and the oldest are about 60 years old. A new cuvée, the Chateau-Thébaud, was produced in 2010 and is about to be released.

Our last stop was in the plot of Gras Moutons. Marc and Rémi agree that these are their "grand cru" vines: they're exposed full South on a coteaux (that ends by the Maine river) and the site is marked by a particular micro-climate where a North to South wind constantly sweeps through the vines. This leads to greater concentration, which manifests itself through longer periods of maturation, both in the vineyard and cellar. As Rémi explained:

"The wind is great for aerating the vines, and you always get great complexity with these grapes. But they take a long time to reach their full potential. Even with my father, we would always harvest the grapes from here last. And though we didn't make parcel specific cuvées, we would still vinify each day of the harvest separately -which essentially meant vinifying by individual or identical parcels- before blending it all together. The Gras Mouton juice always needed more time."

Marc interjected that "more time" can sometimes be up to two or three years of aging in the cellar and then even longer in bottling!

After the vines, it was time to taste the 2011's. For those who didn't read it yet, check out Eben Lillie's Pépière harvest reports and pictures. To briefly reiterate, Muscadet, like most of France, had a very strange vintage weather wise: an extremely dry winter and spring led vignerons to believe they would be harvesting the most precocious vintage of the last century, but a wet and cold summer slowed vegetation/ maturation down. On average most people started harvesting a week earlier than usual, though many were initially planning to start up to three weeks early!

For most, nature more or less balanced itself out, and teams of harvesters picked their hearts away in warm, sunny weather. Muscadet was not so lucky... A lot of rain and cold right before harvest led to a tremendous amount of gray rot this year. Marc estimates that, depending on the parcel, 75%% to 25% of the grapes were unusable; about 30% of their total production was lost. The parcels that were struck the hardest were the Briords vines; it sucks to say it, but there will be VERY LITTLE Briords in 2011.

Marc used 2011 as a perfect example why hand harvesting is so important:

"I literally had my team splitting hairs with the bunches. If some of the clusters were partly rotten but the rest was usable, be it a half or one fifth, they meticulously salvaged the quality grapes. I cringe at imagining what a machine harvested Muscadet will taste like in 2011; if they had as much rot as me -and I know a lot did!- it all went into the production..."

The good news is that the grapes that DID make to the cellar were of excellent quality, and have produced a balanced and elegant vintage. As Marc pointed out, the wine's brine quality, notably absent in 2010, is back in full force. Alcohol is low, acidity is balanced and minerality is king. The first bottling of the base Pépière' will be bottled and available very soon.

It was then the moment we'd all been waiting for: oysters, pâté and old Muscadet! Much to my delight, there was NO pork at this meal. In fact there was even an abundance of vegetables (John Ritchie did a vegetarian victory dance)! But who cares about local, organic fresh produce? Let's talk about the meat! The oysters were from Brittany and delicious. There were three pâtés to choose from, all hunted, butchered and made by Marc himself: pheasant, rabbit and woodcock! They were all delicious, but the woodcock once again reigned supreme. The secret? About 25% foie gras blended in. Genius!

Funny anecdote about the Woodcock pâté. Last year, Jason from Marlow and Sons was on the trip. When John Connelly, who was on the trip this year, asked him about it, about all the sights he'd seen, the wines he'd tasted, the people he'd met, all Jason could talk about was the woodcock pâté.

"He didn't mention anything else about the trip, not even the flight of back vintages that day. He was obsessed with that pâté months after coming back."

It was also John's favorite, and after a year of anticipation I'm glad it lived up to his expectations. We also had a wild boar Shepard's pie which was off the chain. It continued the new awesome trend of me eating wild board hunted by vignerons: the night before Pierre-Marie Luneau served us a terrine made from a boar he'd hunted and who could forget the Chingali stew prepared by Dora Forsoni last November! Obélix would be proud...

Note to anglophone vignerons who read this blog: I'm a fan of this trend and hope to keep it going.

Let's talk about the back vintages. We tasted pretty much straight through 1985, and not one bottle was tired. Some, for example 95, were so fresh, vibrant and full of acidity that they tasted like a current release, while others, like 97, darkened in color and gained a richer texture. In some cases the minerality still ran the show, while others started expressing the fruit we all knew was buried somewhere in there. I insisted we open an 86 (my birth year), and Marc pretty much said: "Meh. It wasn't a great vintage..."

But he found one and did it anyway. We all agreed that it wasn't the most interesting wine of the flight, but it was still in great shape. I think the best part of the 1986 vintage was that it featured an amazing "Serve Fresh" label which inspired a lot of bad 80's hip-hop jokes:




If I was more tech savvy I would have made an animated gif. out of that. Closel, Salons des Vins de Loire and the conclusion of the trip on the next update.


Our friend Eben Lillie worked the harvest at Domaine de la Pépière this year. Check out the pictures he took in the Harvest Reports section. Have you ever seen a happier group of individuals?

Don't forget the save the date for this upcoming week of events for PIH in honor of Joe:

Chambers Street Wines (At Ward 3, 111 Reade St) - Saturday, October 22nd, 2 to 6:00pm (212) 227-1434

Thirst Wine Merchants, 187 Dekalb Ave, Bklyn - Sunday, October 23rd, 5 to 8:00pm (718) 596-7643

Astor Wines (Astor Center) 399 Lafayette St. - Monday, October 24th, 6 to 8:00pm (212) 674-7501

Slope Cellars, 436 Seventh Ave, Bklyn - Wednesday October 26th, 6 to 8:00pm (718) 369-7307

Brooklyn Wine Exchange, 138 Court St, Bklyn - Thursday October 27th, 6 to 9:00pm (718) 855-9463

Grapes The Wine Co., 731 N. Broadway, White Plains - Friday October 28th, 6 to 9:00pm (914) 397-9463

Union Square Wines, 140 Fourth Ave - Friday, October 28th, 6 to 9:00pm (212) 675-8100

Ledu Wines, 600 Washington St – Friday, October 28th, 5 to 8:00pm (212) 924-6999

Uva Wines, 199 Bedford Ave, Bklyn – Saturday, October 29th, 3 to 6pm (718) 963-3939

Rouge Tomate, 10 East Sixtieth St – From October 22nd to October 29th the restaurant Rouge Tomate will offer a selection of ten Louis/Dressner wines, by the glass or bottle, a portion of the proceeds going to PIH. (646) 237-8970

Contact us:
info@louisdressner.com
phone:212.334.8191
fax:212.334.9216


Blog Feed
instagram


Latest Producer Videos: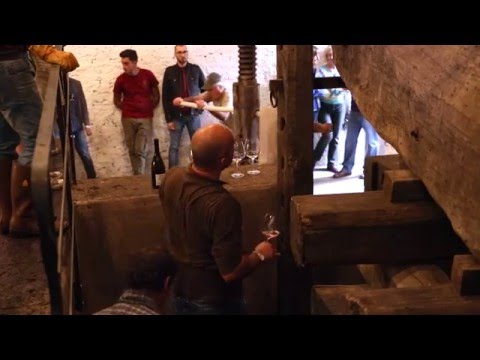 Traditional Palmento Vinification at I Vigneri!
Fabricca di San Martino's 2015 Harvest.
Louis-Antoine Luyt's 2014 Pipeño Harvest.