Alice and Olivier de Moor!

Zélige-Caravant!

Bernard Baudry!

Plenty more where that came from!




For this coming round of Italian visits, I am very happy that Eben Lillie of Chambers Street Wines was around to take so many great pictures. Thanks Eben!

For our annual fall tour of Italy, we got things started by visiting Carlo Venturini and Alessandra Zantedeschi of Monte dall' Ora!

They have a pretty sweet backyard.




Yes, that's their mail box. They also have an awesome dog named Vladimir who loves playing with this old soccer ball.




Before setting off to see a newly acquired vineyard, these stacks on stacks on stacks of drying Amarone grapes caught everyone's attention.




These are left in open without temperature control. Carlo does have a big fan constantly blowing on them though, so maybe that counts as temperature control. You tell me.

Carlo was really excited to show us his newly acquired land just above the mountain commune of San Giorgio, which is located on the Northern-most edge of Valpolicella.




The vineyard is completely enclosed by woods, with no neighbors. It is mostly planted in Guyot. The soils consist of limestone rich in iron. Throw in a complimentary full South exposition, and you have all the factors for great terroir.




The vines are 7 years old and planted in Corvina, Corvinone, and Teroldego. Unbeknownst to the group, Teroldego is permitted in Valpolicella vineyards, up to 15%. The vines were being worked chemically and Carlo is converting them to biodynamics. In total this represents 2 hectares.

He is not sure where the grapes from this land will end up for the time being, as this will require experimentation. The eventual goal, once the vines are older, is to make a site specific bottling from this terroir.

Part of the acquisition included a tiny parcel of whites planted in Pergola.




Cortese, Garganega, Chardonnay and a mystery grape are planted here.

"I'll try making a little white this year. I've only tried this once before, and it was the worst thing ever!"

As we were contemplating the beautiful view, a strange sound started galloping towards us. Everyone got freaked out, but we were quickly relieved to know that it was just a horse running freely through the mountain.




I then unsuccessfully tried to convince the group that this was all staged and that we at Louis/Dressner intentionally set up beautiful acts of nature to impress our customers.

Because it was on our way down, Carlo had us stop by San Giorgo, which was built in Roman-Pagan times. Here's the village's beautiful Church.




And here's a beautiful mountain sunset.




The sun was setting fast, but we still had a bit of time to rush over to the Camporenzo vineyard, which produces the Valpolicella cuvée of the same name.




Camporenzo totals 3 hectares and faces east. Everything is grown in Pergola, which is normal for the region. It's also right next to Brad Pitt and Angolina Jolie's villa, a converted old monastery. No word yet if they plan to produce a Valpolicella after the huge success of their first wine, Miraval Rosé.

The soils here are sand with a loose clay subsoil.




By the time we were done with Camporenzo it was pitch black outside, so the natural transition was to head to the cellar.




We started by tasting the base for the 2013 Sasetti (local dialect for "little rock"), but with the late harvest it was so young (we were there in mid-November) that it was hard to taste much more than fresh grape juice.

The Superiore, which macerates in the wood vats you can see above, needs to be foot-trodden once a day. Since we all happened to be there, Carlo figured he'd give us a demonstration.



"Right now the grapes are very soft. With the Amarone, the grapes are much harder and it's much less fun.".

Speaking of the Amarone, drying time is variable. Carlo waits at least until the 1st of January of the next year, and will be February for this year's harvest. It usually takes 10 to 15 days to start the fermentation. In the first few days, Carlo does very little foot treading. After that, he does 3 treadings a day (about 5 hours apart) for 10 days. In the vats, you have approximately 70% skins and 30% juice, which was the opposite of what he was stomping on with the Superiore in the video. The wine then ages 3 years in barrel and one year in bottle before release.

Dinner WAS INSANE, and featured never-ending polenta with anchovies, Valpolicella ravioli (the pasta was made with wine), pork stuffed with pork and Italian Cronuts. It was also a good time to hear Carlo talk of his early experiences in the area. When he first took over what would become Monte dall' Ora, he made a point to chat up all the old timers and ask them how they used to work. The thing that resonated most with him was that:

"When everything was still done by hand, there were way less treatments simply because it meant so much more work (spraying row by row with a heavy backpack). That's also why people started building bigger barrels. 1000 hl at a time is the way to do it!".
Contact us:
info@louisdressner.com
phone:212.334.8191
fax:212.334.9216


Blog Feed
instagram


Latest Producer Videos: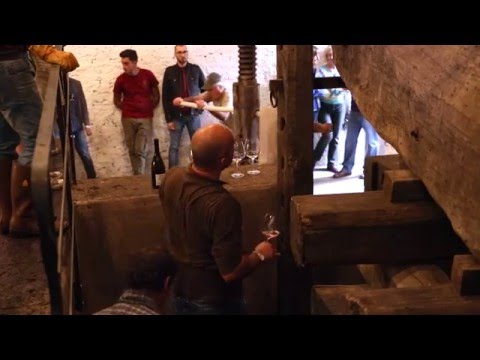 Traditional Palmento Vinification at I Vigneri!
Fabricca di San Martino's 2015 Harvest.
Louis-Antoine Luyt's 2014 Pipeño Harvest.