ABOUT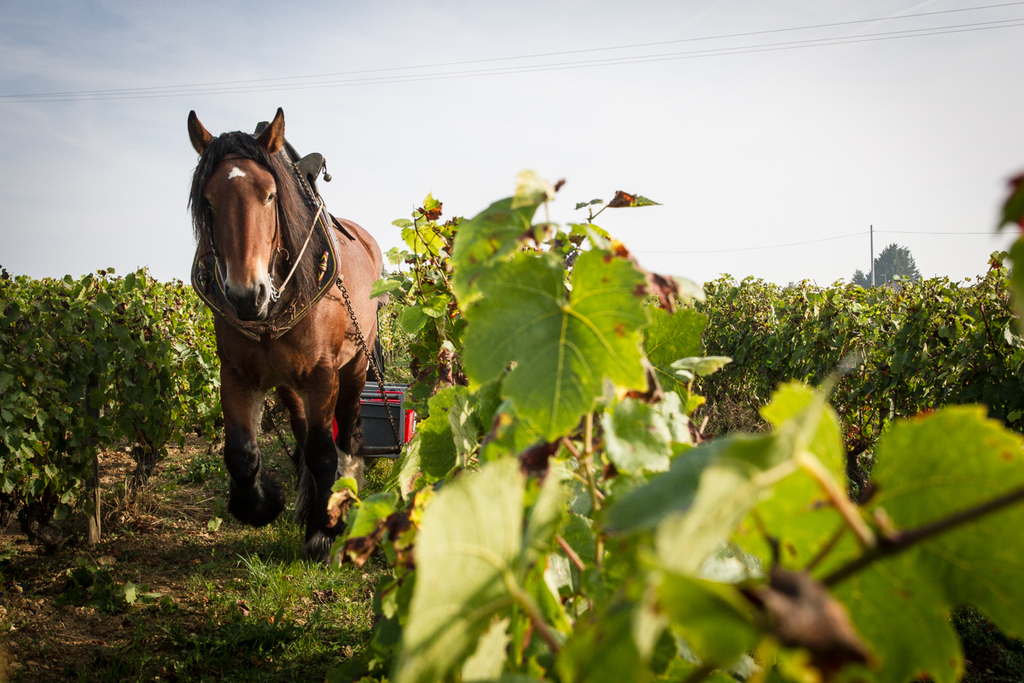 An updated, perhaps slightly fictional introduction to who we are.
Louis/Dressner Selections, founded in 1988 by Denyse Louis and Joe Dressner, is a company started by two people who knew absolutely nothing about wine or its commerce. Yet somehow, over 30 years later we're still here. How'd that happen?
It all started with two youngish graduate students studying journalism at NYU. On that fateful first day of class, Joe Dressner, a native New Yorker and recently retired communist revolutionist, sat next to Denyse Louis, a native Burgundian who'd grown up in Strasbourg and recently left France for the Big Apple. The two instantly became friends, later started dating and were married within the year. Joe and Denyse spent the summer of 1985 in the dilapidated house she and her siblings had recently inherited in Saint-Gengoux-de-Scissé, a tiny village in the Mâcon region of Southern Burgundy. Don't try to pronounce Saint-Gengoux-de-Scissé correctly: it's scientifically impossible for Americans.
Born and raised in New York City, Joe nonetheless found himself enchanted with the charms of rural France. Vines had historically been in Denyse's family for generations and the hamlet of Poil Rouge was surrounded by them. Though the family grapes were being sold to the cave coopérative de Lugny (to this day the second biggest cave coopérative in France!), this connection gave Joe the idea of exporting wine to the United States.
Following the birth of their first child (who just so happens to have written this text), J&D relocated to rent-free Saint-Gengoux for the summer to map out their future. After a return flight home to New York in the fall, ready to scope things out, Joe noticed that not much of what was available came from small, independent producers. This was at the height of 80's mass consumerism, where cheap prices and quantity trumped quality.
Unaware of the ongoing efforts of Kermit Lynch, Neil Rosenthal and other pioneers of the propriétaire/récoltant model of wine importing (working with farmers who own their land, grow their own grapes and make and sell their own wine), Joe hatched a plan: in this pre-internet era, he figured he and Denyse could be the first to import wines from the VIGNERON INDÉPENDANT! Though naive and inaccurate, it set the tone for what was to come. Armed with her eloquent penmanship, Denyse wrote a letter to send to growers claiming they were USA wine importers searching for important new estates to represent for their important New York clientele. No need to mention these New York clients didn't exist yet; everyone has to start somewhere!
Miraculously, many growers replied! Wine could now, in theory, reach the USA via the newly formed Louis/Dressner Selections. But the early years were a dud; Denyse estimates they did not sell a bottle in the first two years attempting to be brokers. In the meantime, J&D both worked odd-jobs in New York, returning to the Mâconnais periodically to pursue this crazy dream of selling French wine to Americans.
Beside the propriétaire/récoltant prerequisite, no thought or understanding was given to viticultural or winemaking practices. This would change in 1987, when J&D discovered Heni Goyard's Chardonnay. The wines from Domaine de Roally in Viré, just a ten minute drive from Saint-Gengoux, tasted like nothing the couple had experienced. Joe's journalistic instincts kicked in: "Why is this so different?"
The question initially took Henri by surprise. Over the course of a few bottles, some key elements came to light: no herbicides in the vineyards, hand-harvesting, no lab-cultured yeasts to help the wine ferment. This info blew Joe's mind: as a naive young man oblivious to the realities of viticulture and winemaking, it felt like he'd unearthed the story of the century. 98% of the Mâconnais liberally uses chemicals to treat its vineyards? And they machine harvest the grapes? And they add stuff to the wine? And this isn't just a local phenomenon, but a global one?
From that moment, the goal was to find more estates like Domaine de Roally. Purely through word of mouth, J&D visited countless producers in their quest to find these "real" wines made by small farmers eschewing the trappings of modernity in the vines and the cellar. By the mid 90's, a clear philosophy had emerged. And they even had customers interested in buying the stuff!
Many key players emerged from those early years, but none more important to our company than Kevin McKenna. As the buyer at Astor Wines, Kevin was one of Louis/Dressner's first major customers. So much so that when he decided to quit and spend the following years studying business in Rome, Joe, after suffering a terrible panic attack, chain smoked a pack of cigarettes while waiting for him outside of Astor to ask him how Louis/Dressner could ever stay in business without him.
Somehow Louis/Dressner survived the "Kevin Hump" and was still in business when he moved back to New York City. Inspired by his time in Rome, Kevin was planning on importing Italian wines to the United States. At the same time, Joe and Denyse were hoping to expand their operation beyond the east coast and needed someone with Kevin's skillset to help navigate the legalities and logistics of becoming a "real" business. After helping out for about a year, Kevin became an equal partner in the company. LDM Wines, Inc. (Louis/Dressner/McKenna) was born in 1995.
As with all things in life, much has changed at Louis/Dressner over the years. The most significant is of course the passing of Joe Dressner in 2011. Our world will never be the same without him, but we take great pride in keeping his vision alive. Other major changes include Joe and Denyse's son Jules joining the company (hey, that's me!), hiring national sales managers, growing day by day, year by year to the point that you can find our imports in most states. We tend to be stricter in our criteria on farming and winemaking than we once were. And we've learned a thing or two since our humble beginnings.
For even more information on the company's origins and philosophy, please read Denyse Louis' interview.
What follows is the original LDM manifesto published in 1999.

Louis/Dressner Selections is a portfolio of over 100 vignerons hailing from France, Italy, Germany, Portugal, Slovenia and Chile. We are a partnership of Denyse Louis, a native Burgundian, Joe Dressner and Kevin McKenna. Collectively, we spend nearly nine months a year in Europe working with our growers and selecting wines for importation to America.
We have no brands. We are not looking for them. We do have a group of often fanatical growers who are doing their best to make wines that are original because they are honestly crafted. These might seem old-fashioned, but in the present context it is almost revolutionary....

There are no gobs, no exaggerations, no over-this and over-that. We don't have fruit bombs. What we do have is a group of growers who work their vines and make their wines with honesty, passion and humor.

In that sense THE BRAND is the convergence of these crazy growers and their American importers. Working together to produce and market natural products that follow several principles.

The following techniques and guiding principles are what we believe is winemaking with integrity and respect for the traditions of the native region. This is fine winemaking at its purest, most fundamental level.

Wild Yeasts:
All wines are made with the natural yeasts on the grapes, in the vineyards and in the cellars. Cultured yeasts to rush fermentation or add "enhancing" aromas and flavors are unacceptable. We look for wines that express their terroir. No enzymes, no hormones.

Hand Harvesting:
Growers harvest by hand, not machine. We want the ripest fruit to be brought carefully and lovingly into the winery.
Low Yields:
The growers want low yields for greater concentration. We look for growers with holdings in old vines.

Natural Viticulture:
We encourage growers to plow their vineyards to keep the soil an active eco-system, and to use natural methods in tending their vines.

No or Minimal Chaptalization:
We do not want an artificially high degree of alcohol produced by adding sugar to the must. Non- or slightly chaptalized wines are more enjoyable and healthier to drink.

Non-Filtration:
Wines are either not filtered or minimally filtered. We also encourage low levels of SO2.

Non-Interventionist Winemaking:
We prefer a harmony, not an imposed style —wines should showcase their place of origin and varietal character. We are not looking for oak flavor, particular fruits or overly done aromatics. Minimal use of S02 is encouraged.

Enjoyment!
Lastly, our most important "principle." Because, the overblown world of overdone wines is fundamentally tiresome. We're not looking for tasting specimens, but for wines that are great fun, and a great pleasure to drink.

We aren't big fans of wines that are...

Over-Manipulated:
The over-handling of wine is one of the fundamental caveats in winemaking. Repeatedly pumping wine from one vat to another and moving wine or grape must by truck affects the freshness and flavors of the wine. Of course, chemical adjustments can be made to cover up any faults....and Velveeta is delicious!

Over-Flavored:
In almost all parts of the world it's common practice to use cultured yeasts and extra grape sugars to enrich the flavors of the grape juice during fermentation. Not to mention the foolish winemaker that keeps a shelf of flavor extracts on a shelf directly above the vat...WHOOPS!

Over-Acidified:
Did you know it was common practice in most areas of the world to do "acid adjustments" by adding citric acid, tartaric acid and, less frequently, malic acid to adjust the acidity levels of a wine?

Over-Harvested:
Restricting the number of grape bunches on a vine is the simplest, most basic technique for achieving greater concentration and flavor. The majority of wine-grape growers harvest at levels high above the norm to increase the number of bottles that may be sold...the simplest, most basic formula for increasing profits.

Over-Filtered:
Sterile filtration is a method of forcing wine through microscopic screens that basically strip the wine of particles which may include materials that give wine a unique flavor. It is commonly used throughout the winemaking world.

Over-Oaked:
While oak can be a good and interesting thing, there are excesses. The overuse of new oak is a departure from traditional winemaking techniques that, apart from being prohibitively expensive and greatly accelerating the deforestation of France, has created a new consumer demand for oak-flavored wines. So much so, that some disreputable wineries in certain parts of the world go so far as to add oak chips and oak extract flavors to wine!

Over-Rated:
Let's not kid ourselves, folks! The great majority of the wine press throughout the world, with notable exceptions, is wholly influenced by advertising and perceived glamour.
We've even found ourselves incredulous at some of the stellar ratings our own wines have received!

Over-the-Top:
Any number of the above-mentioned factors and others (such as fancy bottles, postage stamp labels, etc) can put a wine over-the-top. There are also wines that burst out of the bottle due to added flavors and overextraction and are the "blockbusters wines" of the press and tastings, but inevitably can't hold up to aging or are completely incompatible with food.

©1999 Louis/Dressner Selections
---