‹
›
Article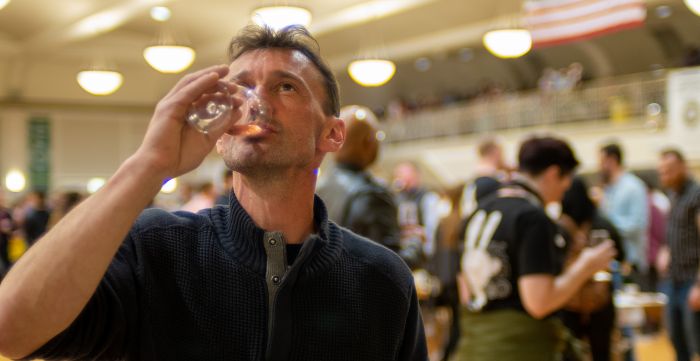 A Tribute to Olivier Lemasson
Words from Jules Dressner:
My first memory of Olivier Lemasson dates back to a winter Loire trip in January, 2010. I was accompanying my father Joe; he was bullish and needed to participate but had started his cancer treatment a few months prior and lost mobility in his leg. I was by his side the entire time to help him get around but also to absorb what one of these "wine trips" was all about.
Too much walking or standing was exhausting for Joe, so he was forced to sit a lot. Throughout the trip, this often meant the vigneron would come and serve him tastes of each wine, not unlike a sommelier at a restaurant. The whole exercise was a bit strange for everyone, and I distinctly remember Olivier pouring us his 2009's from brut de cuve. I got the sense he really wanted Joe to like it, so I asked my father who he was and he said something very "Joe" to the likes of "Oh that's Olivier Lemasson. He started his own project a few years ago. We weren't sure we could sell his crazy wines, but we loved the guy so we started working with him recently."
I don't remember how the wines tasted that day and frankly it was a fleeting first impression. To be honest, I was meeting a dizzying amount of vignerons for the first time, tasting hundreds of wines and doting on my father. It was a lot. But in hindsight Joe's statement crystalized something important. Olivier was part of a late 90's/early 2000's wave of producers, along with Tue-Boeuf, Chaussard, Villemade, Mosse, Maupertuis and the early Italians where I feel Denyse, Joe and Kevin started taking bolder risks on "fringe" wines that they weren't sure they could sell but wanted to because of the people behind them.
And when I returned from that trip to San Francisco, increasingly geekified by working at a wine shop and later Terroir (the first "natural wine" bar in the United States), I distinctly remember discovering and seeking out the Vins Contés wines. My recent obsession with carbonic maceration and Pineau d'Aunis meant sleuthing for every bottle of Poivre et Sel I could get my hands on.
I rarely talk about how a vigneron's wines have affected me because I've always been more attracted to their humanity, vision and philosophy. But I think that for a lot of people like me who really got into wine in the late aughts/early 2010's, Olivier's cuvées, particularly his reds, were a gateway into the quirkier, more playful side of what wine could and should be. Beyond their "naturalness", the R, P'tit Rouquin, Gama Sutra and especially Poivre et Sel were just so fun, unpretentious and, importantly, affordable enough that getting two or three bottles didn't seem that crazy (nor did drinking them in one sitting). The packaging was fairly out there and almost provokingly juvenile in its design and punny names, making it clear that whoever was making this wasn't trying to follow any rules or cater to expectations. More than any other producer, I get told Lemasson were some of the first wines to get people hooked. And to this day, Les Vins Contés is the standard bearer in my "wine is meant for drinking" ethos.
By the time I was working full time with LDM in 2011, I was a big fan of Les Vins Contés but barely knew Olivier. This would change on one of his numerous visits to the United States in March with his wife Cécile. We were so much alike: warm and fiercely loyal to those we care about, full of dry humor and with a penchant for cantankerous rants. A match made in grumpy heaven! Interviewing Olivier in a Venice Beach hotel room also permitted me to understand his work philosophy, illuminating the concept of "vin de soif" as a thought out, intentional style of winemaking. It was the beginning of a real friendship, a luxury we are blessed to have with so many of the vignerons we represent.
Olivier and Cécile in Venice Beach, March 2011.
From that point forward, the memories start to blur and lack chronology. There were the nicer, quieter moments: visiting Olivier and Cécile at their home, staying with them, drinking older vintages of Gama Sutra and Cheville de Fer, going to a 14th of July celebration to see the fireworks with their young daughters, Olivier jump starting my car after I'd let the brights on all night. Or Olivier showing his Brittany pride with his delicious fish fries. Then were the wacky hijinks of touring the USA: the insane bill we had to cover for Jorge's hedonistic birthday meal at M.Wells diner, desperately trying to find a six pack in a deserted midtown night when they were staying at the Trump Tower, laughing our asses off that we were in the Trump Tower (no I'm not making that up, our Nevada distributor's parents used to own an apartment there and for years let vignerons crash there), crawling the streets of NOLA late night with Loïc Roure and seeing the beginning of a budding friendship between the two, heated arguments about nothing and mutual apologies the next day…
Perhaps my fondest memories with Olivier revolve around our annual "casse croute" tradition at the Dive Bouteille. Since the Dive is an all day event, Olivier and a group of neighboring vignerons would pool together an impressive array of cheeses and charcuterie behind their barrels to snack on throughout the day. Unsolicited (though probably aware and accommodating to my constant hunger), Olivier told me one year that I was always welcome to come chow down. I gladly relished this opportunity, not only to feed myself but also to get away from the stain-teethed, tannin lipped small talks these fairs force one into.
This offer encapsulated Olivier''s kindness and generosity, but also reminds me of a heartwarming moment we shared. It was the first year at the Dive's current location in Saumur's Caves Ackerman, and the Loire section was in a long corridor with wine bottles propped from the ceiling shining a hideous neon pink/purple hue (no one thought having vignerons spend 10 hours in what felt like the world's worst hookah bar was a bad idea). While having my casse-croute behind Olivier's barrel, some schmuck who I'd just overheard do the exact the same thing to Christian Venier came over and basically lied through his teeth that Dressner was doing a terrible job at importing the Vins Contés wines and that he couldn't find them anywhere in Boston. The guy had no idea who I was, making the whole situation absurd and hilarious. After Olivier shooed him off, we burst into a long fit of laughter. I remember his trademark expressions: that big grin, rolling his eyes to the side while shaking his head in amusement followed by a warm tap on the shoulder. I realize now this was a beautiful moment: some asshole had unintentionally shined a neon light on our implicit trust and loyalty, both in friendship and in business.
I couldn't wait to see Olivier and Cécile again this summer, my first Loire summer tour since 2016. I was planning to stay with them and days away from writing about my visit when I got the news. I'll still be going and seeing my extended vigneron family in July, but it's not going to be the same. The paradigm has shifted and there will be an irreplaceable void in the Cher, in the Loire, in our lives and in our glasses. Au revoir Olivier, tu ne saura jamais a quel point tu va me manquer.