Articles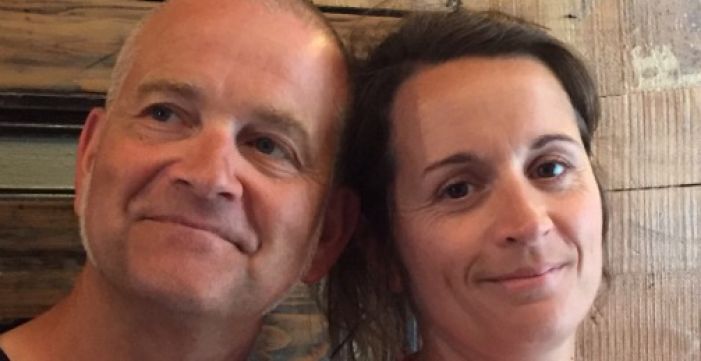 Claire et Florent Bejon Producer Profile
Claire et Florent Bejon Producer Profile
Read more…
//= $article['id'] ?>//=$article['url']?>//=Yii::t('app', 'Read more…')?>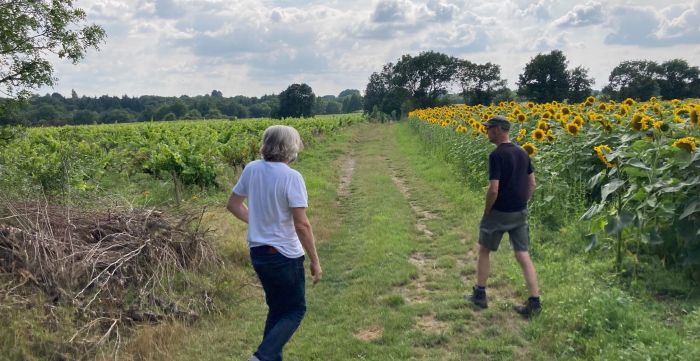 Philippe Chevarin 2021 Visit
This visit with Philippe Chevarin took place in July, 2021.
Read more…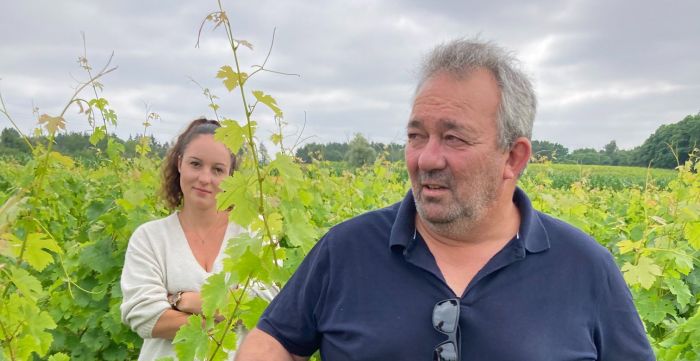 Laurent Lebled 2021 Visit
This visit with Laurent Lebled took place in July 2021.
Read more…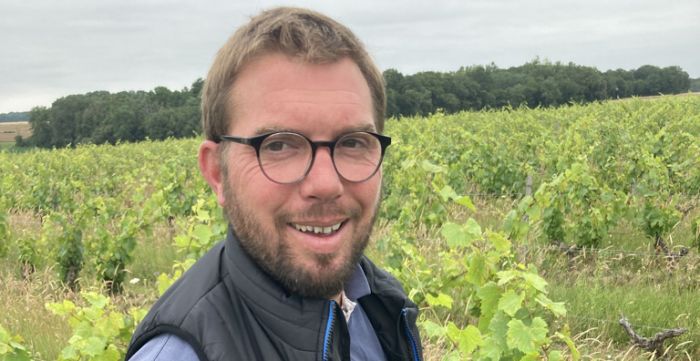 Pierre-O Bonhomme Visit (2021)
This visit to Piere-O Bonhomme took place in July, 2021.
Read more…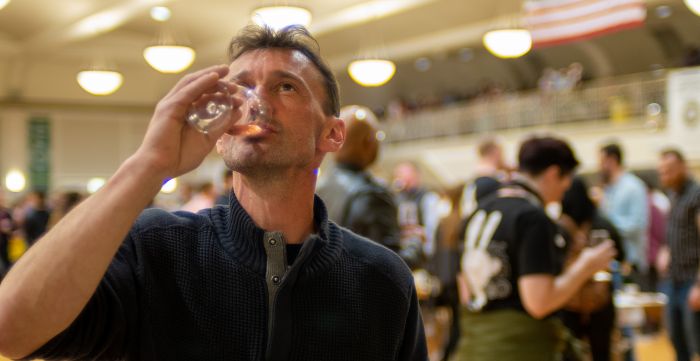 A Tribute to Olivier Lemasson
A Tribute to Olivier Lemasson
Read more…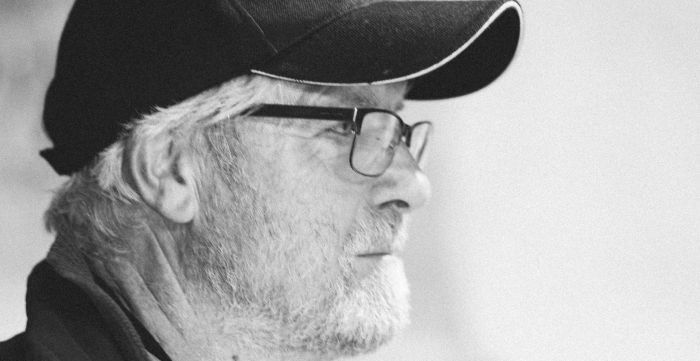 François Pinon (1951-2021)
François Pinon (1951-2021)
Read more…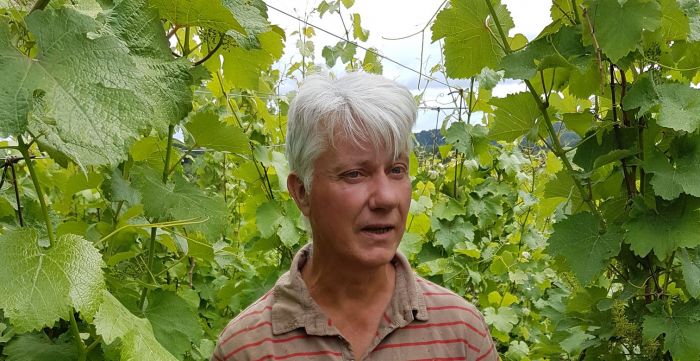 Bellivière's "Vignes en Foule" Experiment
Bellivière's "Vignes en Foule" Experiment
Read more…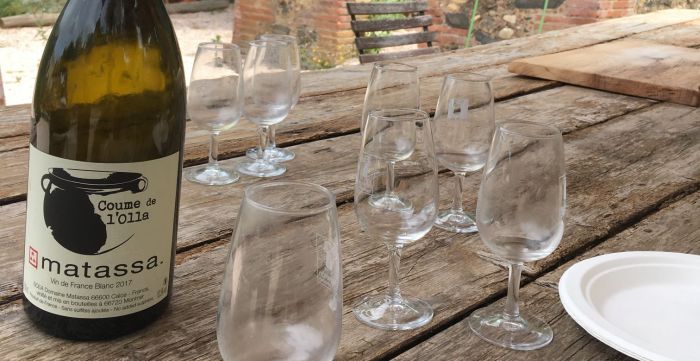 A 2019 Visit to Matassa's New House and Vines
This visit with Tom Lubbe took place in June, 2019
Read more…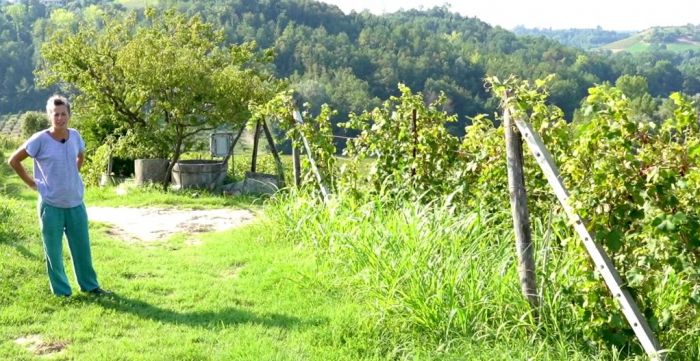 Video: A Day in the Life of Nadia Verrua
Video: A Day in the Life of Nadia Verrua
Read more…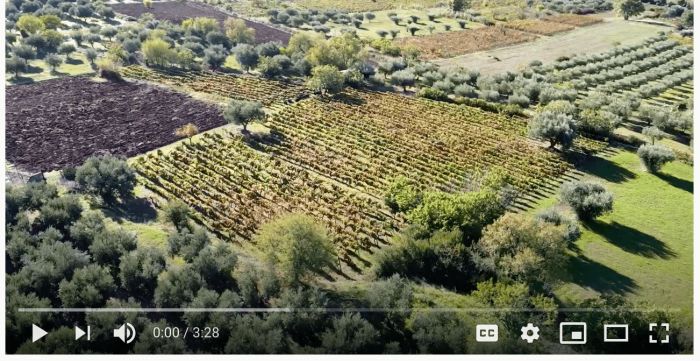 A Video Tour of L'Acino
A Video Tour of L'Acino's Vineyards
Read more…
‹
›
Article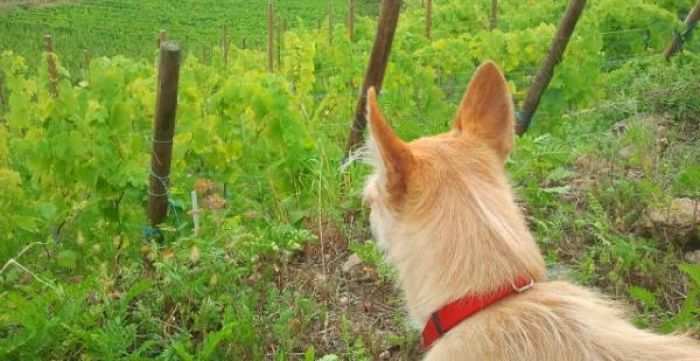 A Visit with Laurent Barth
This visit with Laurent Barth took place in August, 2012.
Words and photos by Jules Dressner.
Laurent Barth lives in the small village of Bennwihr, about 10 kilometers North of Colmar. Though it has been around for centuries, the village was completely destroyed during the struggle for the Colmar Pocket in World War 2. Subsequently, it was rebuilt from the ground up (explaining why many houses look far more polished than most old villages in France). This included housing but also local economies.

The region has always been rich in vineyards, and a group of local vignerons -including Laurent's grandfather- formed a cave cooperative together in the late 1940's in an effort to get things going again. The team effort proved a success: Bennwihr's cave developed a reputation for its high quality wines, and did very well in sales. Unfortunately, the growth of the cave coincided with the introduction and standardization of chemical viticulture and mechanization. Today, the wines being produced there are the same you'd find from any cave coop (aka industrial), something Laurent wanted to break out of by starting his own estate.

Laurent has 28 parcels spread over four communes, though 80% of his vines are in Bennwhir. The first one we visited was some Pinot Gris planted in 2001.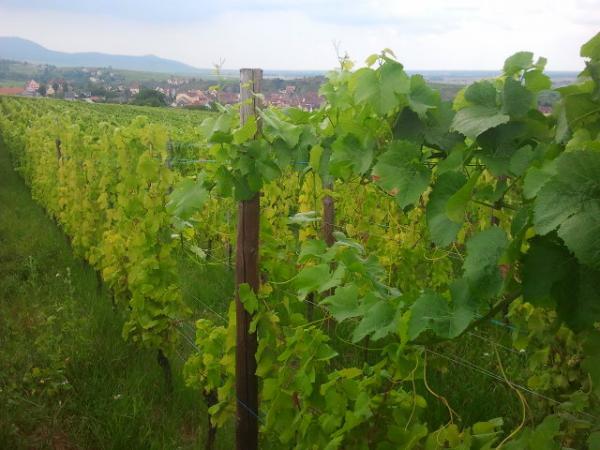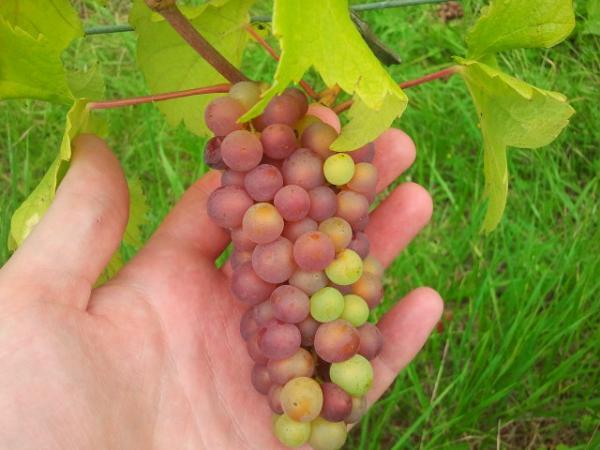 This was all planted in selection massale and in high density. This used to be the norm in the area, but was lost with mechanization.

"It creates more competition between the vines, so the roots have to go deeper to feed themselves."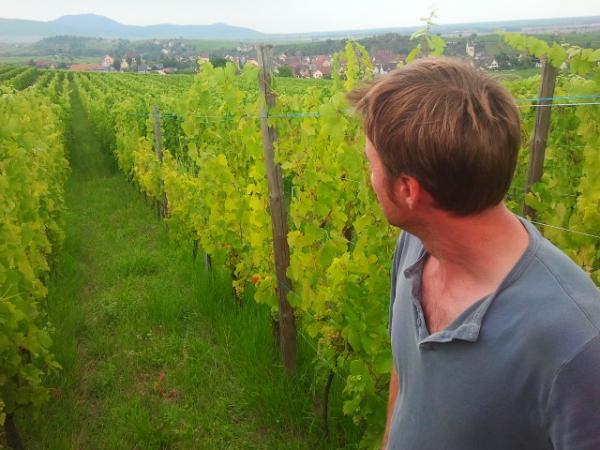 You've probably noticed that the vineyards are very green with grass. Laurent started converting the estate to organics in 2004 (the first vintage bottled under his name), and for the last six years has been using biodynamic composts. He plans on incorporating 500 and 501 preparations over the next year.

We continued to visit by checking out Grand Cru Gewürztraminer planted in 1967 and 1968.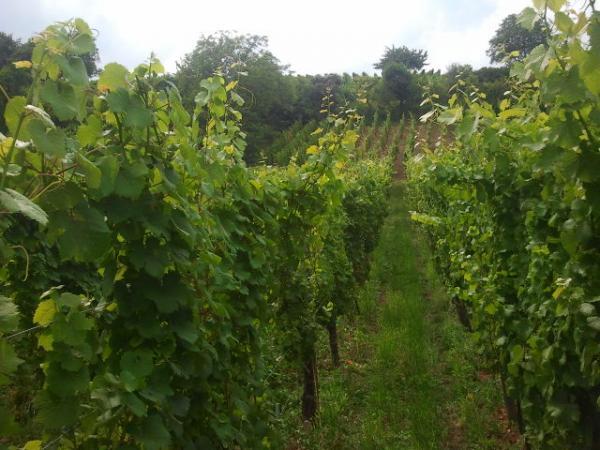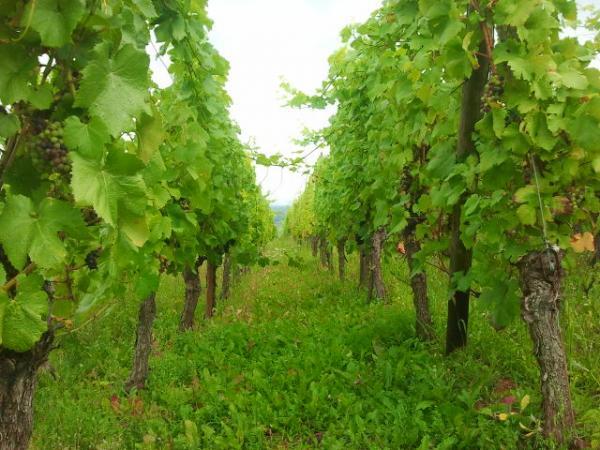 Unfortunately, the vines are suffering a lot of mortality problems from esca here. On that same hill, Laurent showed us some of his Pinot Noir (planted roughly around the same time).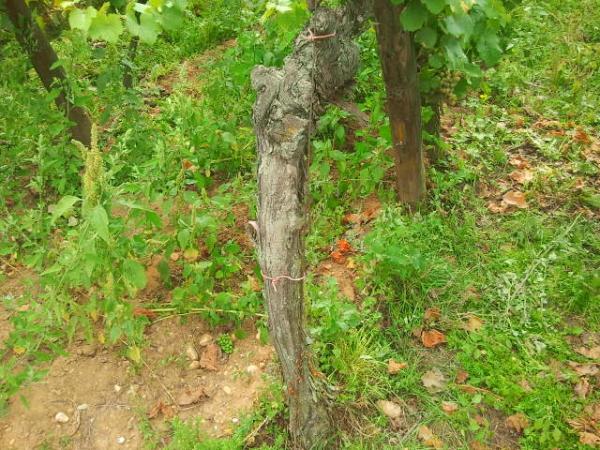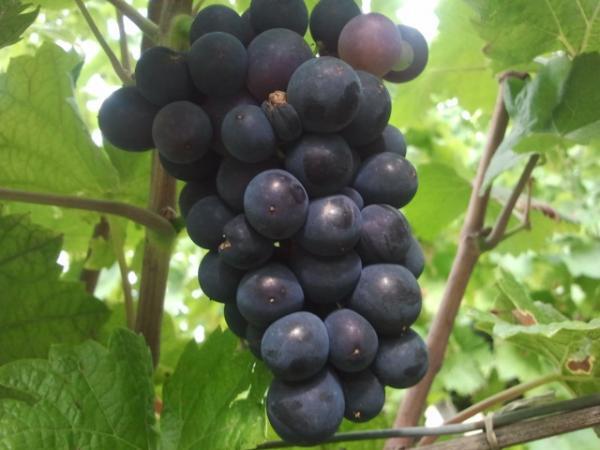 We then drove back down to the village to visit some Riesling planted in 1945.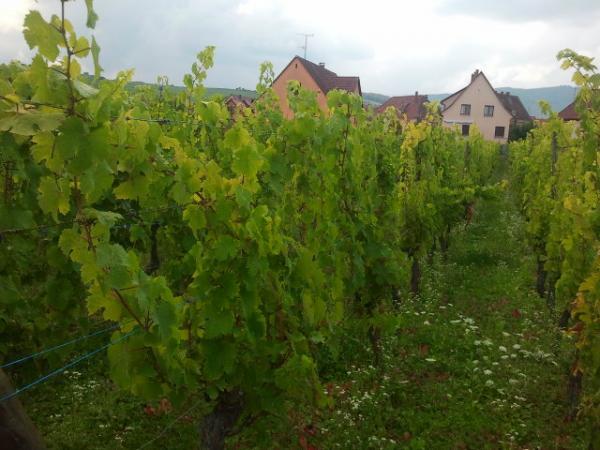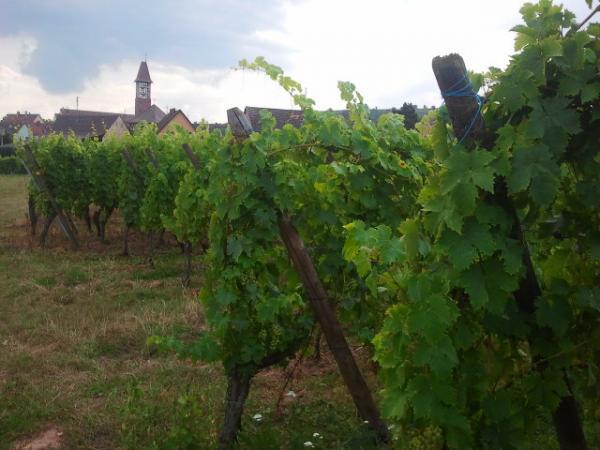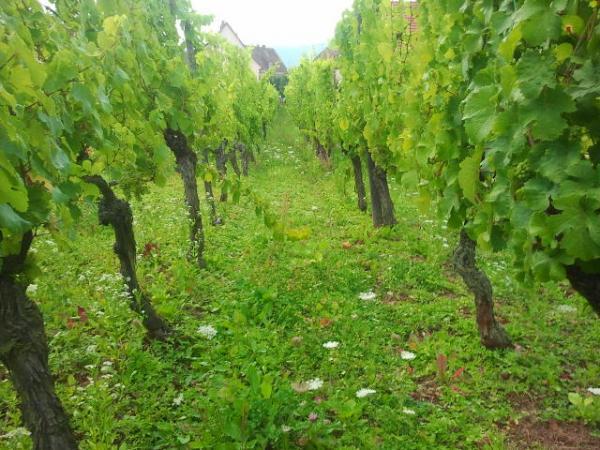 These are the oldest Riesling vines Laurent owns. Here on the plains, the soils are thinner and have more clay. Up in the hills, Riesling grows in soils with more limestone.

I spotted a vine that had recently died of esca, and for educational reasons decided to share it with you.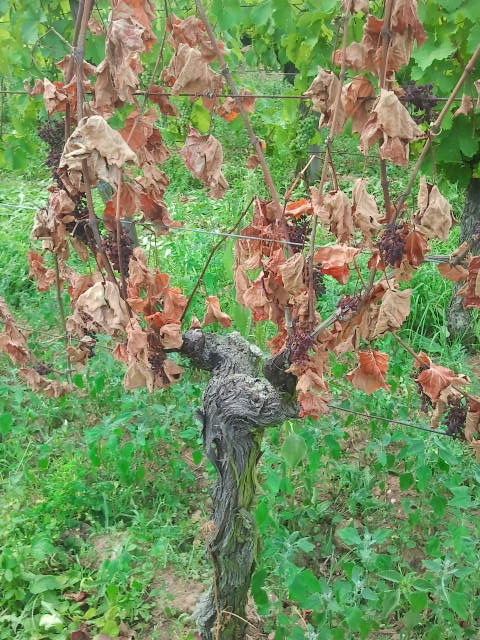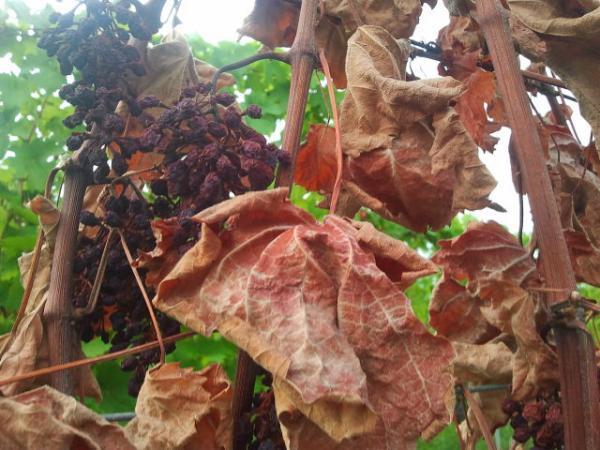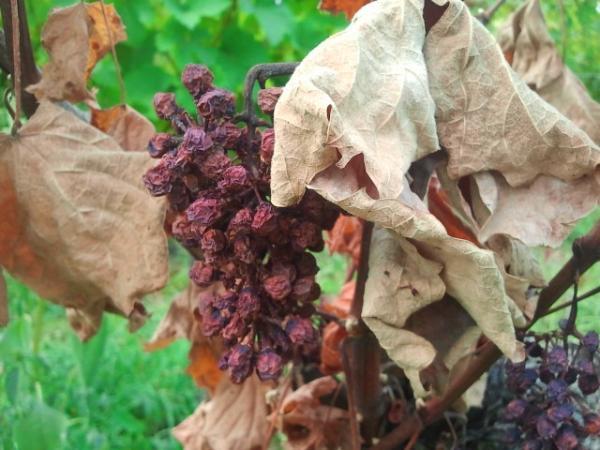 The last parcel we visited was a recently acquired 27 ares of Riesling from the Grand Cru Schlossberg, all replanted in 2009.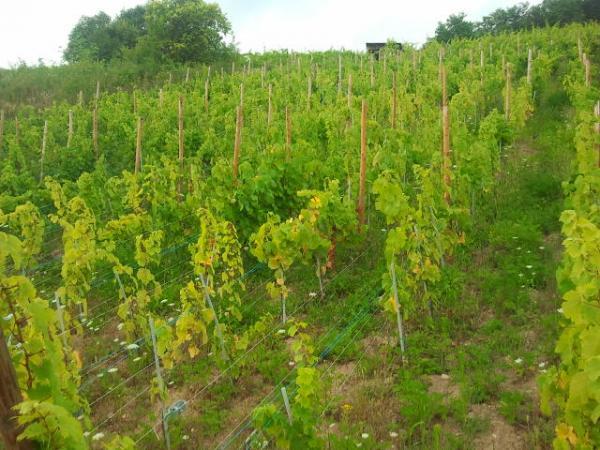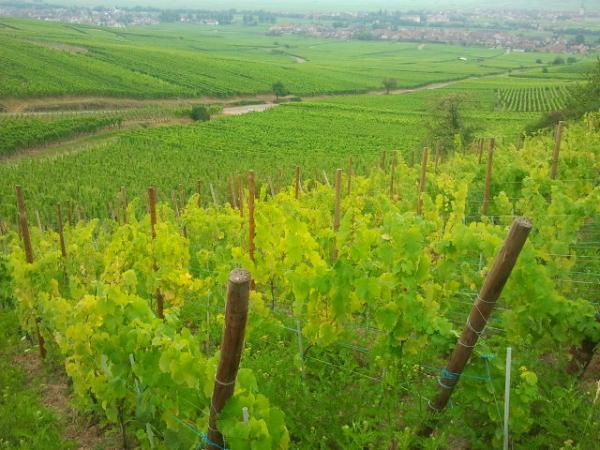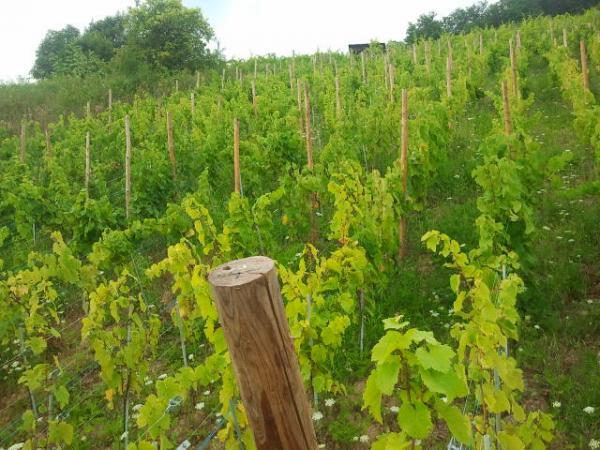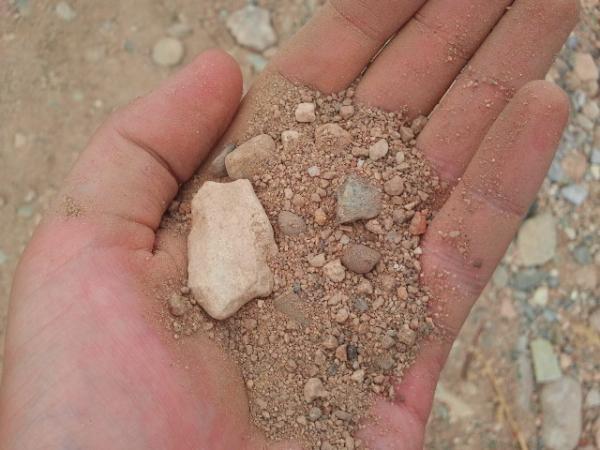 It's steep up there!

The visit ended with... TASTING! Laurent has a teeny-tiny cellar.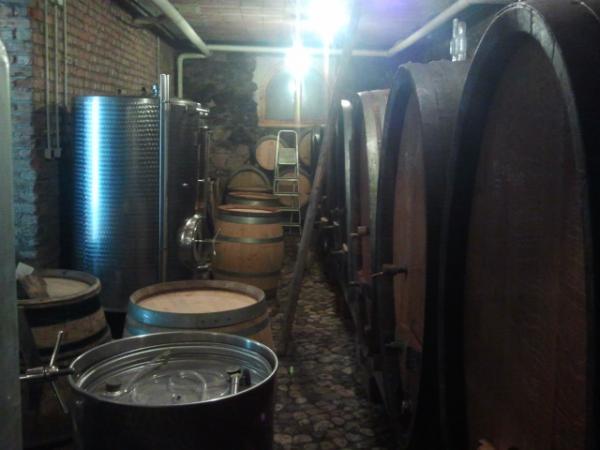 Highlights of the tasting were the 2011 Rieslings and the "Pinot Noir M" from barrel (20% whole-cluster, darker, more structured). The Riesling VV was off to a very promising start, but still needed some time to age and develop before bottling. The Gewürztraminers, while obviously on the sweeter side of things, were still balanced by very bright acidity and minerality, making them thoroughly enjoyable.