‹
›
Article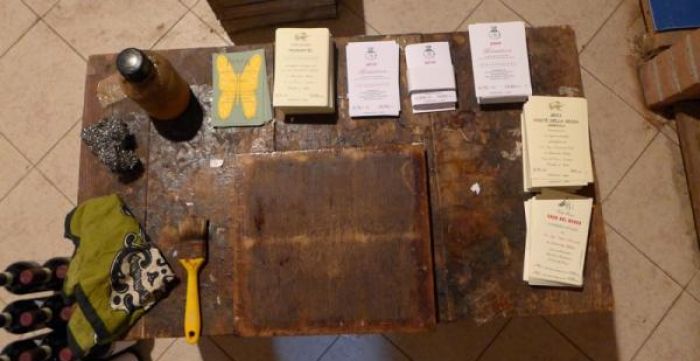 A Visit with Odilio Antoniotti
This visit with Odilio Antoniotti took place in May, 2014
Words by Jules Dressner, photos by Jill Berheimer, Josefa Concannon and David Norris.
When you've travelled all the way from another continent to visit an estate, the last thing you want is getting rained out. It really "dampens" the mood!

This was unfortunately the case as we pulled up to Casa del Bosco to visit father/son team Odilio and Mattia Antoniotti. In the winter it's not the end of the world since the vines are hibernating and it's cold as hell. But when you've just landed in Italy in early May and the vines are bursting full of vigor and life, you definitely want to spend as much time outside as possible. Alas, the rain was coming down hard and it looked like it was going to be an "inside only" visit...

Luckily, the Antoniottis have some nice inside stuff to visit. For example, their really old cellar: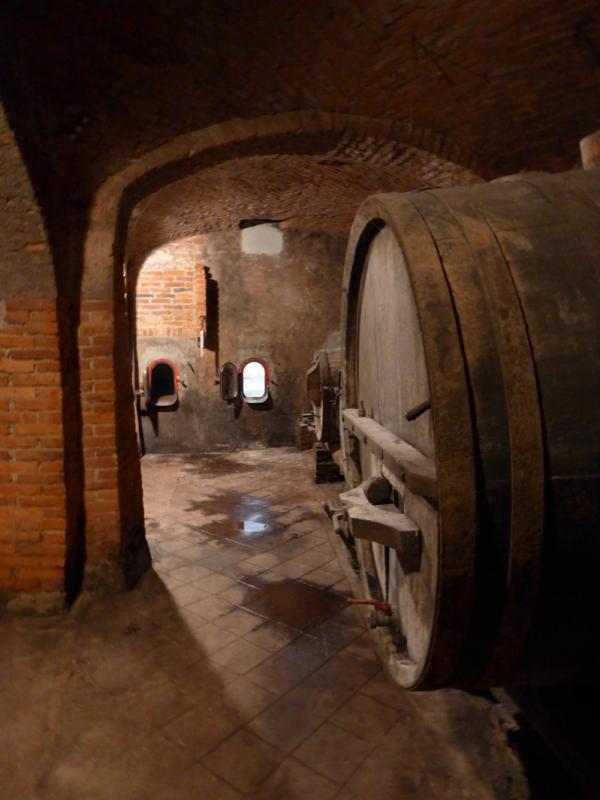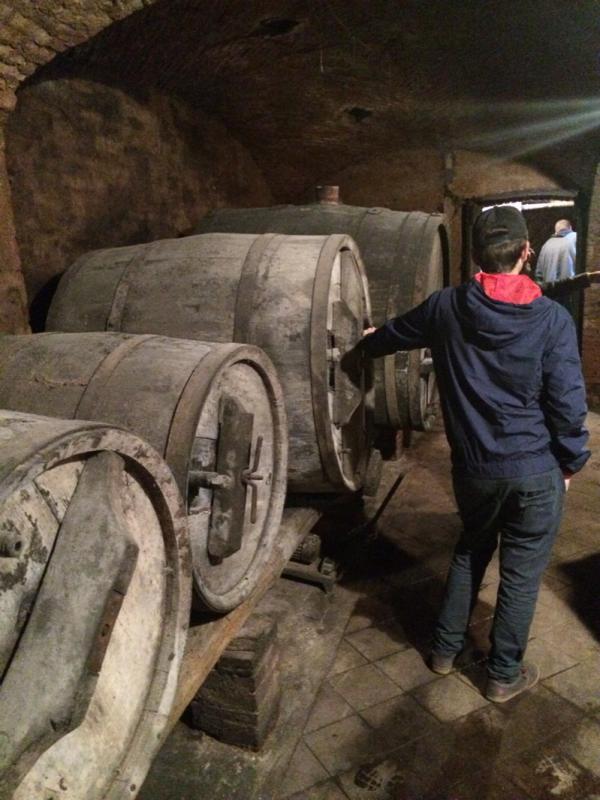 The cellar is directly under their family house, divided in two parts and dates back to the late 1700's. What you see here is the vinification area.

Grapes come in through this window: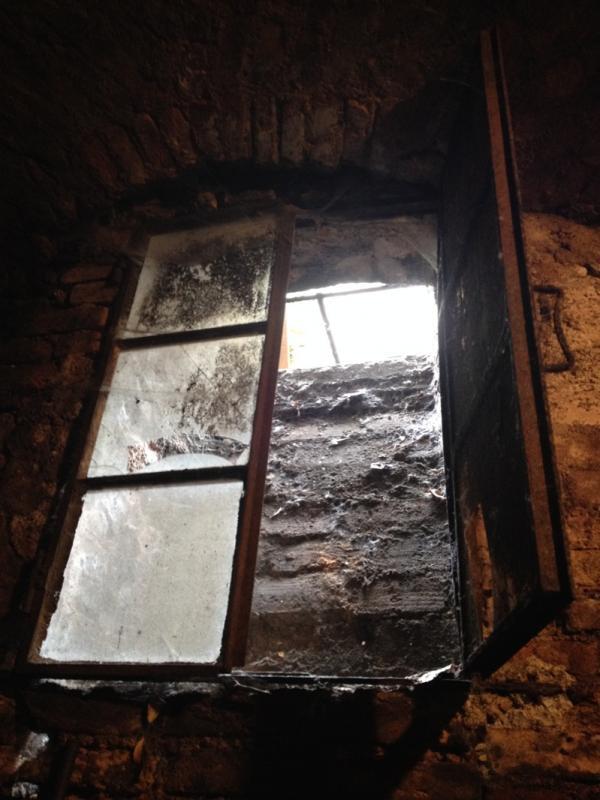 All of the wine ferments in these large concrete vats from 1910.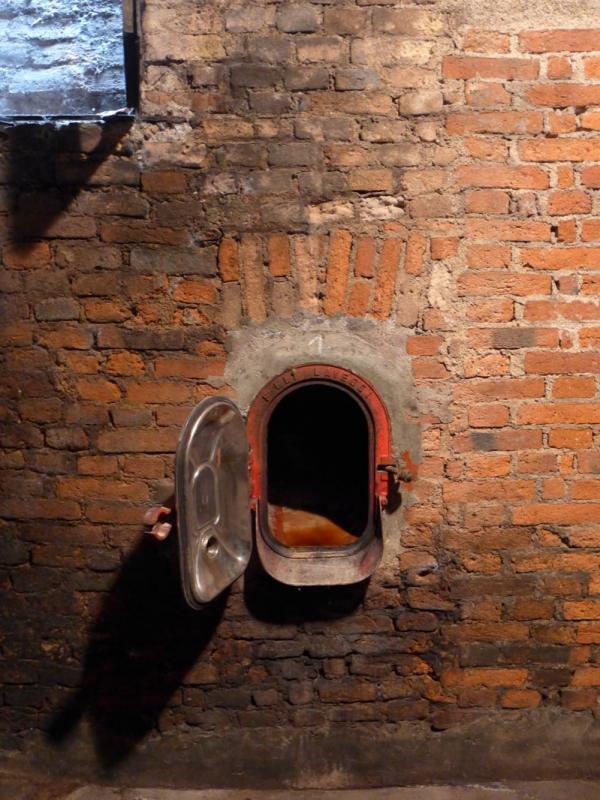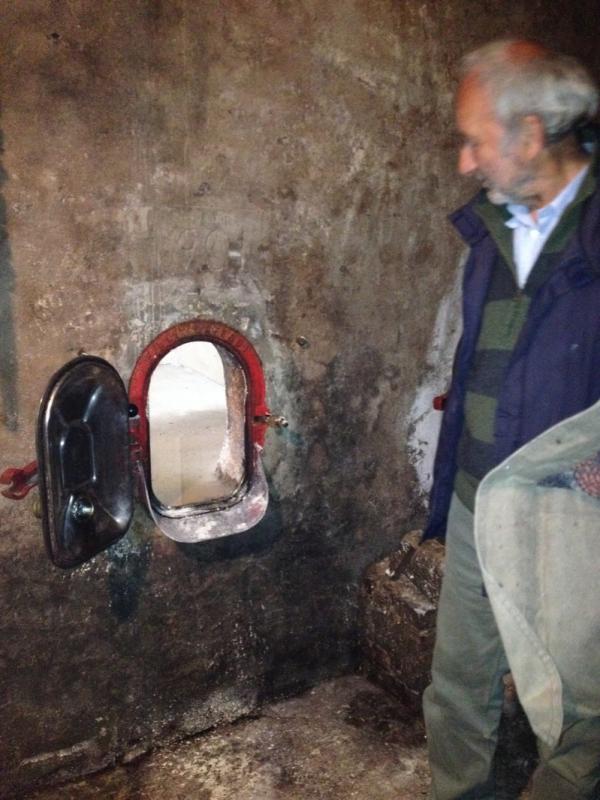 There used to only be a single huge vat, but Odilio split it in half to focus on more precise vinifications. The grapes are destemmed, and fermentations take about three weeks with two to three remontages a day. The wine then clarifies (decants) in stainless steel before being racked to barrel about a month later to age. Many of their barrels are made from oak chopped down from their own land.

The Antoniotti family produces two D.O.C wines: Bramaterra and Coste della Sesia. Both are micro-appellations, with only eight producers bottling Bramaterra and 20 for Coste della Sesia.

"And each grower has a tiny annual production."

Factoid: the tiny village of Casa del Bosco was originally built as a lord's hunting resort. The historical reason vines were planted in the area is because the lord and his crew naturally needed wine to celebrate after the hunt!

Moving on, Mattia showed us their labeling room where they hand-label EVERY SINGLE BOTTLE ONE AT A TIME WITH GLUE AND A PAINT BRUSH!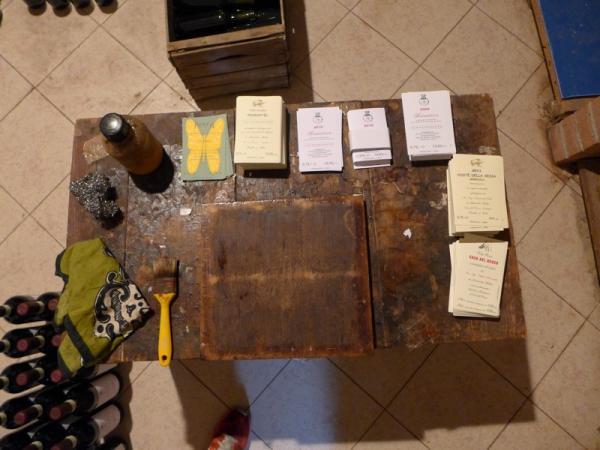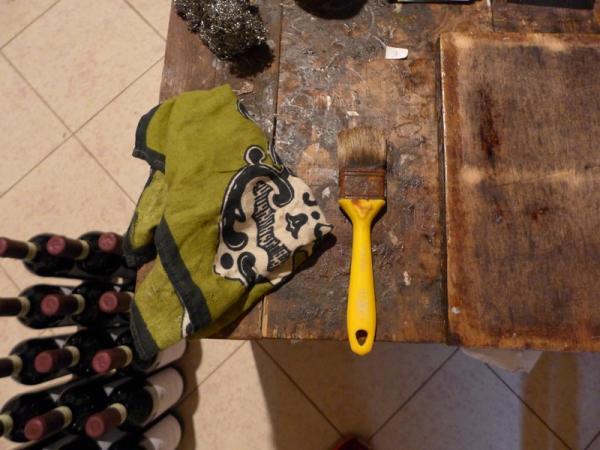 That's what I call attention to detail!

From the cellar, we trekked upwards to the Antoniotti's semi-formal tasting room. Old bottles were proudly on display, including this 1964 produced by Odilio's grandfather.
From the tasting room, a large window faces a large hill right by the house.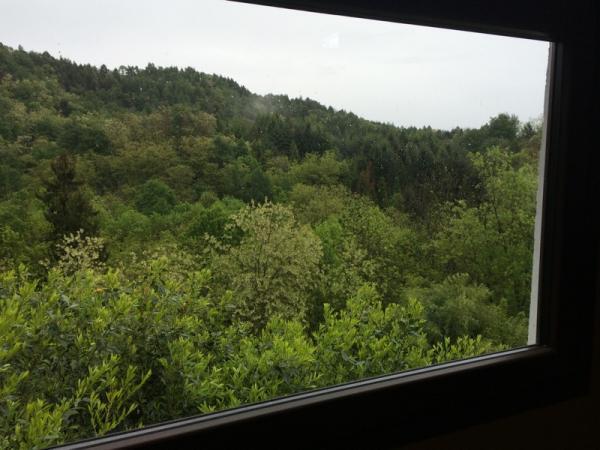 "50 years ago, this entire hillside was planted in vineyards."

Before getting to down to business, Mattia busted out some local cheeses.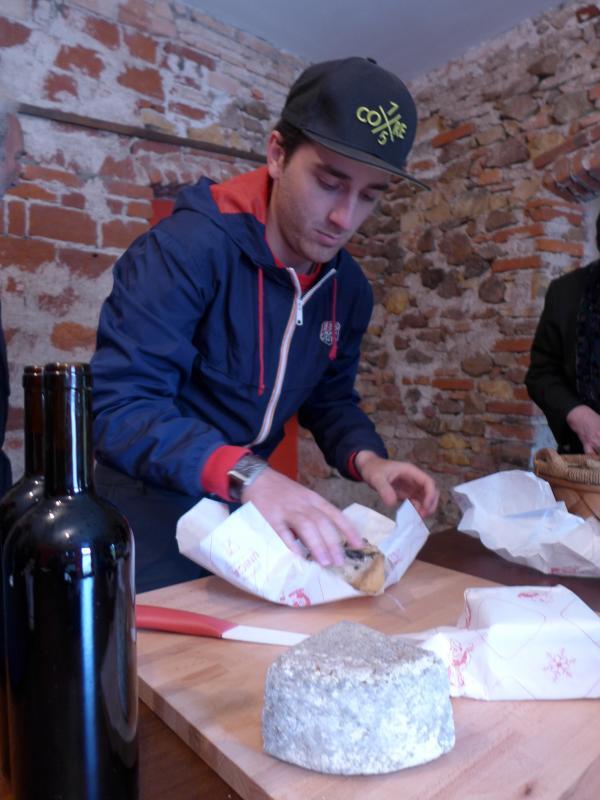 There was also some Prosciutto thrown in for good measure.
Finally, there was some wine to taste!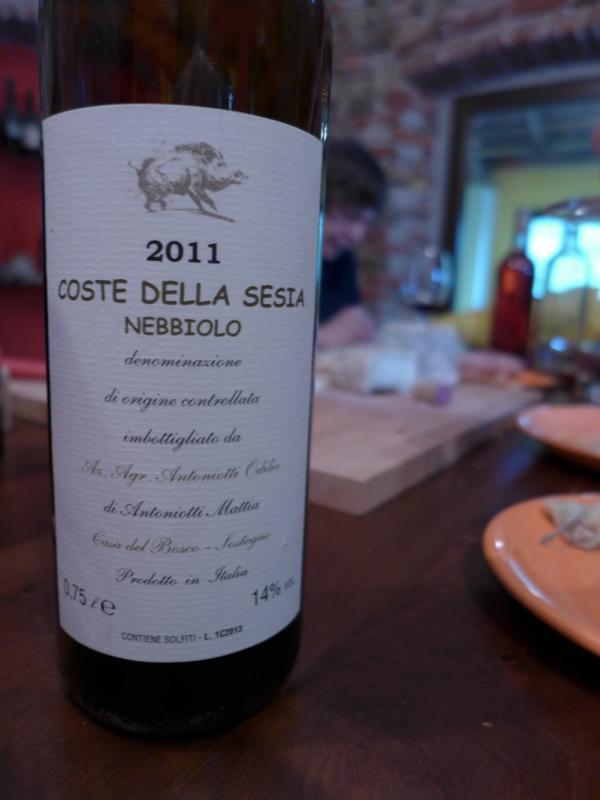 We started the tasting with a first time experiment, a delicious Rosato made from 24 hour saignée. It follows the same blend as the Bramaterra: 70% Nebbiolo, 20% Croatina (also known as Bonarda in Emilia-Romagna) 7% Vespolina and 3% Uva Rara (which actually translates to "rare grape"). My notes said it was "super good" with "super purity".

Next up was the Coste della Sesia 2011, which is always 90% Nebbiolo and 10% Croatina. It was dark and fully bodied but super fresh, with bright acidity and nice finish.

"This is the best Coste we've ever made."

Conditions were perfect in 2011: cool winds, no illness, no hail.

We ended with the Bramaterra 2010, which is aged three years in barrel before release. It showed more structure than the Coste della Sesia, and even though there is less Nebbiolo in it than the Coste, I felt the wine to be more marked by the Nebbiolo than the rest.

Someone asked about the lesser planted and known grapes used at the estate, and Odilio answered:

"Having many grape varieties balances the vineyard and ensures that if something goes wrong (with one of the grapes), you have the luxury of a back up plan."

By the time the tasting was over, the rain had majorly subsided so we decided to brave the elements and visit some nearby vineyards. Incredibly, Odilio had eight million umbrellas handy and was able to lend one to each of us.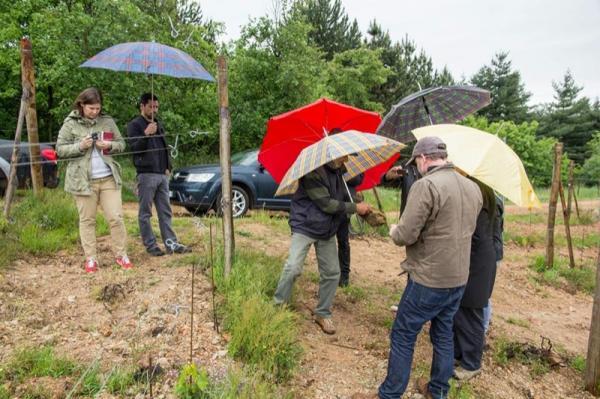 Well, everyone but me. I actually got a broken parasol.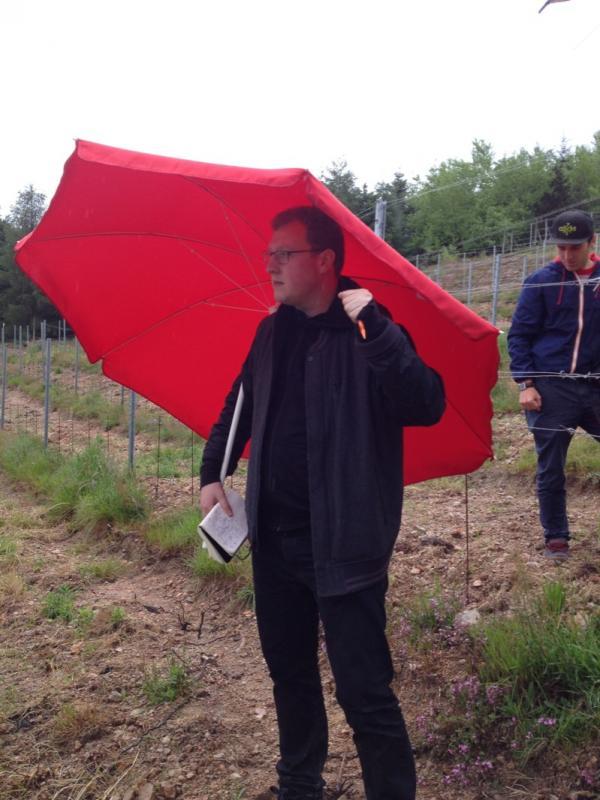 The first vineyard we visited is 450 meters elevation and produces Coste della Sesia.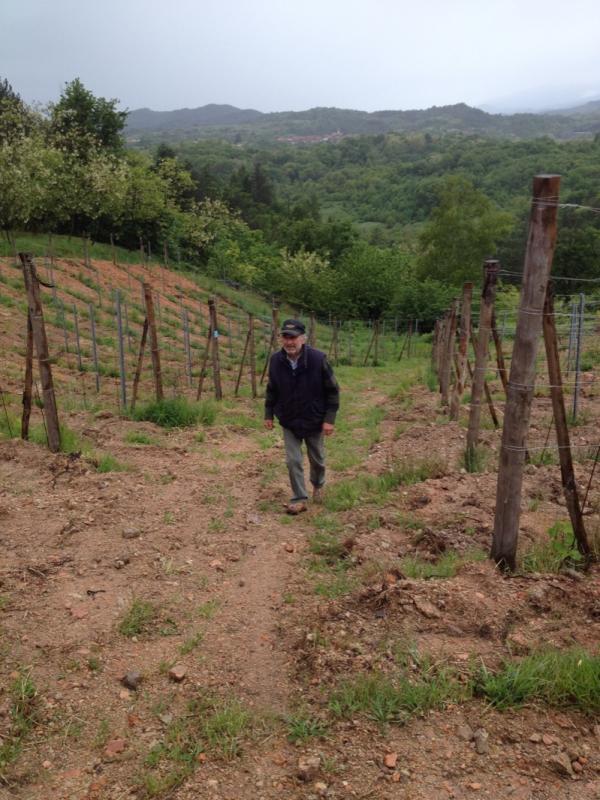 In better weather conditions, you can clearly see the Alps and the Sesia river in the background.

The vineyard is and isolated clos, exposed full South and is planted in Nebbiolo and Vespolina. The soils here consist of volcanic Porphyry, which is a type of granite. Odilio decided to grab a huge chunk of it to break it down.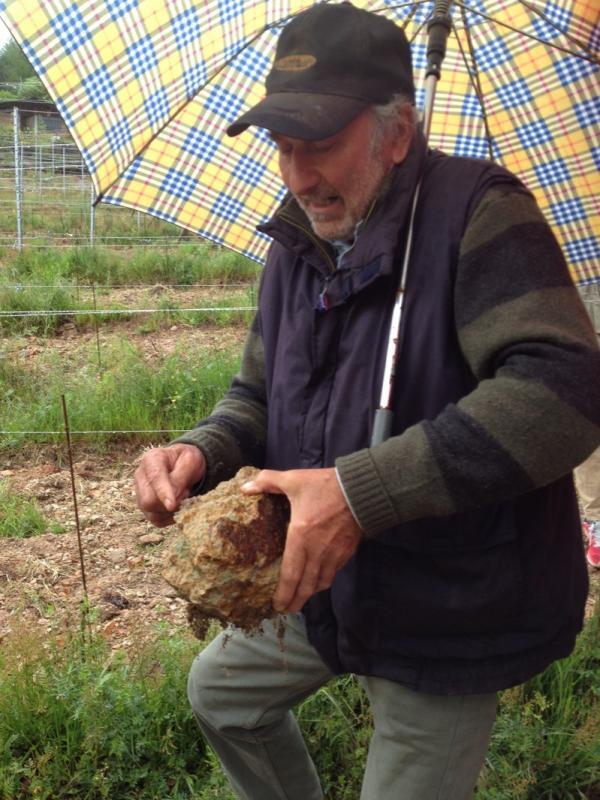 "Every different color you see is a different mineral, which adds much complexity to the wine."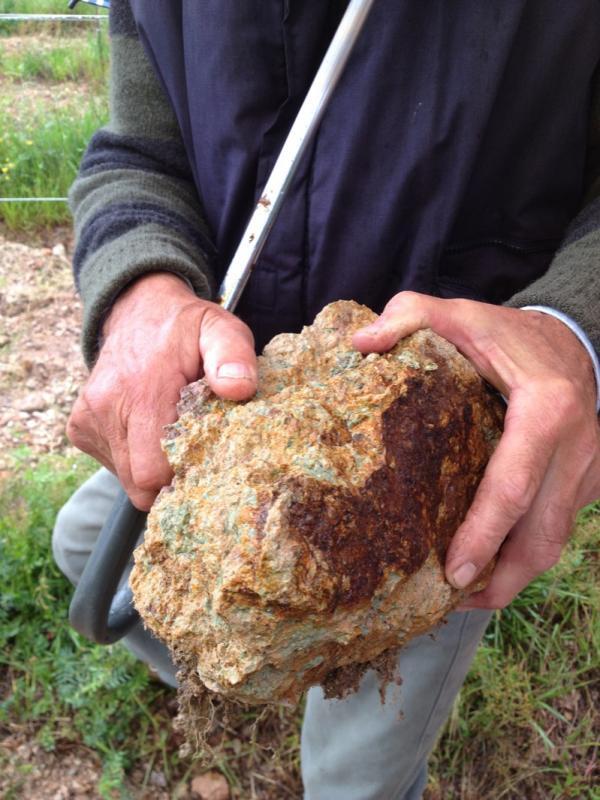 Here's another, smaller piece to give you an idea.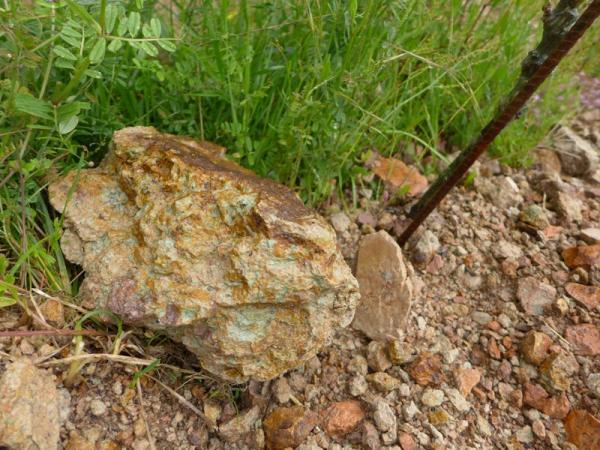 The next vineyard we visited took us through a slippery and very uneven road that you can only access with a 4x4 truck.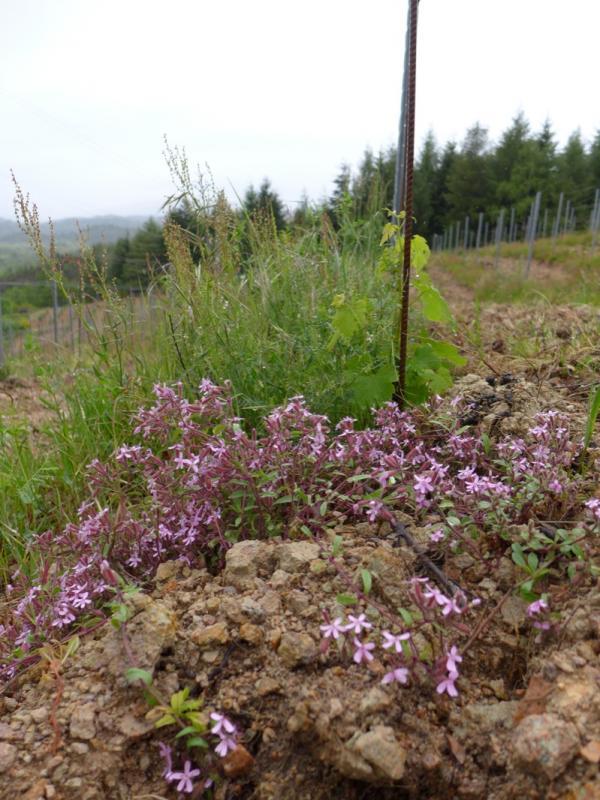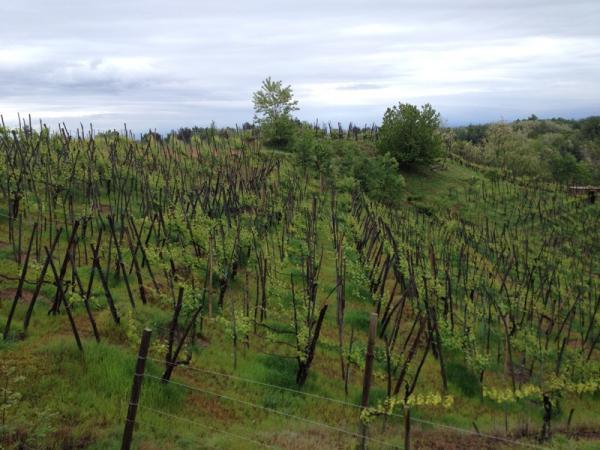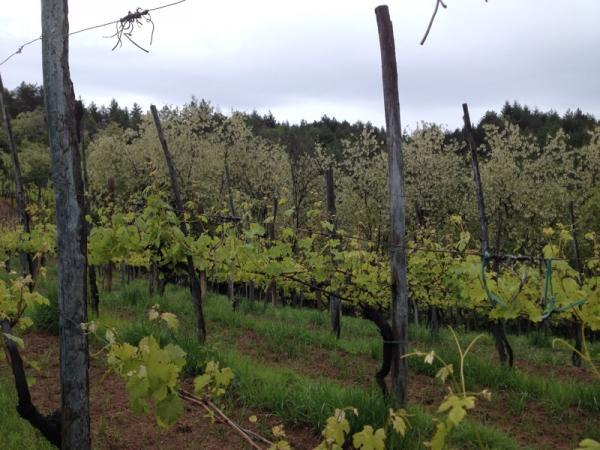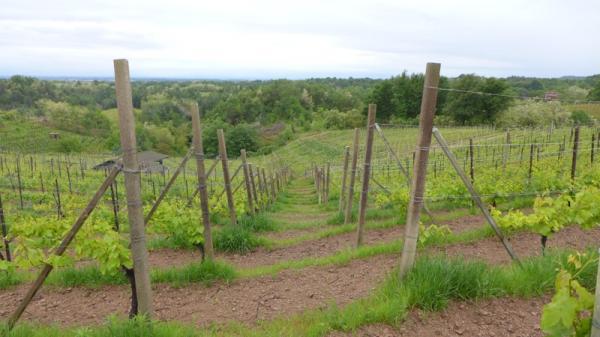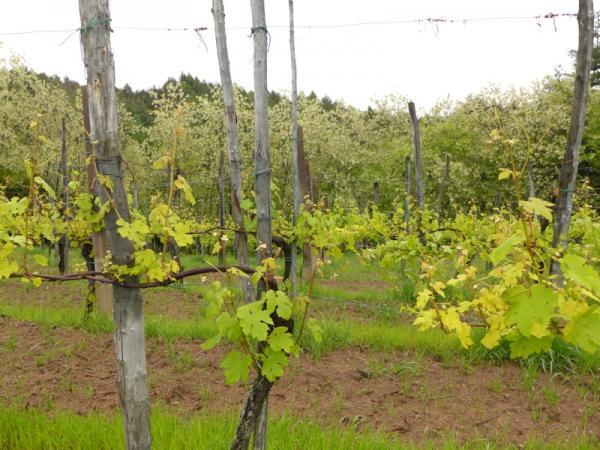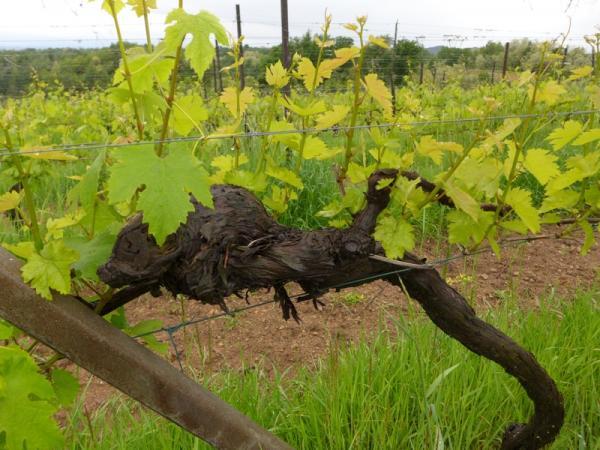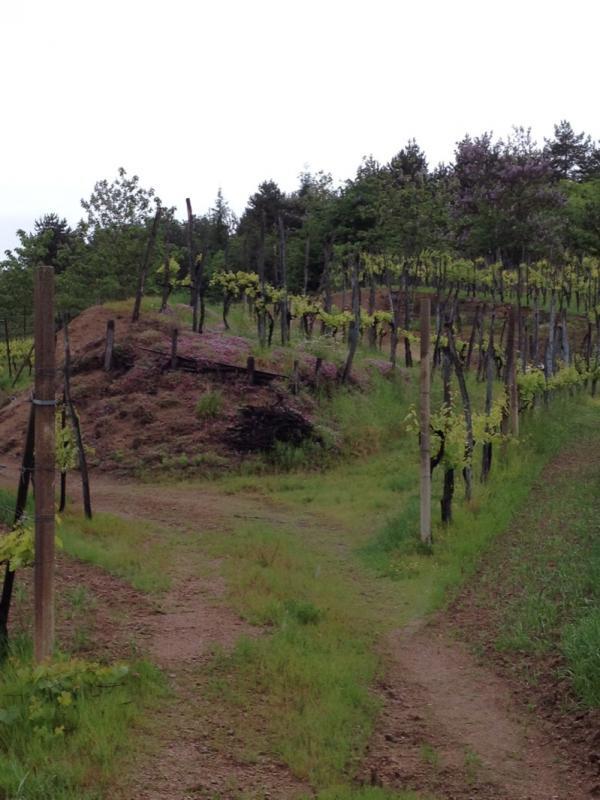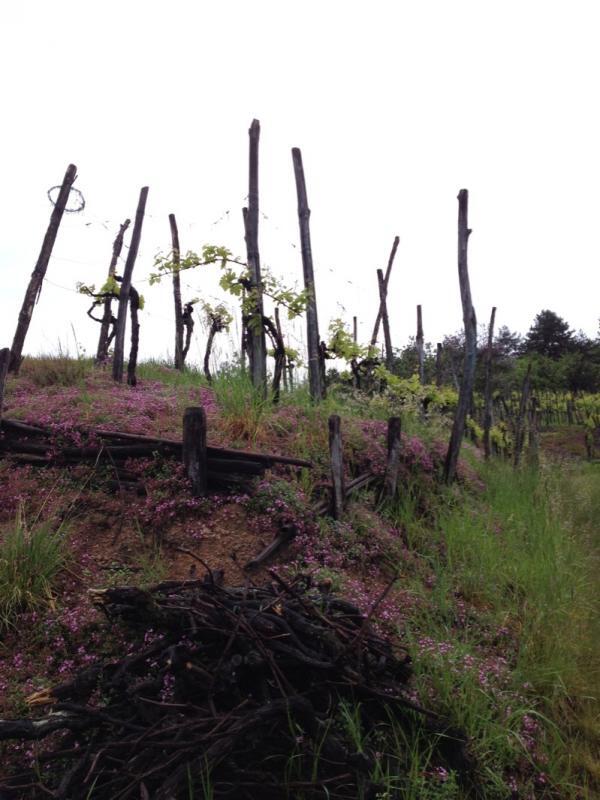 This is the Antoniotti's main vineyard; the current vines were planted in 1978, but the family purchased the land in 1860 (Odilio still has the contract papers stashed somewhere). The soils are also Porphyry, but much finer and pebbly.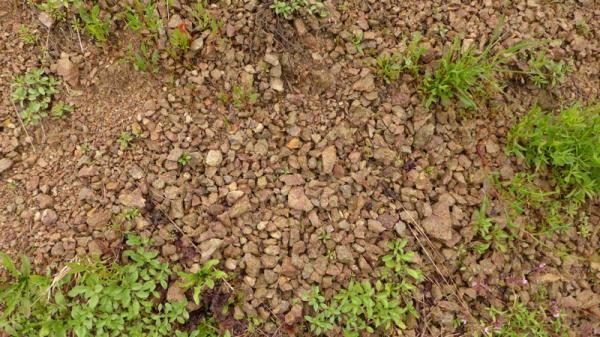 The Antoniottis have never used herbicides.

"We till the grass, and that becomes a natural compost."

The site is a proper viticultural amphitheater, and as such the exposition spans from South to South-West.