‹
›
Article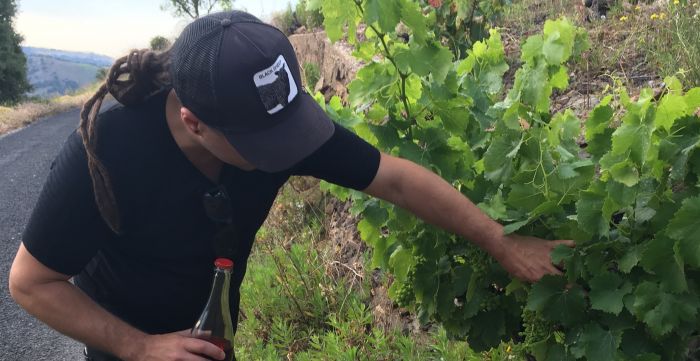 An Interview with Zé Tafé of La Cave des Nomades
This interview with Zé Tafé took place over Skype in August, 2018.
For those who do not know, you are Portuguese. How long did you live there before moving to France?

I lived in Portugal until I was 27 years old, then started studying and traveling. I studied cinema and have a bachelor's degree in that, and also studied painting. Towards the end of my studies, I decided I wanted to learn about agriculture. So I left the city and travelled from village to village, farm to farm, trying to learn about organic and biodynamic agriculture.

What inspired this?

I think it was always inside me. A call from the past, a past life (laughs).

Is your family from an agricultural background?


Not at all. My father worked in computers. My mother was a secretary/accountant. My grandparents worked in commerce.

And you grew up in Porto?

In a little town near Porto.

Going back to agriculture, were you actually going to school for this or just trying to learn on your own?

It was always hands-on with farmers in England, German, Norway... I spent almost three years traveling, learning.

Was it ever wine related?


No.

Was there an an end-goal in these travels?

It was really just about discovery, but I'd always dreamt of owning some land and doing something related to nature. The thing I learned the most about was working with wood, helping people build eco-houses and eco-toilets in farms and music festivals.

Speaking of music, you play and produce it, correct?

It's always been a very important part of my life. I started playing guitar when I was nine, and have always played in a lot of different projects, from rock to funk to folk.

What brought you to Banyuls?

It was a friend who invited me to come spend the weekend. At the time I was working the fruit season in the area. I ended up staying 15 days! Or maybe a month (laughs).

You told me that at that point, you did not like wine. How did you get into it?

It's true. I drank beer and occasionally spirits. What happened was that first weekend, my friend had asked me to bring my guitar so we could play for some guys making wine. When I arrived, Manuel from Vinyer De La Ruca asked me what I wanted to drink. I of course said beer, but he told me they didn't drink that here. When I told him I didn't like wine, he told me to try what they were making, that it wasn't conventional, standard wine. There was Loire, Beaujolais, oxidative wines from Italy... It was a big session, I got a little drunk (laughs).

Something instantly clicked with these wines; they were like nothing else I'd ever experienced. That first night was the start of my friendship with Manuel, and he was always opening bottles and sharing. Once he saw I was actually curious and interested, he started explaining where the wines were from, the grapes, the styles... In fact the day after we met, he invited me to his cellar to help out. He also introduced me to Alain Castex, Bruno Duchêne, all the friends.

That was 2010, and I knew I had to come back. So it became a tradition to come harvest with them.

Were you still studying agriculture at this point?

At that point I was working for Ikea, doing woodwork and visual merchandising. I worked there almost three years, and it was also a nomadic experience. I spent stints in Denmark, Germany, Switzerland, Austria, Italy, France, Belgium... It was a nice experience, and also helped me save up a little money to buy some land and stay in one place.

So how did Cave des Nomades start?


It was the arrival of my children, and also the creation of the 9 Caves. The kids made me want to stop what I was doing, to take things in a new direction. A space becoming available sealed the deal.

What year was that?


I acquired my first vineyard in 2013 and made my first wine in 2014.

How did you find vineyards as an outsider?

(Laughs) The first vineyard came out of a big night with Manuel and Bruno. Manuel got adamant that I had to make wine in Banyuls, and I told him I needed a vineyard! He said: "Don't worry. I'll find you a vineyard so you can make wine."

At the time I was living in Zurich. It was November, and I got a call from Manuel who told me that he'd found a couple of available vineyards, that I had to come fast and choose one. I took a plane that weekend and visited what was available. And so I started with my a 1.2 hectare parcel. It's still my favorite place to work.

Can you give me a breakdown of the estate as it exists today?

I have almost eight hectares of vines spread across 12 parcels, mainly in old vines. I grow Grenache Noir, Gris and Blanc, Carignan Noir and Gris, Mourvèdre, Syrah, Merlot, Macabeo, Muscat Petit Grain, Chardonnay...

It was not easy to accumulate this land. Not only am I foreign, but when I told owners I wanted to work organically, a lot rejected me. Still, I met some nice people who were a little more open minded. For example, the owner of my house proposed I take care of his vineyards, or the friend of a friend who knows me...

When I started with the first vineyard, it was really an experiment. But I quickly fell in love with this work, and knew I needed to study viticulture. Finishing these studies also entitled me to European Union aids to start my estate.

Did you study winemaking at all?

No. I learned everything hands-on with Manuel and Alain Castex. Over the years, I've met and befriended other Roussillon producers (Jean-François Nicq, Stéphane Morin) and they have also guided me. Basically, I'm still a baby (laughs).

Is this learn-as-you-go approach why you have so many vessels to vinify in?

Kind of. I still think that what I want to do is treat my winemaking like if I was a painter. I want to play around with my grapes, which I vinify parcel by parcel before making blends. But I also want to feel like I can always make something new with my tools.

Some of the wines are from single vineyards though.

Yes. "Le Pirate Qui Chante", "La Découverte Inattendue" and "Les Rhizomes des Sorcières".

The whole project, including the wine names and labels, are rather conceptual. Could you elaborate?

La Cave des Nomades comes from a constant need to travel. I always felt the need to move from place to place. So when I decided to stay in Banyuls, it was my imagination that needed to travel. So the cellar is home, but from there I can travel to wherever my inspiration takes me.

The names of the wines are from my imagination: imaginary stories of nomads roaming the land. Of course, they are inspired by real life experiences.

You started with just one wine and now produce about ten. What inspires each new cuvée?

Interacting with other winemakers has inspired me to try new techniques.Again I go back to the painting metaphor: with different paints and different tools, you can obtain a variety of results. It's the same with a guitar: with six strings you can play thousands of chords.

Can we get through the folklore of each of cuvée?

Petfakir: This one is about a street performer. I knew this guy I'd always work with at festivals that was a real fakir; he could lie down for hours on a bed of nails, eat glass… He was a really nice guy! I really respected his work with pain. Making a pet nat was painfully hard for me; I kept saying FUCK, FUCK FUCK when making it, and somehow that made me me think of of FAK FAK FAK, which made me think of the fakir.

PetZeppelin: I've always loved Led Zeppelin.

L'Arlequin Errant: This one is very personal. I like to make jokes and act like everything is ok, but sometimes when you joke around all the time you get fucked. So this is the Arlequin trying to take a new direction, changing roles.

Les Rhizomes des Sorcières: This is the story of my mother, my grandmother, my sisters, my daugther. It's about faith and witchcraft. And a rhizome is something that spreads, so it's about that transmission from generation with the women in my life.

Le Vieux Saltimbanque: This was inspired by the countless times I performed music on the streets. Le Vieux Saltimbanque is from a Baudelaire poem, it's the story of a street artist that's performing at a big party but nobody notices him. Often when you play music on the street, you have people constantly in front of you, walking by you. But even the ones who stop and watch don't really see you, you're just part of the background, an afterthought.

Vagamonde: Vagamonde is about me, black and white, yin and yang, my path to find my heart (grapes), the balanced/unbalanced... Maybe about all these things, but mostly about being free, free spirits, sky and earth...

Le Pirate Qui Chante: When I arrived to Banyuls, I was fascinated by the region's history of contraband. Smugglers used the mountains between France and Spain. Also, it was common to work as both a fisherman and in the vines at the time. The combination of these elements reminded me of a pirate. It's also personal because my grandfather's nickname was pirate, essentially because he was a smuggler (laughs). So it's a singing, happy pirate satisfied with his profession.

Le Grande Machimbombo: This is the name of a fictional bus from Africa. A big mix of color and noise always comes to mind when I imagine it. It's inspired by the stories my father told me of his time in Angola during the war; they left a very strong impression on me. But it's also about a close friend, the one who introduced me to Manuel and everyone else. He'd always say "hey Machimbombo, Machimbombo" when addressing me, so I decided to name a wine after it.

Amphorisme: It's like aphorism with anfora.

La Découverte Inattendu: This is about a woman you think you know, but discover something you weren't expecting.

Was the label art always something you intended to be such a large part of the project?

Yes. I spoke to more than 20 artists I'd met over the years, One stood out of the pack, and after a wonderful drawing I asked to work with her. We also have a lot in common. She's French but speaks Portuguese, she's also travelled all over the world, so it was a good connection. Her name is Katja Stroph.

Another unique aspect is that the labels are made of cork.

When I was a child, there was a trend of Portuguese wines using cork labels. These disappeared completely, but Portugal still produces lots of cork products: hats, wallets... So I searched and searched and finally found the old man who used to produce the cork labels. Today, there is only one company in Germany who can make these labels, which are then sent to Portugal to be printed.

How do you see Cave des Nomades evolving?

I do everything myself. I think that it's very likely I will need to reduce the amount of land I work and do a vigneron/négoce hybrid. I still want my own vineyards and to have a personal connection with the land. But I have friends who are interested in some of my vineyards, so I think it will work out.