‹
›
Article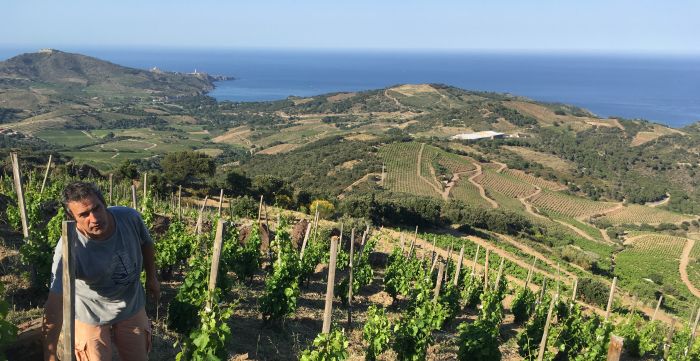 Bruno Duchêne Producer Profile
In a past life, Bruno Duchêne was a wild mushroom distributor in his native Loire valley. Today, he lives in the town of Banyuls, where he produces dry reds from some of France's hardest to work vineyards.
Bruno owns four hectares spread over four parcels, all planted on schist but with enough exposition and micro-climate variations to keep things interesting. Banyuls and the neighboring Collioure's historic vineyards, planted at low density on ancient terraces, are notorious for being extremely low yielding and near-impossible to work mechanically, subsequently leading to an ever-increasing abandonment of these legendary sites.

The vines are worked organically, and because of the region's ideal climate, Bruno averages only three sulfur treatments a year (this is an extremely low number). And because odium is not an issue here, copper is never used. The wines ferment spontaneously in tank, then are racked to barrel for aging. Sulfur is never added at any point.
Bruno principally produces three red wines: "La Luna", "La Pascole" and "L'Anodine". All three are made with co-planted Grenache Noir/Gris/Blanc with a splash of Carignan. "La Luna" comes from parcels where the grass grows free; some are Bruno's, others are purchased fruit from friends working organically. "La Pascole" is a single vineyard partially plowed by hand. Finally, "L'Anodine" represents the oldest vines in areas that are impossible to work mechanically, and where the soil work has to be done 100% by hand (except for a tiny plot where a horse has room to till and plow). The latter is only released in magnum.
Bruno also produces miniscule quantities of a dry white called "Vallpompo" from Grenache Blanc as well as some Banyuls. He also experiments with very limited production cuvées, usually a few hundred bottles per vintage. These tend to be vinifications from his own land or purchased fruit from his friends.