‹
›
Article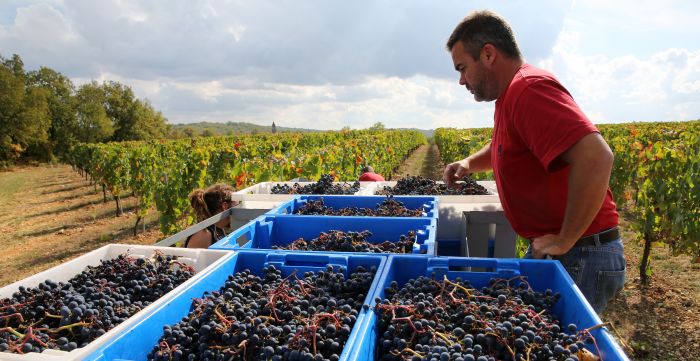 Château Combel la Serre Producer Profile
Julien Ilbert is a young, charismatic vigneron with a fresh perspective on his native Cahors. Vines have been in the Ilbert family for generations, though grapes had always been sold to the local cave coopérative. In 1998, Julien decided to break off and start his own estate. Things didn't exactly go according to plan, and a chance meeting with the vigneron/négociant Mathieu Cosse at a rugby match quickly led to a seven year relationship: Julien became Mathieu's main source for high quality Auxerrois (aka Malbec, aka Côt).
After an amicable split in 2005, Julien was back on track to producing his own wines: Château Combel-la-Serre was born. 25 hectares of Auxerrois are planted on a diverse amount of terroirs, all within five kilometers of the cellar. Though a Cahors wine only needs to be 70% Auxerrois to get the appellation, Julien believes it is the only grape suitable for what he's trying to accomplish. In such he has consciously avoided planting the traditional Negrette and Tannat and completely eschewed the more recent trend of planting Bordeaux varietals.

The estate is certified organic as of the 2015 vintage, but chemicals have not touched the vineyards for quite some time. Everything was conventionally farmed from the advent of such technology, but the death of Julien's grandfather from Parkinsons deeply affected the family's agricultural philosophy. Convinced that the chemicals he'd openly exposed himself day in and day out were at the root of his illness (on top of the vines, an additional 40 hectares of cereals were worked by the family at the time), the Ilbert stopped using these products on their land.

The wines have also evolved in the decade since Julien launched his own estate, culminating in what we now get to enjoy in our glasses. Macerations are kept short for the region and a large percentage of whole-clusters are incorporated into the vinification. The use of wood is judicious and always from older barrels to avoid marking the wine's flavor and structure. The wines are never fined or filtered and S02 is used at very low doses.
Though you should never judge a book by its cover, Julien has made the decision to design playful labels and bottle the wines in Burgundian bottles, two seemingly superficial details that are actually a very bold statement in the ultra-traditional mindset of most Cahors producers.