‹
›
Article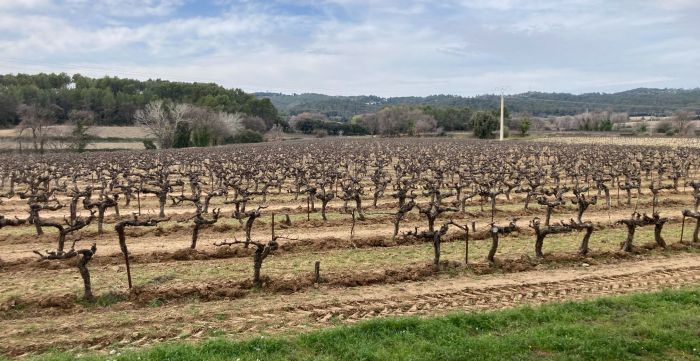 Domaine la Providence Producer Visit
This visit took place in March 2022. Words and photos by Jules Dressner.
Ah, Provence… Lavender! Celebrity wineries! Kermit Lynch! I gotta say, I don't spend a tremendous amount of time in this region but I get why people dig it. And I also get why we don't visit often: outside of the established classic estates in Bandol, it's mostly a a lot of… rosé. Rosé from celebrities, rosé in stupidly shaped bottles, rosé with grapefruit extract… ROSÉ! So why the hell were we in Lambesc, a small village 30 minutes North-West of Aix-en-Provence? To visit Jean Benoit and Bénédicte Comor and their neo-vigneron operation at Domaine la Providence!
Our introduction to their work was through Julien Pineau, who'd worked in Provence before eventually settling in the Touraine. Over a splendid vegetarian dinner in summer 2021, he blinded us on a bottle we all loved. After the reveal, it was clear Julien was schnooking us on his friend's wine: "He made 2000 bottles and it costs this much!" After some communications with Jean Benoit, we agreed to import this single wine, "La Providence", and to visit as soon as we could.
So here we were. The property, a dilapidated farm house and 18 sprawling hectares of vines, was acquired by the Comor in late 2016. It used to be called La Pomme ("the apple"), which instantly felt off since none were grown there. A new name was inevitable but many of their original choices were taken (more on that later). Eventually they settled on Domaine la Providence; no it's not named after the city in Rhode Island or religious undertones but for the lesser common use of the word: a person or event that arrives at the right time to save a situation or constitutes an opportunity, an exceptional help.
We began the visit right outside the main entrance, with three hectares of Grenache and 0.5h of Caladoc, a hybrid of Grenache and Côt.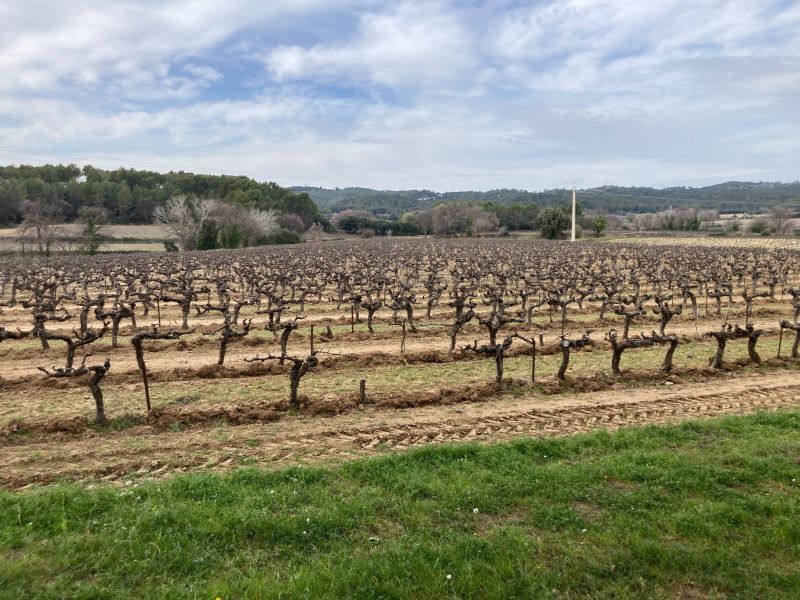 For the "coup de coeur" parcels (parcels they feel are truly qualitative, they like working and currently vinify themselves), JB is superficially working every other row of soil while leaving cover-crop in the other to rest for a year. They are also replanting old vines on the sites they like. Before Jean-Benoit and Benédicte took over, the vines were worked ultra-conventionally and 95% of the production was destined to cave cooperative's rosé. Everyone around them thinks they are crazy for having converted to organics, especially since the first five crops all went to the coop.
Because yields and production were so important to the previous owner, over-plantation was rampant. Very quickly, the Comor ripped out all vines planted on richer soils on the sides of most vineyards, letting them rest or planting fruit and olive trees. JB is planning to rip out an additional five hectares in the main sector of vines by the house, mostly Cabernet Sauvignon. The long term goal is to rebuild the landscape to something less monocultural, the way they imagine it would have been in the 1970's. Tearing out these vines would also permit the Comor to build a new cellar and, more ambitiously, create terraces in this sector.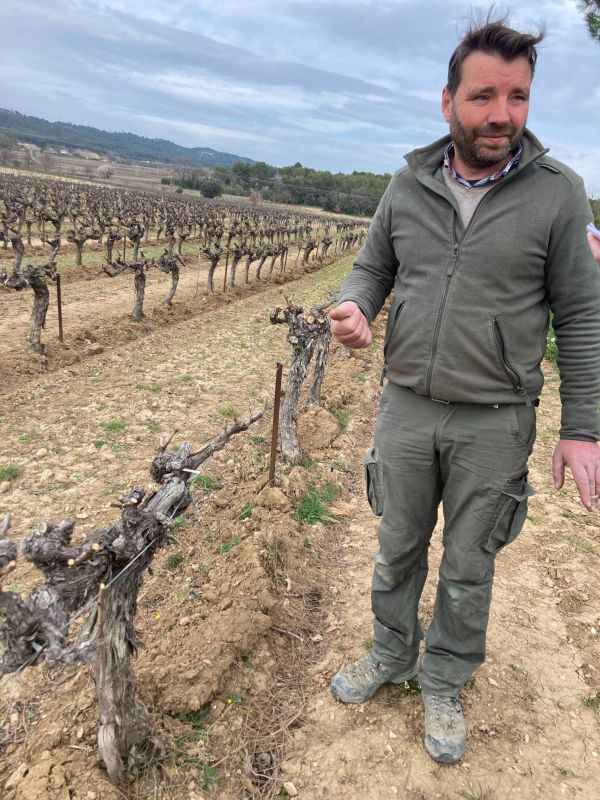 "If you look, you can actually see that with years of chemicals, erosion, tractors and harvest machines, the soil levels dip drastically from the top to the middle of the row. To properly work these soils, you actually can't use the same tractor. You have to switch mid-way to a caterpillar or by hand."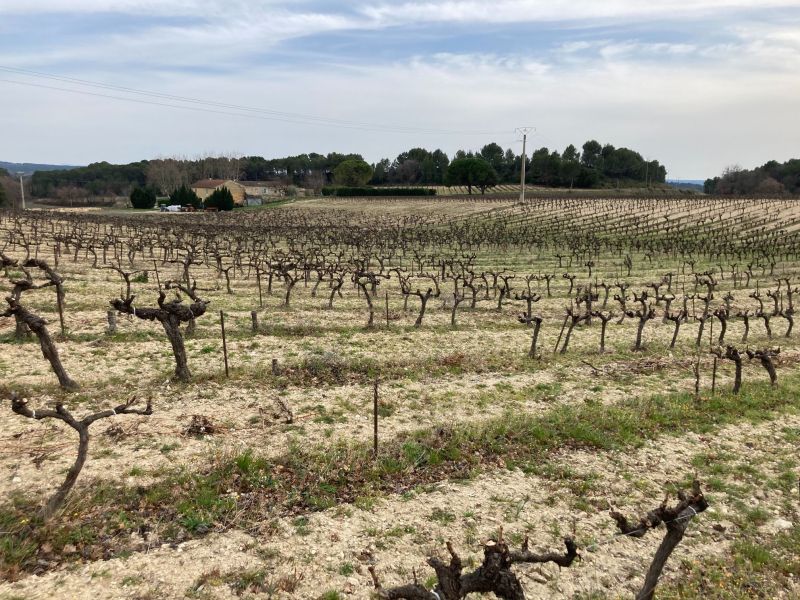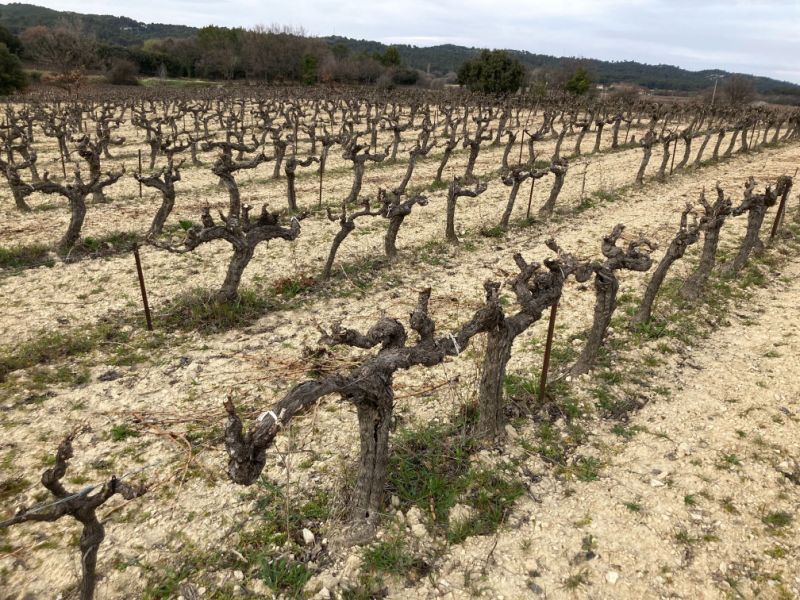 Currently, a large part of the grapes are still destined to the cave cooperative. For these, they do not work the soils, choosing to clean up the edges of the rows with a disc blade. There tend to be more esca problems in these parcels and they are not so sure if they want to replant. They are also still machine-harvesting these as the grapes go to the coop.
Some sectors Jean-Benoît has been preparing for new plantations by letting the soils rest three years after the uprooting. The only thing he's doing is planting fava beans to bring nutrients and air to the soil. On the white clay and limestone soils, Jean-Benoit has decided to focus exclusively on white grapes, already having planted Terret, Ugni Blanc, Vermentino, Sauvignon Blanc, Semillon, Macabeu, Bourboulenc, Grenache Gris, Marsanne and Clairette Rose. Here is a picture of the biggest new plantation: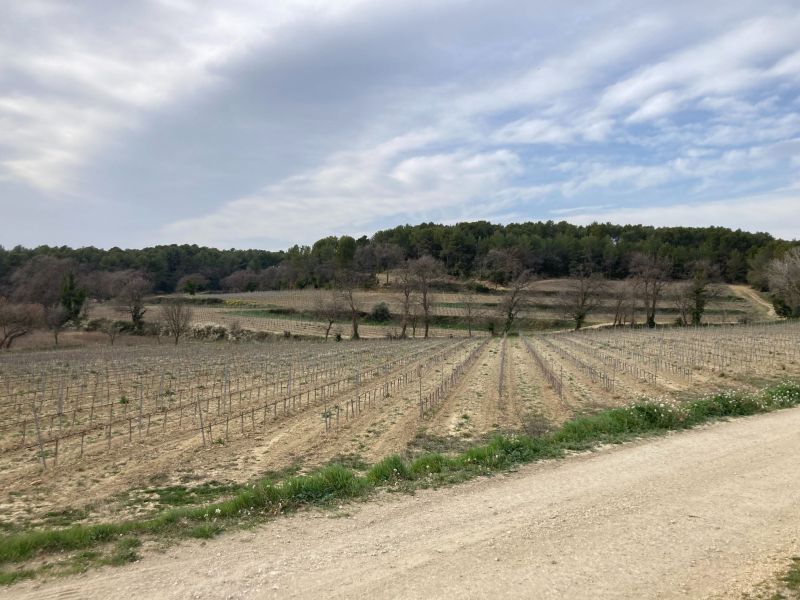 He is purchasing from three separate pépiniéristes to get as much clonal diversity as possible. Many of these varieties are not permitted in the appellation but since the plan is to make everything in VDF, the constraints are limited.
One of the major plateaux close to the farm is all gravel and limestone. Here there is mostly Syrah planted in 1993. The big project in this parcel is to add palissage so he can control the vines better. They've also been replanting like crazy here, in total 2200 vines with 1100 more on the way in 2022.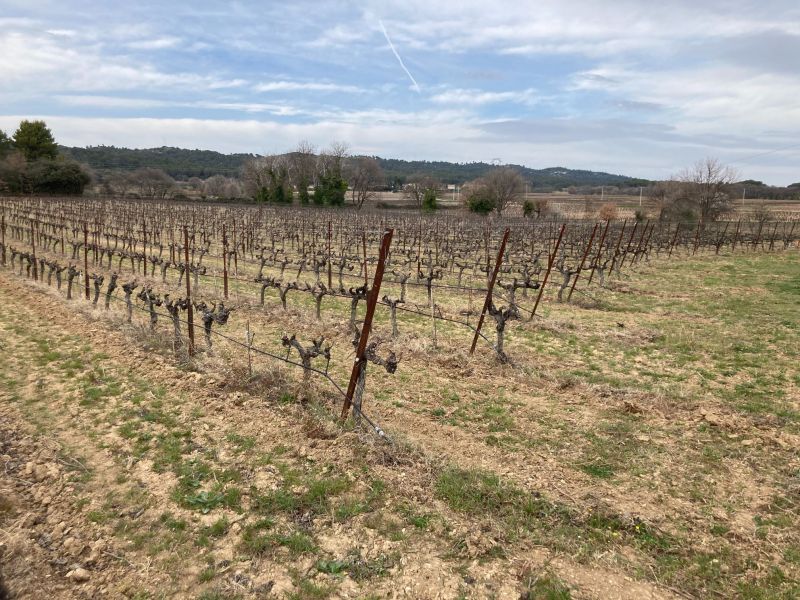 As you can see in the picture above, parcels with young vines have irrigation tubes and need to be watered the first three years of their life, it's just too dry otherwise. The Provence region is actually very involved in this: they provide access to the irrigation but also control the levels of water you are allowed to use by analyzing the stress levels of vines. As far as I know, no other region is this involved in the process. JB estimates that a young plant doesn't need to be irrigated after three or so years.
We then saw another young plantation of white grapes: Vermentino, Marsanne and Carignan Blanc.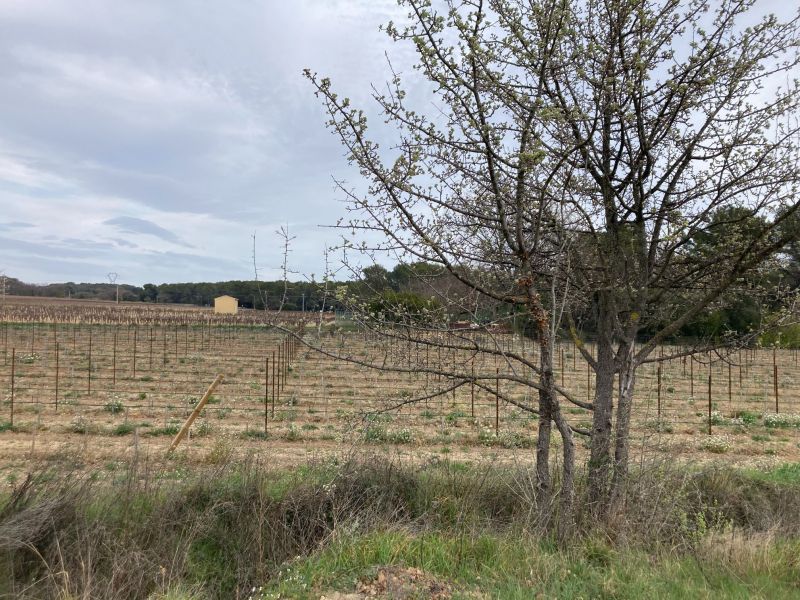 In the area, white mustard grows on limestone and is indicative of healthy soils. Good news: we spotted it everywhere!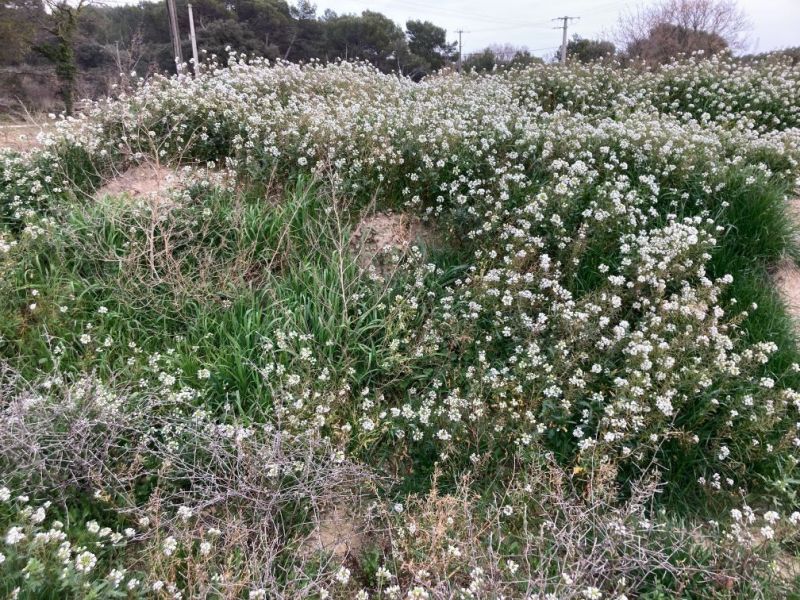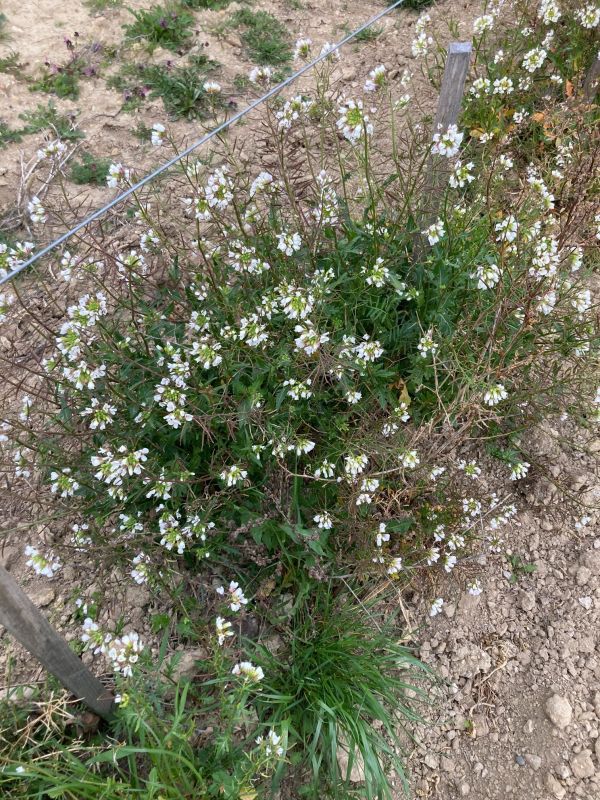 We then hopped into the car to see the parcels further from the house. The first stop was a plot of Carignan planted in 1985. The soils here are clay and limestone. Jean-Benoit likes it because it's well protected from the wind.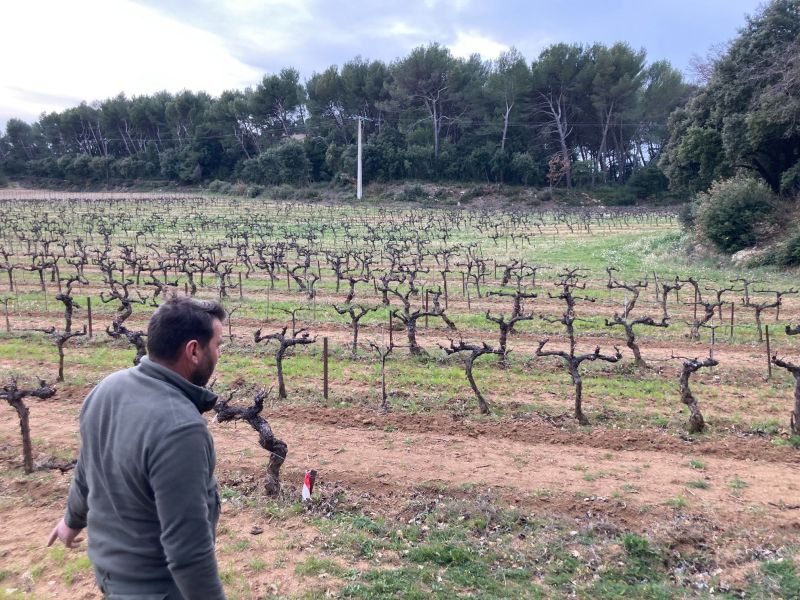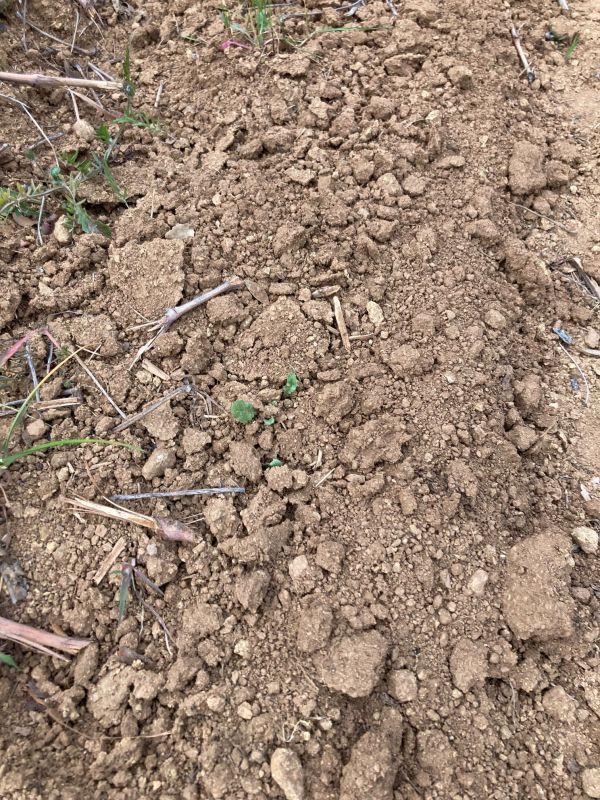 Around this point in the visit, I turned to my colleague Carl and said something equivalent to "this is a shit ton of work." What was already and currently being done, plus all the future plans: what a tremendous undertaking! I asked Jean Benoit if he anticipated or planned on such an intense project.
"I had no idea. We visited in summer, the vegetation was gorgeous and we instantly fell in love with the property. But we were also reasoning for our family. With six children at home, it was good to be close to things: schools, extracurricular activities... Even going out on a date to have dinner or see a movie in Aix-en-Provence! We also have relatives close by. I've had eight different jobs before settling down here, I was always moving around. Here I feel what I am doing matters. But I didn't know how to drive a tractor in 2017!"
The next parcel we visited was mostly Syrah and Carignan planted in 1966 on pure sand. Here they are working the soils as they like the sector, with the ultimate goal of only mowing over cover-crops. There was also another young plantation of white grapes, this time Macabeu, Bourboulenc, Grenache Gris and Clairette Rose.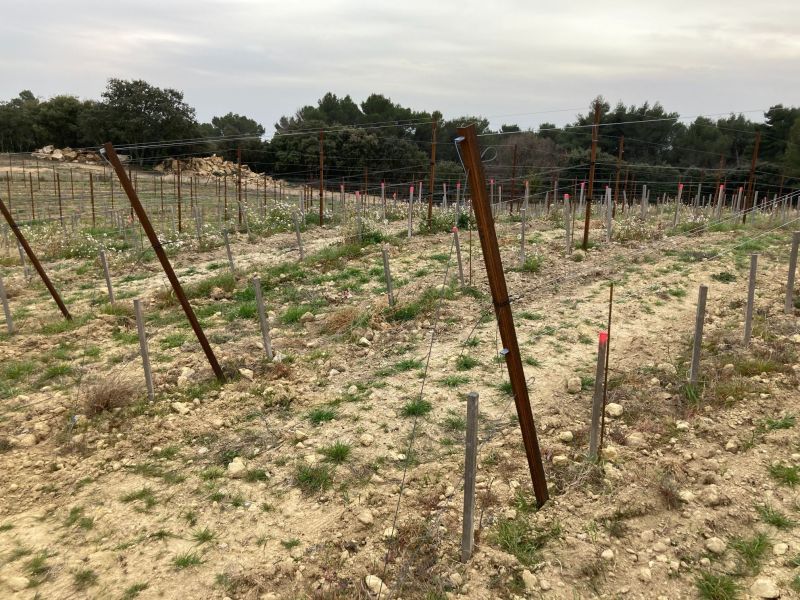 After an extensive tour of the vines, we headed to the cellar to taste some 2021's. Nothing had been bottled save a juicy Carignan/Syrah called "Chemin Faisant." This loosely translates to "the path being created in real time."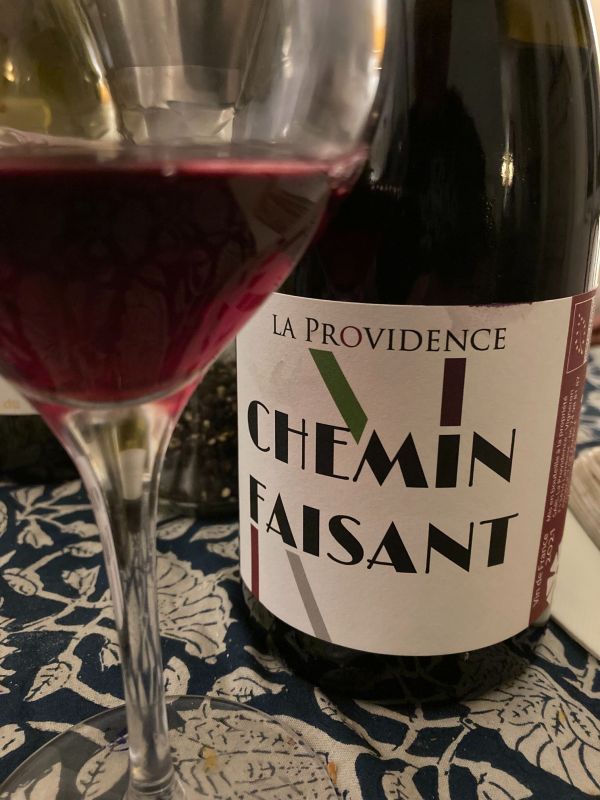 While there are fiberglass and stainless steel tanks in the cellar, the majority of what was vinified in 2021 was sitting in 500L Burgundian barrels. Those saw bâtonnage twice day and were racked after malo. Fun aside: whenever a barrel was racked, Jean-Benoit chose to write a current event he'd heard on the news that day in chalk.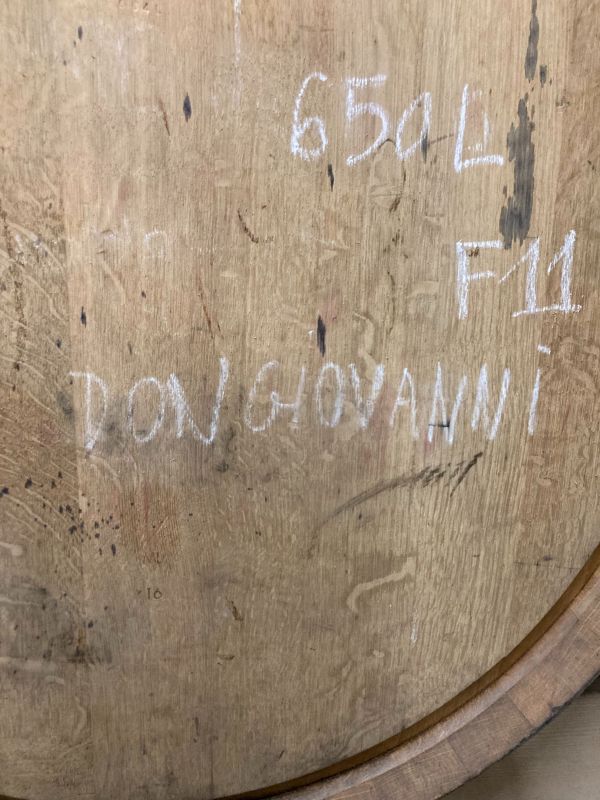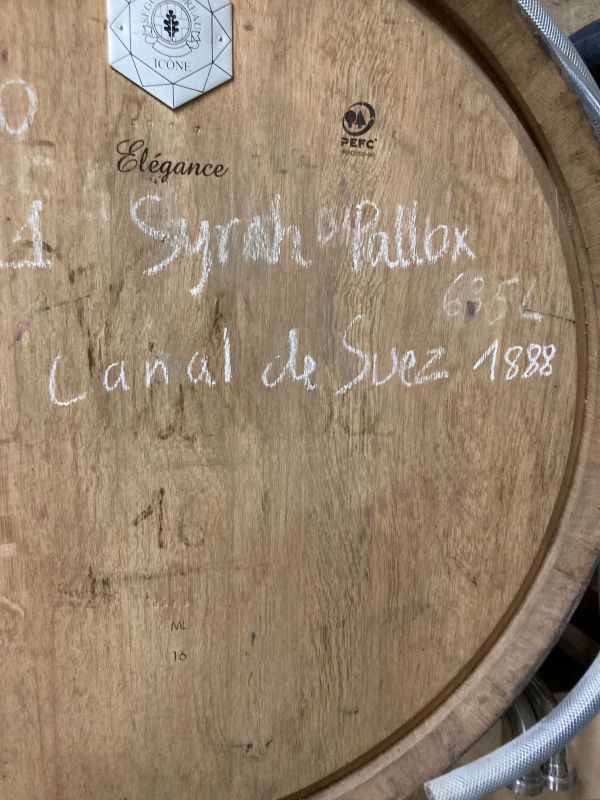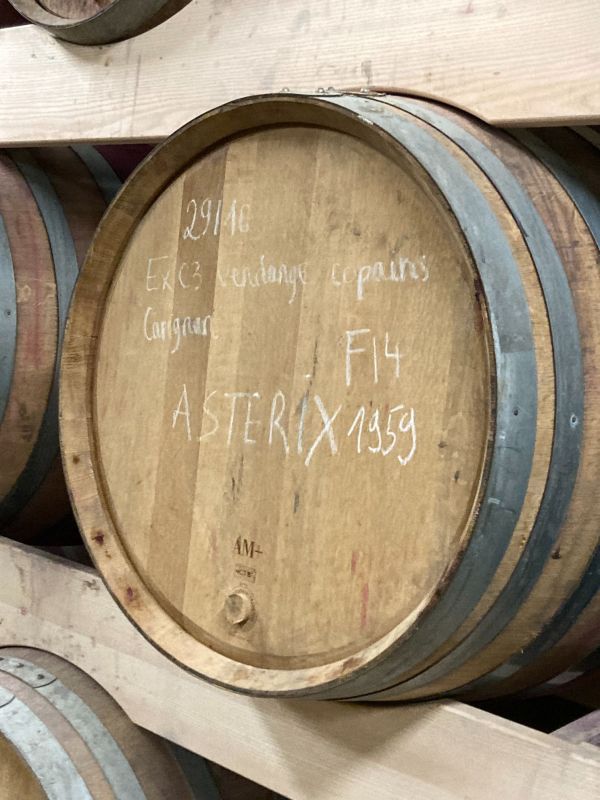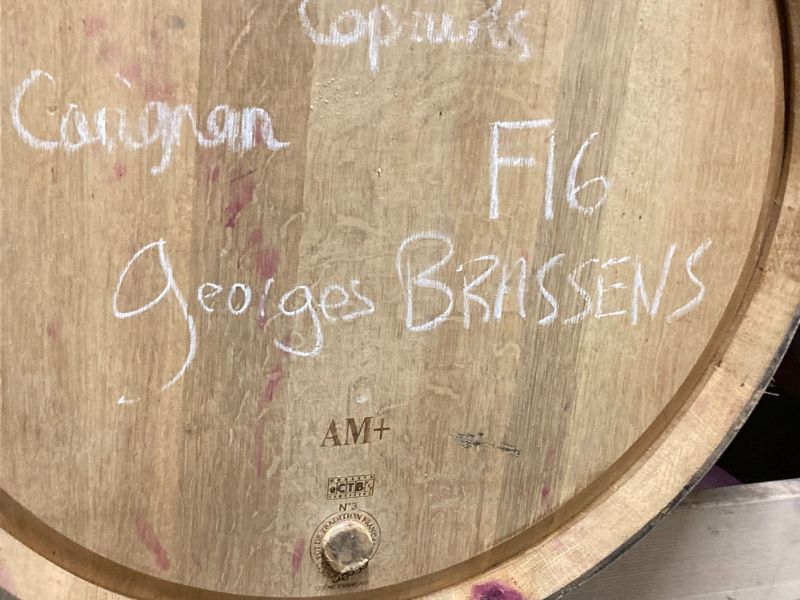 "It's fun for the kids and helps me remember what happened on what day."
This being the first "real" vintage, it wasn't decided what blends or bottlings would come from what we'd tasted. 2021 was an atypical vintage with a lot of rain that slowed maturation and limited concentration.
Over dinner, we found out that the Comor have been together since college and dreamed of starting an estate for the last 20 years. They seriously started pursuing the idea in the 2010's and almost settled in the Beaujolais, where they met and befriended many locals who could have easily helped them find land. But Jean Benoit's determination to also make Saint-Véran and Pouilly-Fuissé at the same time proved too complicated. There was also an opportunity in Limoux that fell through.
Perhaps the funniest detail we unearthed was that they'd originally wanted to call the estate Domaine du Possible but, as some of you may already know, it was already taken! We just so happened to have bottles from our visit with Loïc Roure, so we opened some up since they'd never tried them.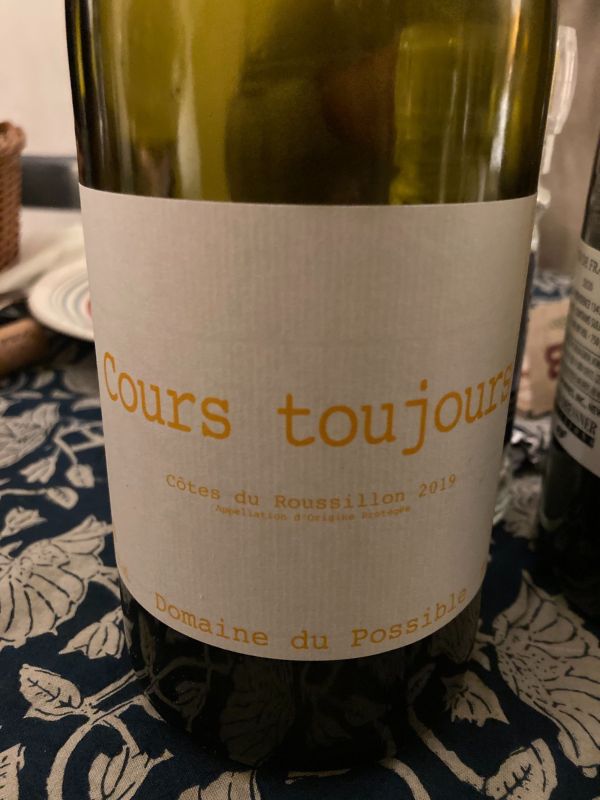 "We wanted to call it Domaine du Possible because for 20 years we were always getting shut down. But Providence works."