Articles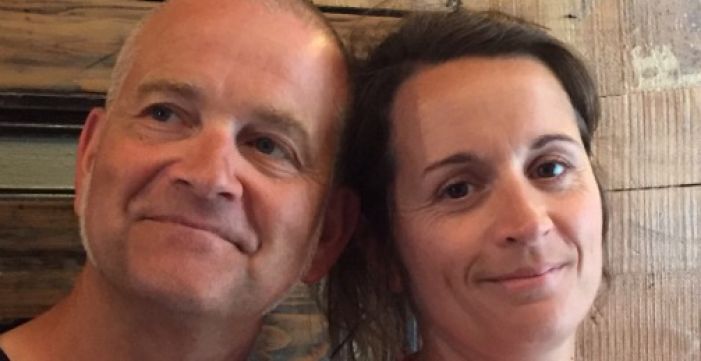 Claire et Florent Bejon Producer Profile
Claire et Florent Bejon Producer Profile
Read more…
//= $article['id'] ?>//=$article['url']?>//=Yii::t('app', 'Read more…')?>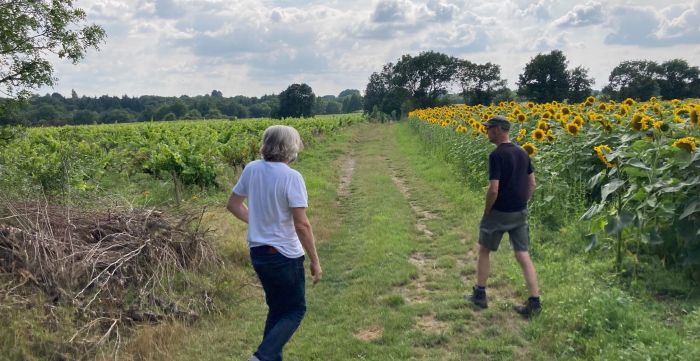 Philippe Chevarin 2021 Visit
This visit with Philippe Chevarin took place in July, 2021.
Read more…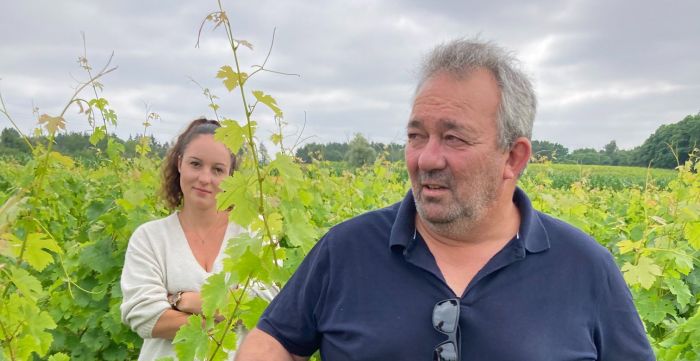 Laurent Lebled 2021 Visit
This visit with Laurent Lebled took place in July 2021.
Read more…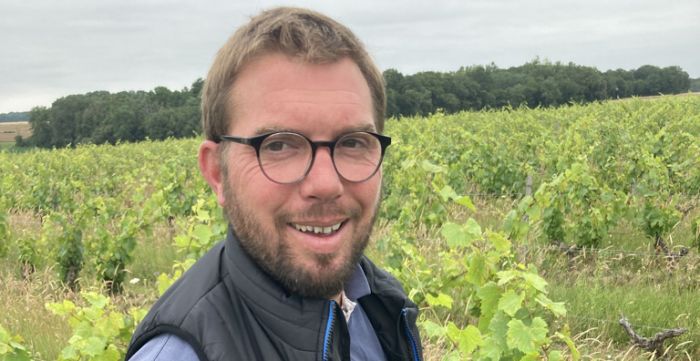 Pierre-O Bonhomme Visit (2021)
This visit to Piere-O Bonhomme took place in July, 2021.
Read more…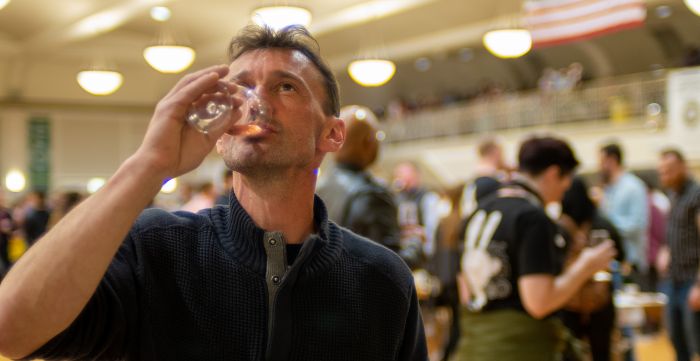 A Tribute to Olivier Lemasson
A Tribute to Olivier Lemasson
Read more…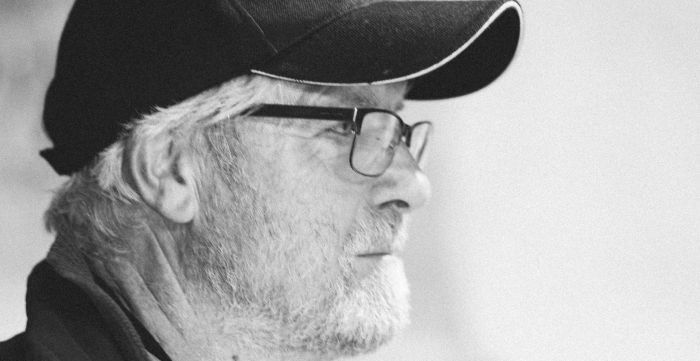 François Pinon (1951-2021)
François Pinon (1951-2021)
Read more…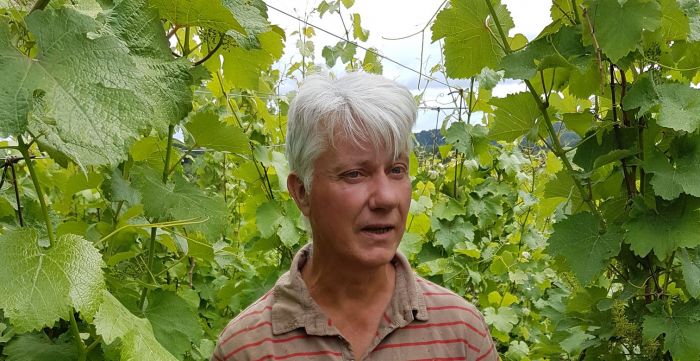 Bellivière's "Vignes en Foule" Experiment
Bellivière's "Vignes en Foule" Experiment
Read more…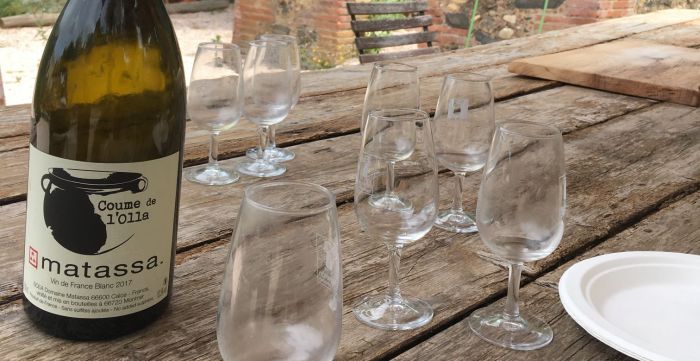 A 2019 Visit to Matassa's New House and Vines
This visit with Tom Lubbe took place in June, 2019
Read more…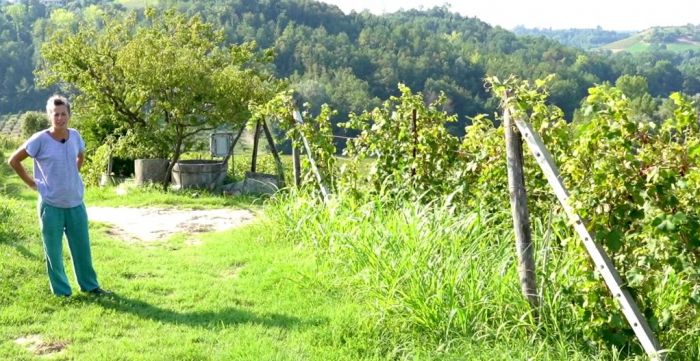 Video: A Day in the Life of Nadia Verrua
Video: A Day in the Life of Nadia Verrua
Read more…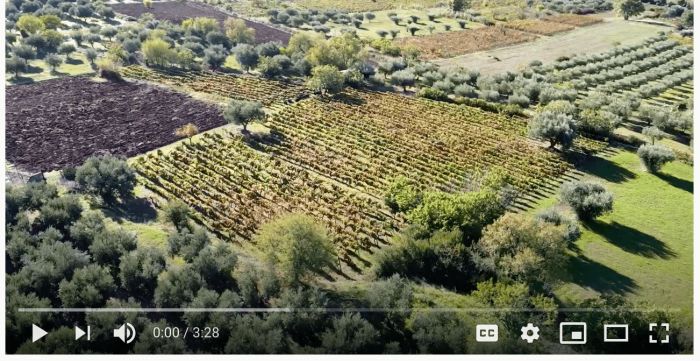 A Video Tour of L'Acino
A Video Tour of L'Acino's Vineyards
Read more…
‹
›
Article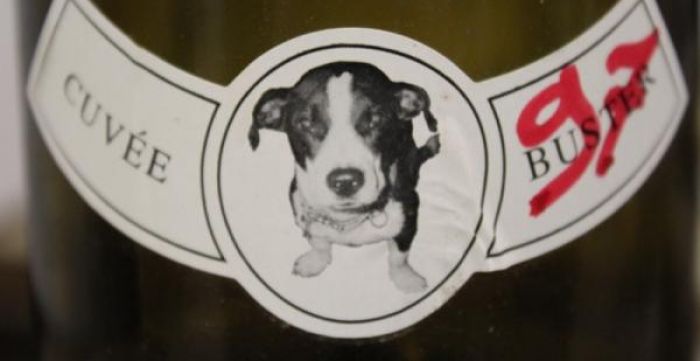 Domaine Thomas-Labaille Visit
This visit to Domaine Thomas-Labaille took place in January, 2015.
Words by Jules Dressner, photos by Noah Oldham, David Sink, Patrick Capiello, Hadley Foss and Josefa Concannon.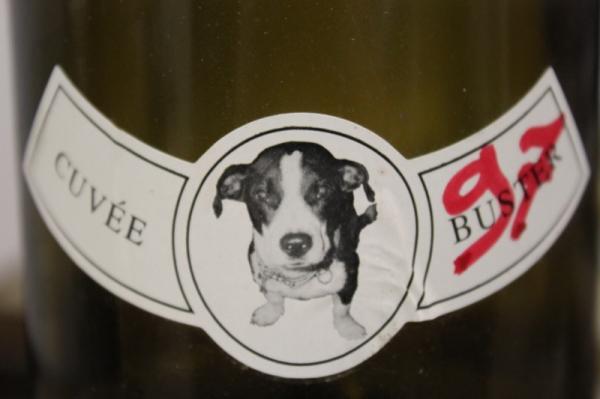 RIP to Buster, the best dog ever.

If Louis/Dressner Selections was a band with a greatest hits album, Thomas-Labaille's "Cuvée Buster" would probably be Track 3.

We didn't have much of a sunlight window, so after a big group greeting with Jean-Paul Labaille, we headed straight to Sancerre's best and most terryfying vineyard, Les Monts Damnés.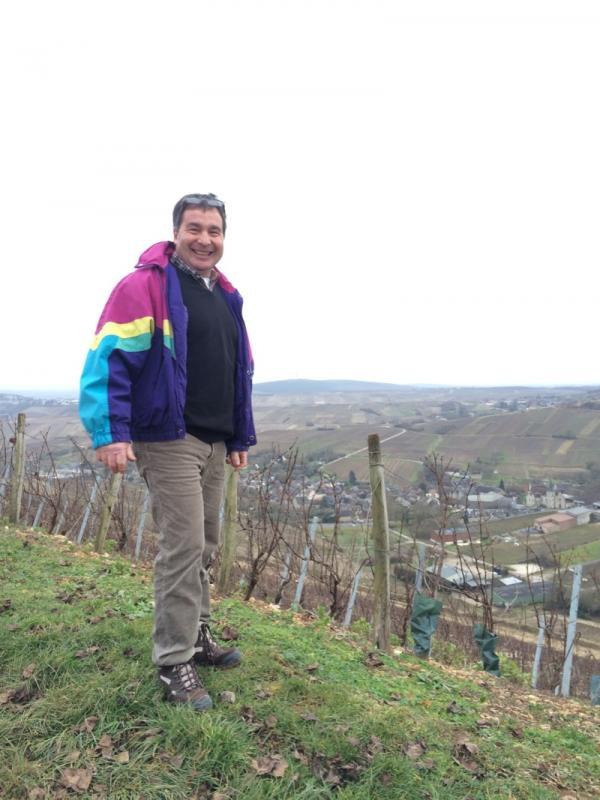 Before getting into any details about Les Monts Damnés, we need to talk about Jean-Paul's jacket. It is without a doubt the best jacket ever worn by a human being. And if its insane color combinations weren't enough, the brand's "manifesto" on the back is all the proof you need: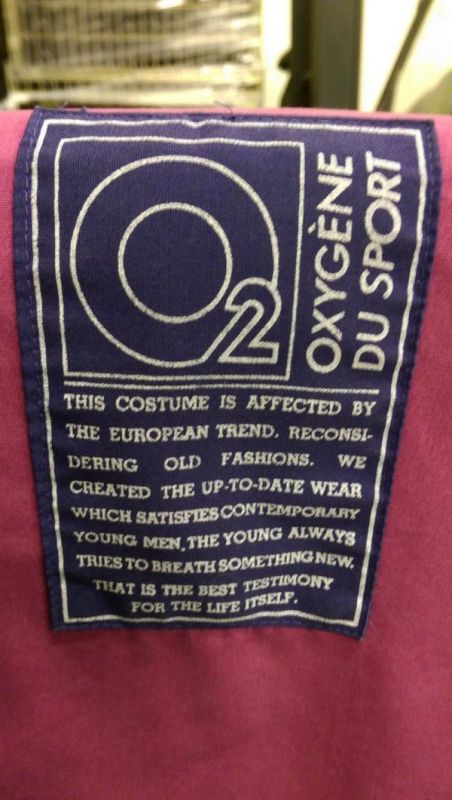 That is the best testimony for the life itself. Fact.

If you've never met Jean-Paul, the act of so effortlessly pulling off this jacket should cue you in to his extremely confident nature. Because let's face it: that shit is hard to pull off.

Ok, so have you seen or heard of this Mont Damnés vineyard? It's shockingly steep!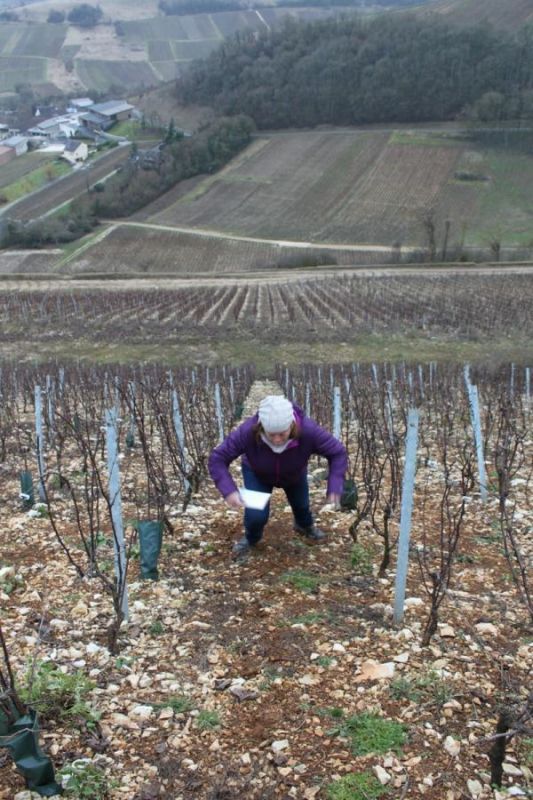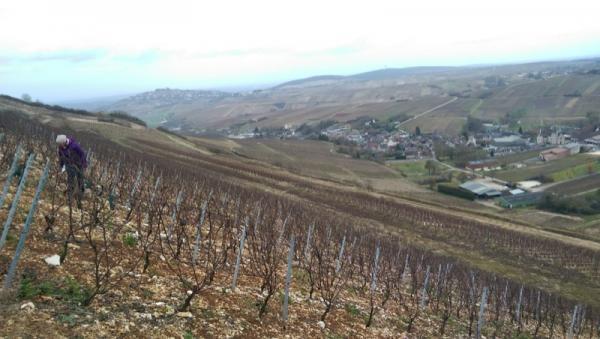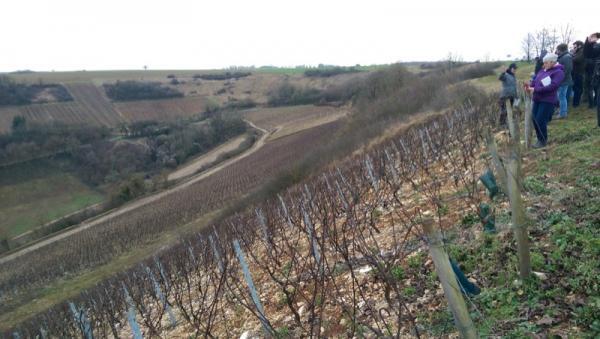 Monts Damnés is within the commune of Chavignol, and faces full south. About 80% of the vineyards in Chavignol are planted on steep hillsides, and are intentionally planted with grass to avoid erosion. Monts Damnés is the most extreme example of this steepness. Along with a majority of Sauvignon Blanc, a little bit of Pinot is planted on the hill's red clay and kimmeridgian limestone. Due to the steepness of the hill, everything is done either by hand or with a mechanized hand-tiller that is still a ton of work. When they prune the vines, they leave the cuttings on the ground in order to create a natural fertilizer.

From Les Monts Damnés, we headed over to a vineyard called Cul du Beaujau.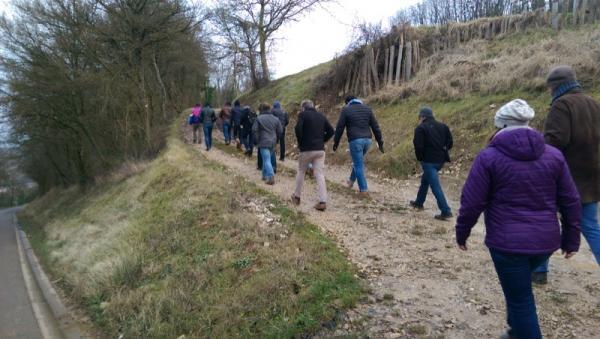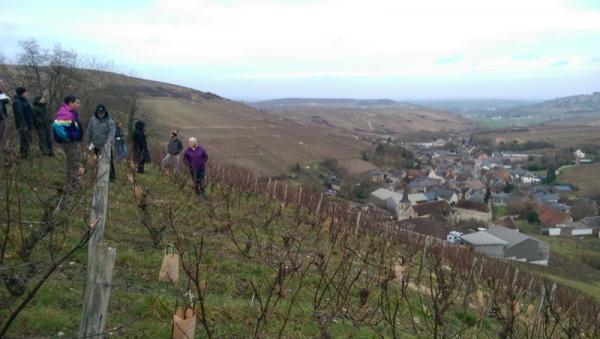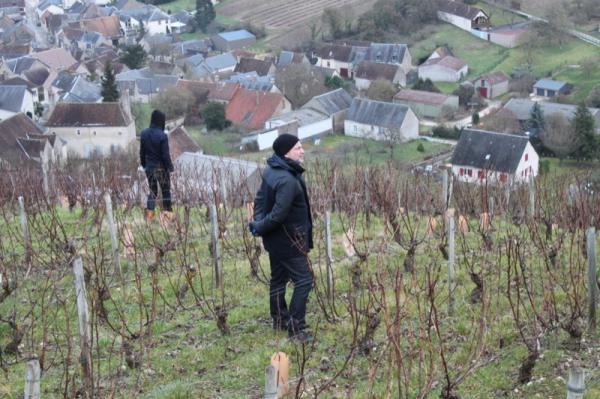 Jean-Paul doesn't own this vineyard, but considers it one of the best views of Chavignol (which you can easily spot in the above pictures' backgrounds) and an apt contrast between the village's southern and northern hills, with the latter pictured below.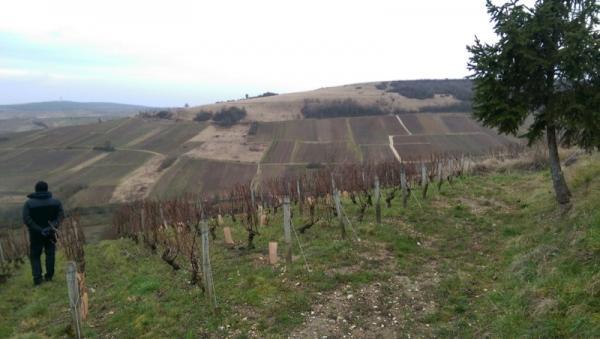 Of course, there's two sides to every story, so we then drove to the northern vineyards to check those out.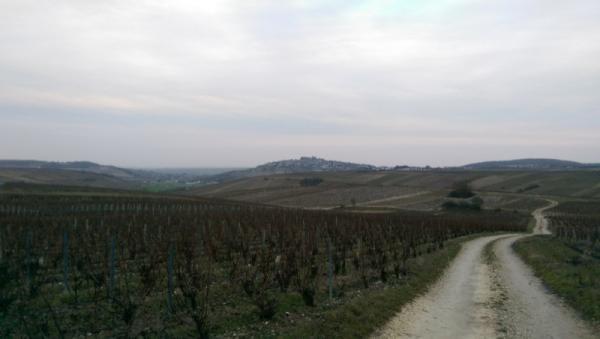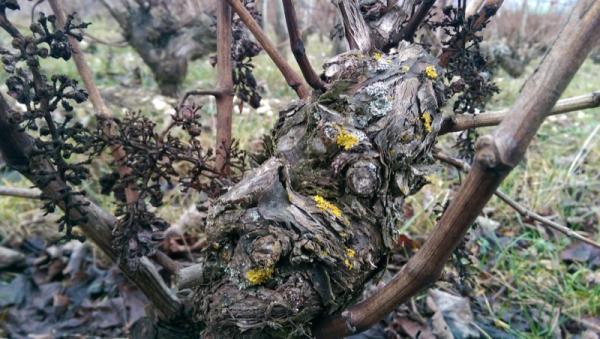 Here's a good pic of the view of the southern vineyards: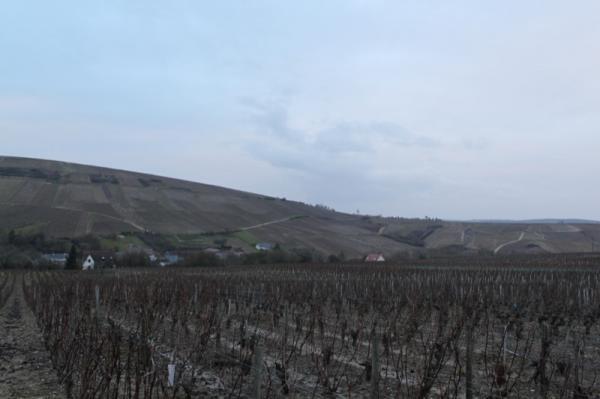 The sun was setting, so we decided to head to the cellar.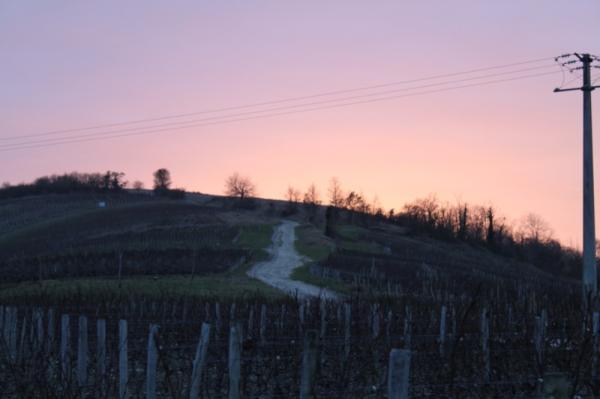 When you enter the relatively new Thomas-Labaille cellar (the facility is barely three years old), you immediately bear witness to this glorious work of art: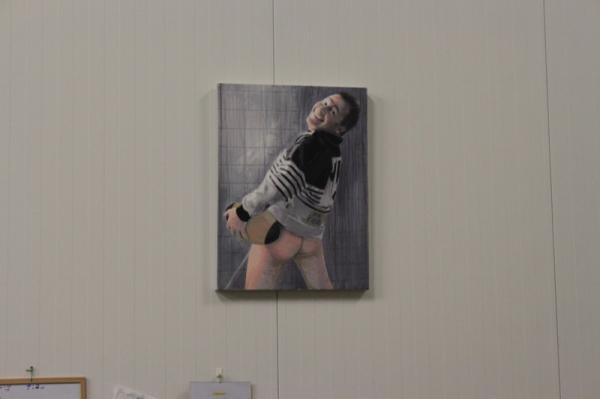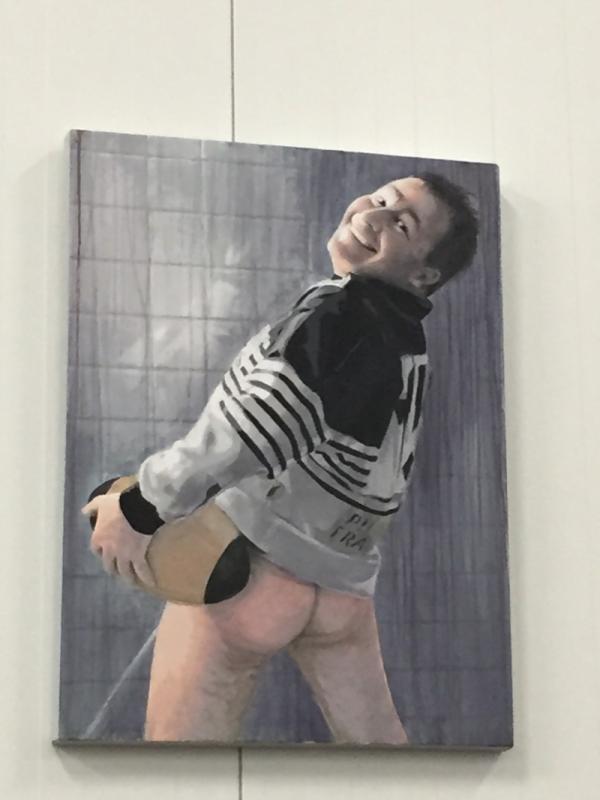 Some things you can't un-see...

Still, if you don't at the very least find this painting amusing, I don't know if we can ever be friends. I can only imagine the reaction of prudish tourists visiting the winery for the first time! Kudos to Jean-Paul for owning the boldest jacket AND self portrait in the universe.

It was time to taste the 2014's!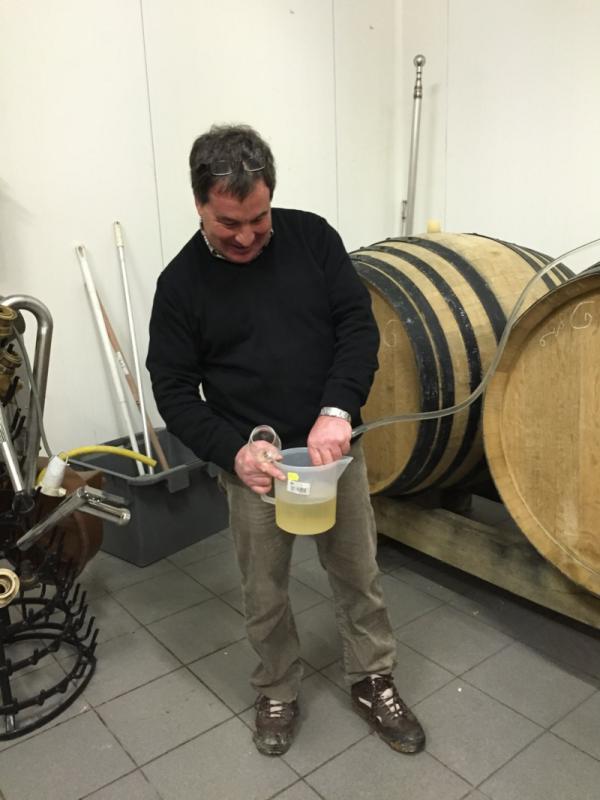 The vast majority of Jean-Paul's production ferments and ages in these fiberglass tanks: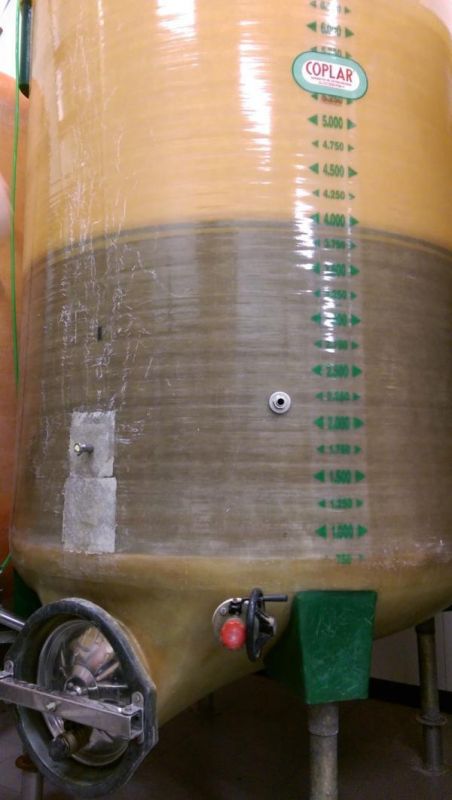 "They're not the most beautiful things in the world, but they get the job done!"

As with the rest of the Loire in 2014, everything was showing really well. Unsurprisingly, the highlights were the barrels of Monts Damnés, particularly the "Cuvée Buster" from a single barrel from Jean-Paul's best parcel of old vines within the "damned hill".
Someone spotted and decided to photograph this inspirational calendar: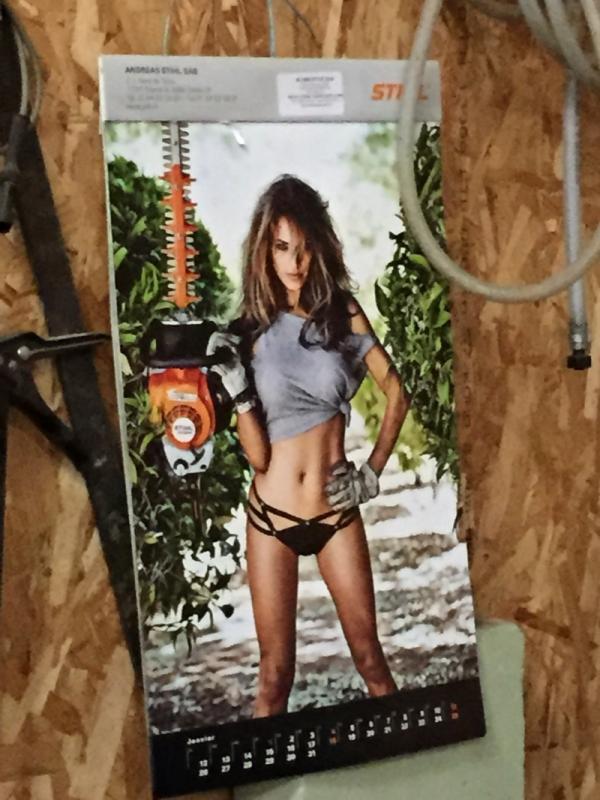 After tasting the 2014 juices, we were treated to a truly next-level tasting of back vintages.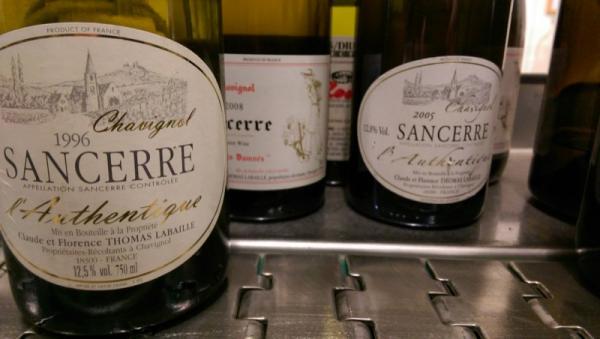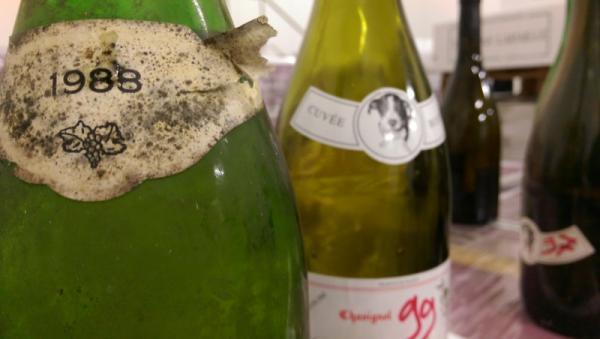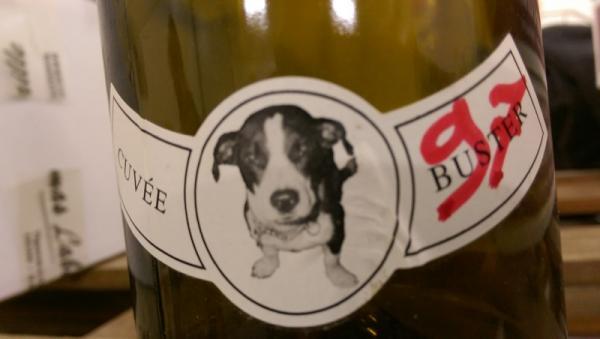 Jean-Paul pulled out all the stops. We tasted 2012, 2008, 2006 and 2001 "Monts Damnés", 1997, 1996 1988 and 1985 Sancerre (later renamed "L' Authentique"), as well as a 1999 and 1997 "Cuvée Buster". 1997 was the first ever "Cuvée Buster", so this was an especially special bottle to try.

If having such an amazing tasting wasn't enough, Jean-Paul's wife Laurence prepared us a true feast that was one of the best meals of the trip!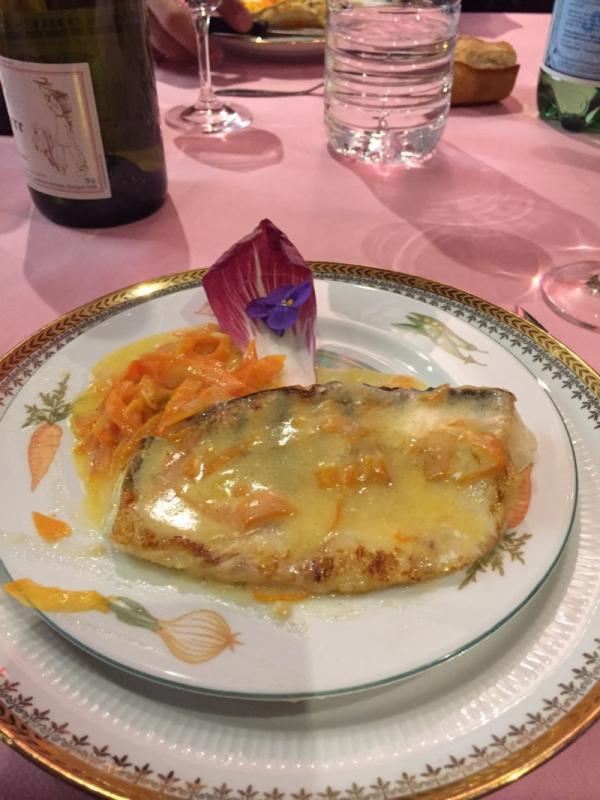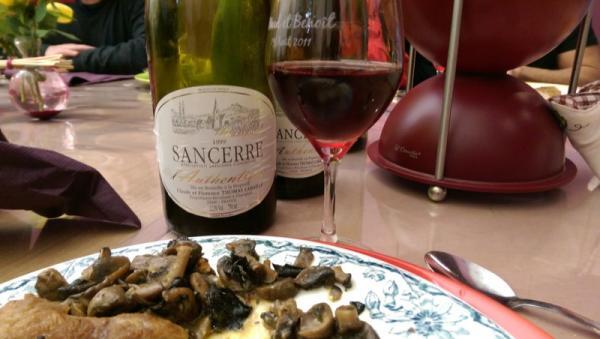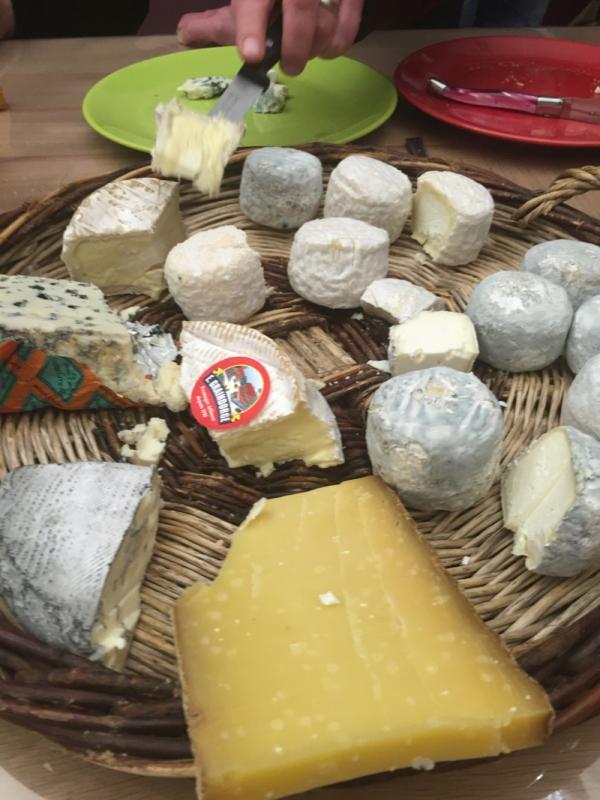 Look at the size of that cheese plate!!!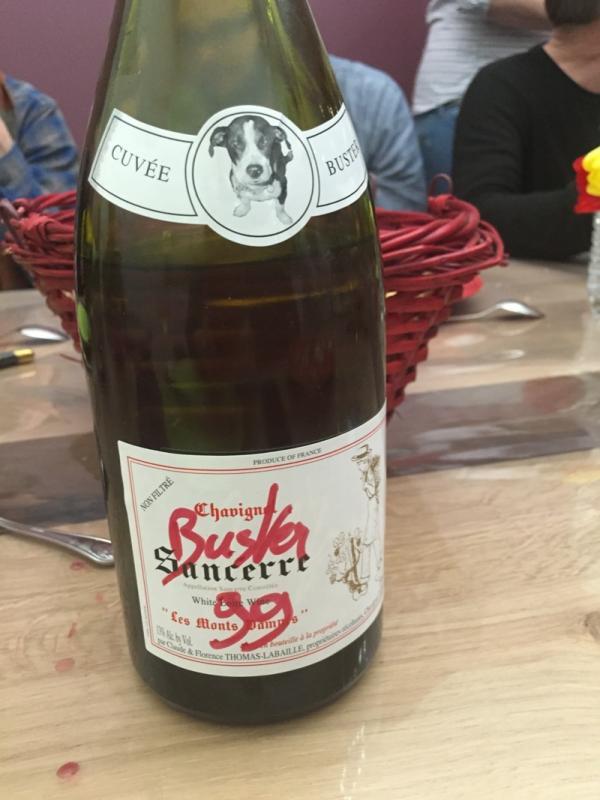 When I complemented Laurence after the meal, she told me:

"It's easy. I'm used to it."

Oh my god can she cook! Jean-Paul was in a really good mood, and ended the night with 1985 Mirabelle marc and 1983 grape marc that happened to be kicking around.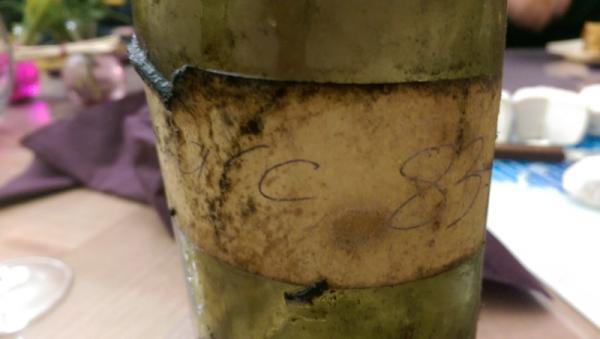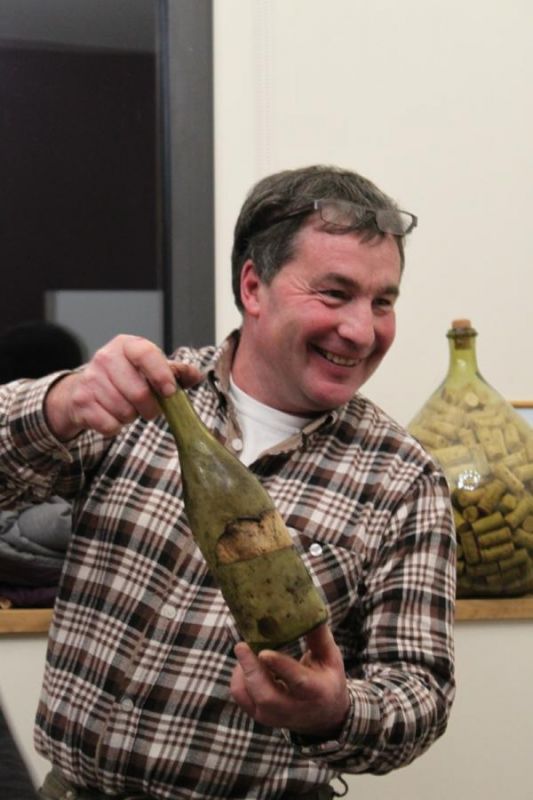 Man that was a fun night.