‹
›
Article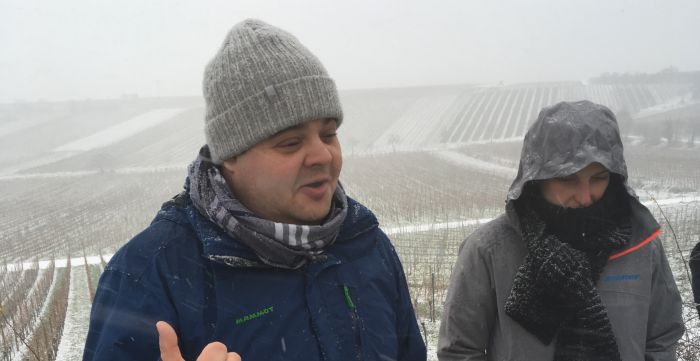 Koehler-Ruprecht Visit (2017)
This visit to Koehler-Ruprecht took place in December, 2017.
Words by Jules Dressner, photos by Jules Dressner and Matty Colston.
It's always been my dream to write a Christmas Special visit recap!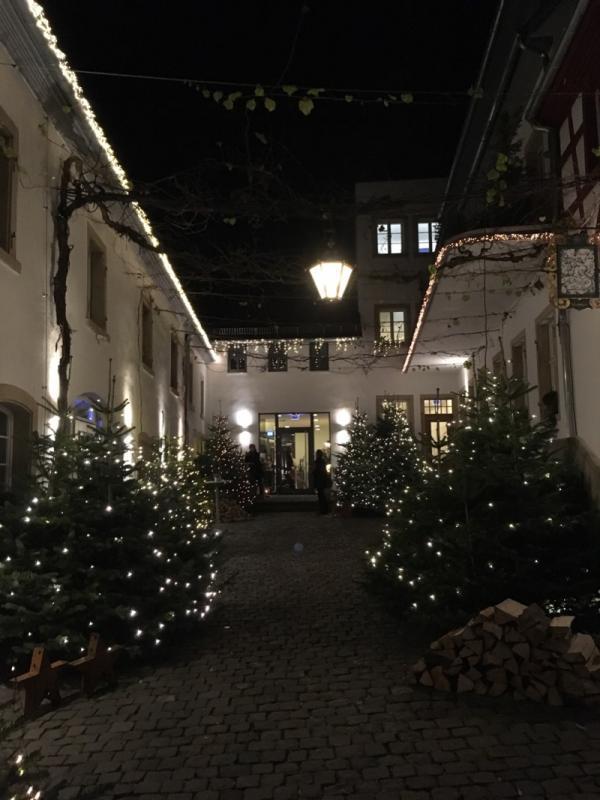 Well, not really. But we did happen to be in snowy Kallstadt late last December. And we got to visit a genuine German Christmas market (more on that towards the end), so I might as well roll with it.

We arrived in time for a late dinner brought to us by the staff of... INTENSE!
No, I did not make that up. Intense is a new restaurant opened within Koehler-Ruprecht's historic walls. Run by the very young and very talented Benjamin Peifer and Bettina Thiel, this ambitious tasting-menu restaurant got a Michelin star within months of opening! We had a modified version of the menu since the restaurant was full, and it was fantastic from start to finish. A magnum of 1997 Saumagen R didn't hurt in setting the tone for a special night.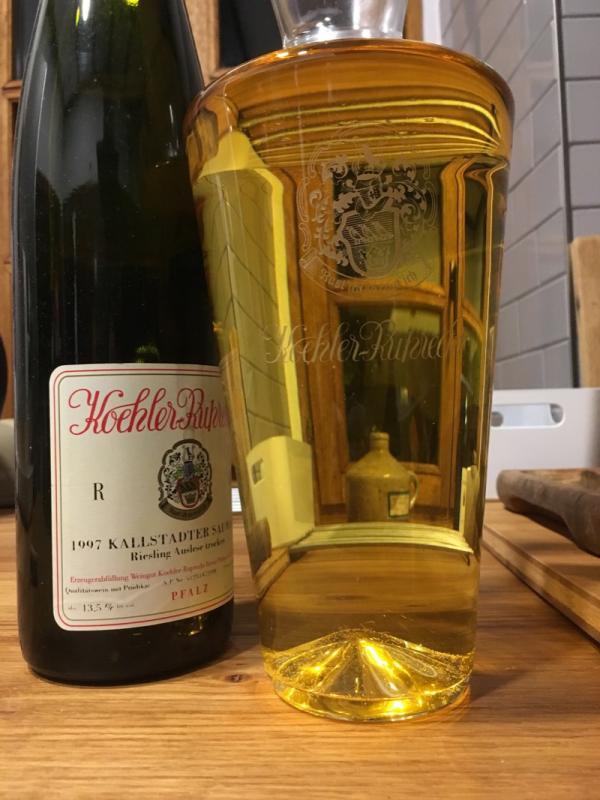 Notice the custom Zalto decanter. Fancy! It was a fairly long meal, so we needed a few back-up bottles.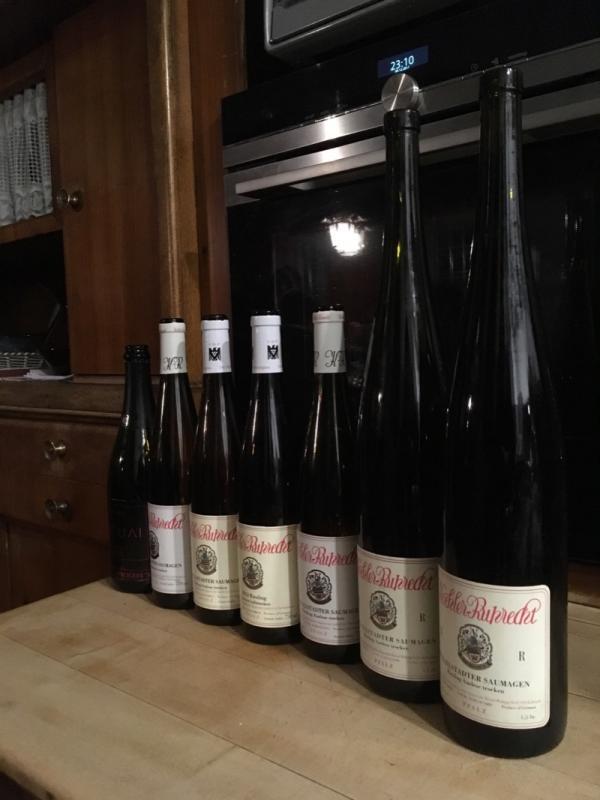 In a complete non-sequitur, no visit to KR is complete without pointing out their incredible selection of fridge magnets, featuring the three most important places in the United States.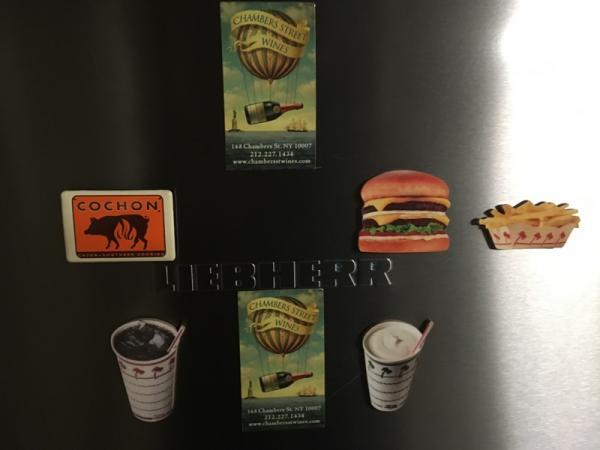 If you haven't been to Cochon, In-N-Out or Chambers Street Wines, you need to take a good long look at yourself in the mirror.

The following morning, we woke up to a beautiful, snowy day!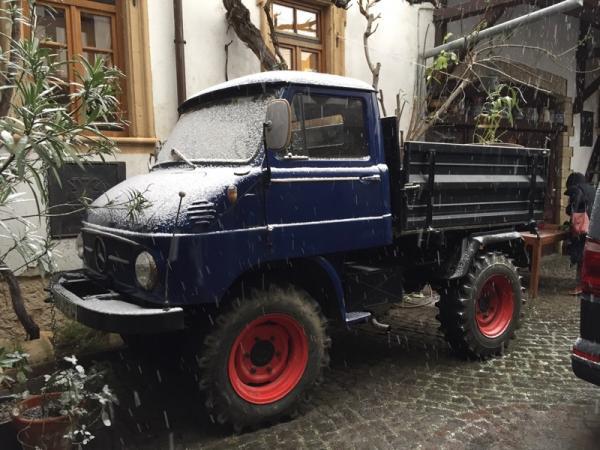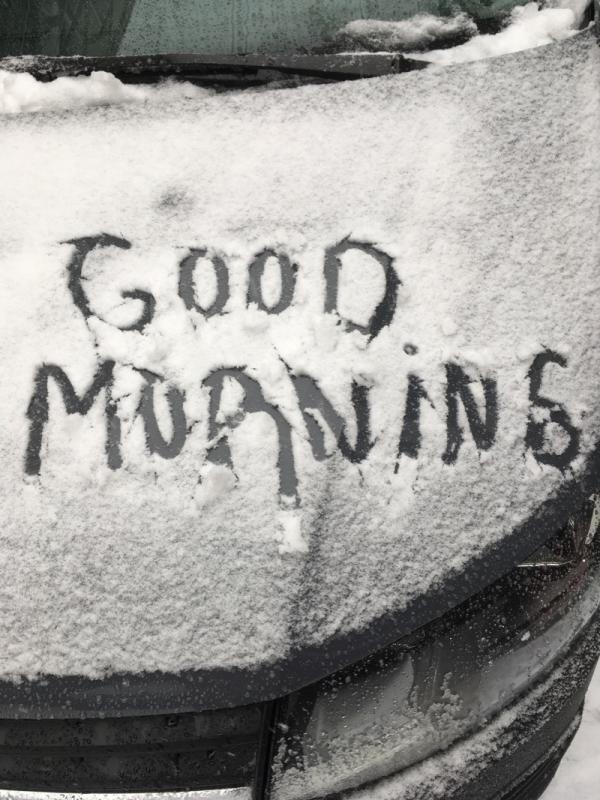 Our tour began in the Annaberg vineyard.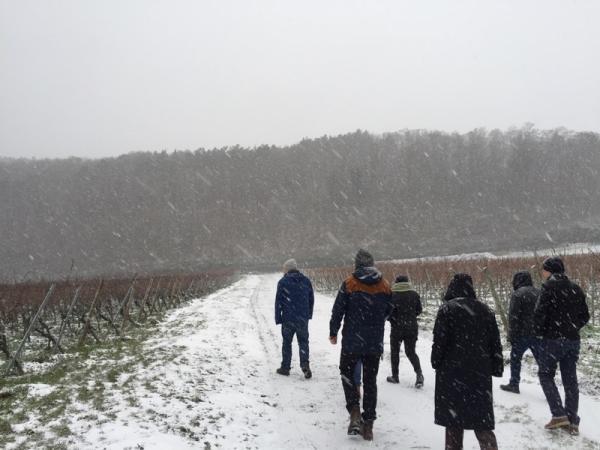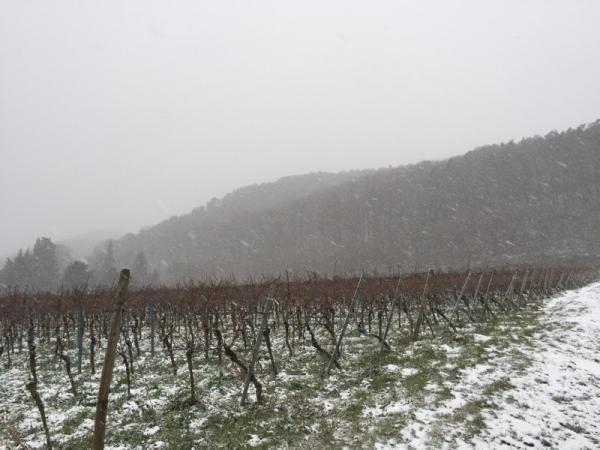 Annaberg is 5.5 hectares shared by two growers, including KR. The Chardonnay here is amongst some of the oldest in the area, and this site is where most of KR's Weissburgunder comes from.

The snow was really dumping at this point, but we still made the effort to go visit KR's most famed site, Saumagen.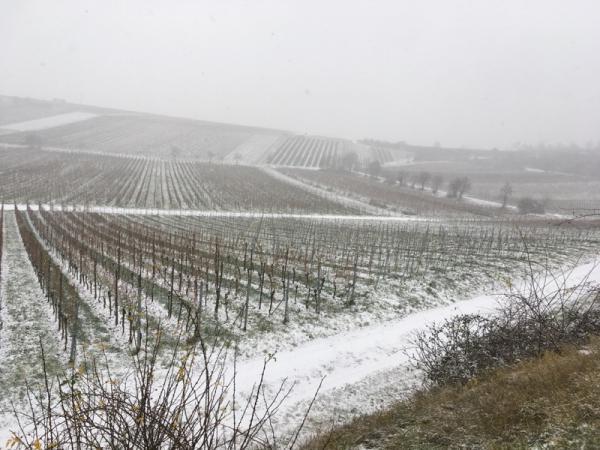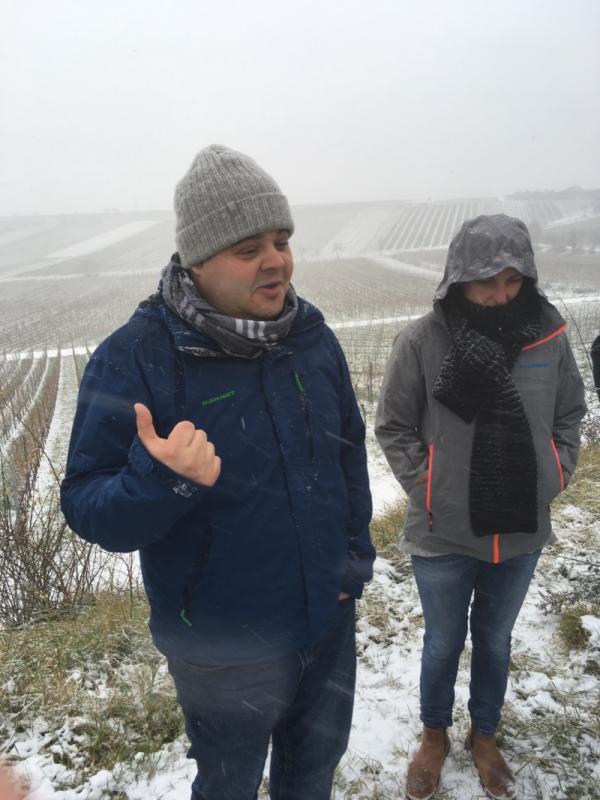 The snow, while beautiful, made it impossible to take notes. Since I don't have any, I'll just copy-paste info on Saumagen from our profile: Saumagen, which translates to pig's stomach, is named after the shape of the vineyard and also happens to be the region's most famous local dish. Established as a vineyard in 1810, this area used to be a limestone quarry in Roman times. The soils here are heavy in chalky marl and full of tiny individual limestones that reflect heat onto the grapes. Because of a government expansion in the 1980's, 46 hectares are now designated as Saumagen- including a conversion of north-facing orchards into vineyard sites- but Koehler-Ruphrecht's four hectares are on the original, southeast facing slope. A small part of the Saumagen is designated as Terra Rossa, with the limestone taking a red hue due to a heavy presence of iron oxide.

From the snowy vineyards, we headed back to the winery to scope out the beautiful underground cellar.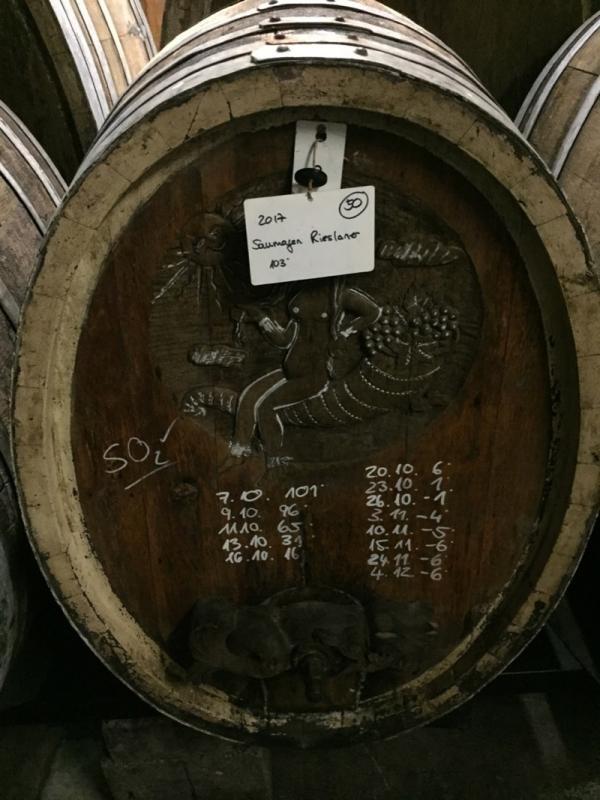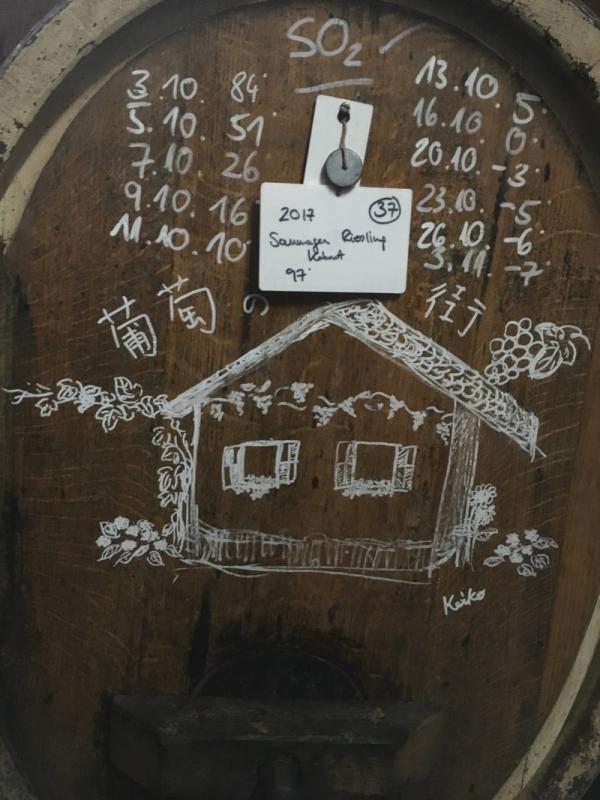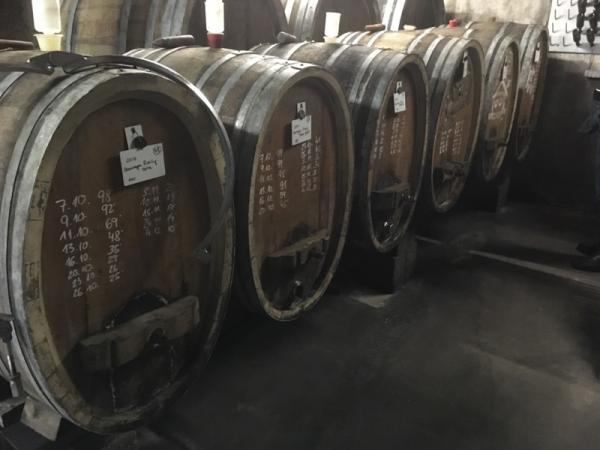 After being hand-harvested, the grapes are pressed outside in the courtyard. The juices settle in stainless steel tanks and then are racked by gravity into the underground cellar's myriad of casks.

There is no temperature control in the cellar, and fermentation can take weeks or months. Franzi explained that they never check for malo, it either happens or doesn't. The wines stay on their lees for about eight months, and a light filtration is performed before bottling.

The quasi-entirety of the wines are fermented and aged in wood casks of various sizes.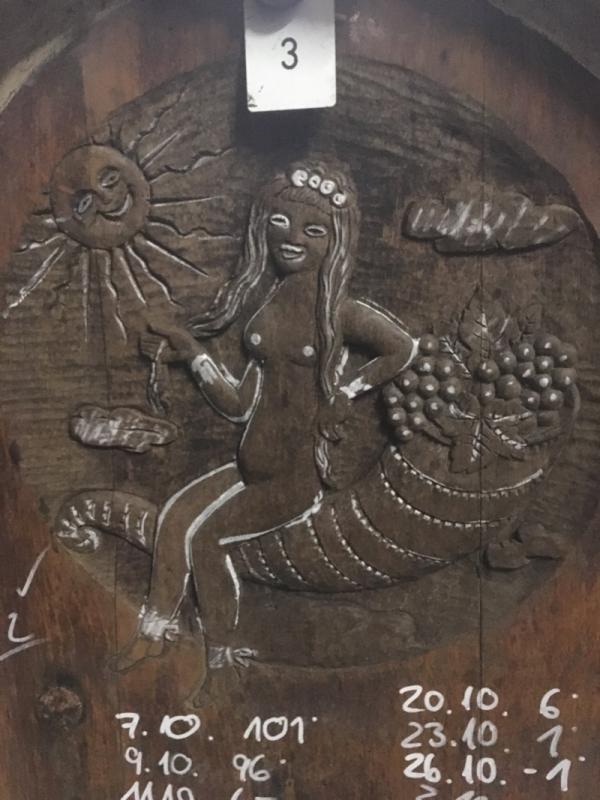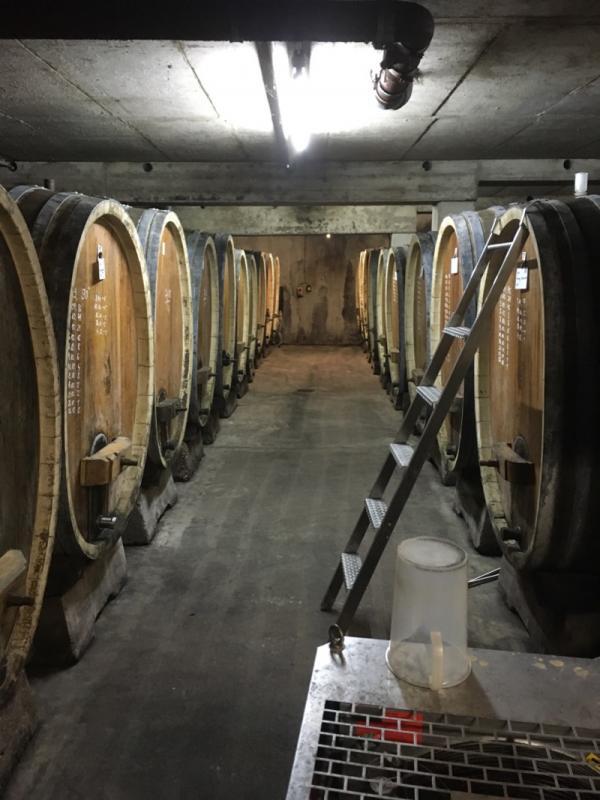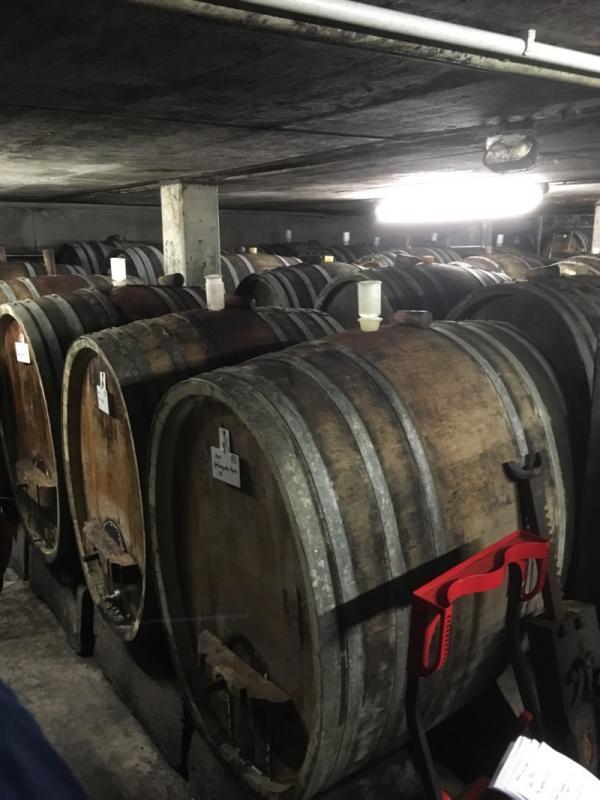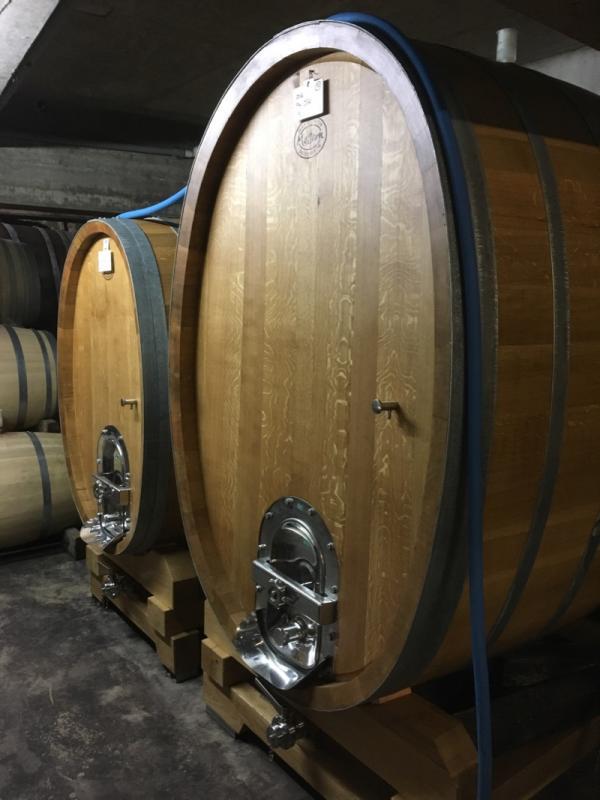 The smallest casks for fermenting and aging are 220 liters, the biggest are 2400! They have two 6000 liters barrels for blending, and in total there are about 120 barrels in the cellar. The higher the quality of the grapes, the smaller the cask. The oldest is 120 years old!

After sitting down and tasting a good amount of the delicious 2016's, we got to visit a very special Christmas market!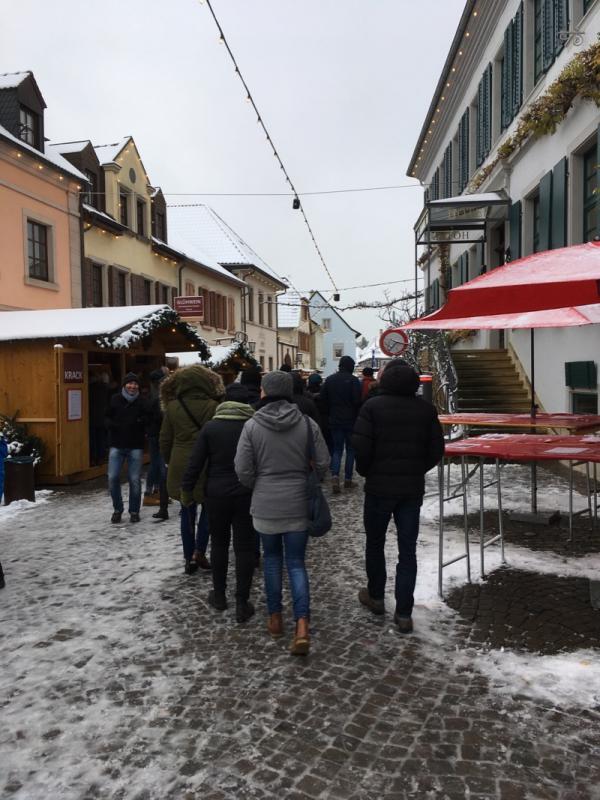 It was packed!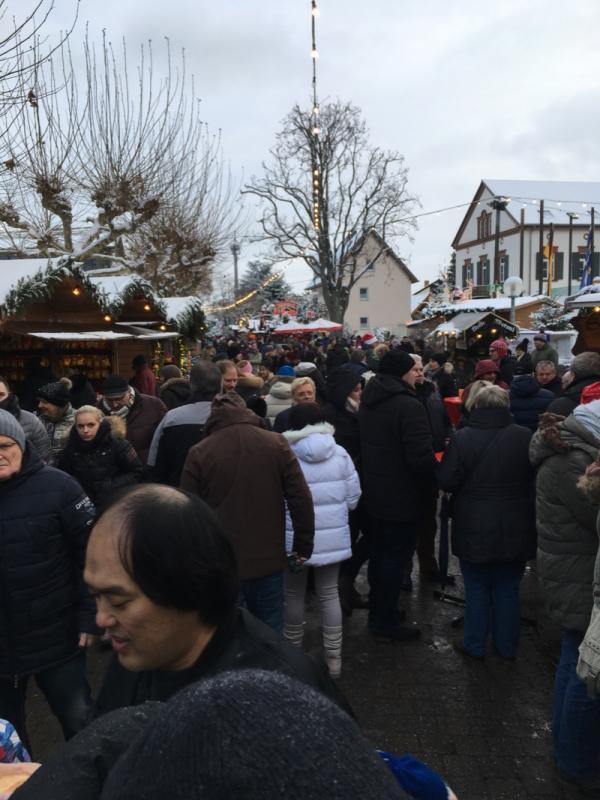 While there, we got to sample some staples like currywurst, and of course Glühwein.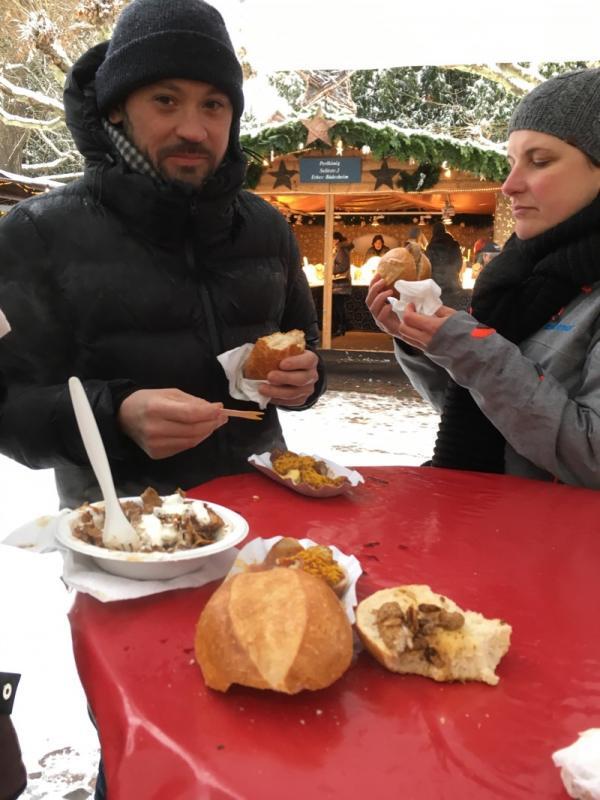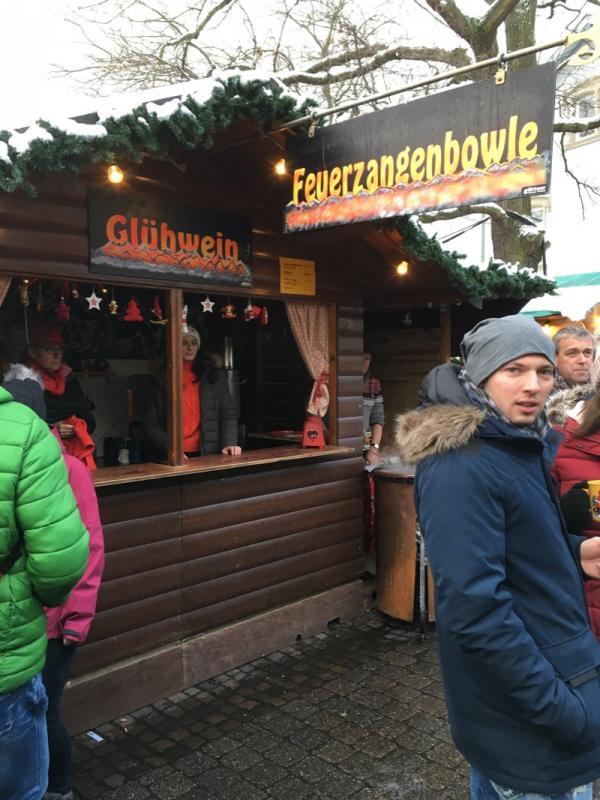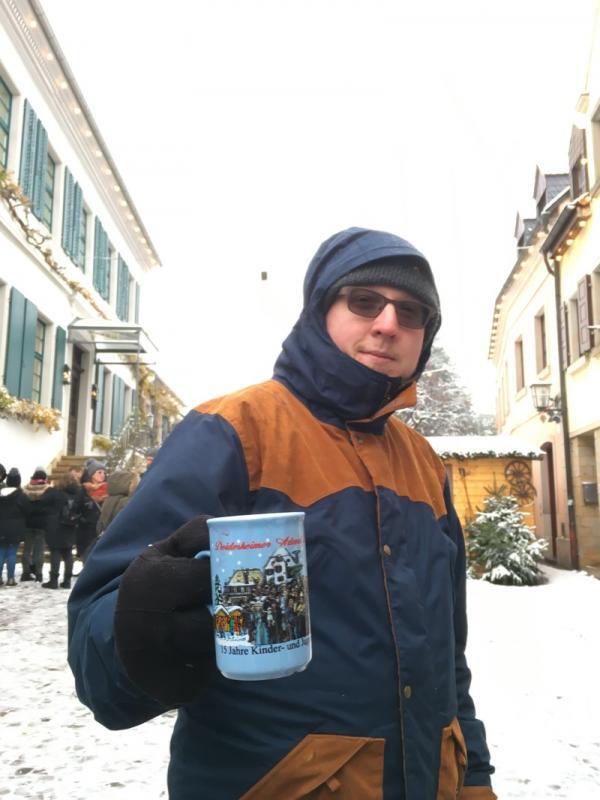 Josefa convinced me to buy this pickle ornament because of a traditional German tradition: you hide the pickle in the Christmas tree and the first child to find it gets an extra present!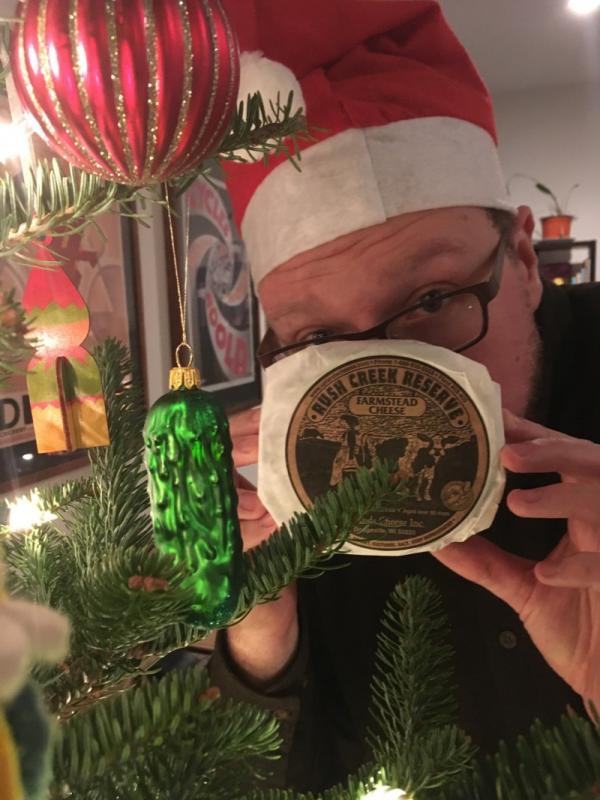 Post-purchase, I asked Dominik and Franzi about this tradition, and they'd never heard of it. Well, that's unsurprising since it's totally made up...

Before leaving the market, Franzi and I had to do some dramatic posing.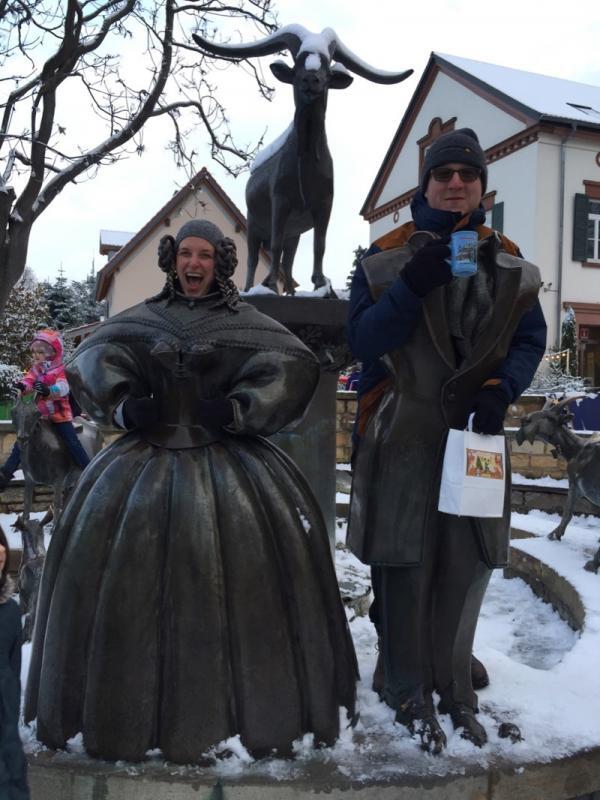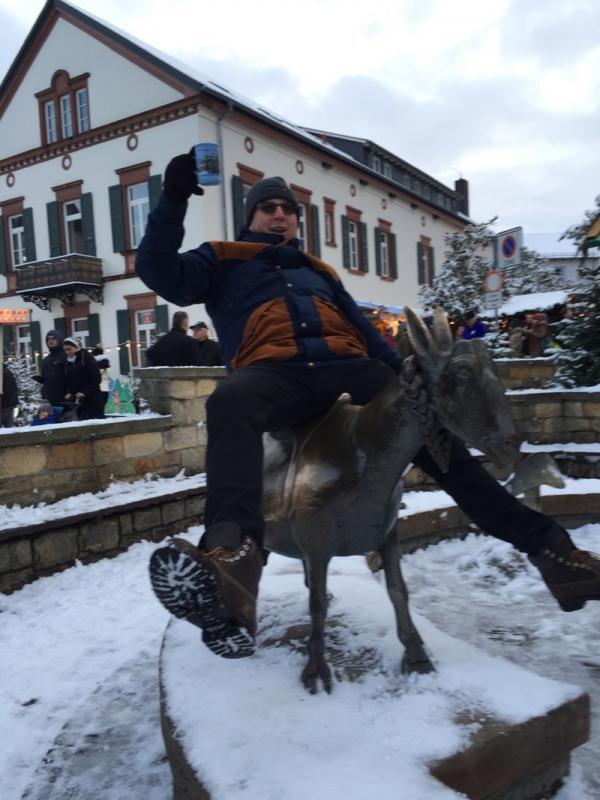 We drove back to Kallstadt, finished our tasting and it was time for dinner, this time as a much more traditional restaurant. Which of course meant Saumagen, liver dumplings and schnitzel!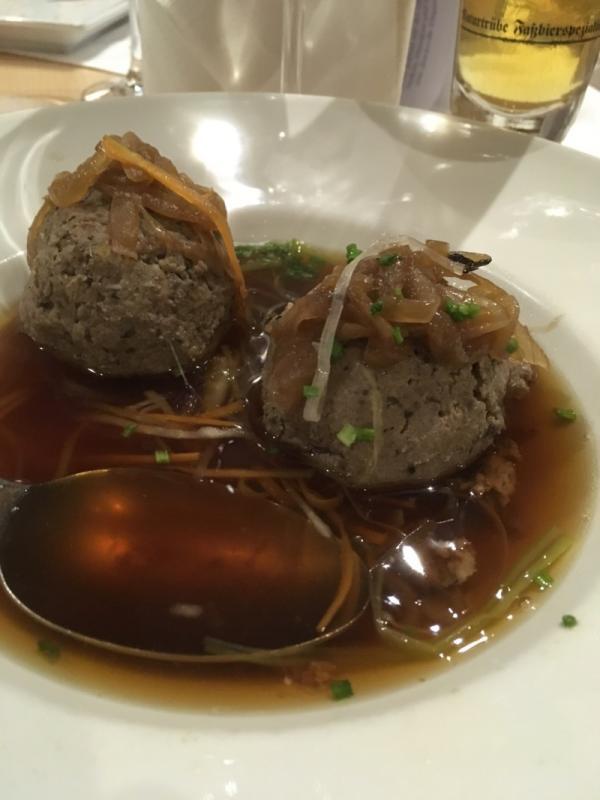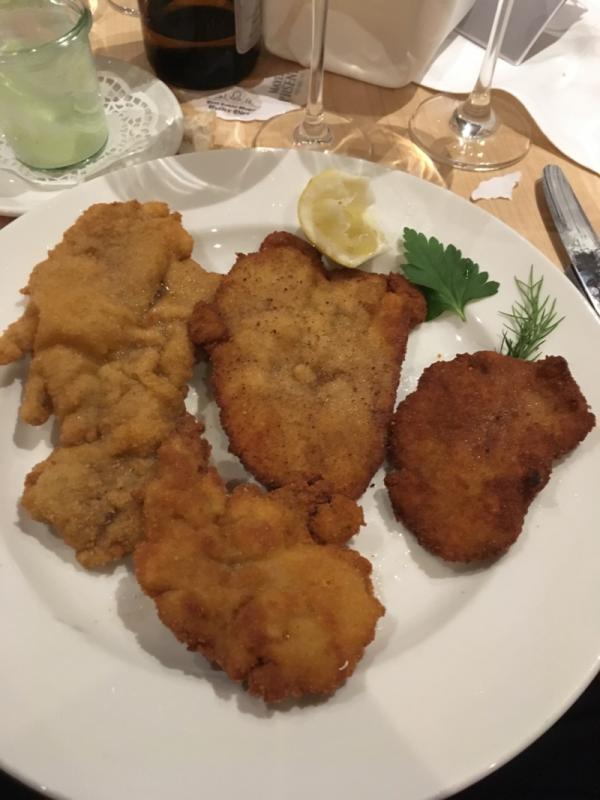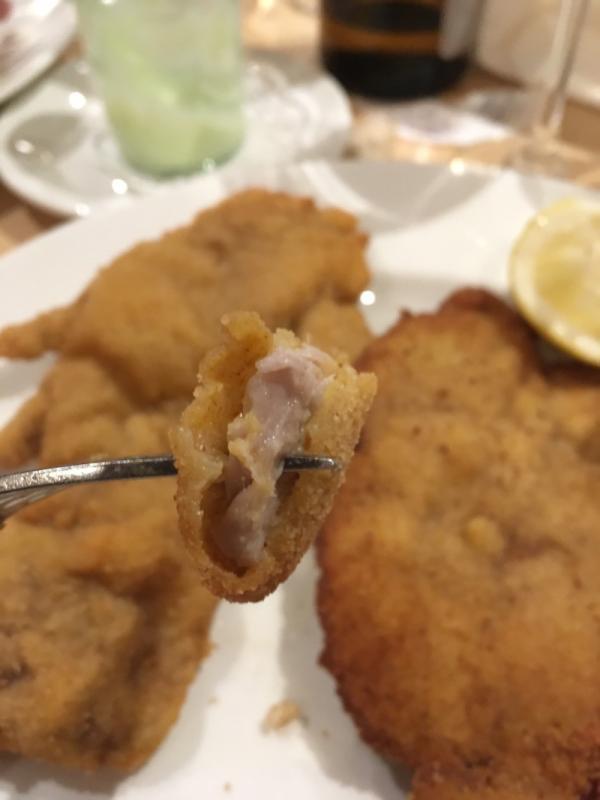 The whole time, we were being stared down by a picture of this guy, who is apparently the Laurent Cazottes of Germany.


We really wanted to try his off-beat distillates, but they were basically sold out of everything. Instead we had to choose some alternative beverages for the evening...