‹
›
Article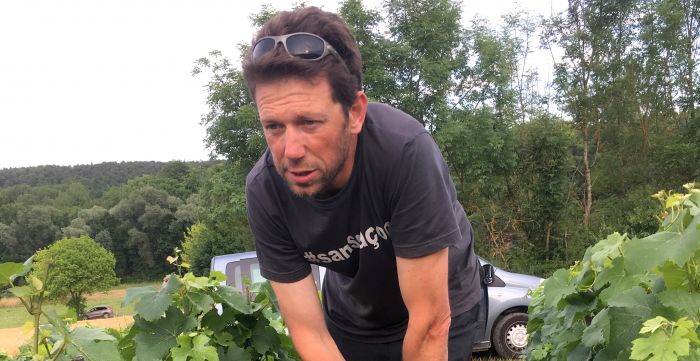 Olivier Horiot Producer Profile
In the southern-most part of the Champagne region, the Côte des Bar in the Aube department, there is the town of Les Riceys, where the slopes are blessed with the portlandian formation of Kimmeridgian chalk, that same great stuff that is the foundation of the finest Chablis and Sancerre. Except here the idea was to plant Pinot Noir on these chalky slopes, do a long maceration, often using whole bunches, and then age it a few years (at least three) before release -- not exactly your average deck wine.
Olivier Horiot took over the estate of his father Serge in 1999; though it bears his name due to inheritance, his wife Marie is essential to day to day operations and runs the cellar. Together they work seven hectares of vines and immediately started using organic and biodynamic practices. While the entirety of the land is worked in this fashion, Olivier and Marie have chosen to only vinify the equivalent of two hectares' worth for their own production:
"The rest is sold to the cave coopérative and to négociants. We jokingly call it the "Champagne Equilibrium", and don't plan on entirely modifying this system, at least for now. This balance gives us the opportunity to have more fun with the stuff we vinify independently, to craft them more to our taste."
From the beginning, the Horiot have championed highlighting specific parcels in the effort of being more terroir-focused. In order to make their Rosé des Riceys, they do a very strict selection of grapes from two separate sites - en Valingrain and en Barmont - vinifying them separately. In the ever dwindling amount of producers making this traditional rosé (it requires lower yield management and is much less profitable than Champagne) they are the only ones making single vineyard expressions to highlight terroir.
The rosés start with about 10% of the grapes foot-trodden at the bottom of the cuve, then whole bunches are added. Macerations usually last 5-6 days, with pumping over twice a day. After the wine is racked into older barrels, it remains there for a few years before being bottled without fining or filtration.

The Horiot also produce many Champagnes: a Blanc de Noir from the en Barmont site named "Sève" (both is white and rosé), two blends of multiple parcels, "Métisse" and "5 Sens", a multi- varietal, multi-vintage wine called "Solera" as well as a quirky, unexpected Champagne produced with the Arbane grape, aptly named "Arbane". They have increasingly been producing all their Champagnes in Brut Nature, though Extra Brut bottlings (never above 2g dosage) still exist based on the unique circumstances of each release. A microscopic amount of Coteaux Champenois red and white are also bottled each vintage.