‹
›
Article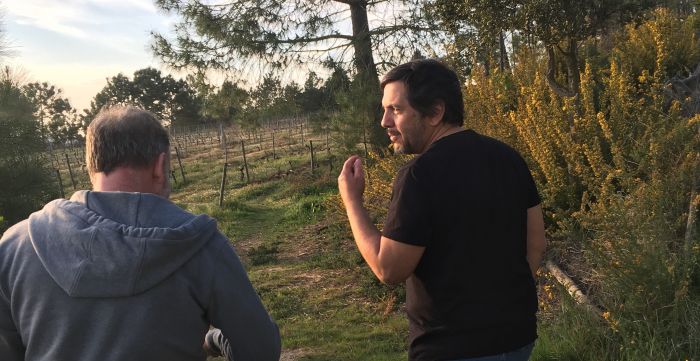 Quinta da Serradinha Profile
In the isolated village of Leiria, António Marques da Cruz runs his small family estate, Quinta da Serradinha. Wine has been produced by the Cruz family for many generations, but Antonio is the first to dedicate himself full-time to the craft. After lending a helping hand to his father in 2003, he fell in love with the land and never left, eventually producing his first autonomous vintage in 2008.
Serradinha means "little mountain", and all of the vines are just outside the winery. The youngest vines were planted by Antonio's father in 1995, and the oldest by his grandfather between 1952 and 1967. Arinto, Encruzado and Fernão Pires are planted for white (15% of the production), Castelão, Touriga Nacional, Tinta Miuda, Alfrocheiro and Baga for red. The soils are all limestone based, with some parcels heavier in sand and others in clay. Most vines are planted in guyot, though the oldest are still in goblet. Antonio very rarely works the soils, and when he does it's only superficially. The estate has been worked organically since 1978 and was certified in 1994. In fact, it's actually the first viticultural estate in Portugal to receive organic certification!
Though the area used to be "an ocean of vineyards", the waters have seemingly run dry; two of the three big coops of the area recently closed and according to Antonio, the third isn't too far off. The closest neighboring agricultural estate is 4km away, and general interest for this sector is low as the area is actually very cool and wet, resulting in lower alcohol wines not in vogue in Portugal. The area is technically located within wide ranging and fairly recent Lisbon appellation, but Antonio intentionally declassifies his wines to Vinho Branco and Vinho Tinto as he feels the classification is too broad.
In the cellar, everything is destemmed and foot-trodden. The white wines see a two to five day maceration, then are racked directly to barrel for fermentation, where they stay on the lees a minimum of 11 months with no bâtonnage. Along with a couple of 200 year old Alentejo anforas, the reds are also fermented and aged in barrel; relatively short macerations are the norm, but élevage varies wine to wine and some can age for years. There is no temperature control in the cellar. Antonio is judicious and calculated with sulfur: he will occasionally add a tiny bit at press but usually only at bottling.
It is of note to mention a unique decorative element: each bottle comes with a wooden ladybug glued to the cork. The story goes that Antonio's father was about to open a bottle when a real one landed right on top of it. This was right around the time of the transmission of the estate, and Antonio found it so beautiful and inspiring that he decided to symbolize the moment with each bottle.