‹
›
Article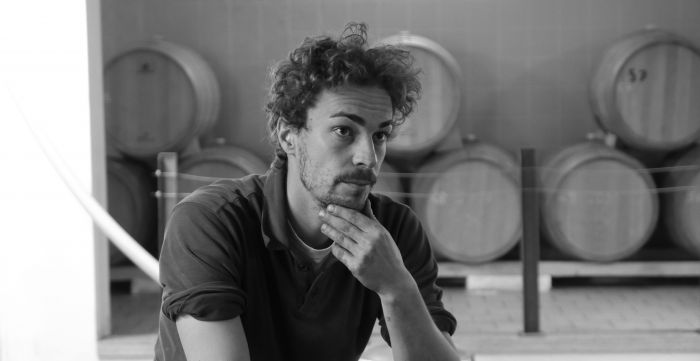 San Martino (Basilicata) Interview
This interview with Lorenzo Piccin took place in March, 2020.
Let's start from the beginning. Tell us about the origins of the estate.

The San Martino winery was born in 2008. I started studying oenology in 2007 and my family has been in wine since the late 80's. We used to be based in Montepulciano but have been in Basilicata since 2004, when my father founded the Grifalco winery. I've been a part of that project since the beginning. I mean, I grew up in a winery and have been around this my whole life. It's the only thing I know.

In 2007 I decided to go to school because I wanted to dive deeper into the transformation of grape juice into wine, to know how the plant and soil would affect the outcome. The more knowledge I absorbed, the more I felt the need to follow my own path and ideas. It made me want to try something different, to do something more. To combine the knowledge I'd acquired from a lifetime with my father with what I'd learned in school.

I started by making a single tank. Some friends loved it and wanted to sell it in the USA. This was inspiring, and from there San Martino was born. I started renting six hectares at the San Martino contrada and the project began.

Grifalco still exists right? And you are still part of it?

Grifalco is a family business. My father passed away last February (2019). But he'd been sick since 2011 and I've been making the wines there since. My brother is in charge of the estate and is also responsible for selling the wines. I personally don't travel much and spend most of my time in the vines and the cellar. I'm not very good at selling.

So you rent six hectares on the side for San Martino?


I bought them after a while.

Do you also farm the family land?

Yes. I farm both.

Why did your family move from Tuscany to Basilicata?

It's all because of Aglianico. My father had been in love with this grape since the mid 1990's. My parents' families are both from Rome but they decided to move to Tuscany in the late 1970's to become farmers. They had 350 sheep which produced milk and wool. They also had two hectares of Sangiovese. But they would sell the grapes to a guy who'd come from Puglia to make wine back home with it.

In 1988, my twin sister and I were born. My mother was at home alone with us since her family was in Rome. My father was out all day taking care of the animals and it was really tough. They were alone in the middle of the country: the closest neighbor was four kilometers away. It was simply too hard to continue. So they decided to sell all the animals, make their own wine from the two hectares and start planting vines as well. The winery is called Salcheto and the first vintage was produced in 1990 (note: the winery still exists under different ownership).

Much to their surprise, their star rose very quickly. By the late 90's, the winery was one of the most famous in Tuscany. They were also growing fast over the years, but eventually became disillusioned with this as it felt like pure marketing. Big companies were also beginning to invade the area. I'm talking insurance guys, lawyers, bankers; they were all starting their own wineries around us. Our closest neighbor was from the Angelini family, one of the biggest pharmacy owners in Italy. And the other was Cragnotti, the owner of A/C Lazio team. These guys were not taking it seriously like my parents were. It was a glamorous thing to do. All these guys were the opposite of vignerons.

So my parents got sick of this and decided to sell everything. They started to look for somewhere to start again, the hope being to find a great region that has not been taken over by money (much like Tuscany had been twenty years earlier). After much research, the two areas they were seriously considering were Etna and Basilicata. Originally the plan was to move the entire family. But my sister and I were 14 and my brother was 10. In the end it felt too unfair to uproot us from our entire childhood. So instead my father decided he'd travel from Tuscany to wherever the new place would be. Basilicata was much closer than Etna! So he moved there for a few months looking for land, fell in love with some old parcels and was convinced the area was the new beginning for his winery.

So you stayed in Tuscany?

I finished high school in Tuscany, then went to Torino for university. I got married there and I still live half of my life there with my family. The other half I'm in Basilicata working in the vines and the cellar. I travel two to three weeks every month, come here, take care of what needs to get done then head back.

How long of a drive is that?

12 hours. I take an overnight bus and sleep through the drive. My back is not always happy with me, but it's ok.

Do you feel this is how you will continue to function? Do you like this lifestyle?

I chose this life and I like it. I believe it's a good balance. If I was alone and without a family, I would probably move to Basilicata. Life is really nice there. It's easy, it's slow. I'm very happy there. But I really value societal hubs of culture and knowledge. I think this gives you a very important opportunity to grow and have an open mind when you are young.

When I think of my children going to school in Basilicata, I know there would be some good to it. But the cultural aspect of a city like Torino feels like it wins out. I think it's a better place to raise my children.

Let's talk about the area the winery is in.

We're in the sector of Forenza. The vines are 520 to almost 600 meters above sea level. I think the best thing to describe Basilicata and the Vulture appellation is the fact that there are so many old vines. Everyone you meet has at least one small piece of land planted 60, 70, 80, 90 years ago. And the vines still produce well! I've never seen anything like that anywhere else. Growing up in Montepulciano, the attitude there is that vineyards will last you 30 years before replanting.

It's amazing. And what's great is that the region did not succumb to what started happening in the 1980's, with everyone buying and planting the same, single clone per hectare. Everything is massale. It's all empirical observation of which plants were producing the best, which are the most resistant to illness...

Another thing that's very unique is that the only grape here is Aglianico. There really is nothing else. Every other region in Italy, even if some grapes are the most dominant, has lots of others planted alongside them. So of course this also implies no international influence with grapes like Cabernet Sauvignon and Merlot. If you speak to the elders and ask if they'd planted anything else, they'll answer: "Why?" It always makes me laugh.

The soils here are volcanic. The last eruption was 150 000 years ago: it covered the area with many layers of ash and lava. This is mixed with sediments from the bottom of the sea and ancient rivers, so you have sand, shells and round stones from the bottom of the rivers.

It's also surprisingly cool for being so far to the South right?

We are amongst the last to harvest in Italy. We start in the middle of October. This is largely due to the very high elevation of the vines. In the south of Italy, the left part is influenced by the Tyrrhenian Sea: lots of wind coming from the Atlantic over to the Tyrrhenian. It creates a lot of humidity that gets trapped by the Apennine mountains. This then comes to our area but it's still much dryer, less rain and humidity. The only really bad weather we get is when the winds come from the Balkans. It's a very dry wind because it's not crossing any sea: it's coming from Russia. And since Basilicata is not close to the sea, it does not get too warm. It's the only continental weather in the center and south of Italy.


Is there any other type of agriculture there?


A lot of olive oil. If you go more south you'll find meat.

Let's talk about the work in the vines.

Since the beginning, my idea was to be as non interventionist as possible. When you look at the vineyards here, it's great because there are none planted in bad places. Most are in fact already planted in the best areas. And that helps a lot. For me, working organically here is easy. It's a shame if you don't get organic certification here: it's so easy that it's stupid not to do it.

Grifalco has been certified since 2007 and San Martino from the beginning. Honestly, most of the time you don't need to spray in the vineyard and can just wait. When it rains, even for a long period, the winds are so strong and cold that two hours later the leaves are dry. They don't get wet. I might do two or three copper treatments a year, three or four with sulfur. This is from April to June, maybe early July. Other than that I do nothing else.

And in the cantina?

Because of our climate, production is very low. This is the balance of our vineyards and I do not want to push them harder. So the balance in the vineyards is like the balance in the cellar. Production is low but the grapes are beautiful. They get to the cellar within an hour or two of being picked and are destemmed. I then fill the tank, wait two hours and add a small amount of S02. The tanks take 24 to 36 hours to start fermenting. I'll do some pump-overs during the peak of fermentation for oxygenation, but not much. I want it to be like making tea, a gentle extraction.

The aging process is different every year and reflects the vintage. Sometimes the wine needs more oxygen, sometimes in can easily stand being in tonneau for six months, sometimes not at all. My goal is to reflect the vintage as accurately as possible.

How do the three wines differentiate themselves?

The goal is to produce three distinct expressions of Aglianico. "SIIR" means "father/owner" in local dialect and for me is like an introduction to Aglianico. If you don't know the grape or the Vulture appellation, this is how I'd like you to discover it. Maybe with the exception of Etna, when people think of the south of Italy they are thinking of big, powerful wines. High alcohol and thick. That's the opposite of what I'm looking to do with "SIIR". You can just enjoy. We use the youngest vineyards and extract the least amount possible.

"Arberesko" is meant to be more of a classic expression of the appellation. This implies a little aging here in the cellar but also in bottle. It's a deeper wine. The name is what locals of Maschito call themselves in the local dialect.

"Kamai" is from the oldest vineyards, around 80 years old. After fermentation, the wine ages around 24 months in tonneau, then another year in bottle before release.

Can you tell us about the whole vulture thing? It's the name of the appellation, you have them on your labels...


Federico Secondo was the king of the south about 1000 years ago. He owned what is now the south of Italy. He was an amazing character who could speak six languages (Italian, Latin, Greek, German, French...) and was quite eccentric. He built many castles all over because he loved hunting. One of his claims to fame was that he loved to hunt with falcons. He was so passionate that he wrote a book on how to train falcons for hunting, and in fact this book is still used today! There are many images in this book, including the one we used on the label. So they are falcons, not vultures on the labels.