‹
›
Article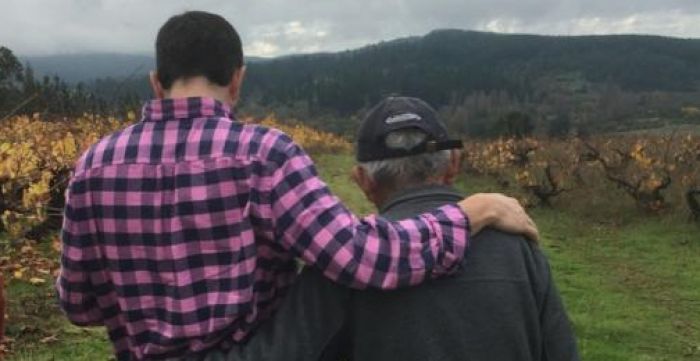 The Chile Chronicles, Part 5: Coronel del Maule!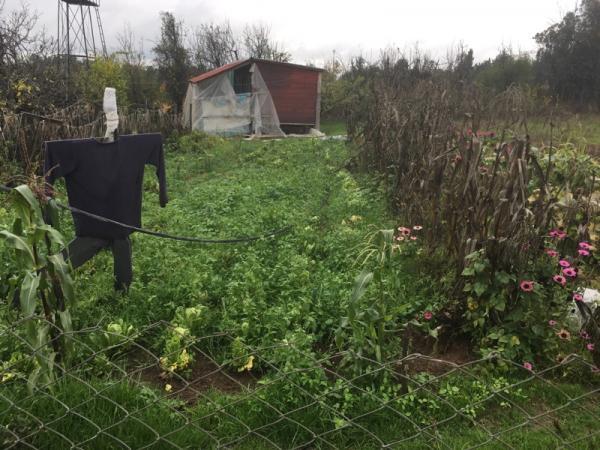 From Pilen, we headed to the Coronel del Maule sector of the Maule Valley to visit Raoul Perez.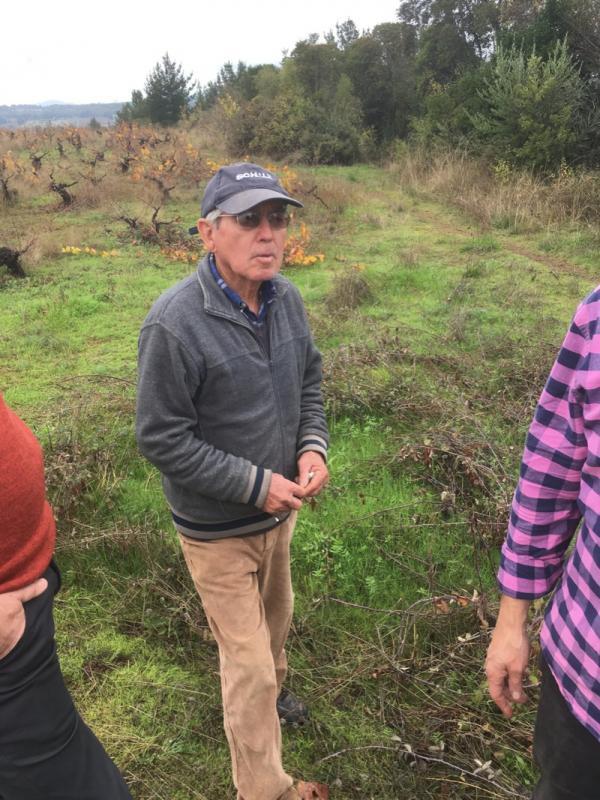 From the moment we pulled into the farm, it was clear there was a special connection between Raoul and LA.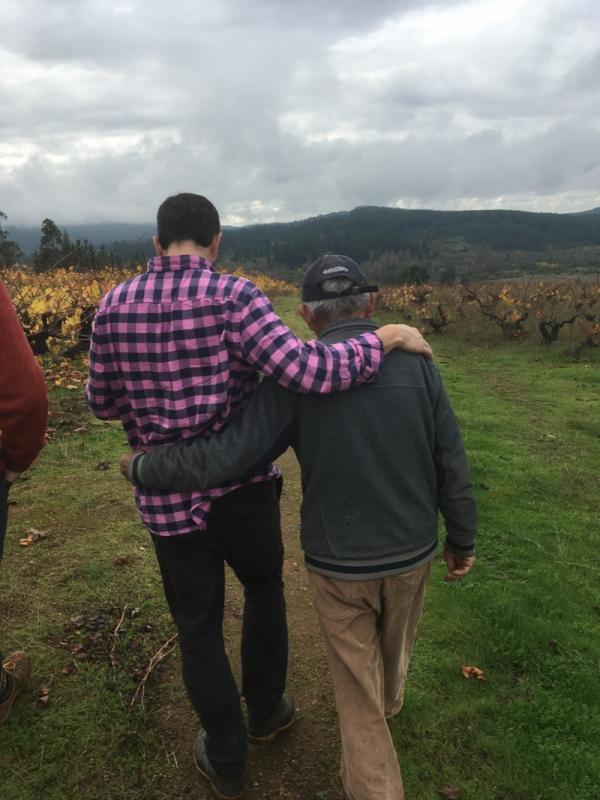 "Raoul is my biggest inspiration. We've had our ups and downs, but the trust is there and our our bond is unbreakable. This sector (Coronel del Maule) was the area that originally inspired me to make wine in Chile, and I am so happy to have met him."

After some nice helloes, it was time to check the vines.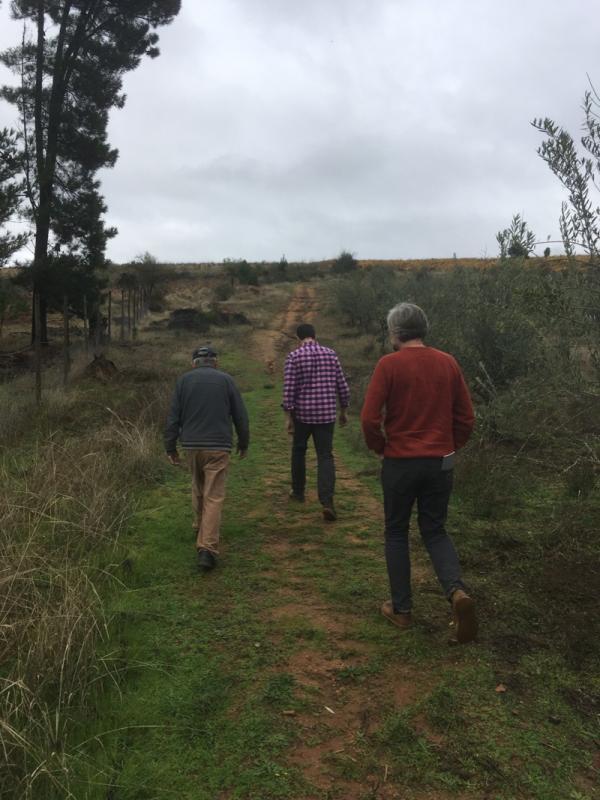 On the way up, the Raoul/LA bonding continued.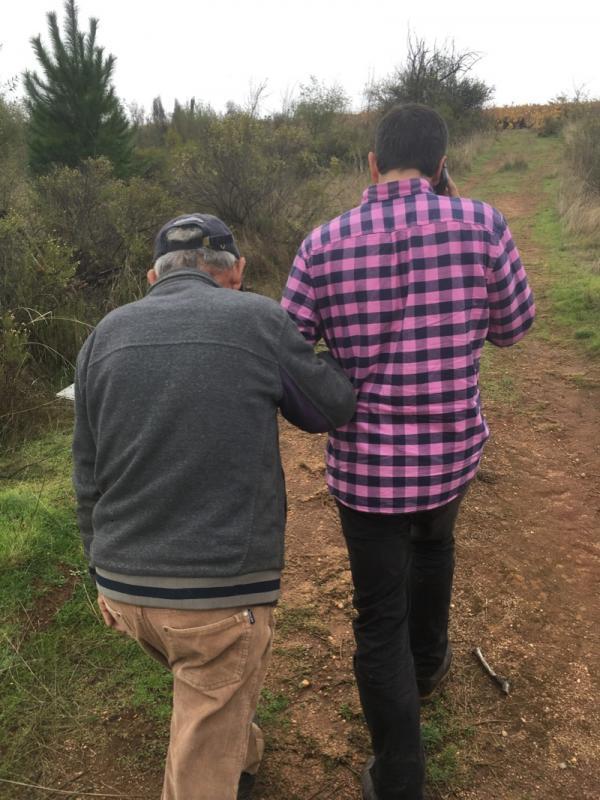 When LA met Raoul, he was on the verge of abandoning his 1.5 hectares of País.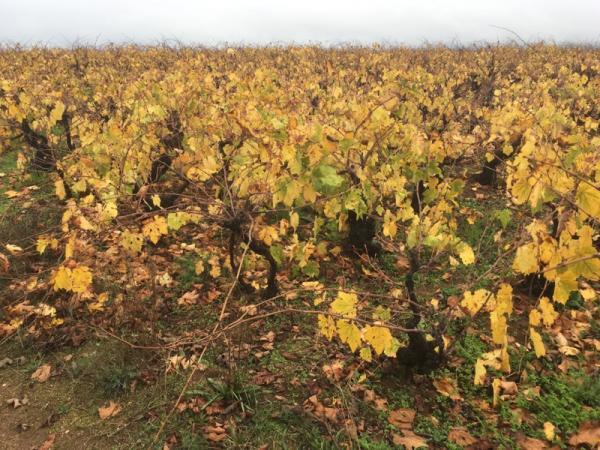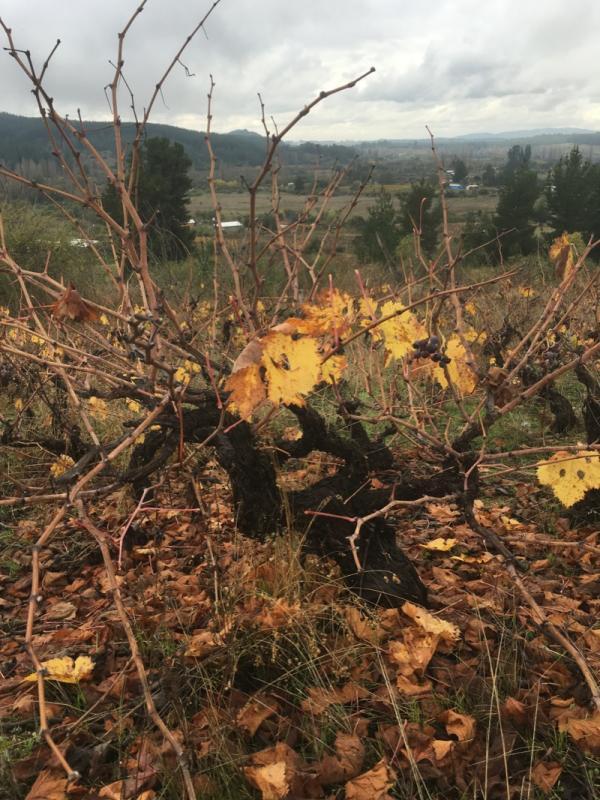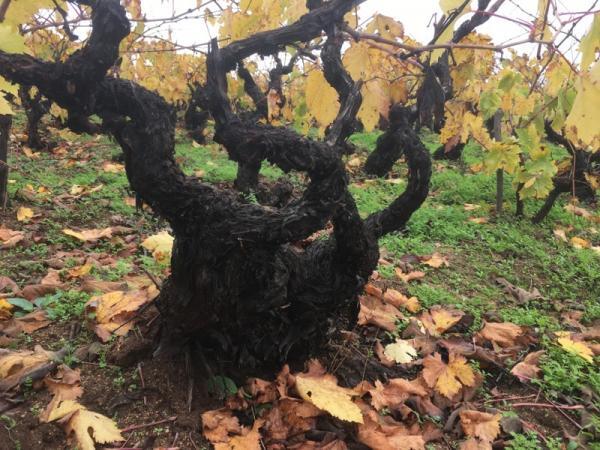 "He simply felt it was too much work for what he could get paid for."

In a stark contrast to Raoul's beautiful vines (which, for some reason, always keep their foliage very late in the season), here is a picture of his neighbor's chemically farmed parcel.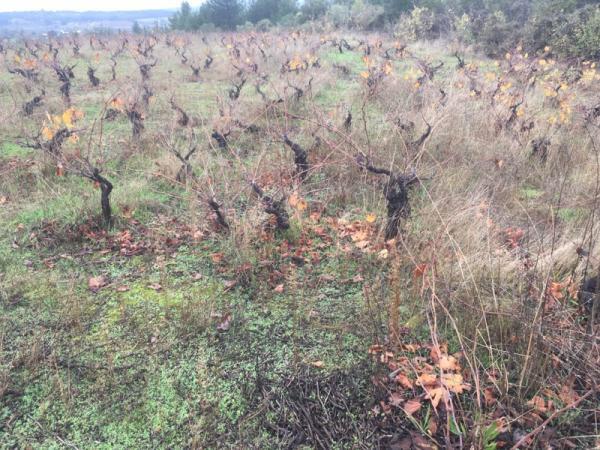 I prefer these.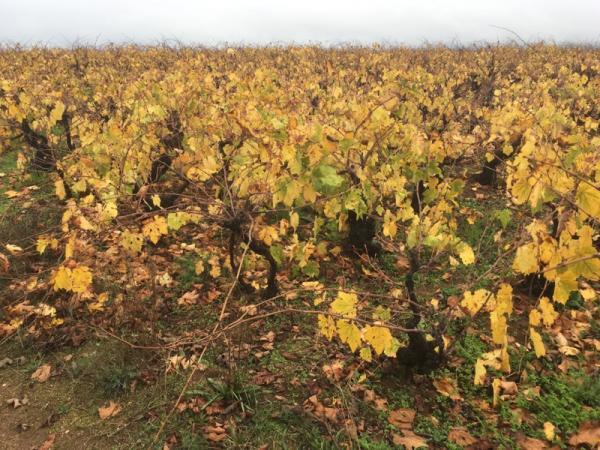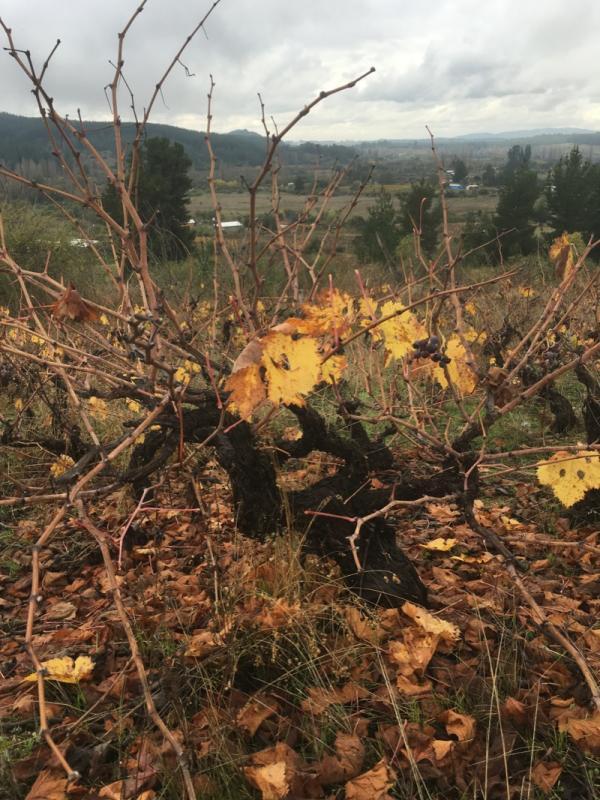 The contrast is even crazier in this pic: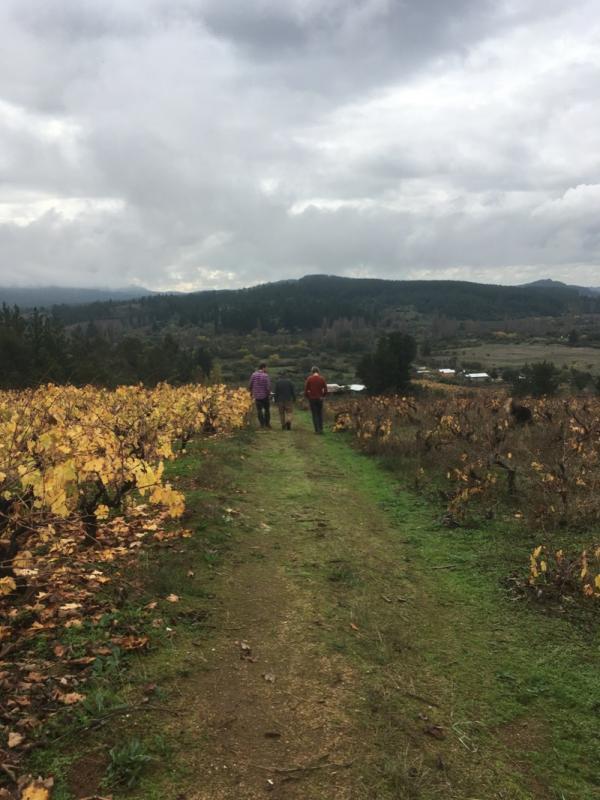 The vines are at least 300 years old, and grow on soils of clay with decomposed gravel and flint.

"The roots go down 80 meters."

That's deep.

It was lunch time, and Raoul graciously invited us into his home. Before we could eat, we had to taste his Pipeño!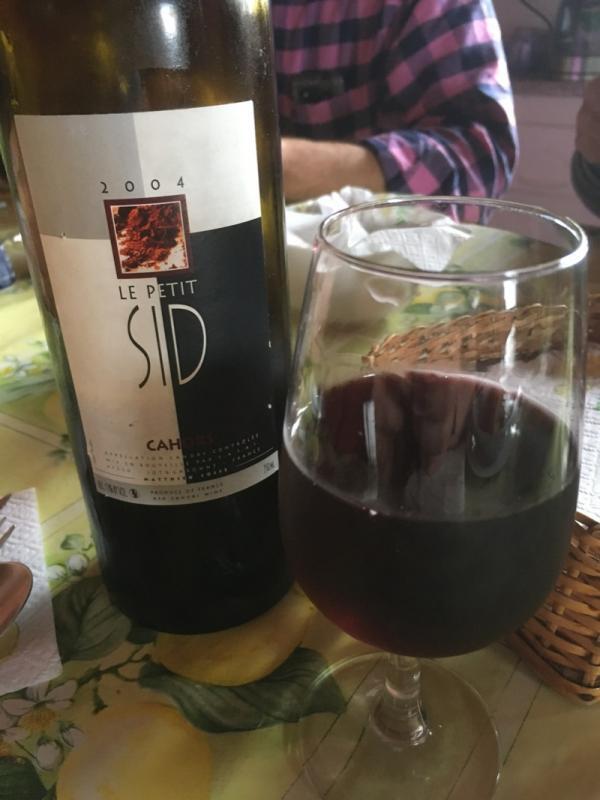 It was made in this lagar!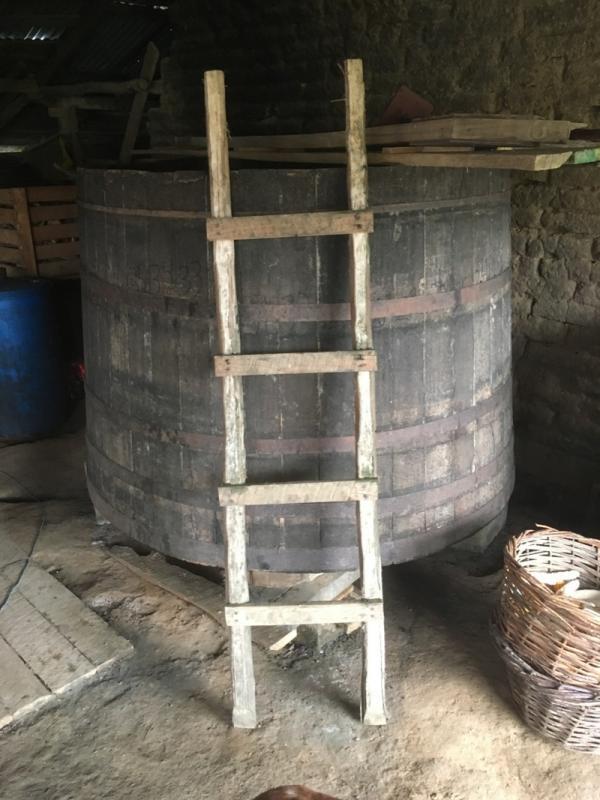 The wine is a blend of País, Cabernet Sauvignon and Merlot. It was delicious, fresh with herbal notes.

It also went really well with his wife's soup, made from their farm-grown garbanzo beans and hominy.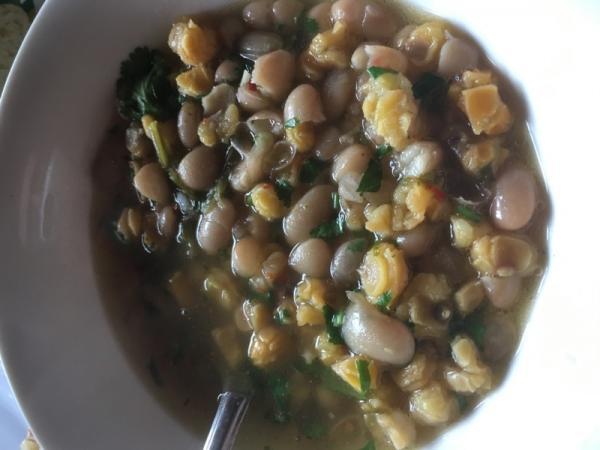 It is traditional to have soup AFTER the main dish in Chile, which I'm a big fan of. This was also my first opportunity of the trip to flex my "I'll have seconds" skills. Works every time at pleasing the cook!

During lunch, a rather amusing conversation revolved around Raoul trying LA's Coronel del Maule Pipeño each year and always saying: "It' ok. It's not as good as mine!"

Both are delicious, but LA admits that Raoul has a "slight" advantage: he's been making wine from this land since he was a teenager. I asked if Raoul ever sells some of his wine to locals or friends, and LA translated that he'd prefer giving it away.

"Most people don't care about the hard work and effort, and don't even know what they would be paying for. They just want some wine. And if they don't buy it from me, they will buy it from someone else. So I'd rather give it to them so they can enjoy."

Apparently, in Luyt terminology, "coffee" translates to "another glass of Pipeño". This was a good excuse to try a traditional beverage/porridge/energy drink consisting of Pipeño, toasted wheat and honey.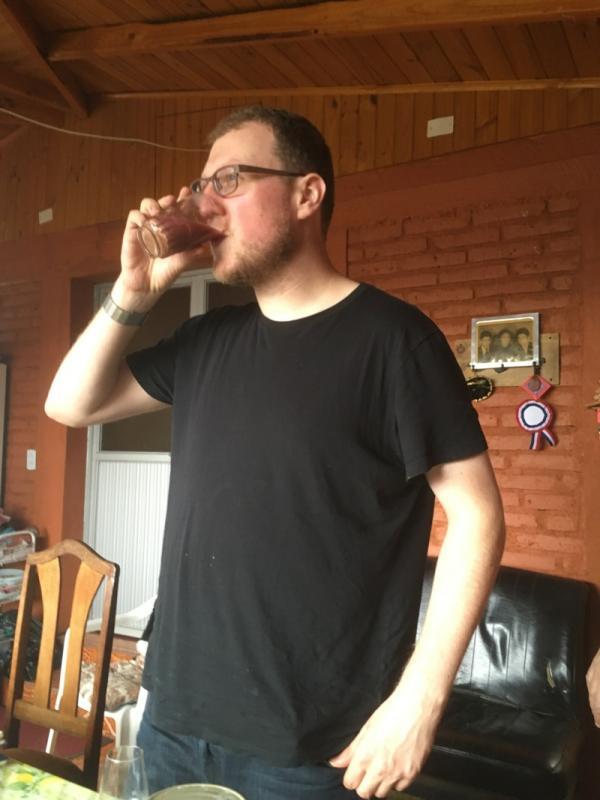 It was pretty good. After lunch, I made sure to give Raoul a big hug with the Huaso hat he gave me.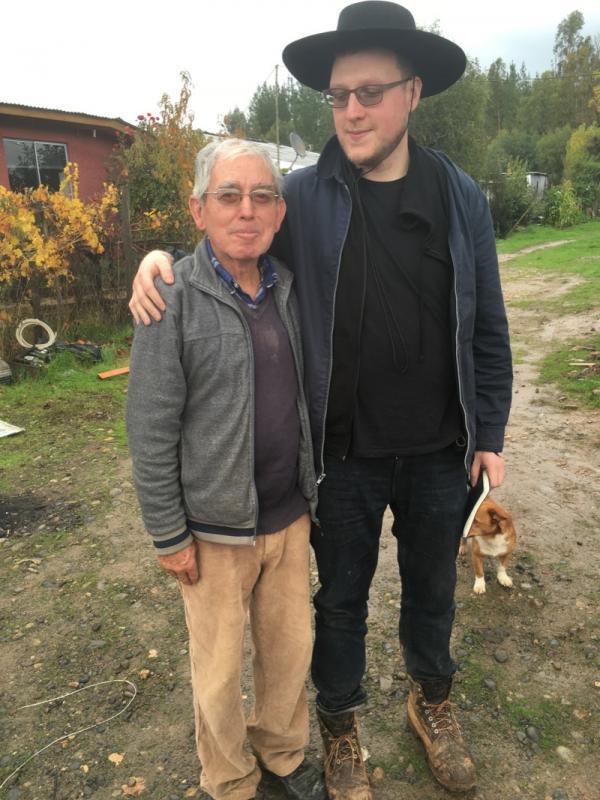 Raoul is the best. Here are pictures of his dogs for no reason other than I like taking pictures of dogs.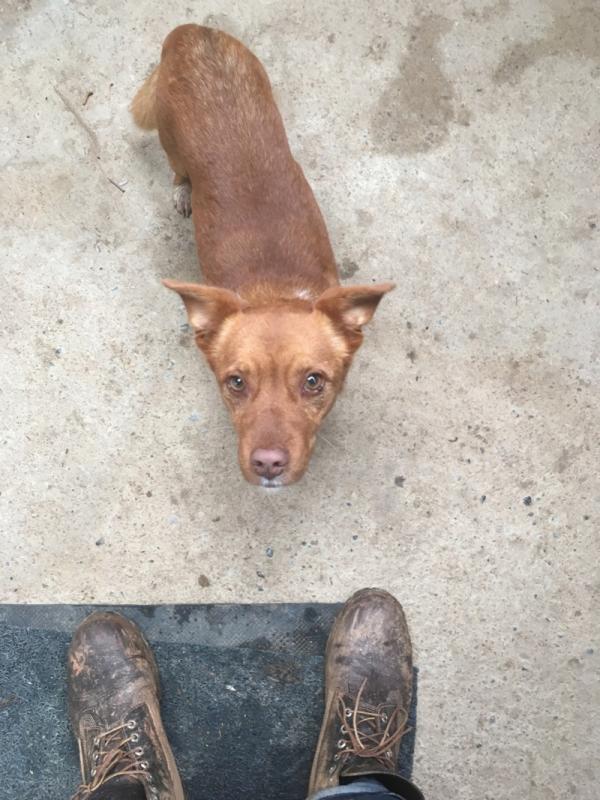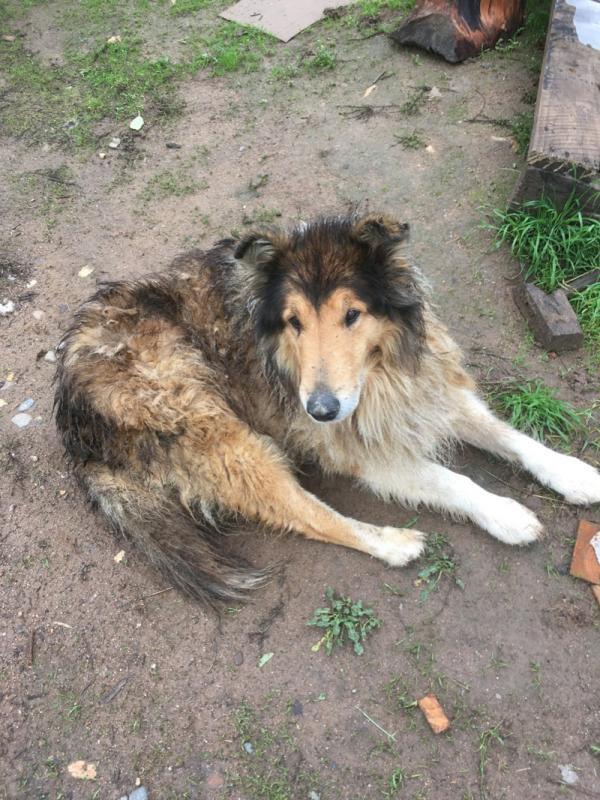 From Raoul's, we headed to another sector within Coronel del Maule called Pichihuedque. Here, we visited Miguel Alvear.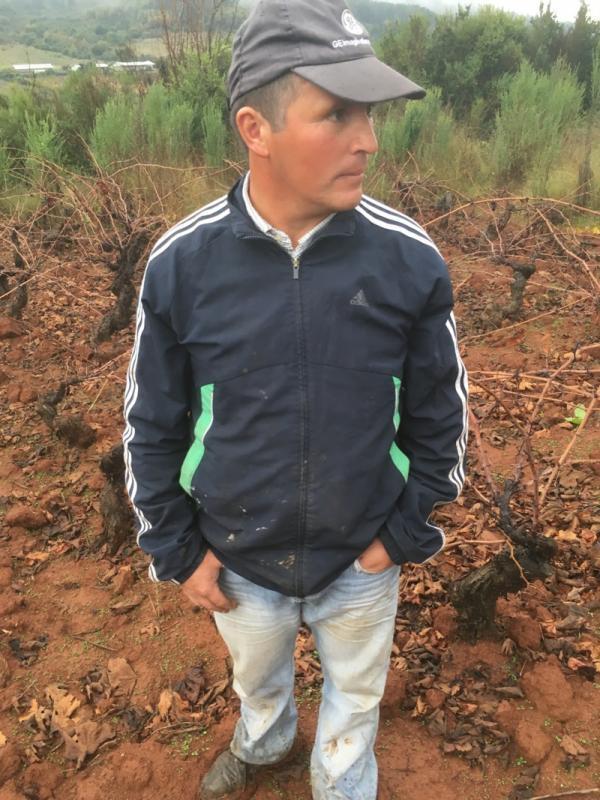 When we got to Miguel's, his entire family was huddled up eating boar stew from a beast slain just that morning.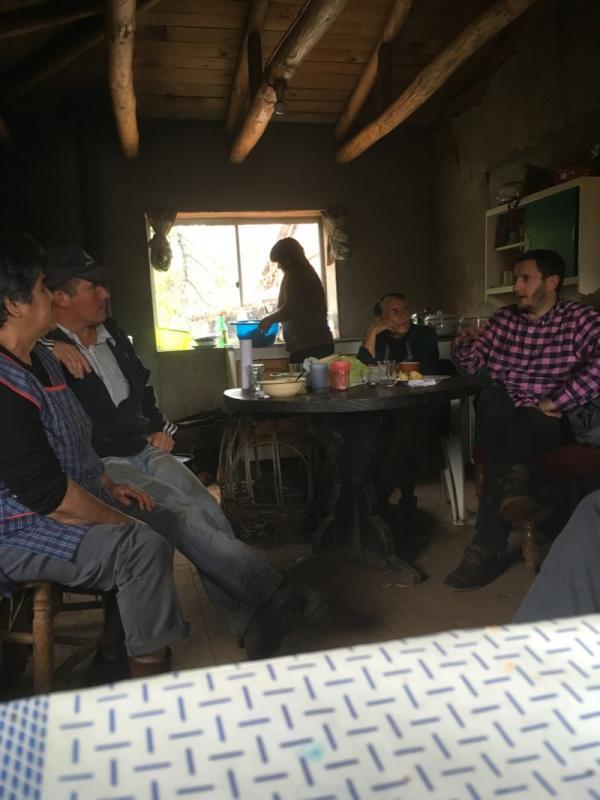 They asked if we wanted some. After requesting a little taste, we got three huge plates. Second lunch was good (and quite honestly a little too filling), but permitted us to try Miguel's Pipeño, made from this huge lagar that can hold up to 18,000 liters!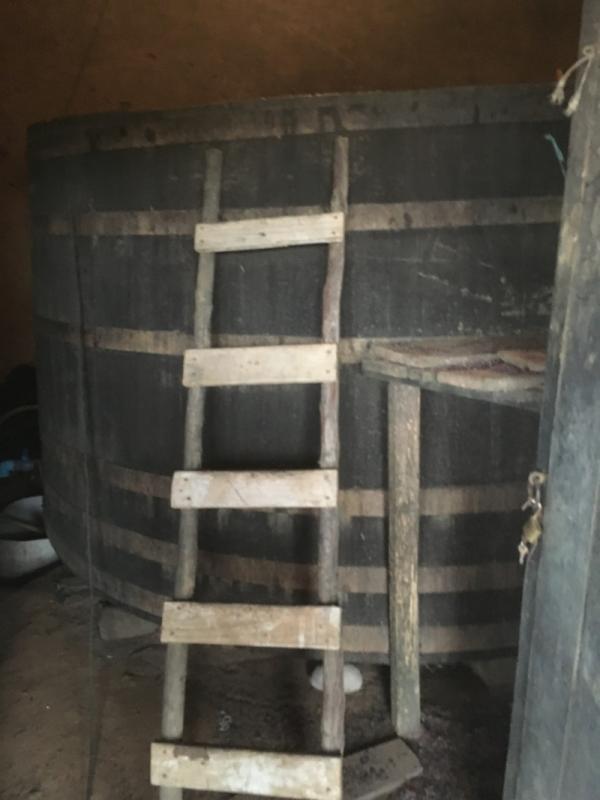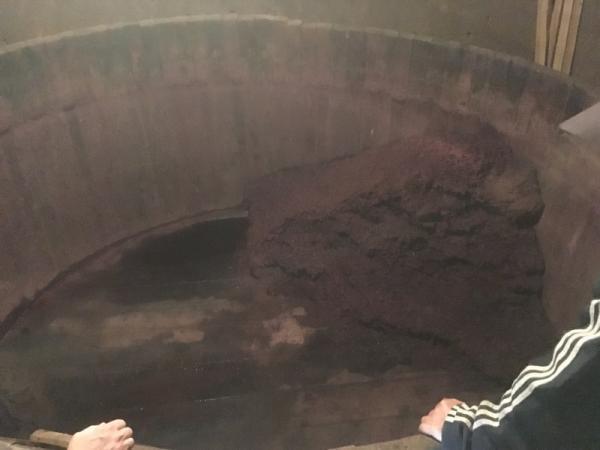 "No chemicals. Natural."

Unsurprisingly, it was very tasty.

Moving along, Miguel's farm was quite a scene.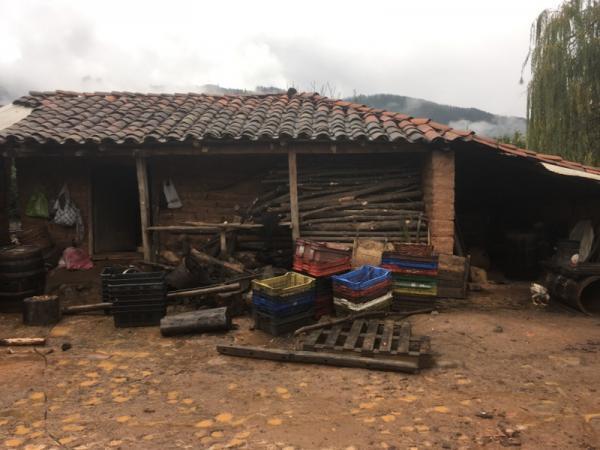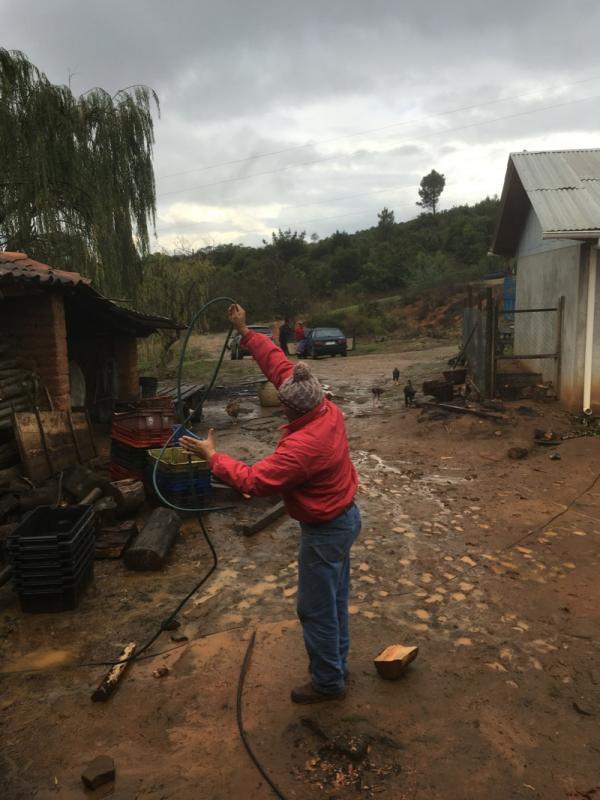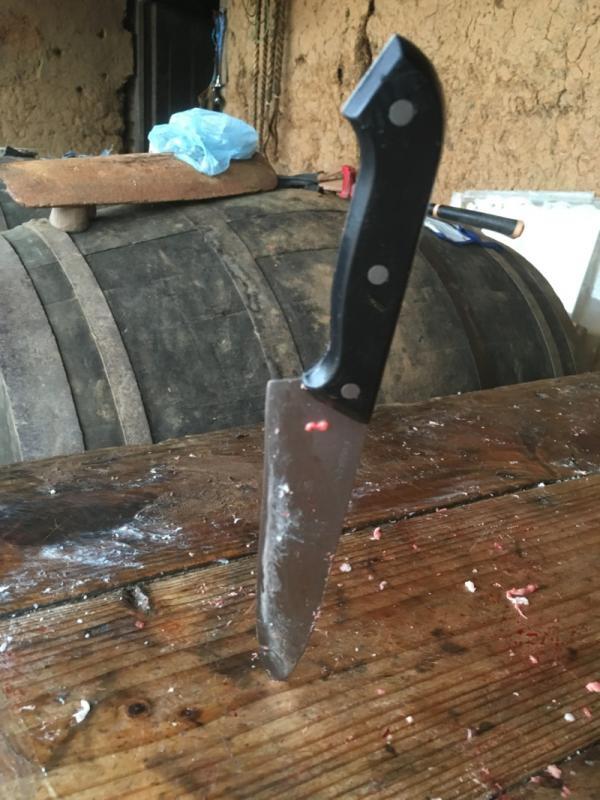 There were huge oxen everywhere.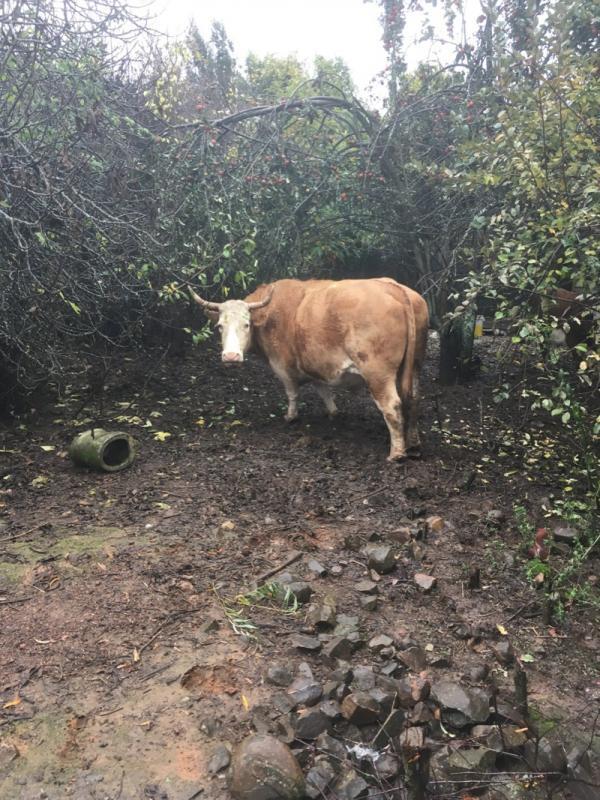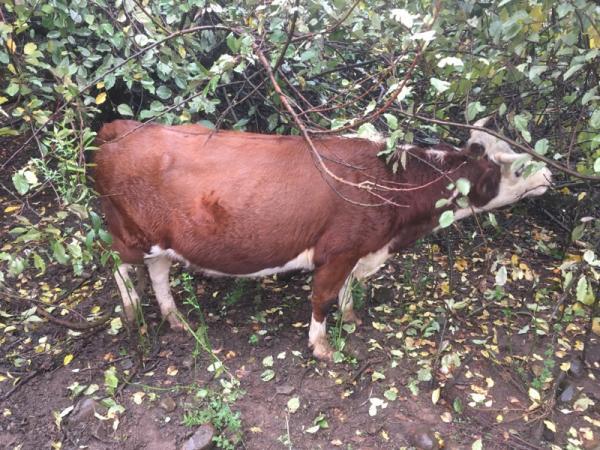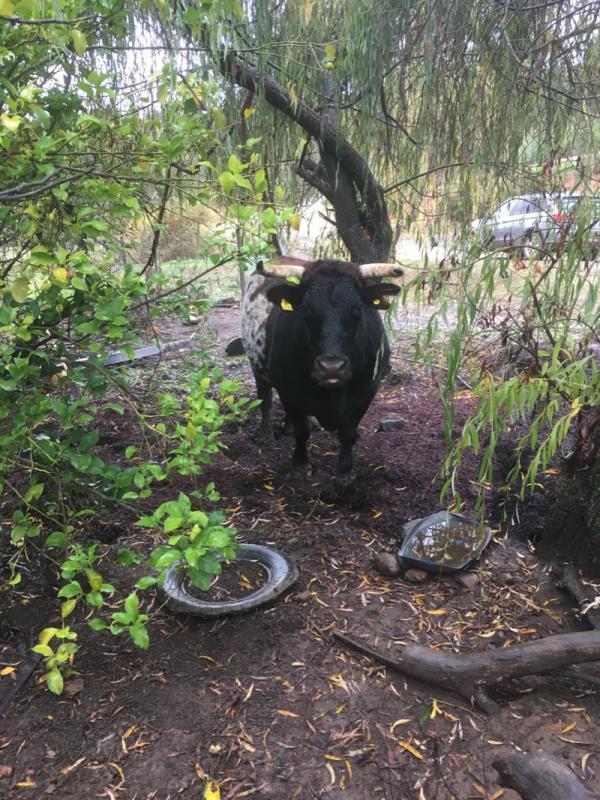 Miguel insisted they were very nice and that I could even pet them, but I'll admit I wasn't reassured with this guy giving me the stanky eye.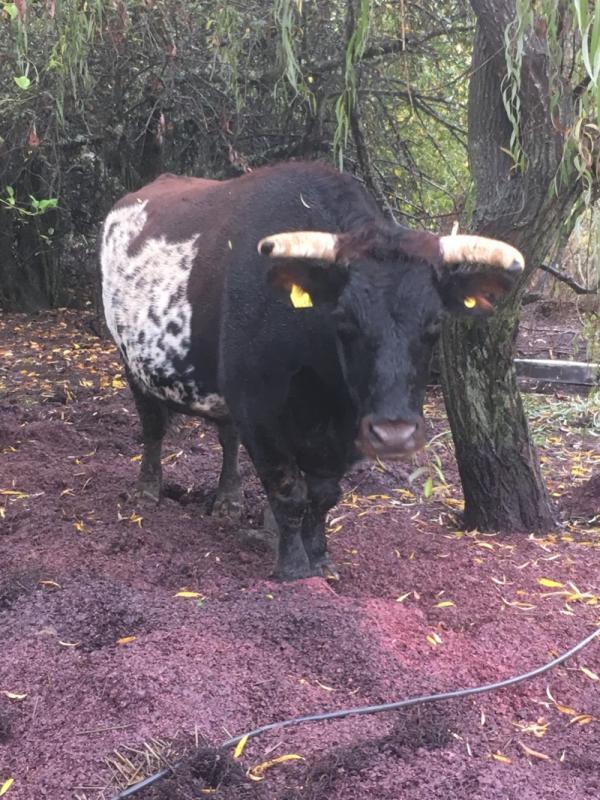 Keep in mind that picture was zoomed in.

From Miguel's farm, we set off to check out the País that produce: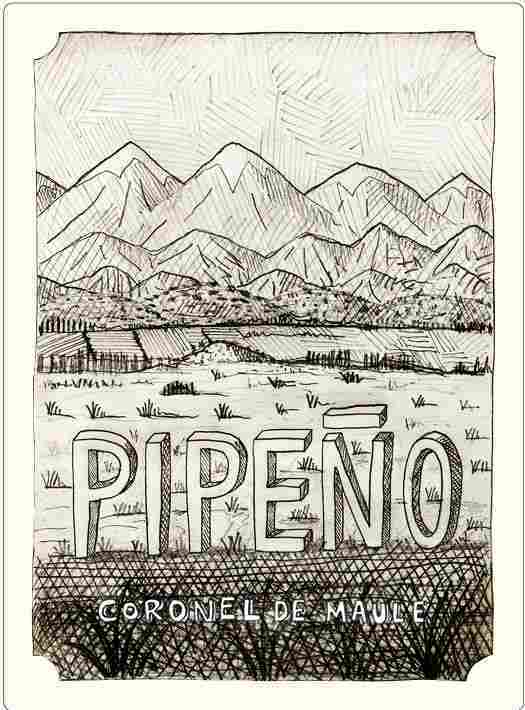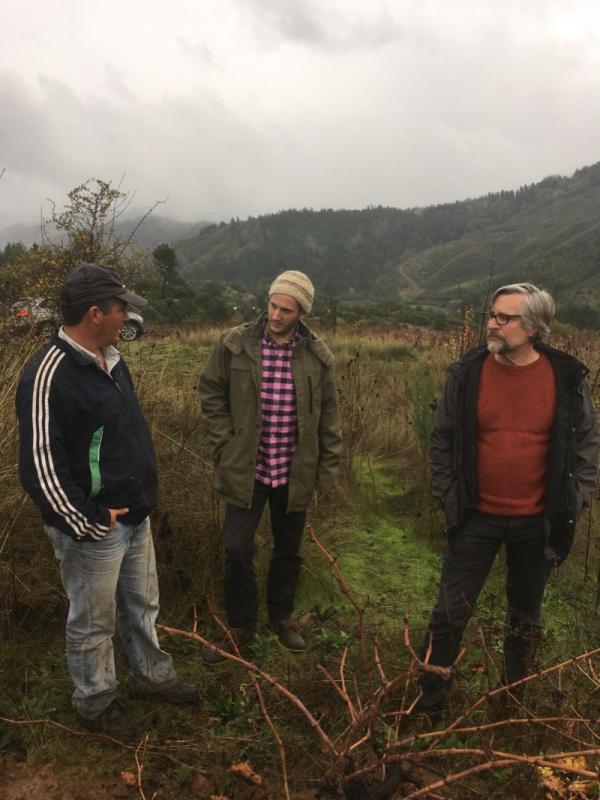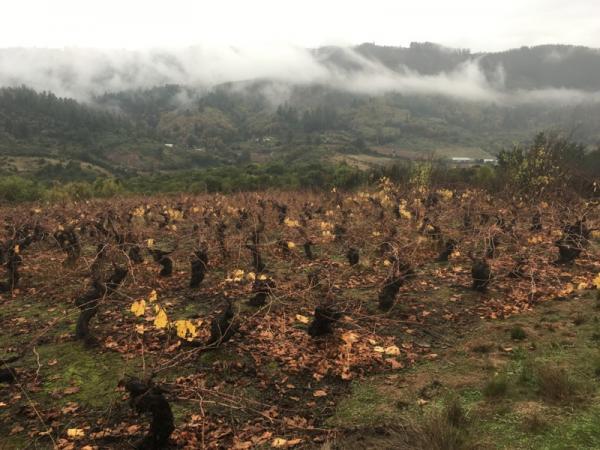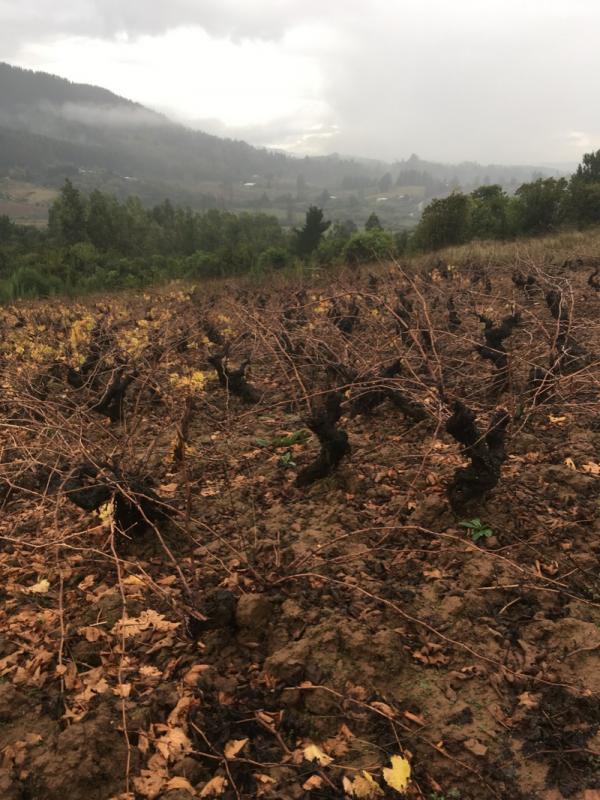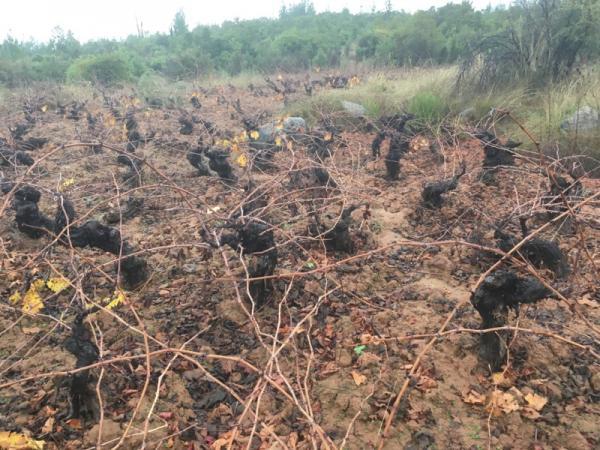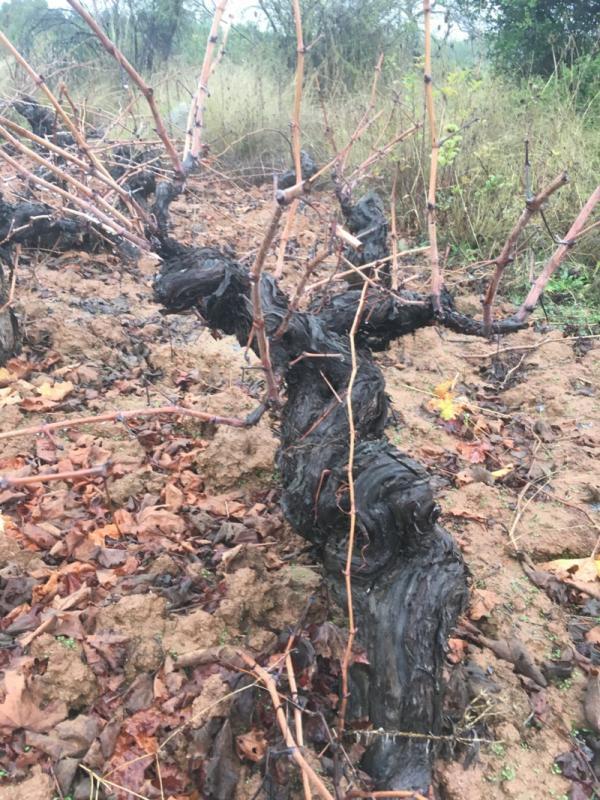 This sector is much more marked by heavy clay, with much less decomposed granite and quartz than we'd seen in other areas.

"Because of the heavier clay, you get wines that are more on the fruit here, with less smokiness than Pilen or even Raoul's."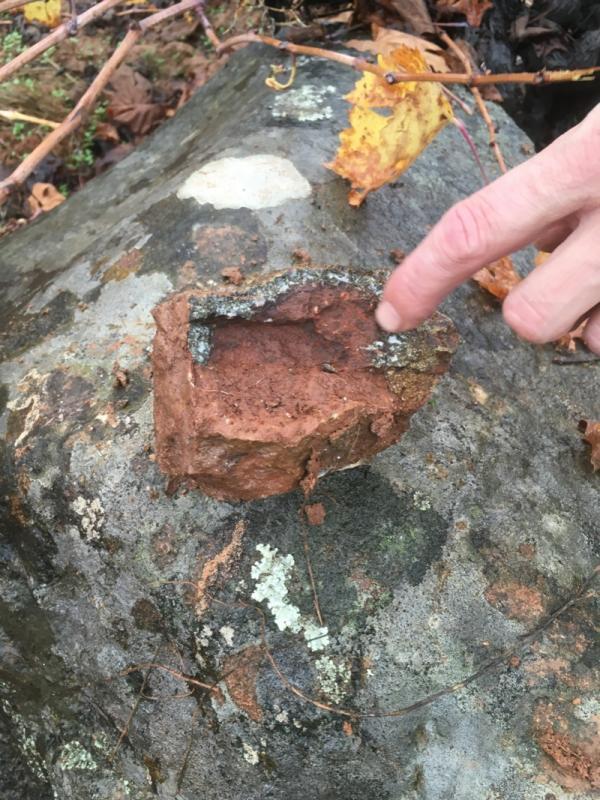 The second parcel we visited from Miguel had much redder clay.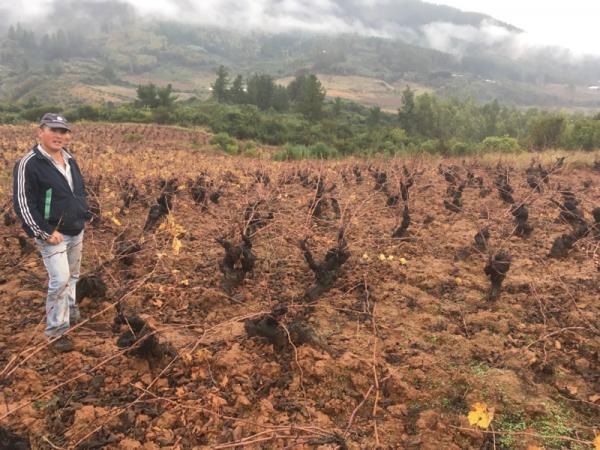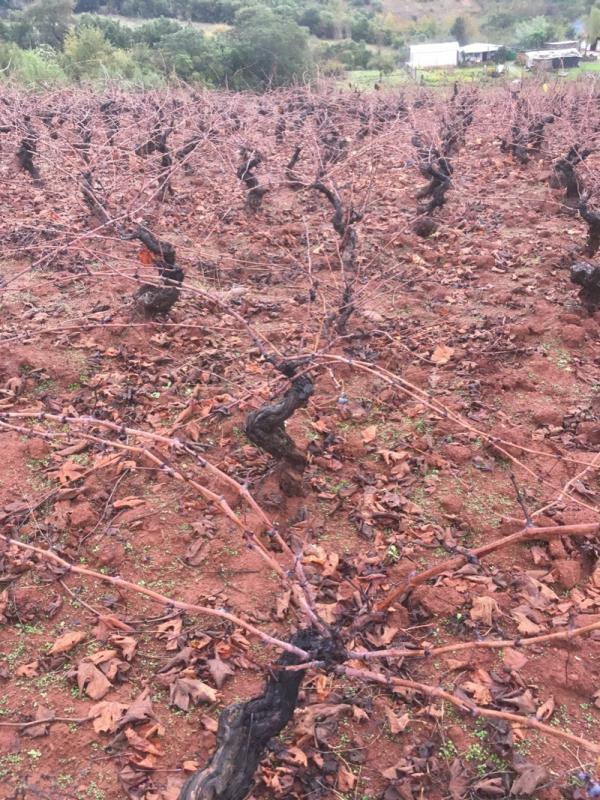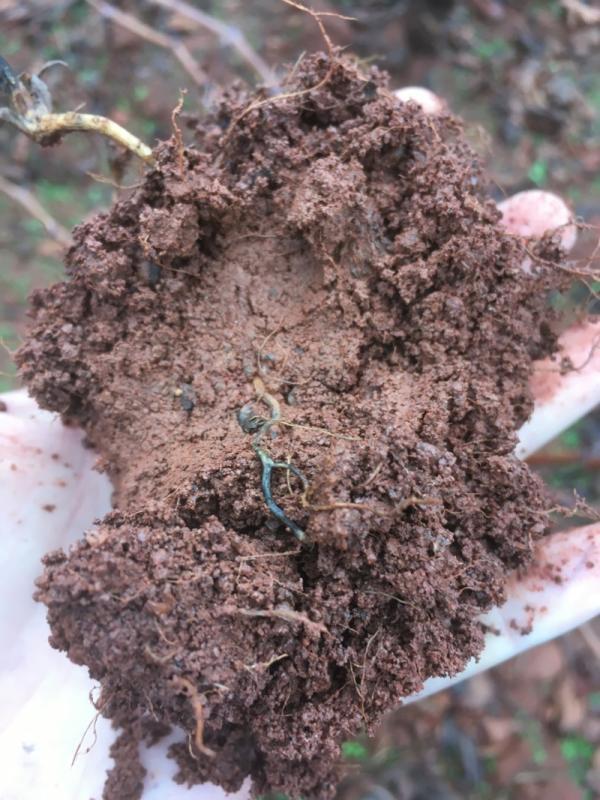 The heavy clay, combined with the day's on and off rain, had made for treacherous driving. The car we'd rented was capable of much, but wasn't four wheel drive. For a moment it looked like we might get stuck. Fortunately, Miguel was ready for anything:

"Don't worry, I have oxen. They've got four wheel drive: with big hoofs and horns."

Our last stop of the day was Sergio Perez, who makes the delicious: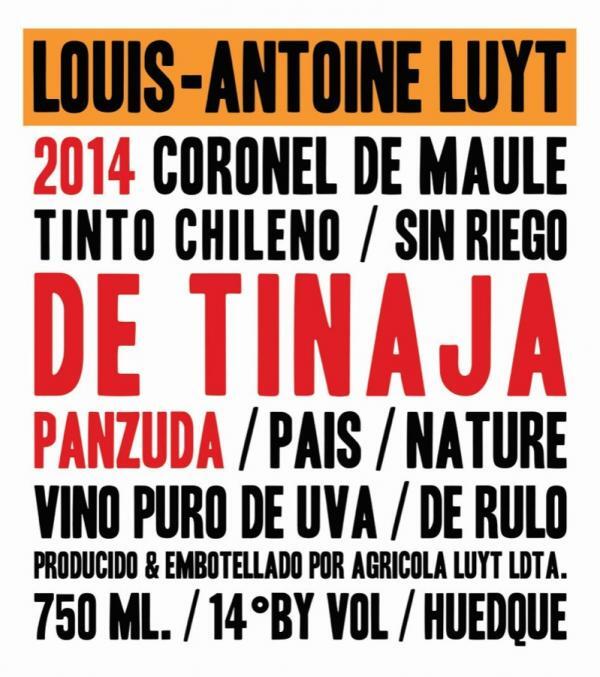 Look, here's the tinaja that made it!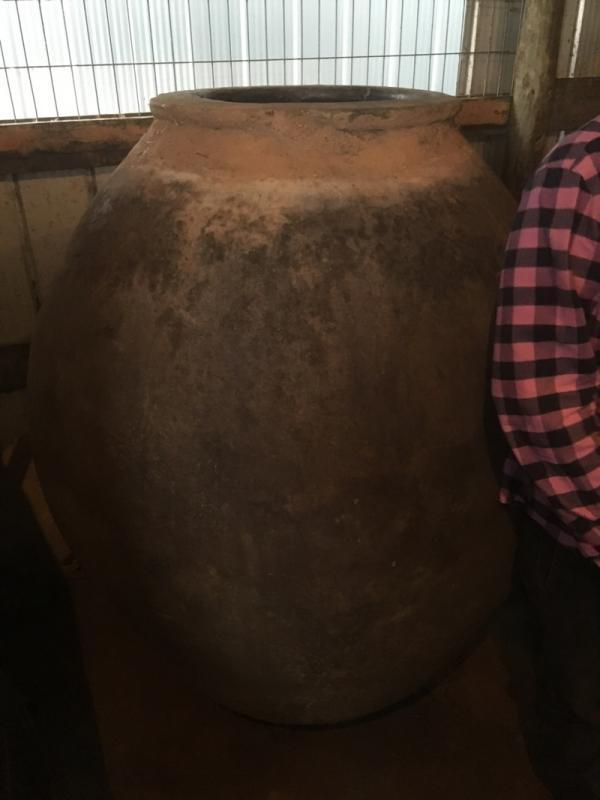 Anyhow, this is the awesome Sergio Perez!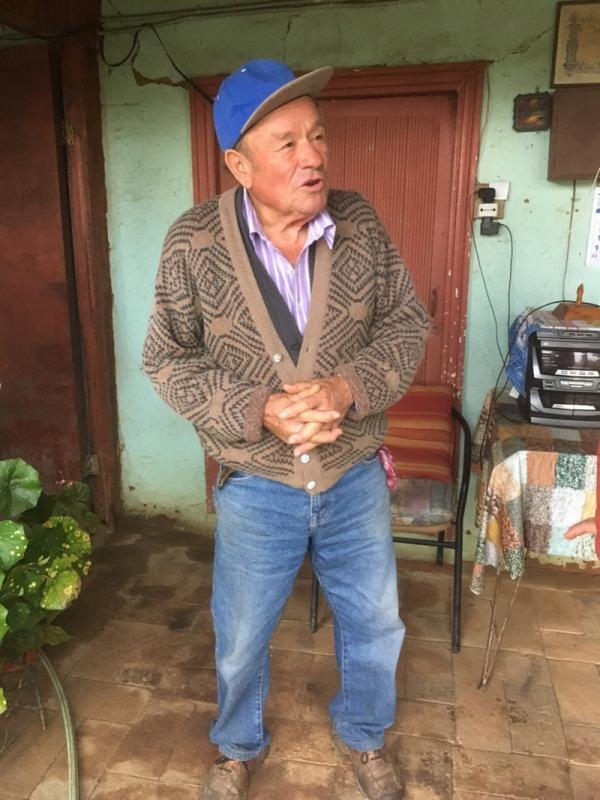 Nice hat Sergio! When we got to his house, we woke him up from his afternoon nap. If that day was anything to go on, he has no problem sleeping through the very loud music coming from his boombox.

In an unprecedented moment in this blog's history, I took a picture of a cat!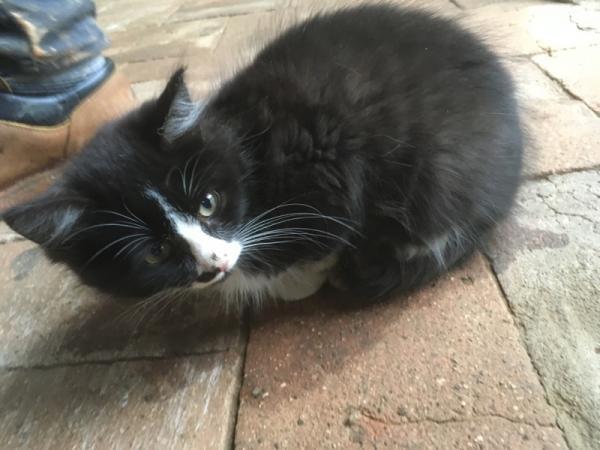 Too cute to pass up.

Anyhow, Sergio was supposed to press his Pipeño grapes the day we got there, but his employees didn't show up, so he didn't. But that didn't mean we weren't going to taste it!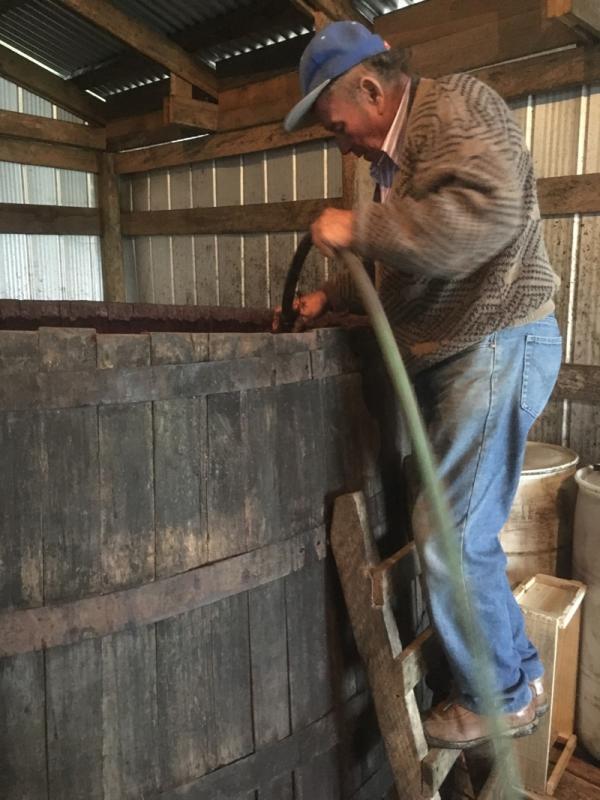 In an impressive move, Sergio put together a natural filter by taking a bunch of stems directly from the lagar and jamming them on top of a fire hose.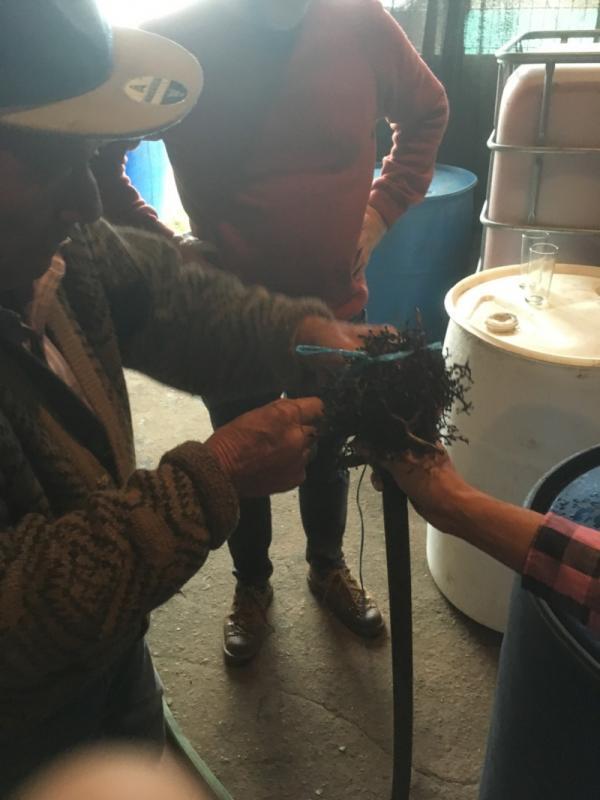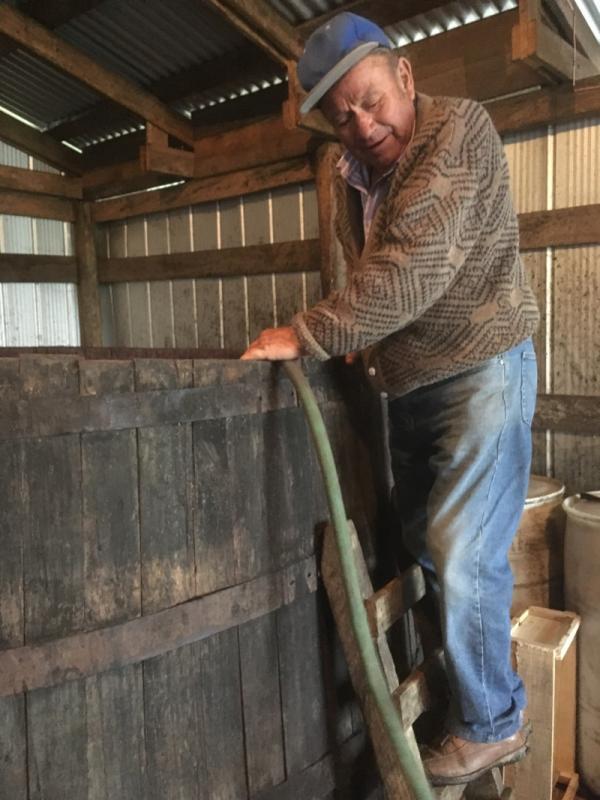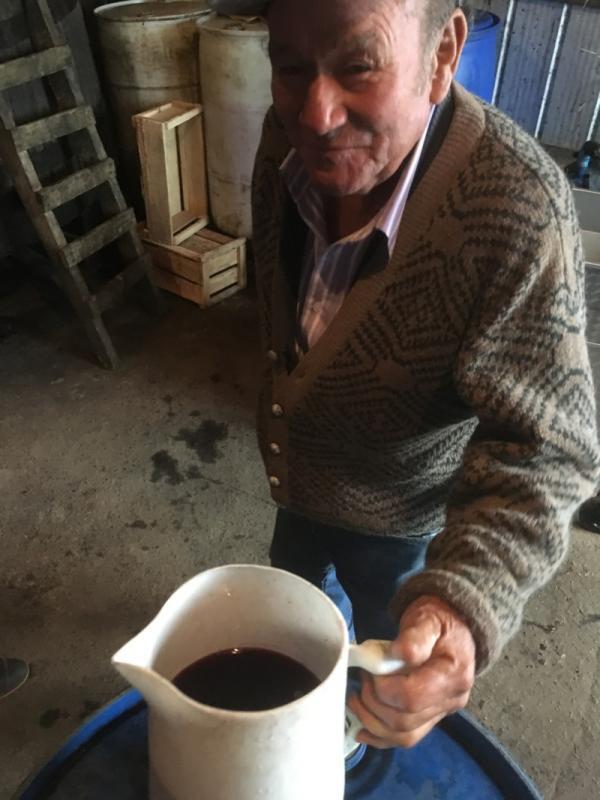 My, oh my was it tasty!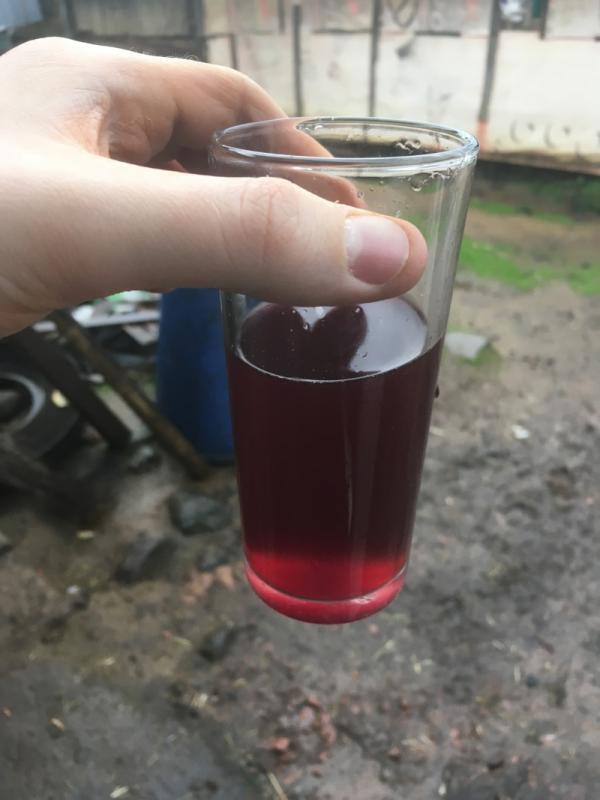 Sergio is 79, and has been making wine since he is 12.

"I make Pipeño to give the workers something to drink right away. My Tinaja wines are the ones you can age."

Speaking of his employees, Sergio locks all of his doors because they are "drunk idiots." Maybe if he stopped giving them all that Pipeño, they'd be more trustworthy? Or maybe they need Mormonism in their lives?

After some Pipeño, we tried his eau de vie from barrel.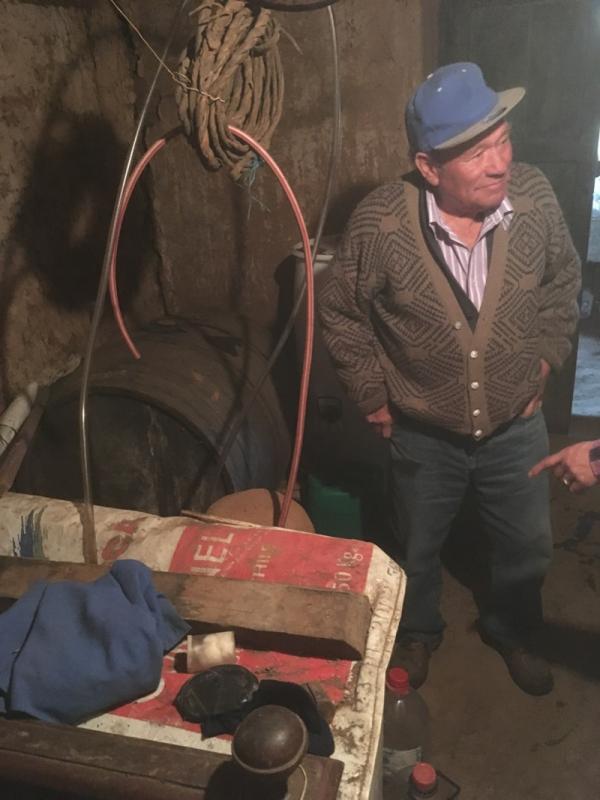 The single barrel was tucked away in an interestingly decorated room.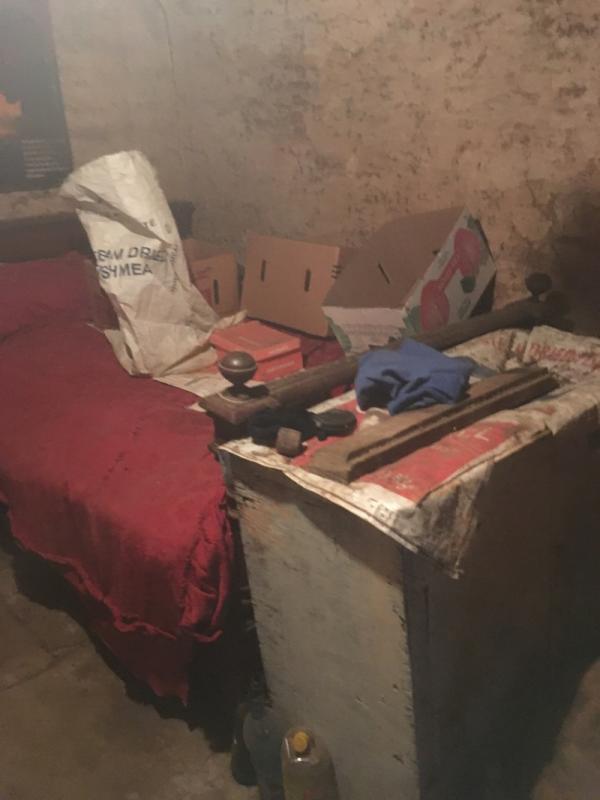 In what is perhaps the most bizarre advertisement I've ever seen, here is one for A BUTCHER SHOP pinned to the wall.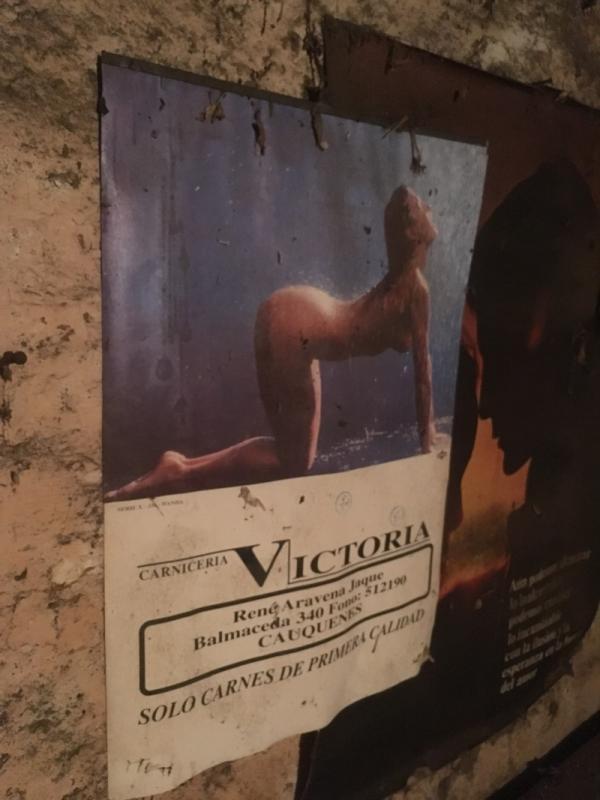 FOR A BUTCHER SHOP!

And even better, look who was right next to sexy butcher lady.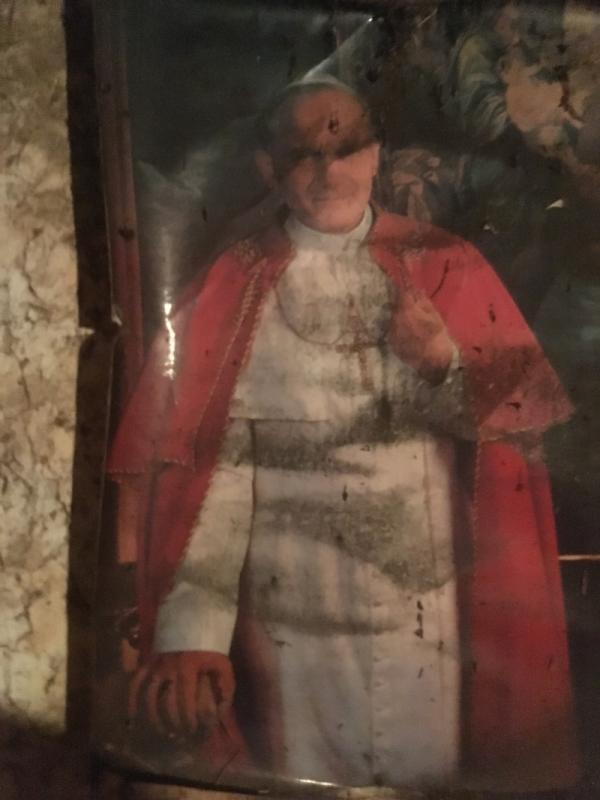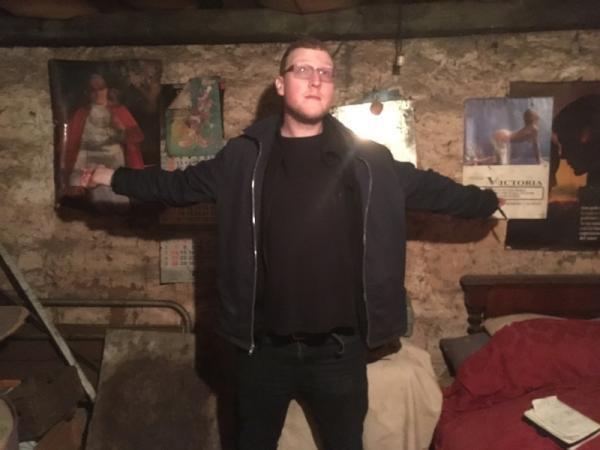 Here's four more pics from Sergio's I wanted to share but had absolutely no way to work in: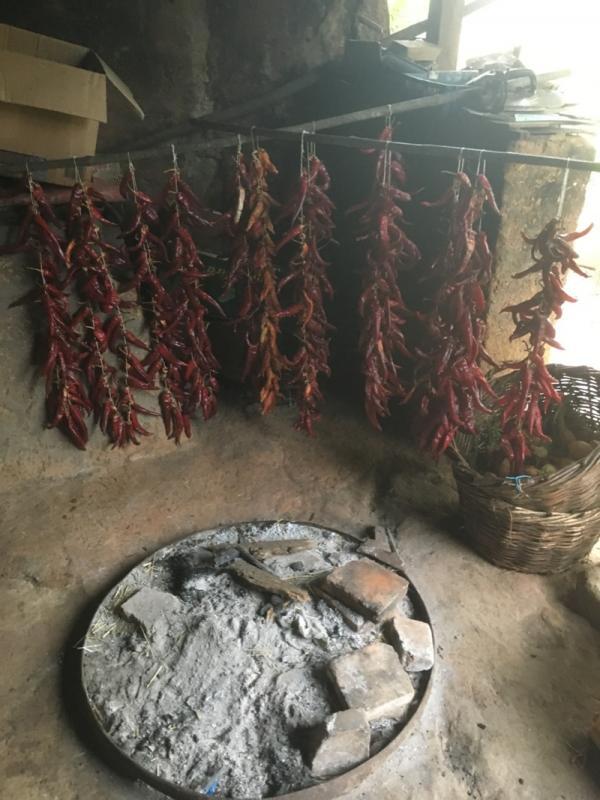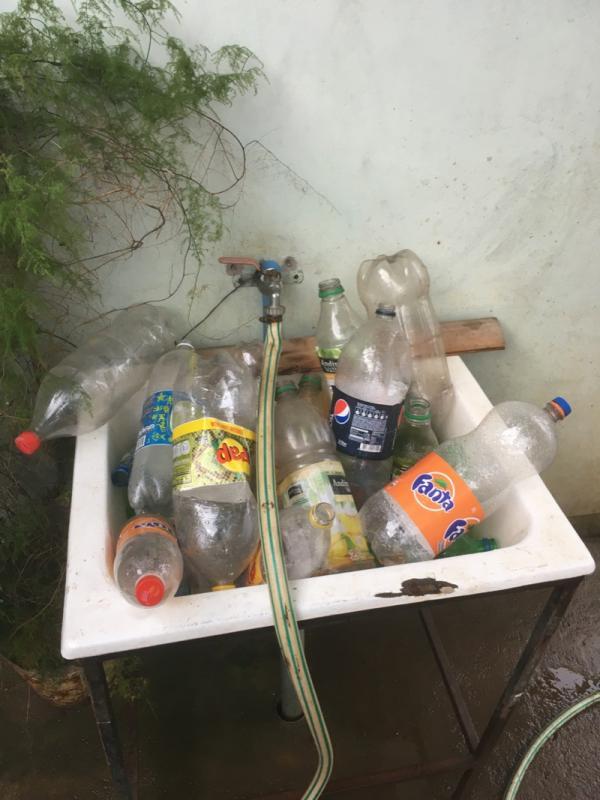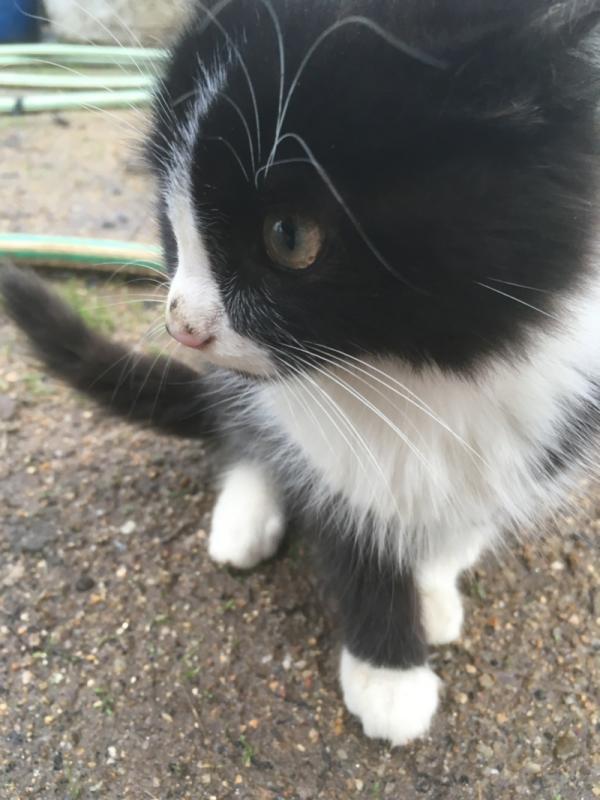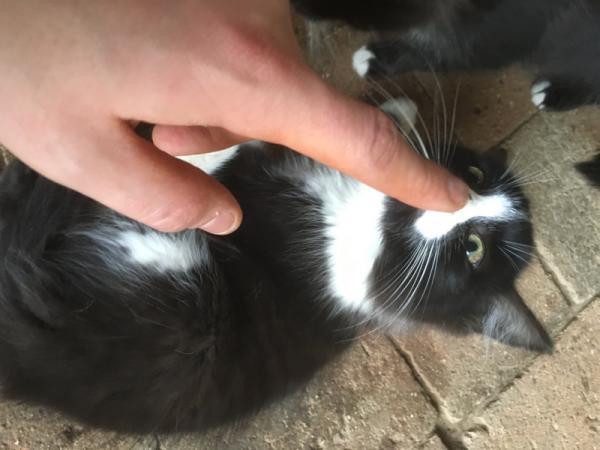 Boop!

It was the end of a long day, and we were finally on our way home. Here some choice quotes from Louis-Antoine.

"Coronel is my center, my home base. It is my favorite part of the Maule. If only I could figure out how to make wine like these guys!"

"I know the Beaujolais and Coronel del Maule. And I prefer Coronel del Maule!"

"The people there are the crème de la crème. They are still human. They are independant. They are welcoming. They are kind. They don't judge you. They are everything good about peasantry. This is my family."