‹
›
Article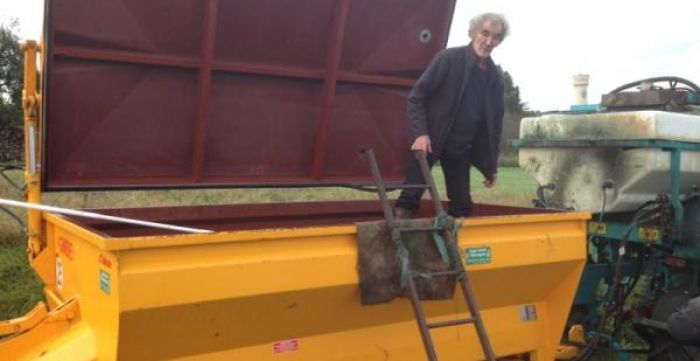 The Didier Diaries Part 8: The Grand Finale!
This final post is dedicated to Joe Dressner and Joe Dougherty. Your spirits live in the Clos forever.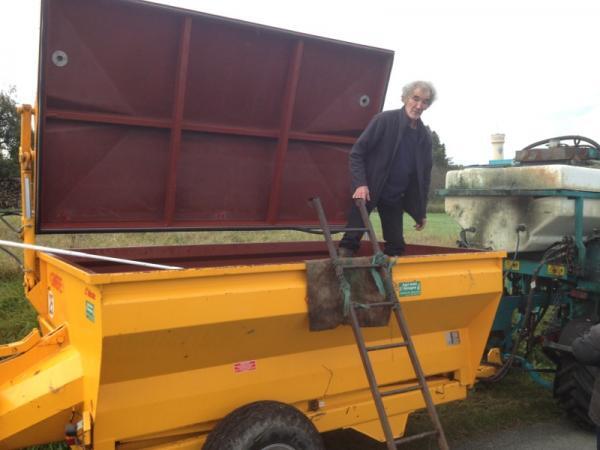 I can't remember what time I woke up, but it was early. As if by divine intervention, it just so happened that the last harvest day of Clos Roche Blanche's last vintage landed on my last day in France. Sometimes, when you know you are going to be part of something significant before it's actually happened, you'd expect emotions to be running high from the get-go. To my surprise, everyone remained cool and collected throughout the work day. Later on would be another story...
Just like with the Côt, Catherine and I were the last ones to arrive to the vines. Once again, Catherine immediately got into boss-mode and started leading us into the rows. Friends and family came to help, including Laurent Saillard: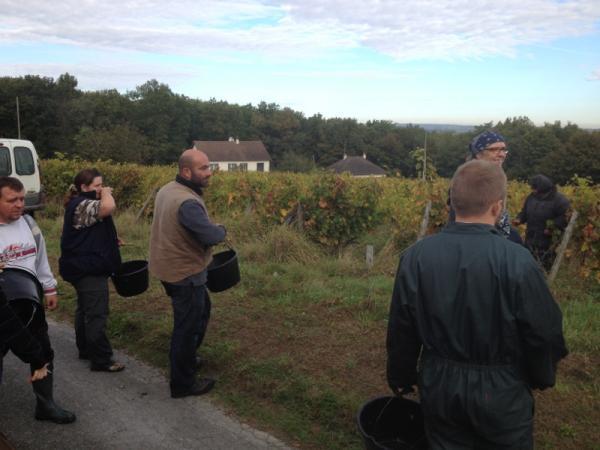 Béatrice Augé and Balou: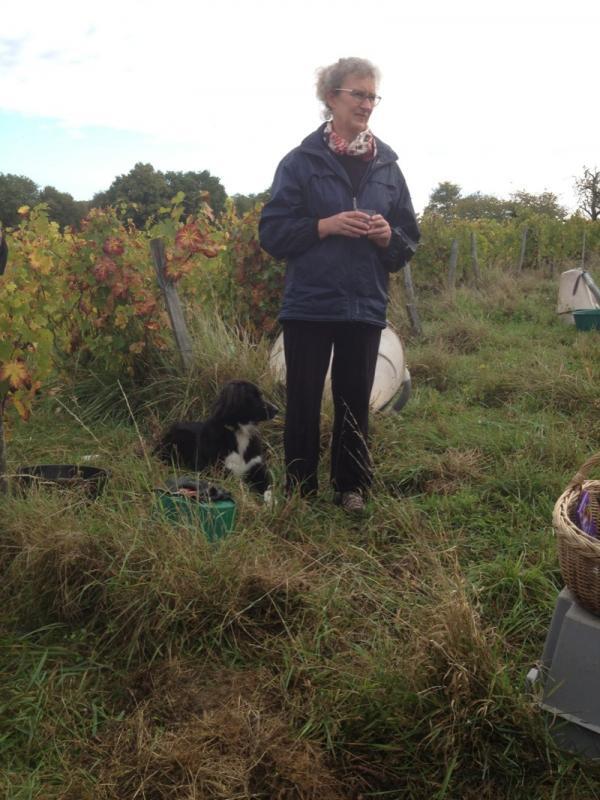 Catherine's daughter Claire: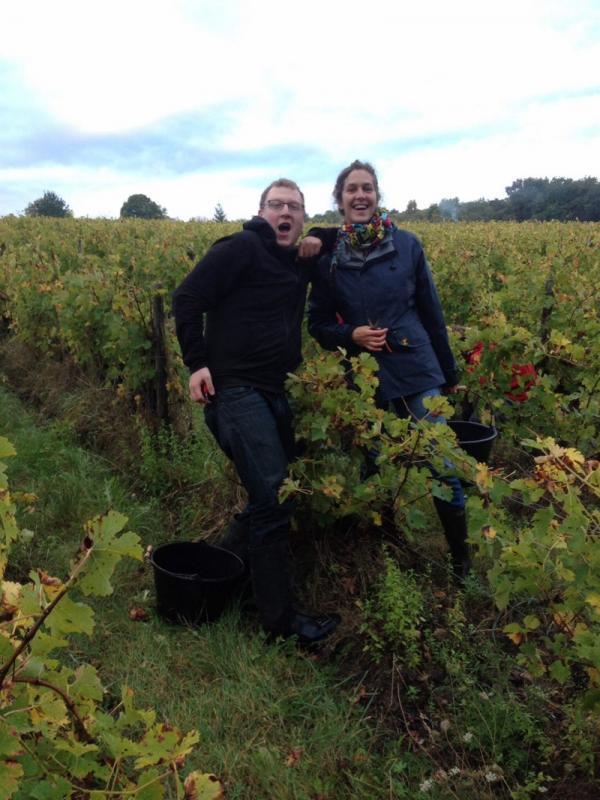 The morning went by smoothly, with everyone working at a brisk, professional pace. Except me. I was super slow.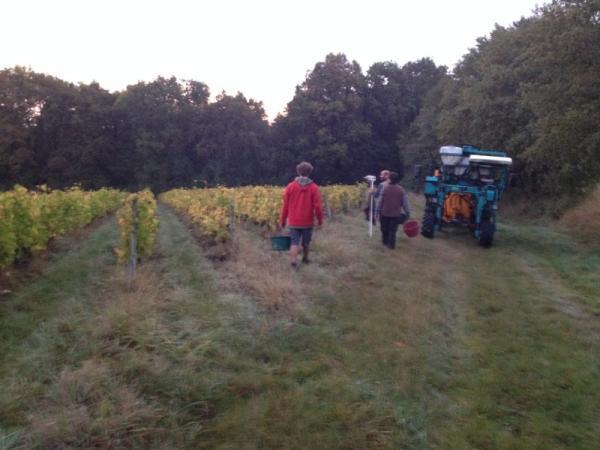 The Côt was nothing to scoff at and the Romorantins at Tue-Boeuf were gorgeous, but this Cabernet Franc gave' em a run for their money.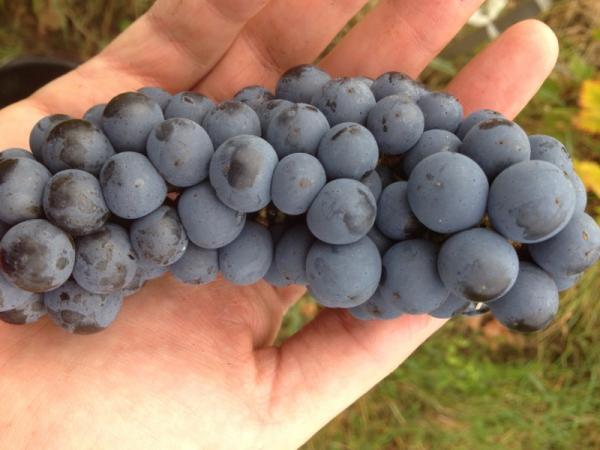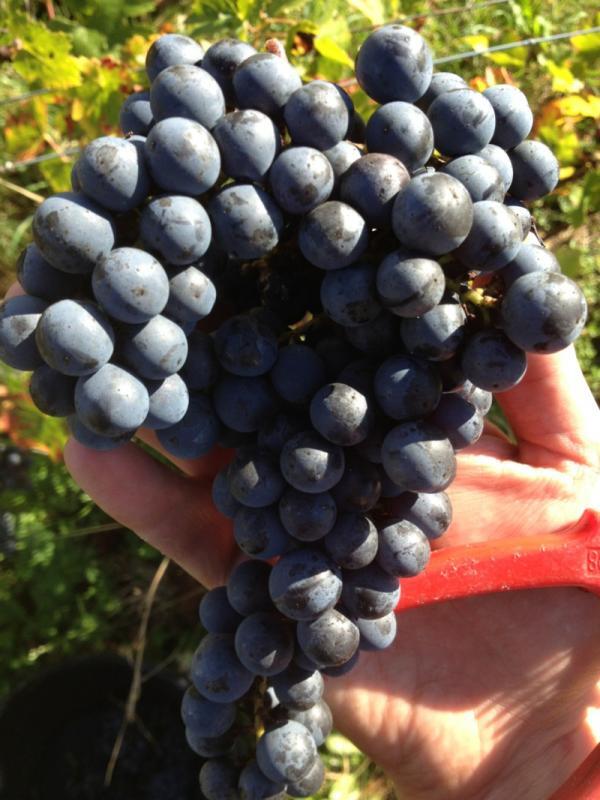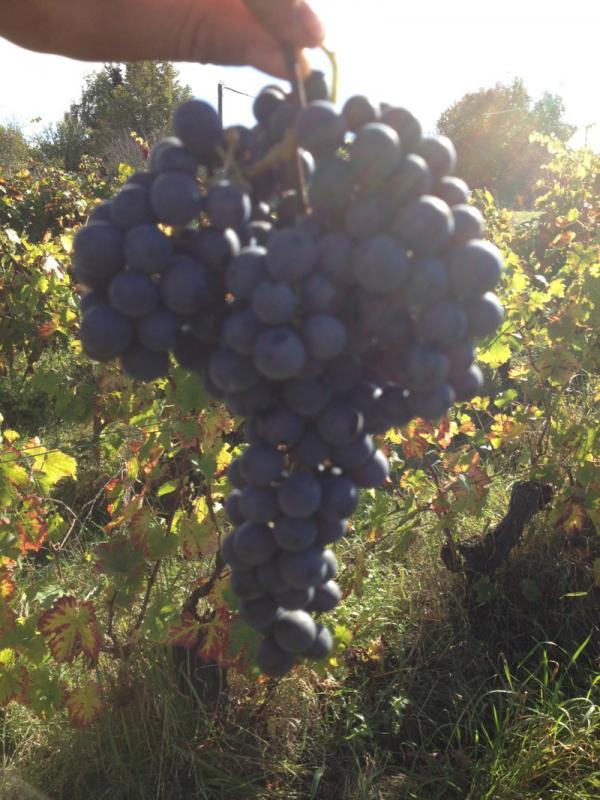 While we harvested, Didier vigilantly observed every bunch being dumped into the wagon to inspect quality and get rid of dirty extras such as leaves or branches.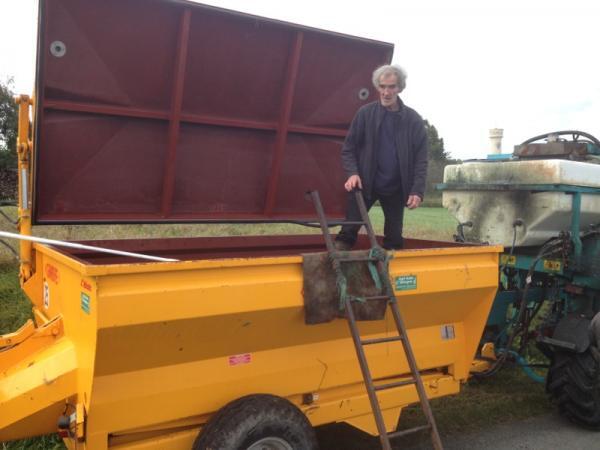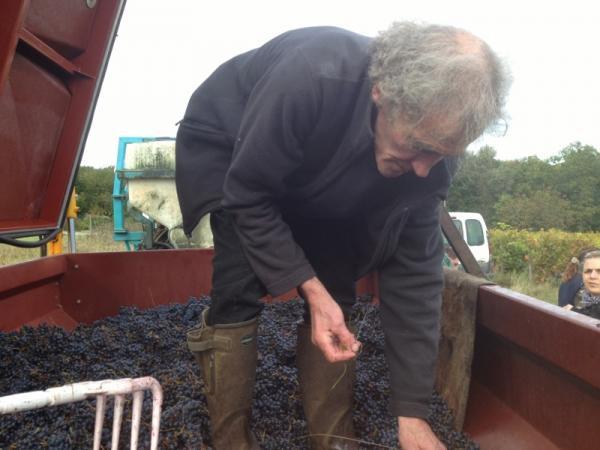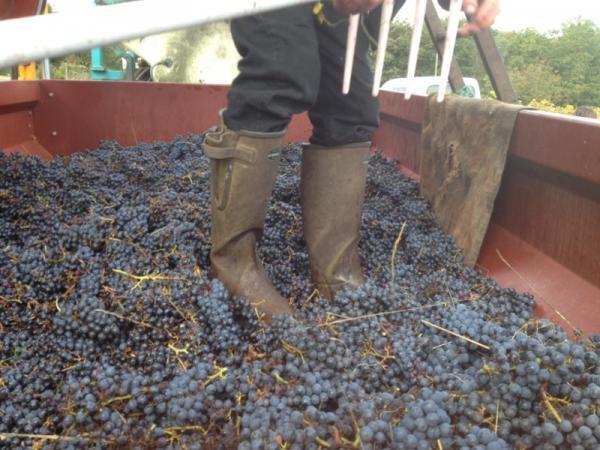 Around noon, the wagon was full so Catherine sent the harvesting team home for lunch while we got ready to load what had been been picked into a vat. Before we could do this, six of us had to MANUALLY LIFT an old car that was in the way of the vat (we thought we could push it but the front breaks were stuck, resulting in an improvised Worlds Strongest Man event). Then Catherine had to do some serious tractor maneuvering to get the wagon in position.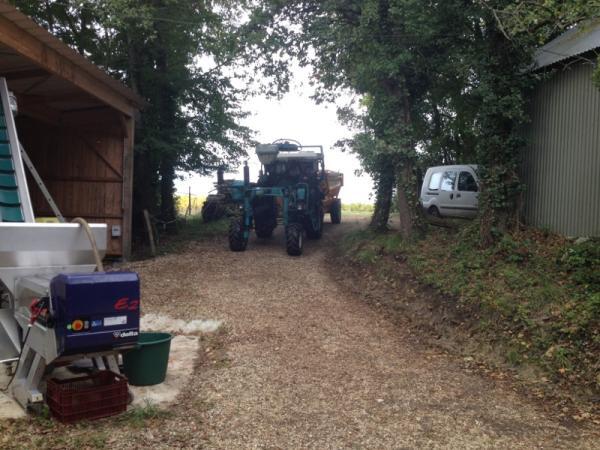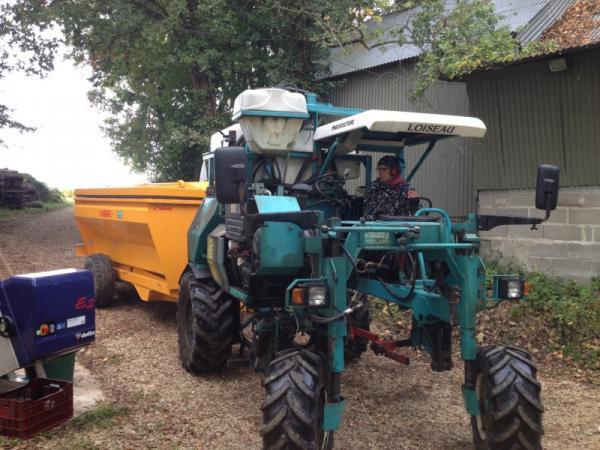 Unlike with the Côt, here we did not manually destem a portion of the grapes on a moving tray table. Instead, we loaded the grapes into an égrapeuse, a mechanical device that destems the grapes. But first, we had to drain the juice from the grapes crushed at the bottom of the wagon:
Once the grapes were ready to come out, we got to work!
You can't tell from the video, but you actually need five people involved at all times for this entire process: the first is Didier pushing grapes out from the top of the wagon. The wagon is equipped with this mechanism to make things go smoother:
The whole time, Claire was making sure the grapes fell correctly into the égrapeuse. You also need a person clearing the bins of discarded stems and two people getting their hands dirty at the bottom and pushing grapes through to make sure the machine doesn't get clogged. The last job is quite strange, since your hand is emerged in juice that is much colder than you'd imagine, effectively making your hand feel like an icicle.
Once this was done, we sat down for a long, beautiful lunch prepared by Catherine's mother Solange.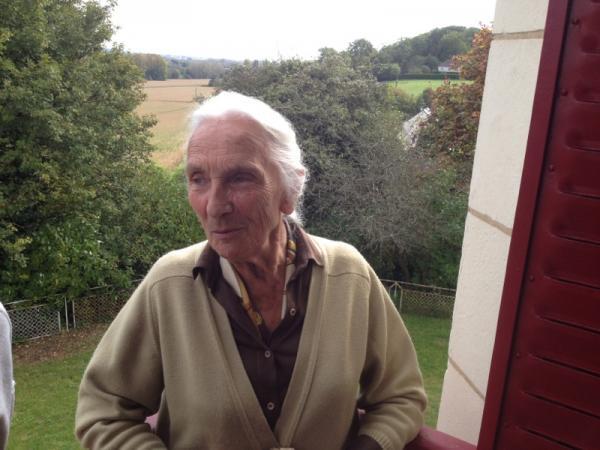 There was still some work to do, so got right back to it around 2:00pm.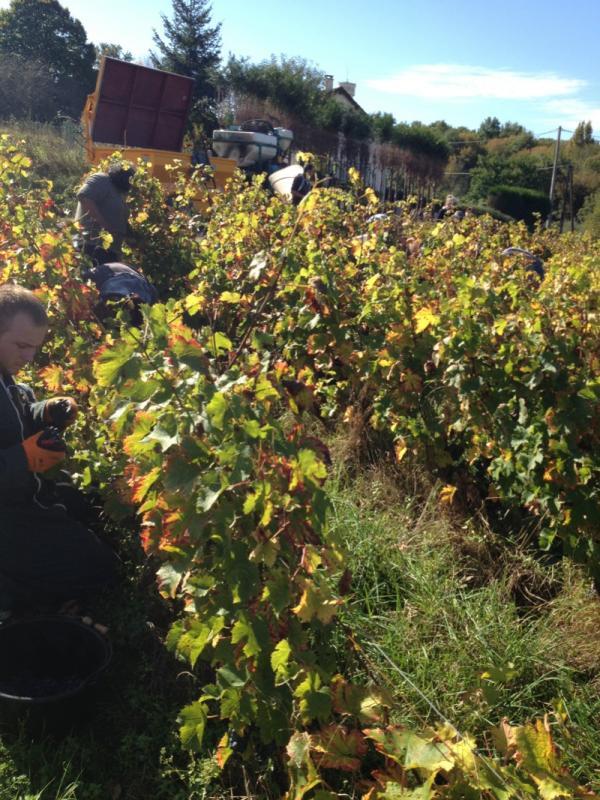 And then, in a little over an hour's work, it was over. I was trailing in the back, but it was confirmed by Laurent's:
"That's it for Clos Roche Blanche's 2014!"
There were of course grapes to load into the vat, but not nearly as much as the morning's harvest. When we got back down to the house, Catherine was paying her pickers one by one. Some hung out, others left as soon as they got their check. There was some wine open, but I was desperately craving beer so Laurent, Claire and I went on a mission to grab a bunch.
Sipping beers, the late afternoon conversation was jovial. As it began getting darker, those still hanging agreed it was time to eat something. Along with the leftovers from lunch, Catherine cooked a huge bowl of pasta. Though every meal at Clos Roche Blanche is always complemented with wine from the estate, Didier chose to serve us, in honor of it being my favorite wine EVER, his very last bottle of "L'Arpent Rouge" 2010.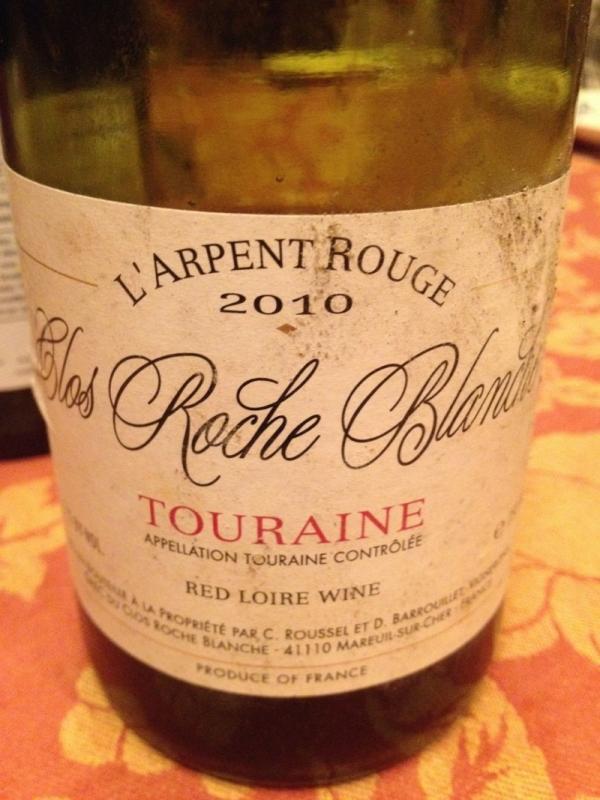 As the night went on, things predictably got emotional, especially as I had to tell many of the people I'd spent the last two weeks with goodbye. I also individually thanked Didier and Catherine for letting me be a part of this experience, one that for so many reasons will remain a hallmark in my life.
It got a little weepy...
Being there for the end of something that truly mattered is certainly bittersweet. Clos Roche Blanche is a magical place and Catherine and Didier are magical people; whether they realize it or not, they have touched and inspired countless lives through their work.
As I stood outside at the end of the night, alone and watching the stars in the crystal clear sky, I didn't feel sad. If anything, I was excited to see what the future holds: for the Clos Roche Blanche vines, for Catherine, for Didier, for Laurent and Julien.
And shit, even for me.