‹
›
Article
This visit at Vinyer de la Ruca took place in June, 2019.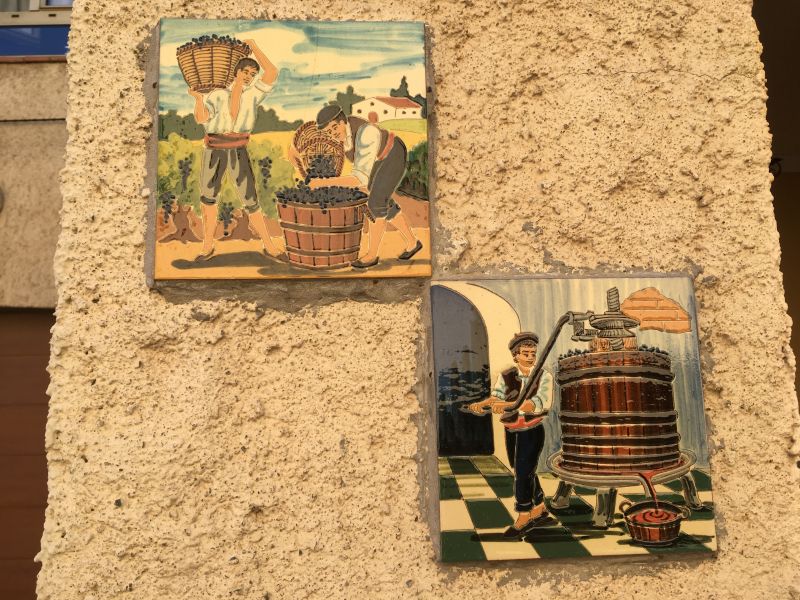 Words and photos by Jules Dressner.
After a first great night in Banyuls with the 9 Caves gang, the plan was to start the day by visiting vines with Manuel di Vecchi Staraz of Vinyer de la Ruca. We were staying at Bruno Duchêne's and hoping for some breakfast but the fridge didn't have much (food) in it.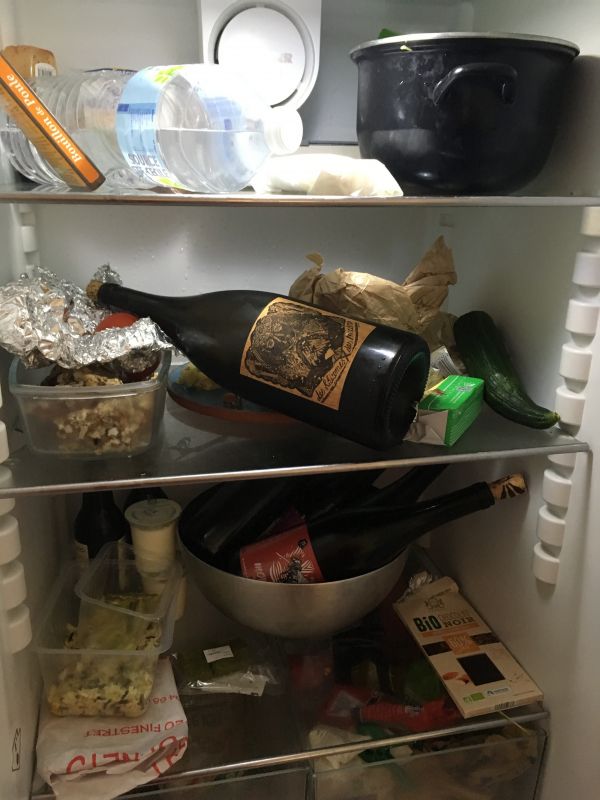 Instead, we decided to meet Manuel by the water for some pastries. Over coffee by the sea, Manu gave us the history of Vinyer de la Ruca. He is originally from Florence and for many years taught there at an agriculture school. Unsatisfied with his academic career, he decided to quit and become a vigneron. Manuel originally set his sights on Basilicata, but when that fell through he started looking in France. From the get-go, Manuel had a clear goal: he would would make wine in a place where mechanization was impossible.
"I wanted to do everything by hand. I wanted limits for myself."
He eventually found what he was looking for in the micro-yielding schist terraces of Banyuls. In 2006, he bought a semi-abandoned parcel of very old Grenache vines and for eight years lived off of the scant 1000 bottles of fortified wine it produced.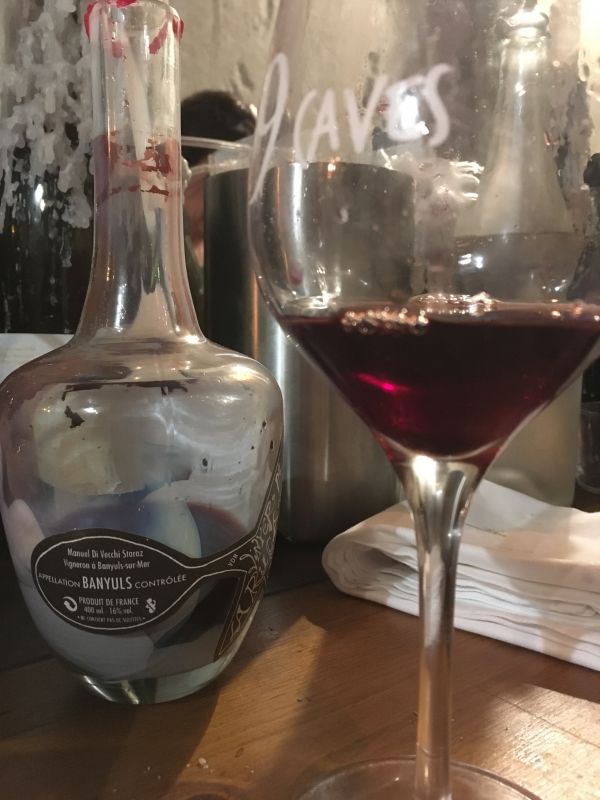 It was a return to a primitive life. Everything was done with his own two hands. The wine was produced in a tiny garage in town, racked and bottled manually. For a while he even lived in a tent above the vineyard.
In 2011, he and Bruno Duchêne started the 9 Caves project. This massive undertaking involved converting Banyuls' recently abandoned cave cooperative into a "cave cooperative indépendante": a place where nine independent vignerons could share a space to make their wines while simultaneously running a restaurant, a wine shop and guest rooms. I distinctly remember our first visit right after it opened: Manuel was cooking dinner for a room full of paying customers that night!
With the buildout of Les 9 Caves, Manuel finally had a "real" cellar.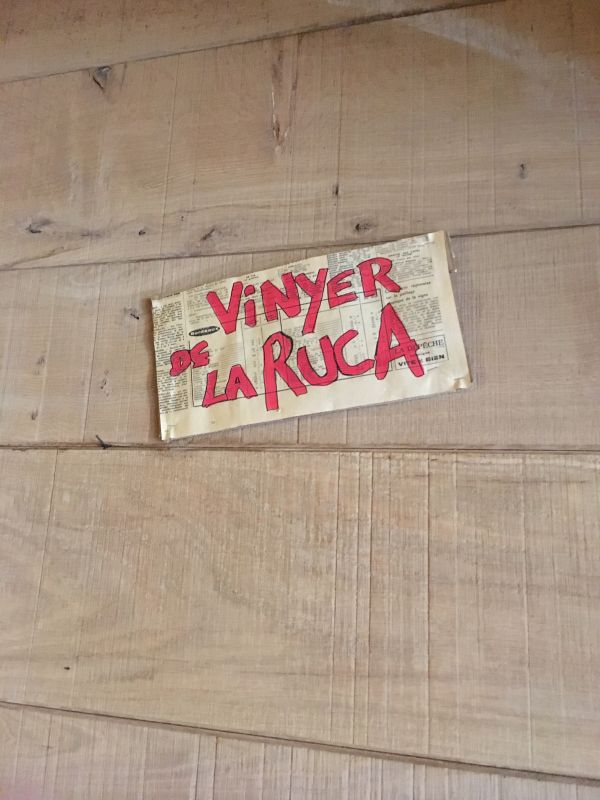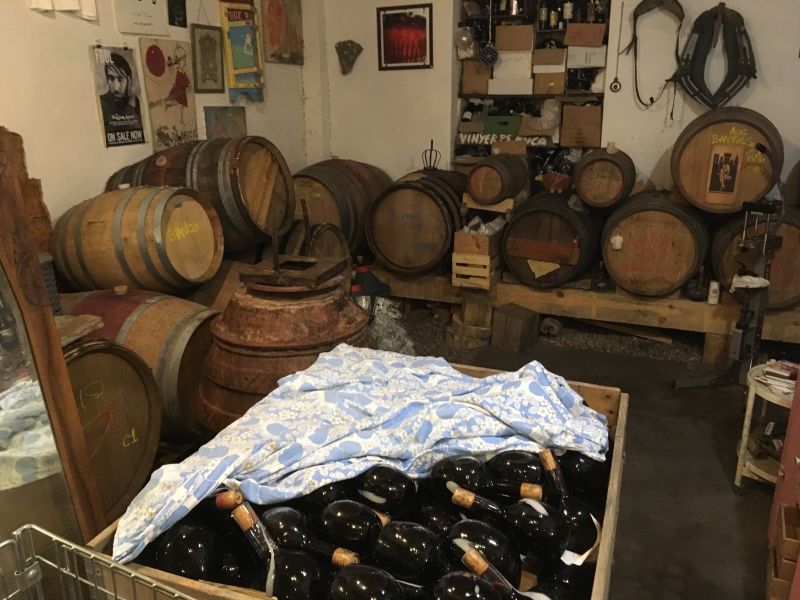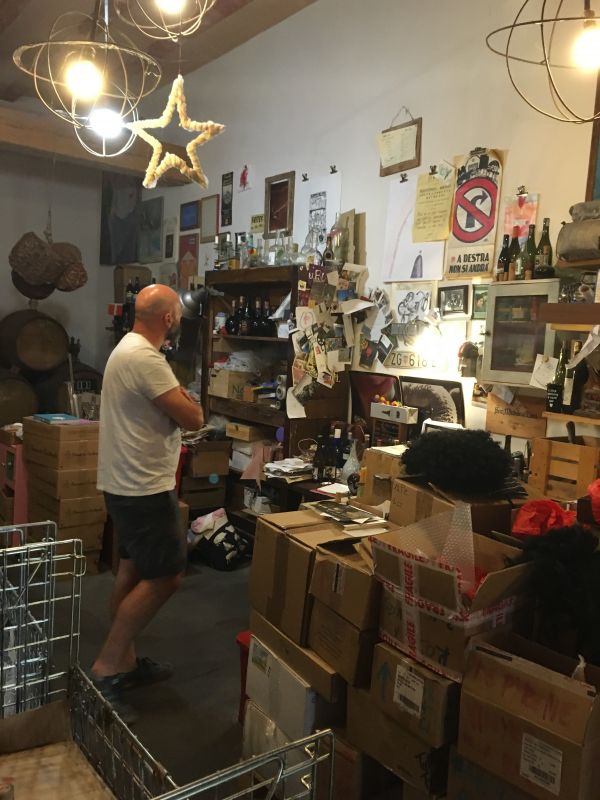 It's the smallest of the nine, but still more spacious than the garage he'd been working out of. This meant it was time for a new challenge: more land to produce dry reds. At this point he was well established in the area, so it was easy to find an additional three hectares to rent.
"Renting is better here. The Ullamp vineyard costs me a 100 euros a year. Buying would cost 15 000. Though it's still cheap compared to other regions, there is next to no demand for these parcels. I think the old timers are just happy someone wants to work it."
Now fueled up on coffee and pain au chocolat, we hopped into the only mechanical object Manu permits himself to use: his car. Around 20 minutes from Banyuls, we set off to Le Rimbeau, a tiny village west of Collioure. Nestled in the mountains, only about 10 families live there. Manu pointed out to one of the village's beautiful details, a house built around a huge protruding chunk of schist.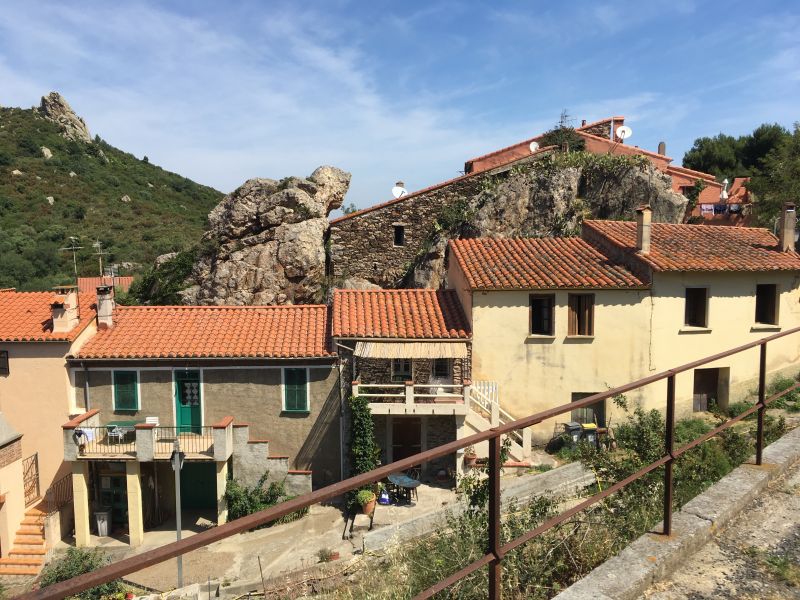 Manu's largest vineyard is located here.
Some of the grapes are used for the Tutti Frutti Ananas project, others to make his own dry reds.
The first thing I noticed was that the vineyard, while completely isolated, is surrounded by fences.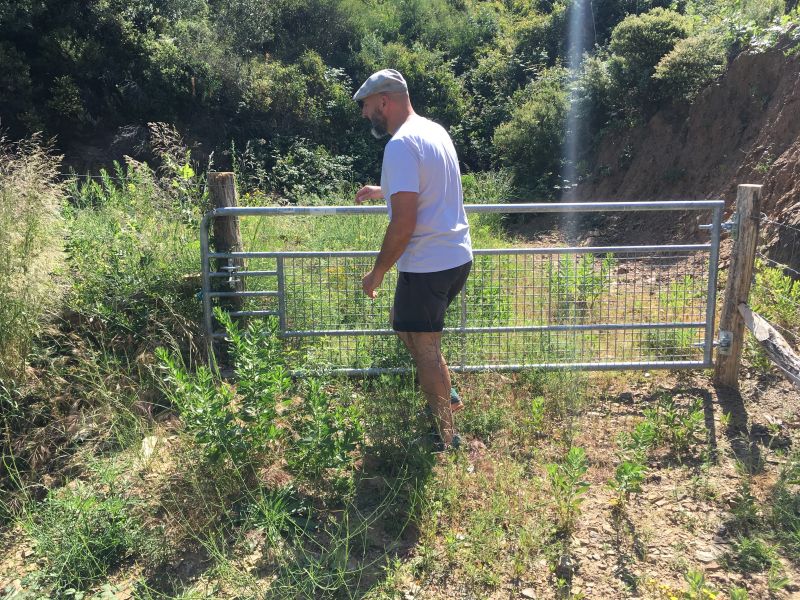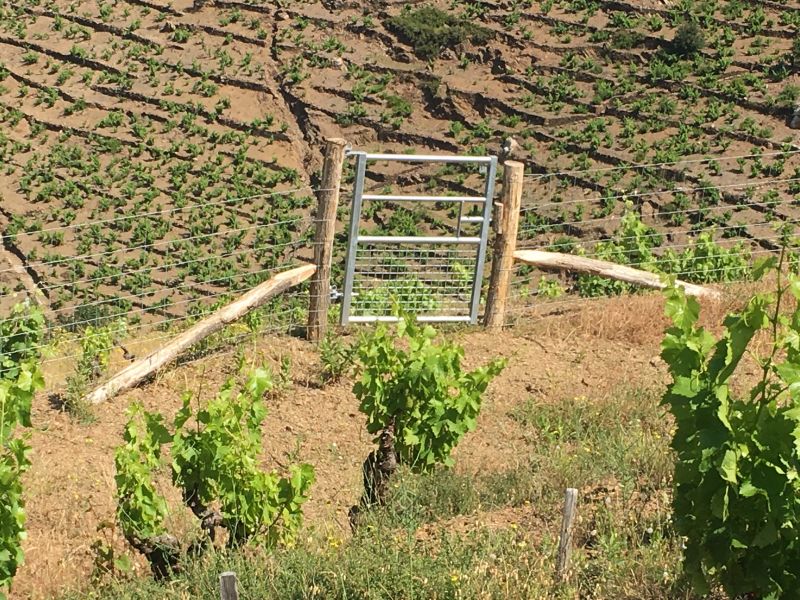 Manuel has hired a team of contractors to build these logistically unprecedented and costly fences so that his sheep can graze within the vineyards.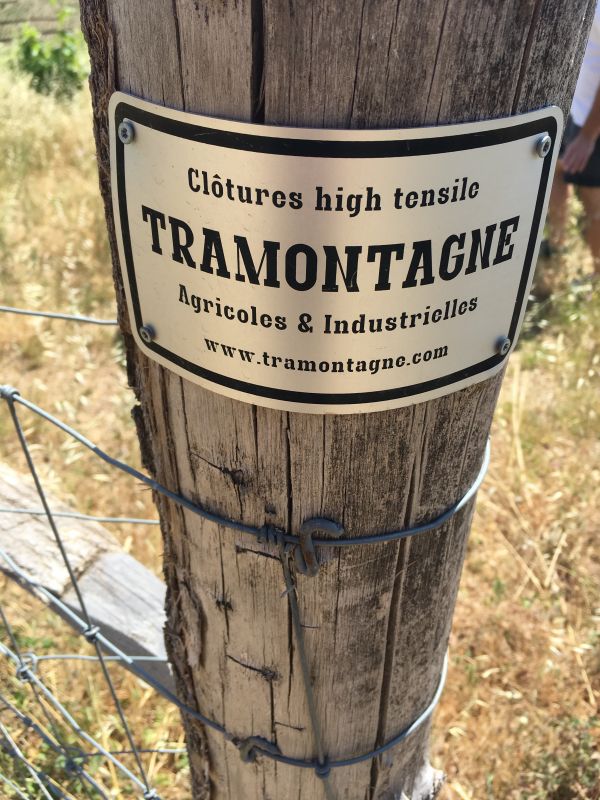 "The sheep take care of the competing grass. I don't need to work the soil this way. And having animals also brings biodiversity you wouldn't have otherwise."
The few neighbors he has all think he's nuts.
The parcel here is two hectares of Grenache Noir and 50 ares of Mourvèdre.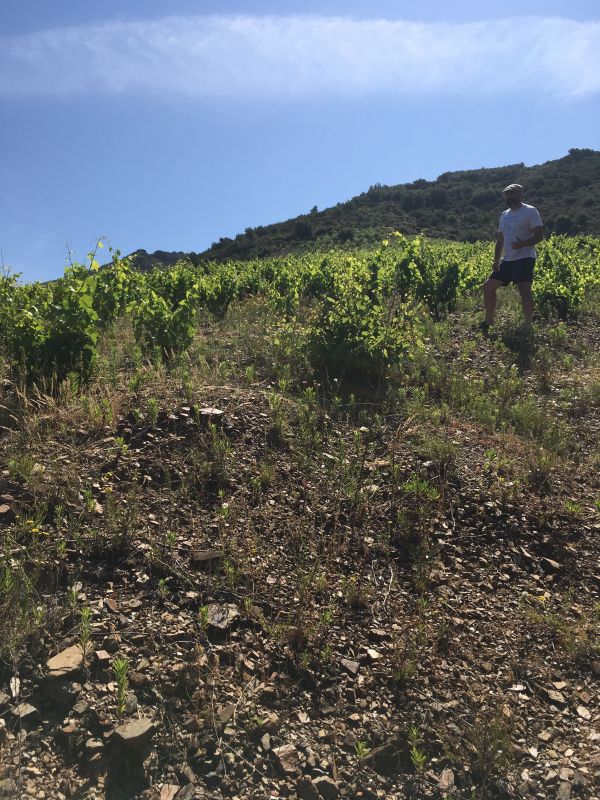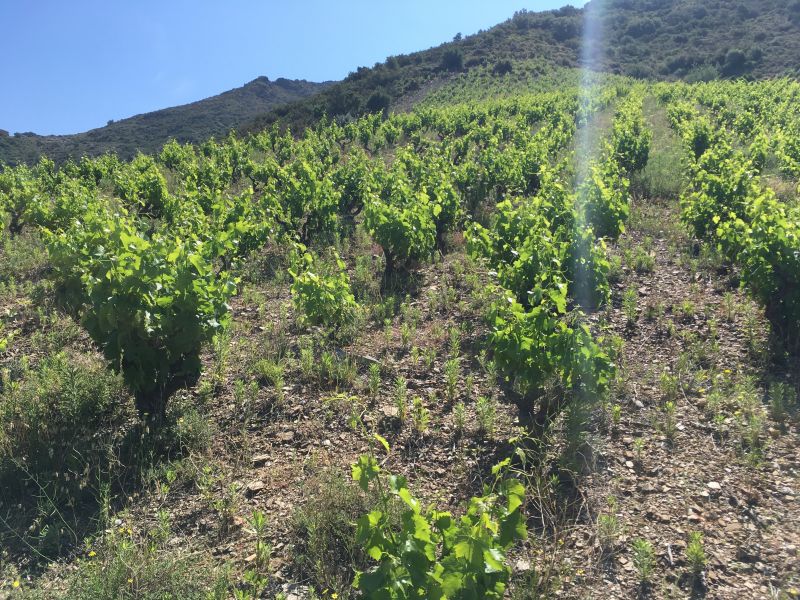 The vines are about 25 years old. While the soils are still schist, there is a heavier proportion of clay so yields are higher, around 25hl/h. The Northern exposition means that this parcel is well suited for dry red.
One thing I found amusing was Manuel referring to this area as "the plains" though it it's undeniably steep. It turns out that any vineyard that isn't terraced and therefore can be worked by tractor is considered "a plain" in the area.
The single vineyard farmed by Pedres Blanques, another tiny estate run by a Japanese couple out Les 9 Caves, is also in this village.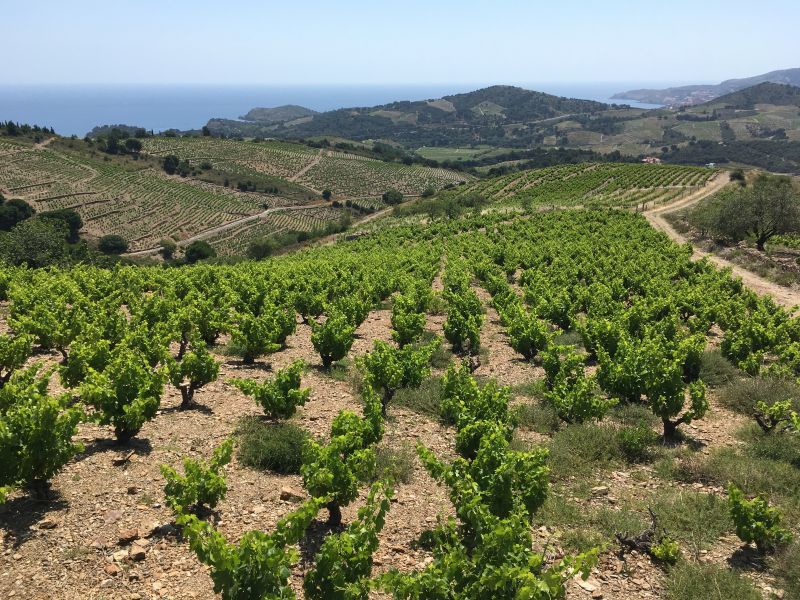 Our next stop was the Ullamp vineyard.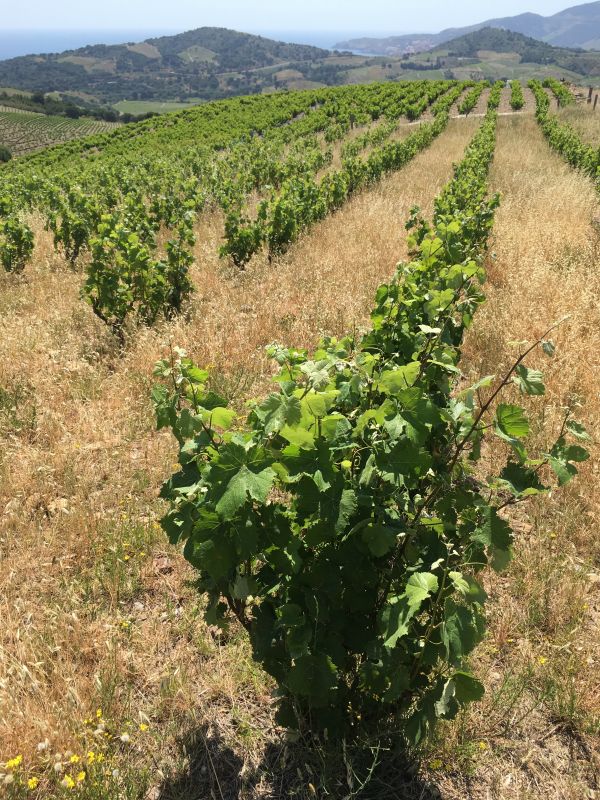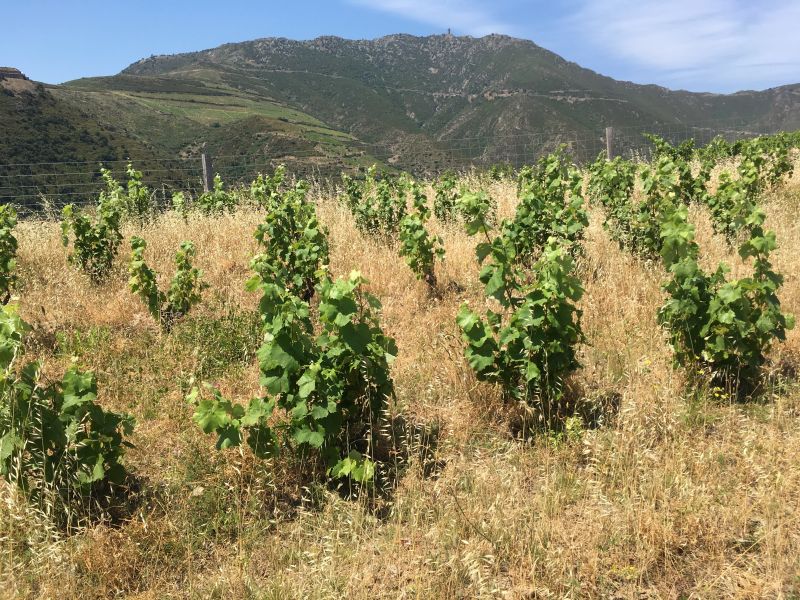 This 0.25 hectare parcel consists of 25 year old Mourvèdre vines. It's named after Manu's mule (he makes an appearance on the label) and is the only parcel where he tills the soil (with the help of Ullamp of course). He took it over in 2014 and produced his first dry red from here.
About 50 yards out, Manuel's recent stagiaire Kiko was working on a new plantation of Grenache Gris exposed full South.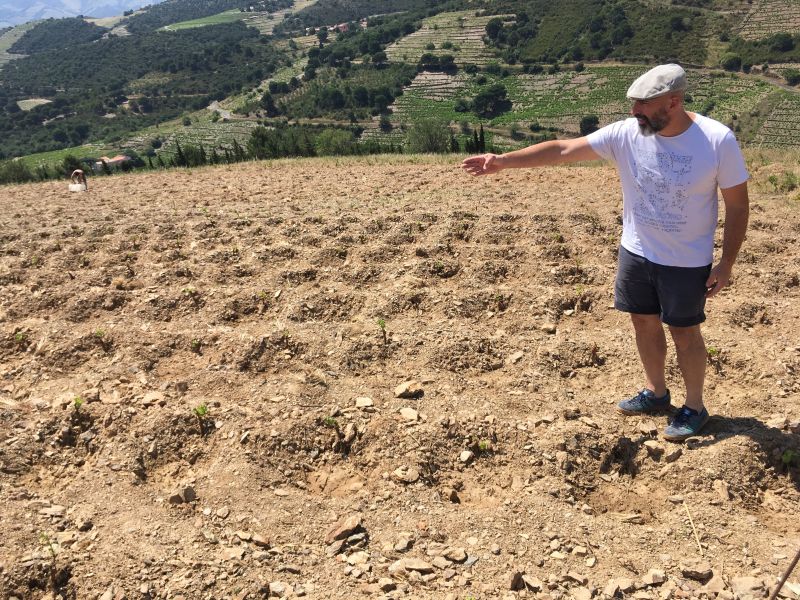 Manu hopes to eventually make a white and a pet nat from these grapes. Kiko, a sweet young Italian, is the first person to assist Manuel since he started Vinyer de la Ruca.
"I like working alone. It limits me."
Our last stop was the parcel Manuel founded the estate with in 2006.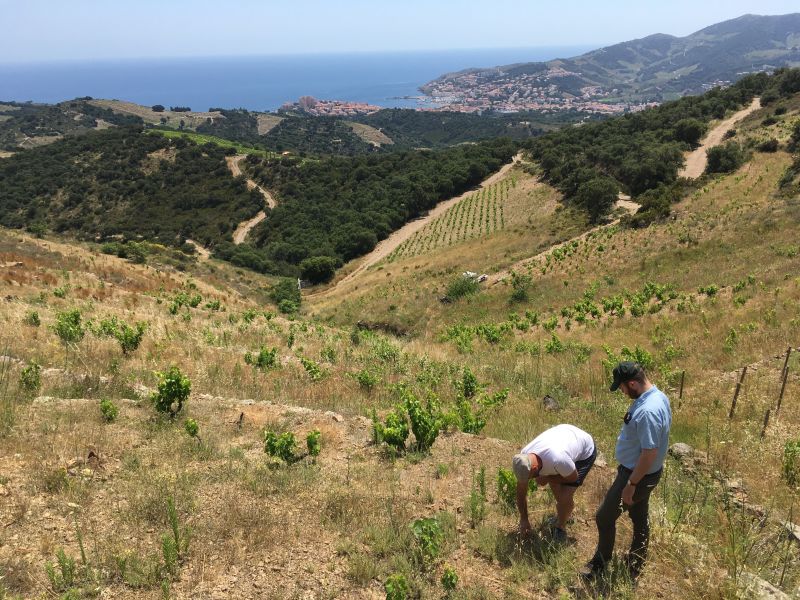 You actually have to follow a path below Bruno Duchêne's vines to get there; it was a bit surreal discovering this unbeknownst area so close to a place I've visited many times.
Of all the vines we visited that day, this was the most classic Banyuls terrace of the bunch.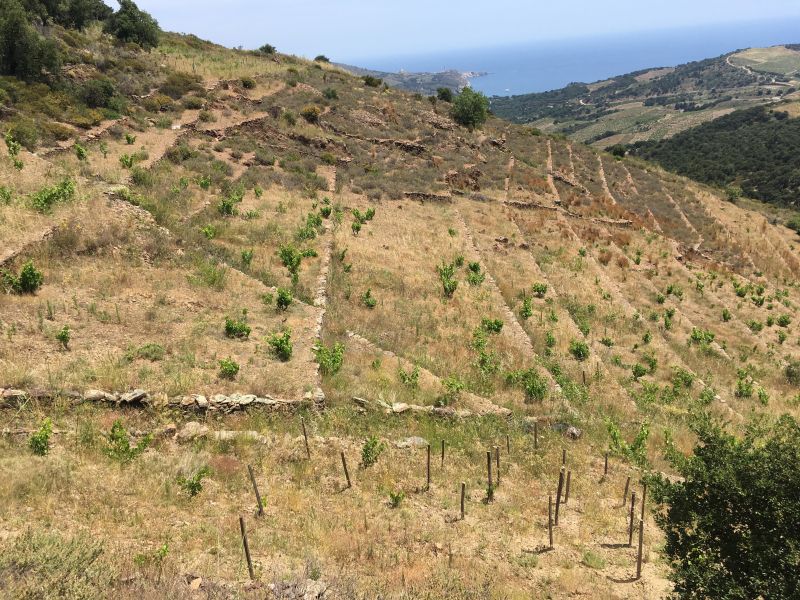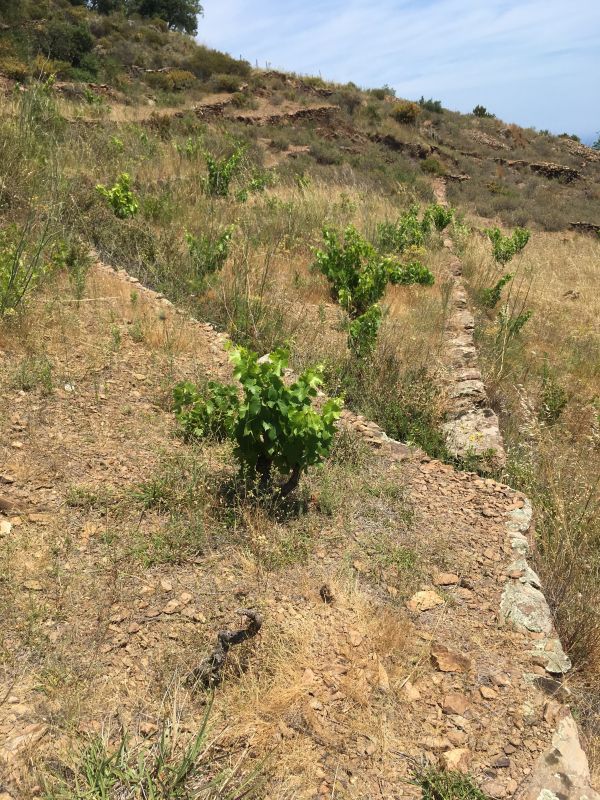 Exposed full South, very old vines of Grenache grow here. Though it totals two hectares, only about half of it is actually planted and the vines are very low yielding.
"The concentrations here are so rich. Only a Banyuls could come from this vineyard."
After a beautiful morning in the vineyards, we had lunch at the excellent Xadic del Mar. Our roomate Alain, who was sharing Bruno Duchêne's apartment with us, had us tearing up in laughter.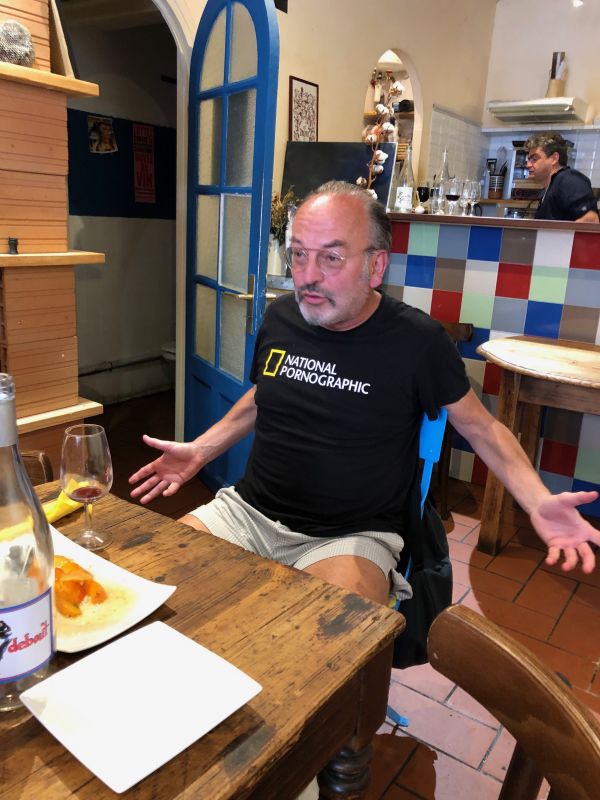 One day I need to write a novel about this guy. I will however say that this picture does indeed say a thousand words.
After lunch, we took a quick excursion to visit Nathalie Lefort, the force of nature behind La Guinelle, the best vinegars in the world.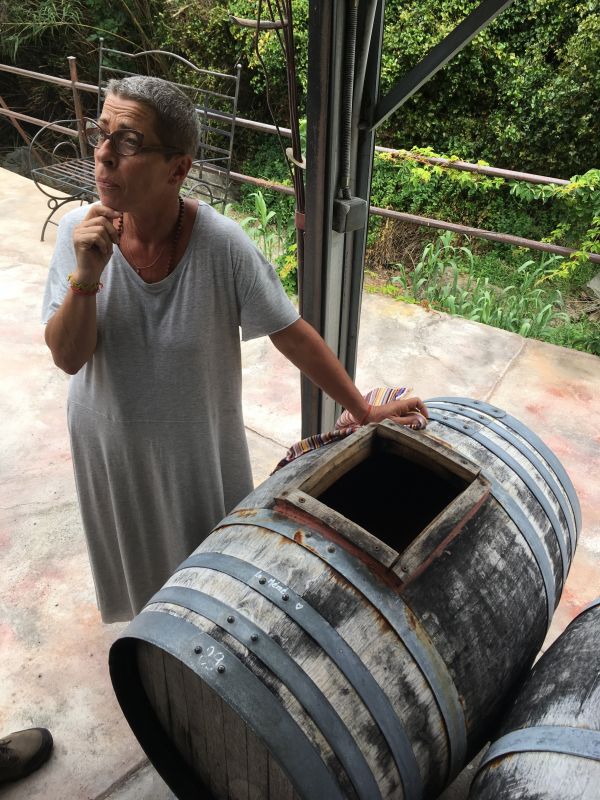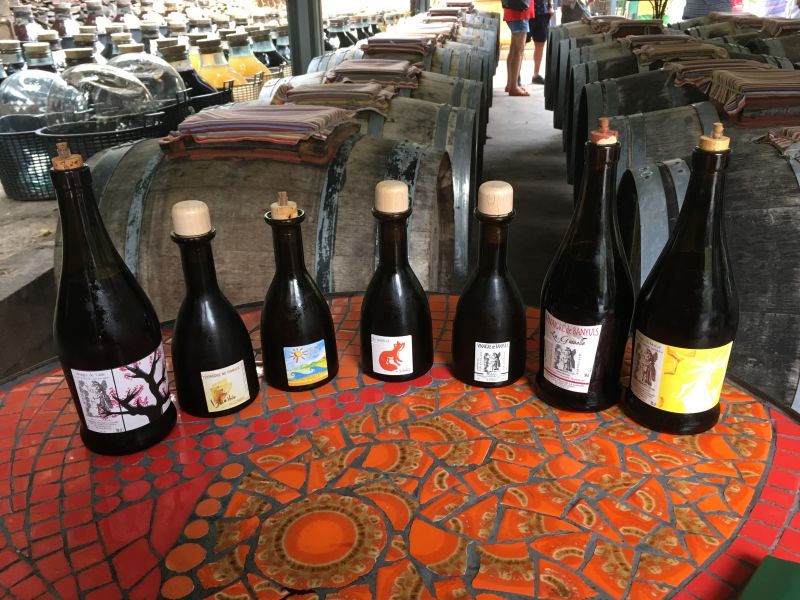 Our afternoon ended back at Manu's cellar. All the wines are made the same way: the grapes are manually destemmed, then foot trodden in open vats while live music is played (Zé Tafé tends to be one of the musicians). The wines then ferment in open vats, with Manuel breaking the cap manually (literally with his hands) when he sees fit.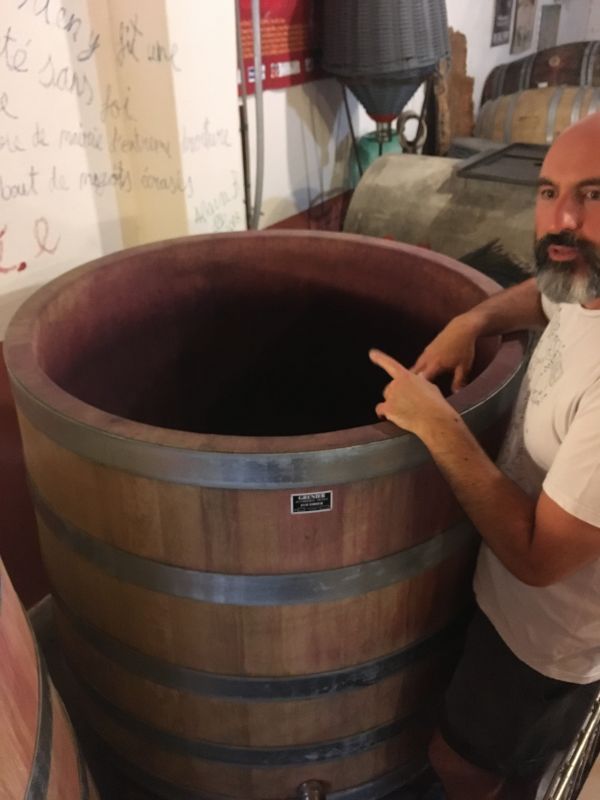 With the exception of the addition of spirit to the Banyuls (3% of the total blend) nothing is added or taken away to the juice. Any rackings are done manually through a small tube.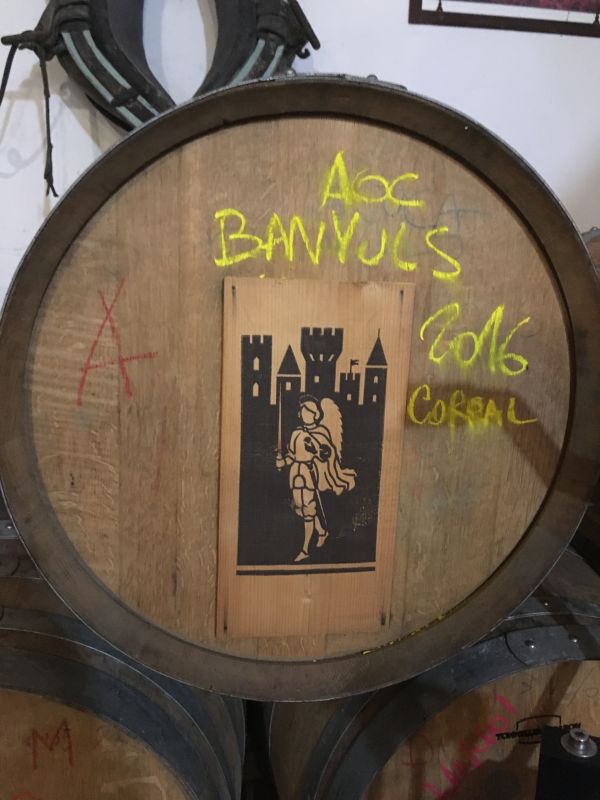 As you may already know, for the most part Manuel uses blown glass bottles for his wines.
"When I found out there was a local artisan making these, the idea instantly came to me.1000 bottles represents two entire months of work! From beginning to end, it takes three to four weeks for a bottle to be made."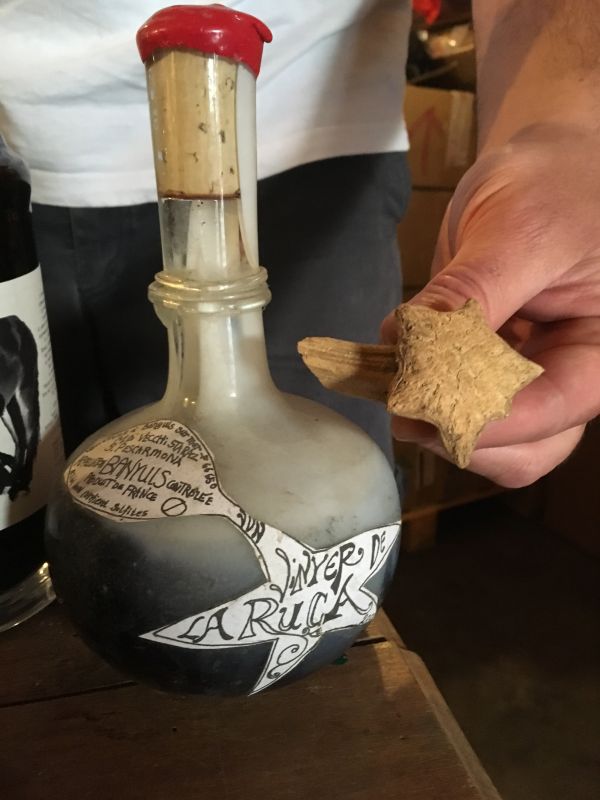 Each bottle is thus unique in detail and shape. In such, Manuel needs to order custom corks for them. As you can probably deduce by now, each bottle is filled and corked manually in the cellar.
FUN FACT: the Vinyer de la Ruca logo was inspired by a dried out eggplant that was lying around the house. "It just looked unique". His ex-wife, an artist whose pieces can be spotted throughout the cellar, designed the original label. As you can see from the picture above, Manu still has the eggplant that started it all.