Harvest Reports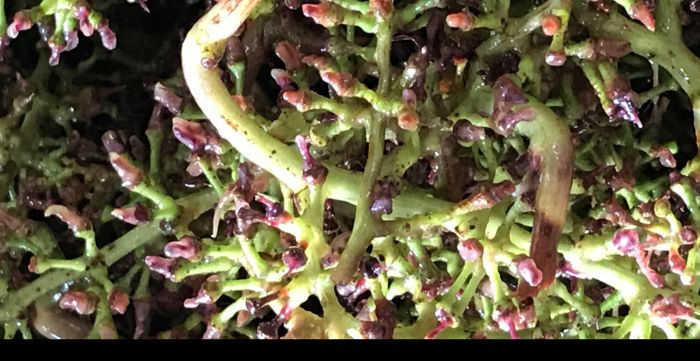 October 14th, 2020:
The best way to resume 2020 is precocious. After a spring that couldn't wait like most of us in confinement, the vegetation went into warp speed. Flowering started in early May and was done mid-way through the month: a whole month earlier than in 2019. The summer was very dry and hot, and the August temperatures blocked the grapes' maturation. It took some nice rain in late August for everything to get started again.
Lots of new things in Mérignat!
It's a "20" vintage, and quantities are good. We've decided, in addition to our classic Gamay/Poulsard Cerdon, we have concocted lots of surprises:
-A méthode ancestrale Cerdon from 100% Gamay.
-A 100% Poulsard méthode ancestrale brut nature.
- A dry, still 100% Poulsard from Mérignat fruit. This cuvée was harvested by the whole family, our parents and kids sheers in hand!
- A still Bugey from 100% Mérignat Gamay.
Harvest lasted two weeks. We started on the 1st with the family, harvesting the small parcel of Poulsard that would become the dry wine. It will be sold as a Vin de France because Poulsard is only reserved for Cerdon in the Bugey.
The more serious work began on the 2nd when our full team of lovely harvesters joined us. For 12 days, they picked Gamay and Poulsard under the sun. It was ideal conditions and good to see the grapes hadn't stressed too much from the hydric deficit and the August heat wave. The maturities were good and there was a nice balance of sugar/acidity.
We are very excited to see where these go!