‹
›
Article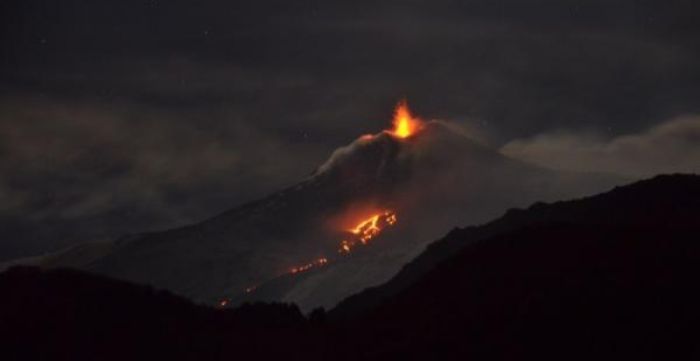 A Visit with Salvo Foti (2014)
This visit with Salvo Foti took place in May, 2014
Photos by Josefa Concannon, Jake Halper and Jill Bernheimer.
That's the picture Salvo sent us the night before our visit. Oh Etna, always erupting!

After a lovely morning visit at Romeo del Castello, it was once again time to visit the grand, mysterious Salvo Foti!

While waiting for him, many of us got into a heated debate on who was going to buy this sweet miniature automobile.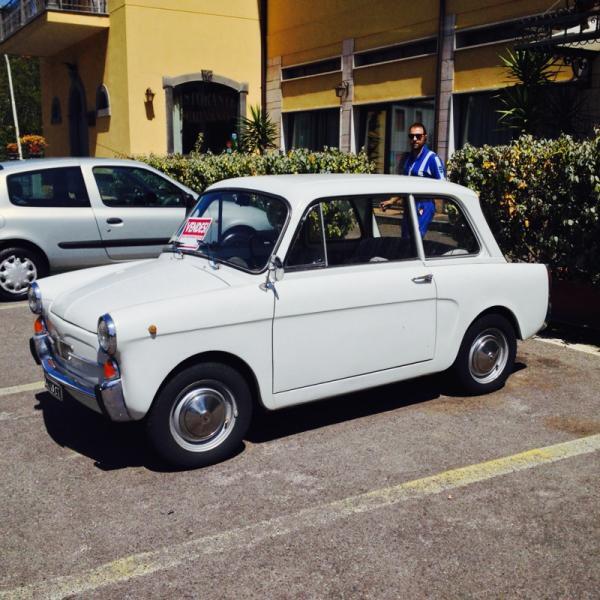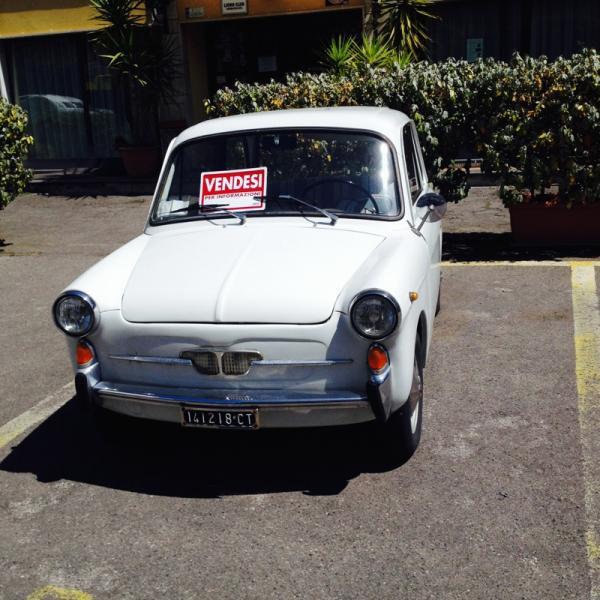 No one could agree, so we decided to grab a coffee at the best named cafe of all time: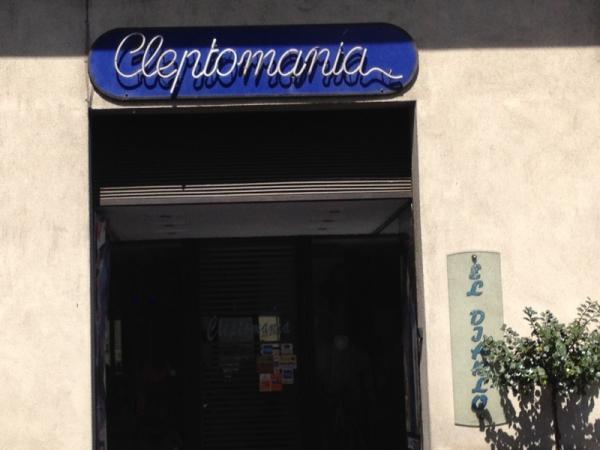 YES, I know it's spelled with a K but I still thought it was funny.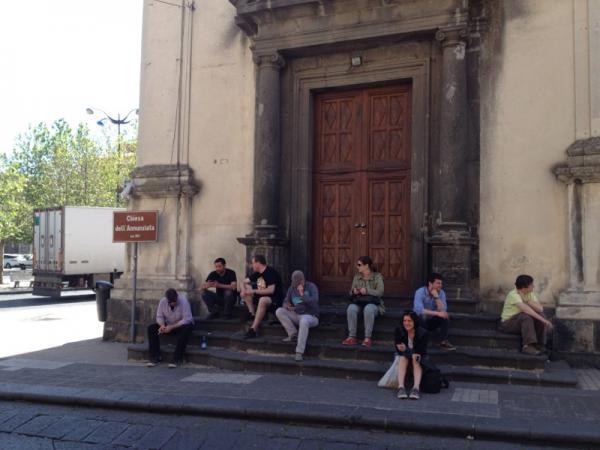 Not making us wait too long, Salvo pulled up with his right-hand man Mauricio and we drove up to a new vineyard.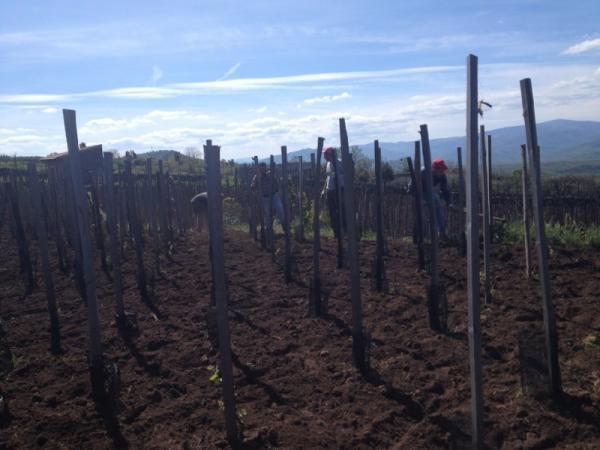 This parcel is at 1100 meters elevation and was planted three years ago. Salvo does not plant Nerello Mascalese above 800m, as it doesn't grow well in those circumstances. Whites, on the other hand, fare well, and this vineyard has been planted in Grecanico and Minella.

A small crew of the I Vigneri team was busy tilling the soils.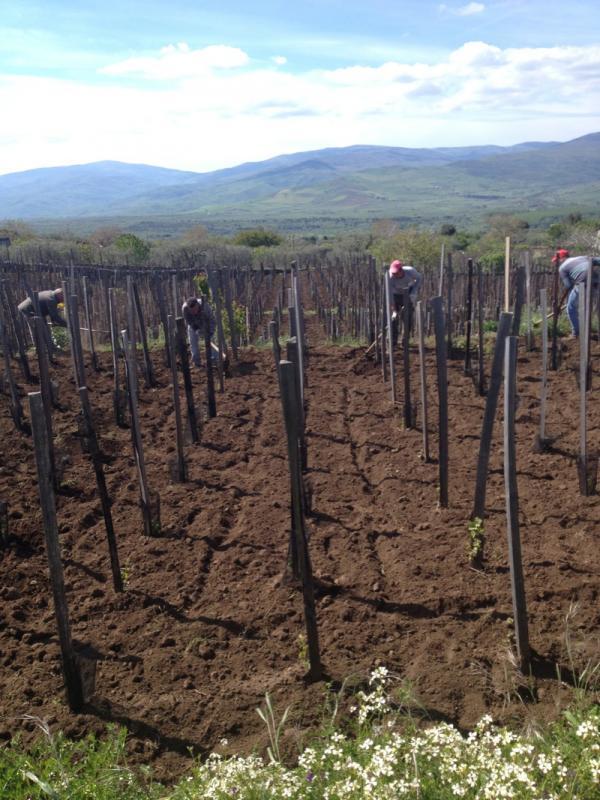 "Every time they do this, it's like adding a fertilizer to the vineyard. It's the vines' water."

It's very important to do this work in the vines' infancy due to Etna's volcanic ash soils. If the ash isn't constantly being shifted around, the roots will stay superficial and not reach the subsoils. Furthermore, wild grasses and flowers grow very quickly on volcanic ash, making for too much competition.

"If we weren't constantly tilling, these vines would look like this."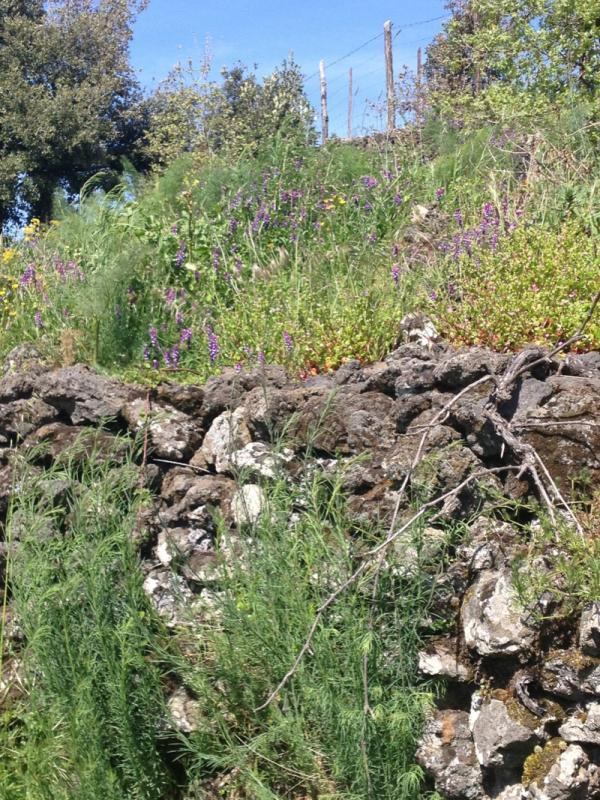 From there, we took a terrifying, extremely steep road that almost resulted in a few accidents. Certainly not for stick-shift novices... Fortunately no one was harmed and we were able to visit the Vigna Bosco: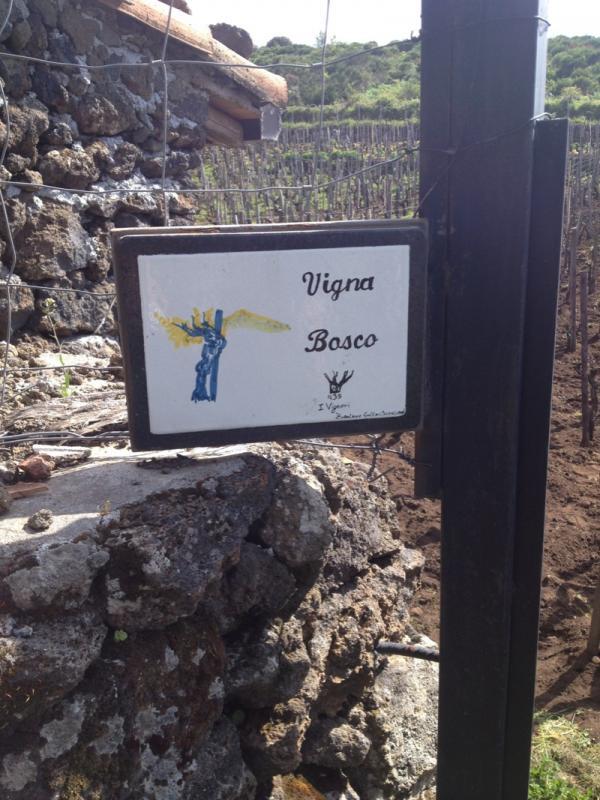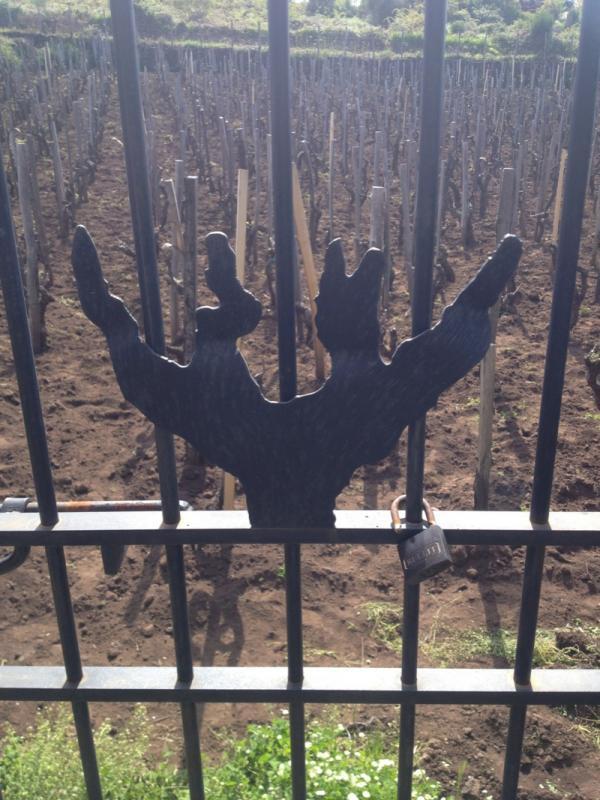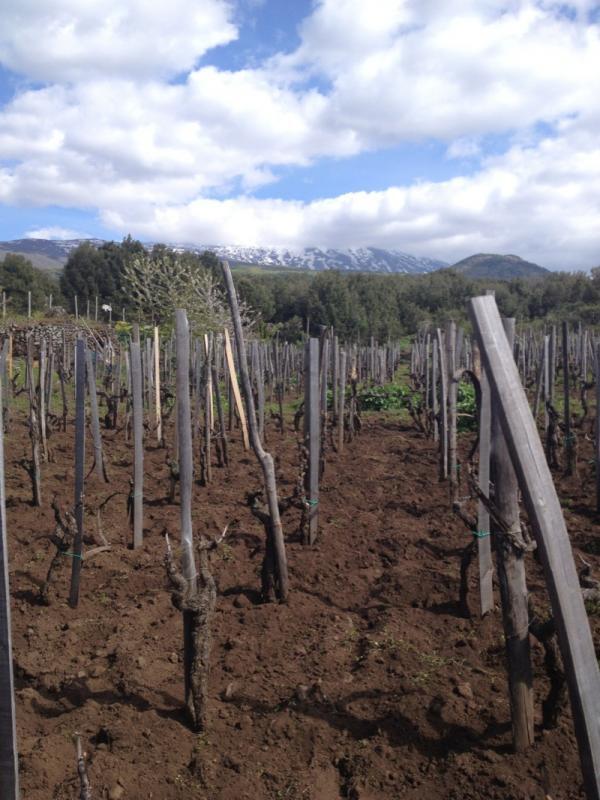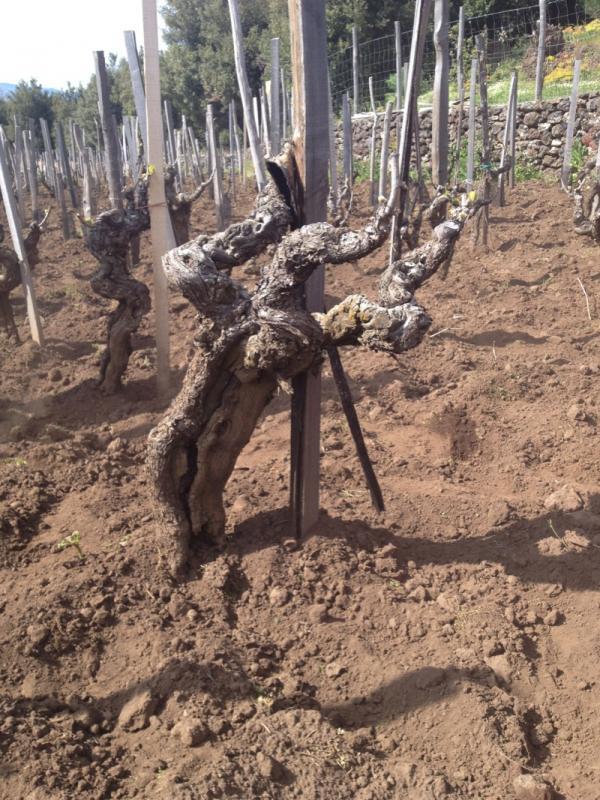 Salvo acquired this vineyard 12 years ago. To his knowledge, this is one of if not THE highest vineyard in all of Etna, towering at 1300 meters elevation. Very few people still own vineyards at these types of altitude.

"In their eyes, it's too much work for too little result. Plus you need to have workers who know what they are doing, and those are getting harder and harder to come by."

Due to the altitude, the vineyard produces very low alcohol grapes. Harvests here are always extremely late as well. 2013 was picked on November 5th!

Grenache, Alicante, Grecanico and a bunch of grapes Salvo can't recognize are planted here. The vines are 110 years old, and all planted in franc de pied.

Speaking of franc de pied, a new plantation is in the works, all in massale.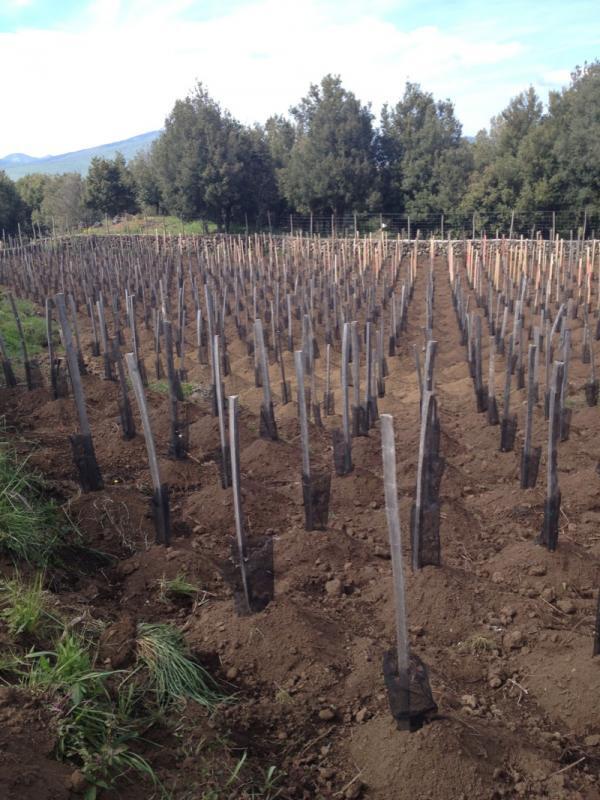 Of course, everything will be raised in alberello.

"Alberello is the best and oldest training method in the world. If this was used world-wide, fungal illness would disappear. Other training systems are for chemicals and machines."

That's quite a hefty statement I'm sure many would disagree with. Perhaps Salvo was specifically referring to hotter regions? Or Etna specifically? Then again, Mark Angéli trains all his Chenin in gobelet. Ultimately, his argument lies in the fact that alberello gets no shadows from other vines and is exposed to more air.

"The cure for any plant's illness is sunshine."

Salvo then busted out a picnic basket with a couple of bottles in it.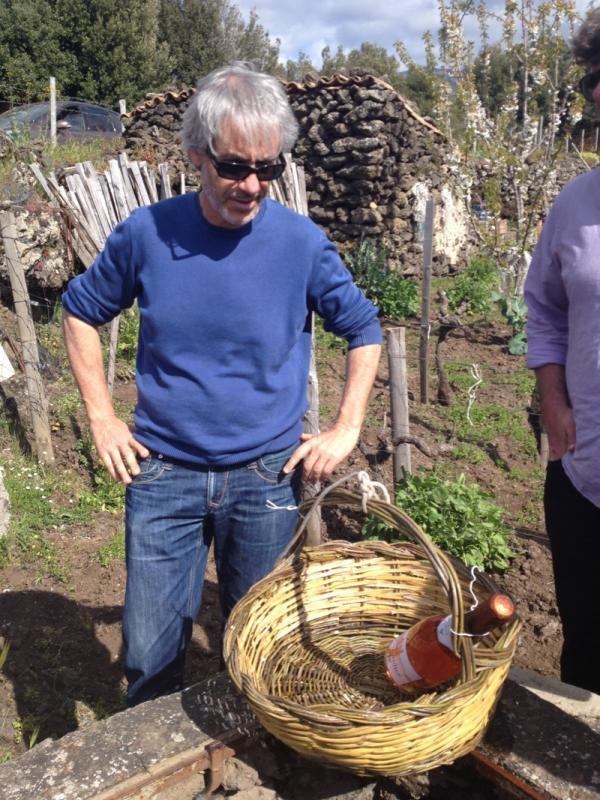 It was none other than 2011 "Vinudilice" sparkling!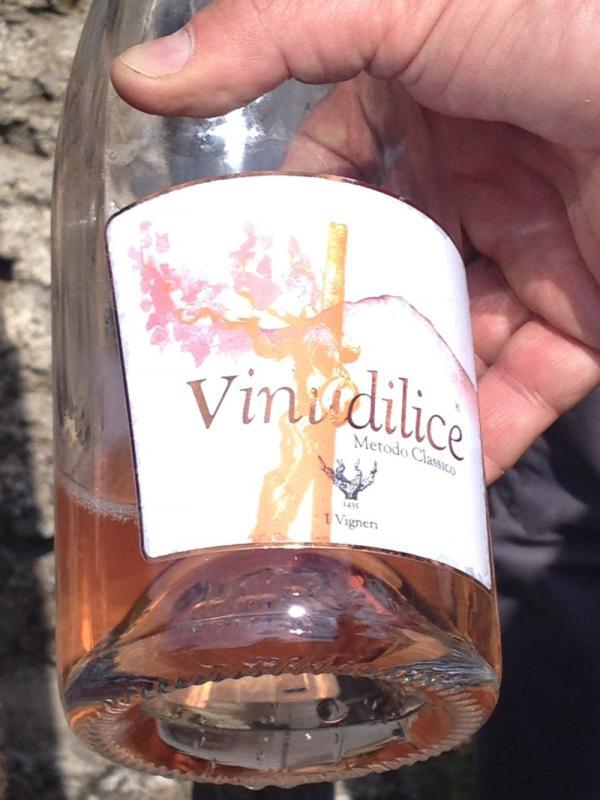 "Vinudilice" is the wine produced from the Vigna Bosco, and usually consists of a still rosé field blend. With the 2011 vintage, Salvo exceptionally decided to make bubbles due to low quantities and maturity issues.

The wine is already sold out.

From Vigna Bosco, we headed to Vinupetra, undoubtedly in the top five vineyards I've seen in my lifetime.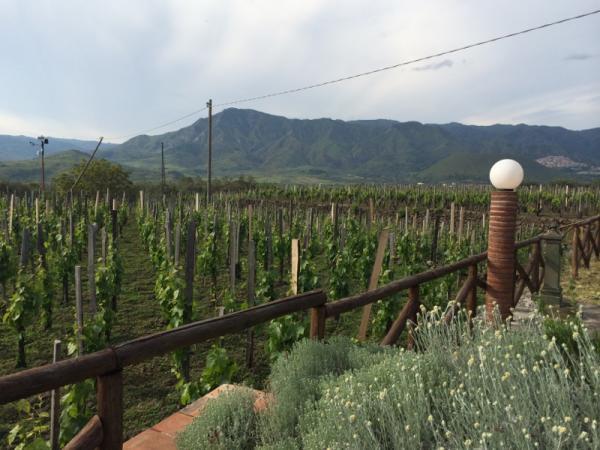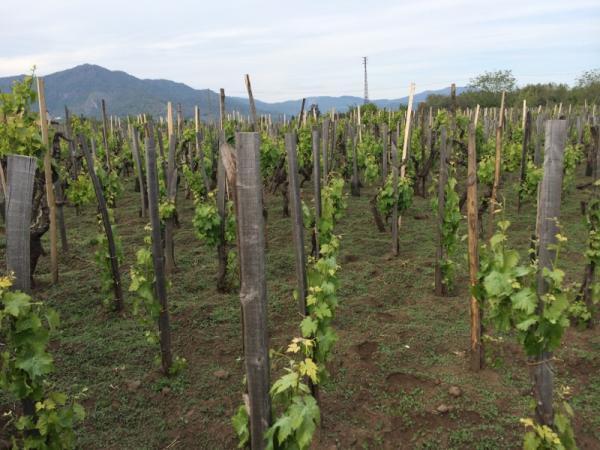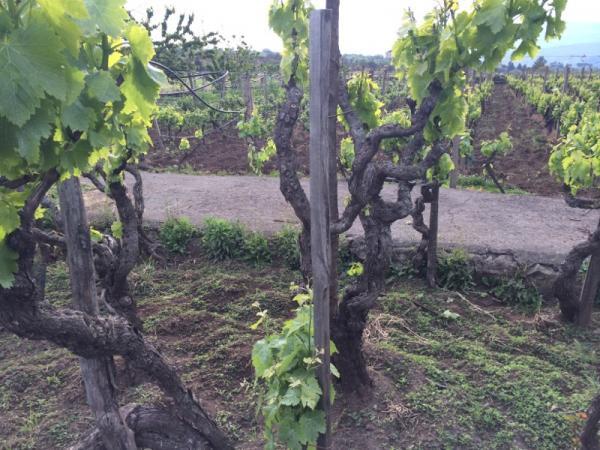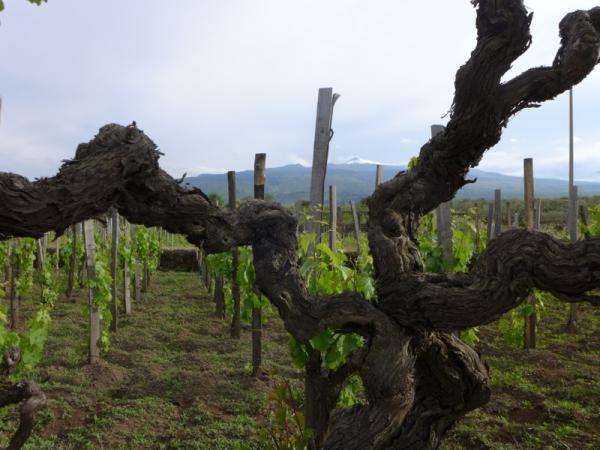 Most of the vines are over 100 years old. But at 240 years old (!!!), Salvo thinks a small patch are probably the oldest existing vines in Etna.

"You have to treat these vines with the same respect and care and you would a 90 year old person. When you're 90 you can't do the same stuff you were doing when you were 20. It's the same with vines."

On average, the work to maintain these old vines requires his team 250 days of work. Young vines trained in Cordon on these soils require approximately 50 days of work a year.

"40 years ago, all of Etna's vines were trained in alberello. Now it's water, chemicals and vines planted to last only 20 years before being ripped up."

The craziest of these vines were HUGE. Here's one taller than me!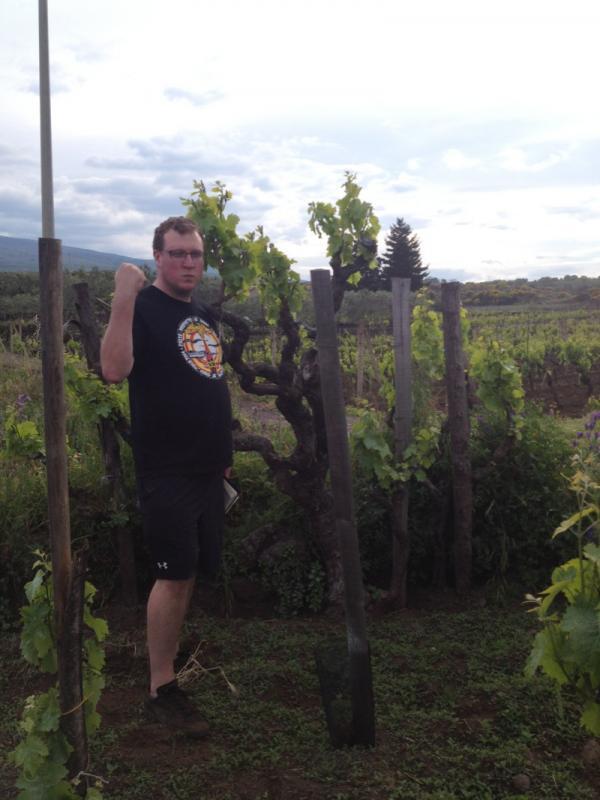 And I'm tall!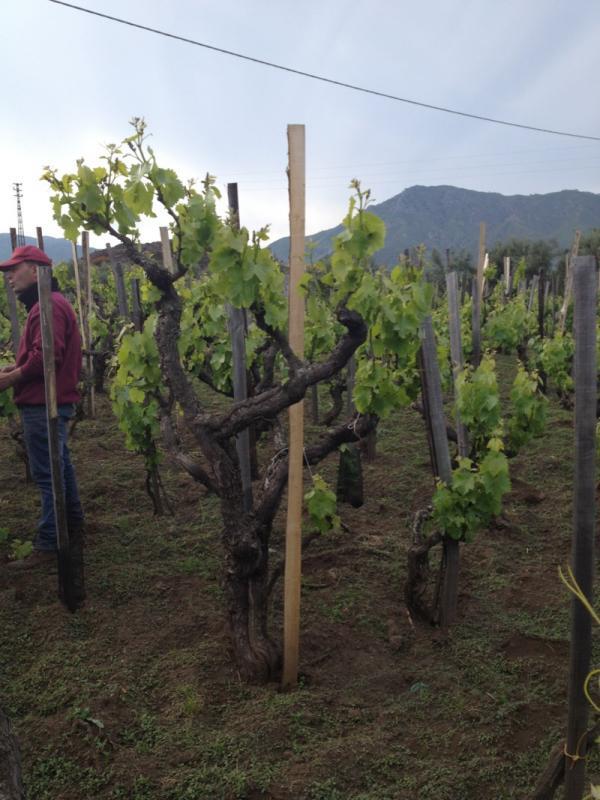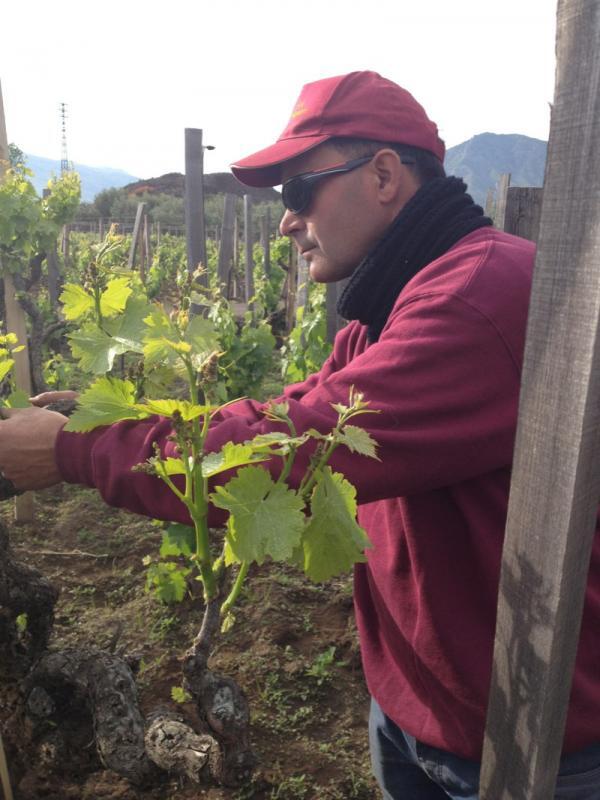 Conveniently enough, Salvo's house overlooks Vinupetra, and it was at a long table that we sat down to eat dinner and taste wine.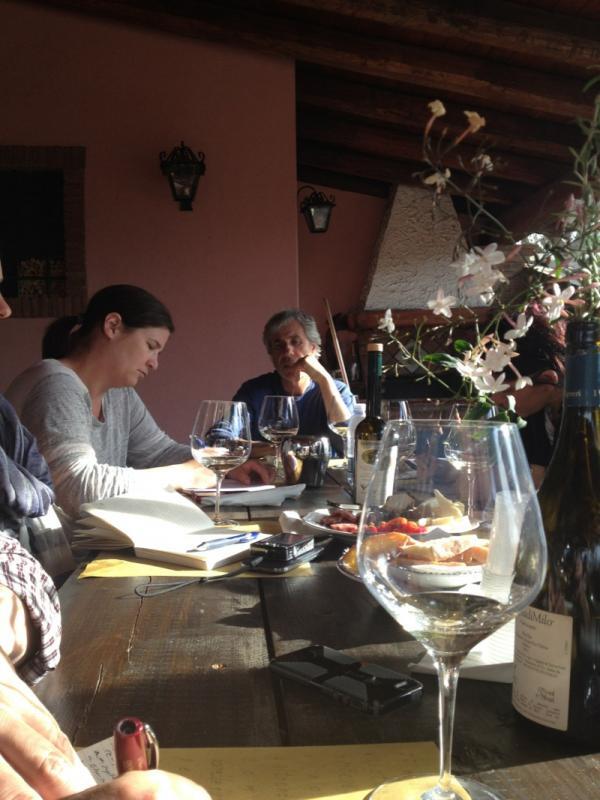 As always, the antipasti alone was enough to fill an average human being up.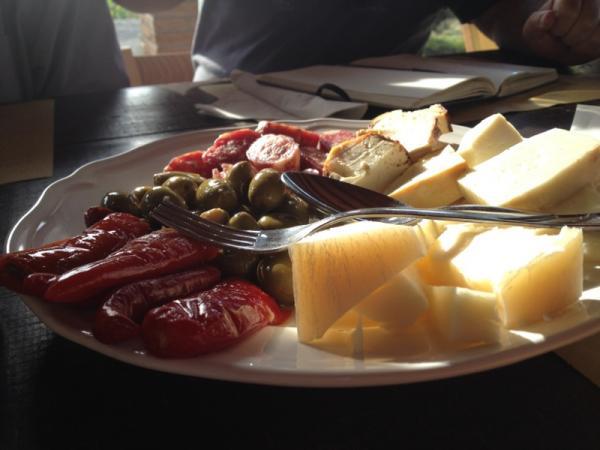 Of course, Salvo has an oven set up outside, perfect for making flatbreads and pizza.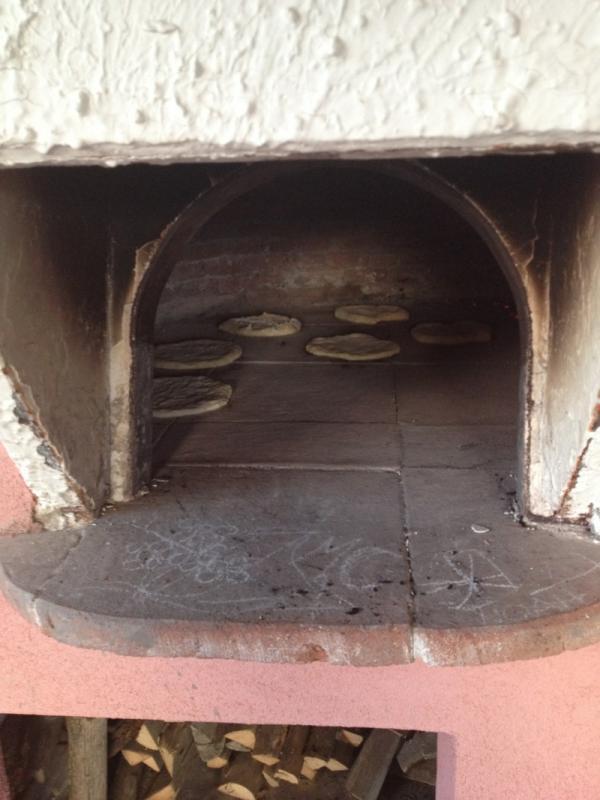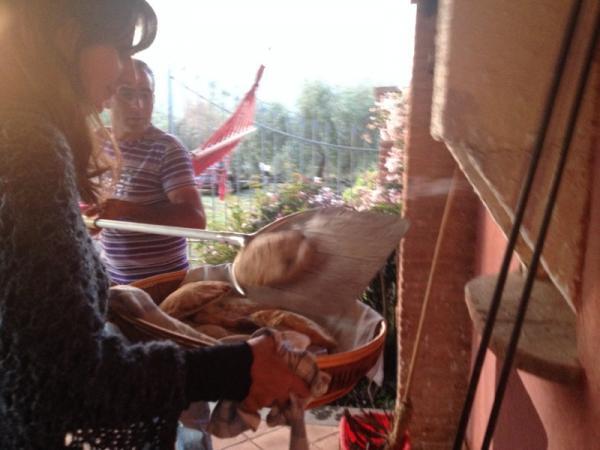 As we sat down, we asked for a spit bucket. Reluctantly, Salvo got up and brought some to the table. The one on my side had a large spider web in it.

"As you can see, no one uses that thing!"

We started with some white, then the 2013 "Vinudilice" rosato, which if you recall is from the Vigna Bosco we visited earlier. Before Salvo acquired it, the prior owner used this parcel to make house wine for his family.

"When I took over, he told me that his grandfather had always made the wine with one night of skin maceration. So I continue this tradition."

We then moved on to the 2012 Etna Rosso. Did you know that the Etna DOC is the oldest in Sicily, dating back to 1968? Did you also know that this wine is illegally made in a Palmento?

"Sicilians always expect something illegal. So we don't worry."

The Etna Rosso is always foot-trodden, then an open vat fermentation takes place for 7 to 10 days before the wine is racked to chestnut barrels.

The tasting ended with younger vintages of "Vinupetra", followed by 2006, 2002 and 2001.

As we ended dinner, Salvo toasted us and had this to say:

"I thank you all for coming and doing what you do. Wine is important, wine is three dimensional: there is time (the cycle of the year, the wine aging...), space (the context of where it is consumed, whether in its place of origin or all the way in the US...) and the mental (how it makes us feel, how it brings us together...)."


I guarantee you a lot was lost in translation, but it was a special way to end a special night.