Harvest Reports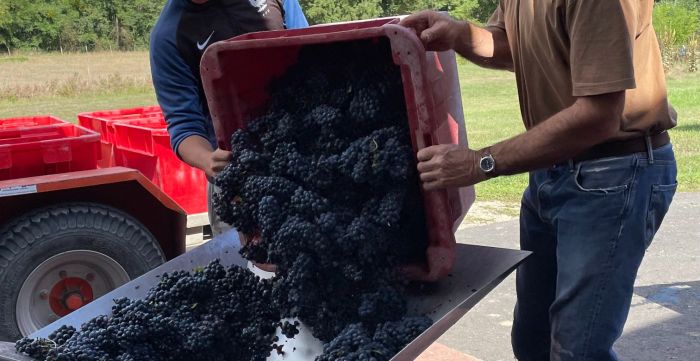 2022 was full of unexpected twists. It was a capricious vintage, but finally everything turned out well.
Following the cold mornings in March and early April, we did not suffer significant losses from frost. From May onwards, we had to face a major drought. Maintaining the land and getting rid of competing grass became essential to preserve resources of remaining water in the soil.
Flowering took place under good conditions, but a period of violent storms in late June/early July had us trembling. One in particular was incredibly violent and traversed the Loir et Cher on June 19th, passing east of Cheverny and severely affecting many of our neighbors in Touraine. But we were not touched, save for about 10 minutes of very small hailstones that did not damage our just-formed bunches.
From that period the summer remained dry and hot; the young vines really suffered here. But one positive aspect was that we did not have to worry or protect the vines from mildew from June 20th onwards: this has never happened here before! On the flip-side, we had to keep a maximum of foliage to try and keep the bunches covered for risk of them getting sunburned.
We waited until September 5th to begin the harvest, which was wise as the summer heatwaves began to subside and rain in the very first days of the month benefitted the grapes' maturities. We had to be quick in harvesting the Sauvignon before the sugars became too high. With an average yield of 30hl/ha, the first juices are quite promising.
The Sauvignons were followed by the Pinot and Gamay - a great vintage for the red grapes, remarkable even for the Pinot: fantastic grapes, good tannins and color.
To top things off, it was an exceptional vintage for the Romorantin. Despite the constant drought, the yields are quite satisfying, 30hl/ha on the old vines and 50hl/ha on the young ones. Despite some very precocious maturities, the last parcel of Romo was picked on October 4th; the acidities have been conserved throughout after fermentation and it makes us think we will produce a stand out vintage.
François, Claudie
Henri, Onorine